/ News
Palm nut plans are saved in the Ave Palm application. © Caroline Grellier
Yao Dodzi Dogbo, palm grove programmer
Both director of a model palm grove and developer of software made in Africa, Yao Dodzi Dogbo from Côte d'Ivoire is a fervent supporter of using new technologies for agriculture in Africa.
Lomé, Assahoun (Togo), special report (words and photos)
Yao Dodzi Dogbo cultivates two passions: computer programming and palm oil. He is fully invested in the fields of both technology and agriculture, which he believes are vital to Togo's future development.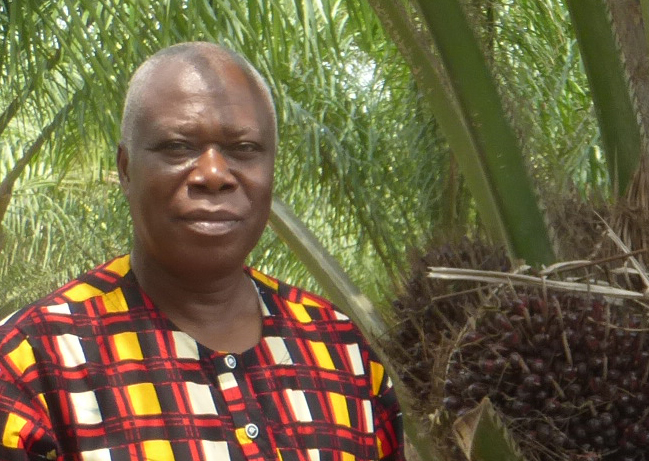 Monday through Friday, he receives guests at the Togo office of his company CERGI Banking Services, the first African publisher of banking software. On weekends, he can more likely be found at Assahoun, a village located 50 km northwest of Lomé, at his palm grove Ave Palm.
Programmer of management software made in Africa
After graduating from the African Institute of Computer Science of Libreville (Gabon), Yao Dodzi Dogbo focused on designing software made in Africa. As he noticed that African financial institutions buy management software designed in the West, with some functions that are either useless or lacking for an African context, he decided to develop management tools that were better suited to African banks. His initiative was a first in Africa, where such development had so far been reserved to (mostly western) multinationals.
CERGI Banking Services, the company he created in 1991 in Côte d'Ivoire, now has several branches, including the one in Togo, and some 30 clients throughout West Africa and Central Africa.
"Young African developers must absolutely get out of the office and put their knowledge to practical use in the field, which they know better than anyone, to create their own software!"
Yao Dodzi Dogbo
Ave Palm, the pro connected palm grove of recycling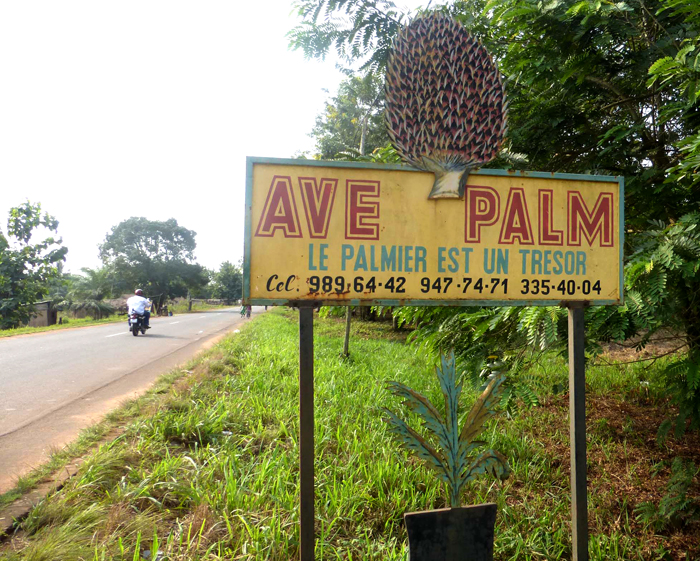 The Ave Palm plam grove is situated northwest of Lomé.
Change of scenery. Far away from the office in the capital, in the stifling heat, surrounded by palm nuts drying on tarpaulin sheets spread out on the ground, I meet Yao Dodzi Dogbo again, this time wearing the hat of palm grove director. With a warm welcome and a big smile, he educates me in the different stages of palm oil manufacturing.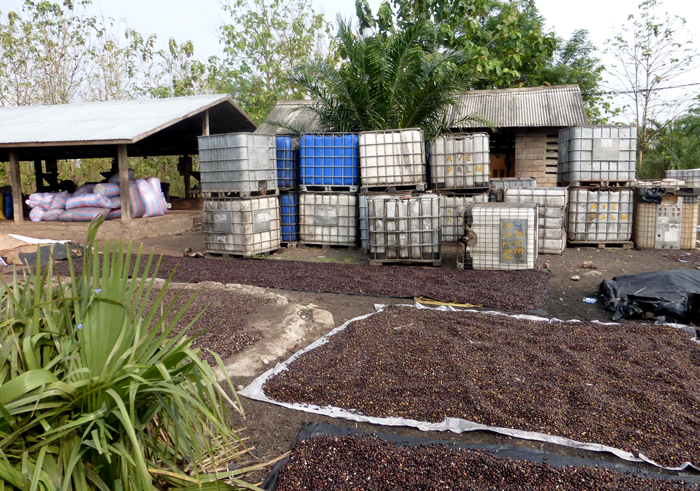 Traditionally, women produce palm oil and palm kernel oil, the fruit of particularly long and difficult labor. Thanks to support from the Togolese Ministry of Agriculture's Projet d'appui au secteur agricole (Pasa), Ave Palm's transformation unit is equipped with machine-tools such as presses, crushers and large tanks, which save a significant amount of time, directly doubling production. This growth in turn doubled the employment rate of women in neighboring villages, while improving their working conditions.
And in order to share the benefits of this equipment with the most remote villages, Yao Dodzi Dogbo built platforms on motorized tricyles to transport the machines from village to village.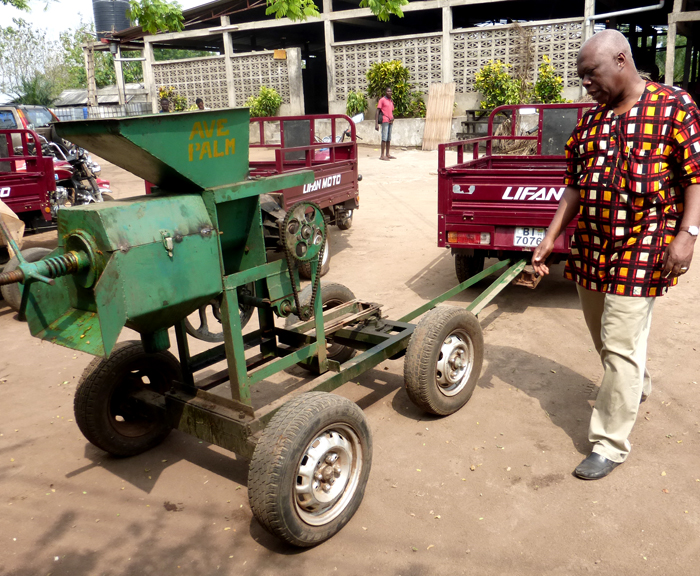 But Yao Dodzi Dogbo didn't stop at oil production. His objective is to "relaunch the Togolese palm industry and to demonstrate its added value". He and his team are working on various ways to revalorise production waste. For example, palm nut shells can be used as gravel—ideal for regulating the irrigation of cultures above ground—, or be part of the composition of lightened concrete, or be transformed into coal, with the quality of melting iron in record time. A certain asset, given that Togo sends its scrap metal to Nigeria to be melted down…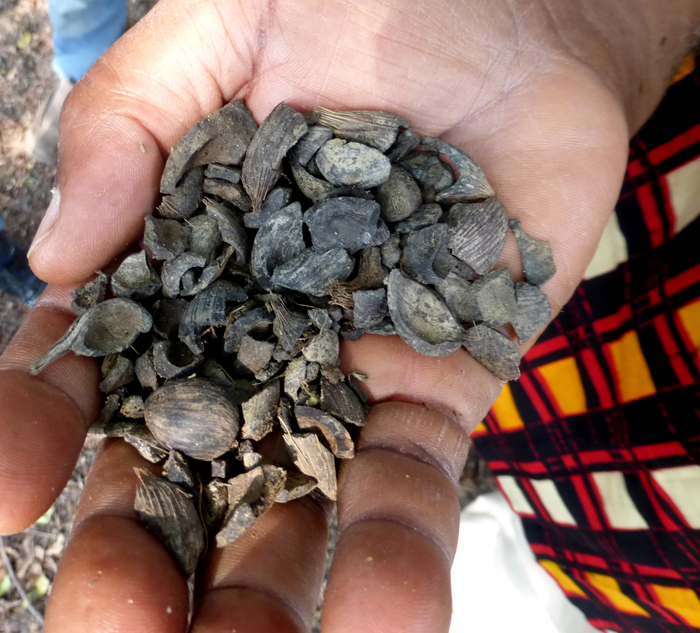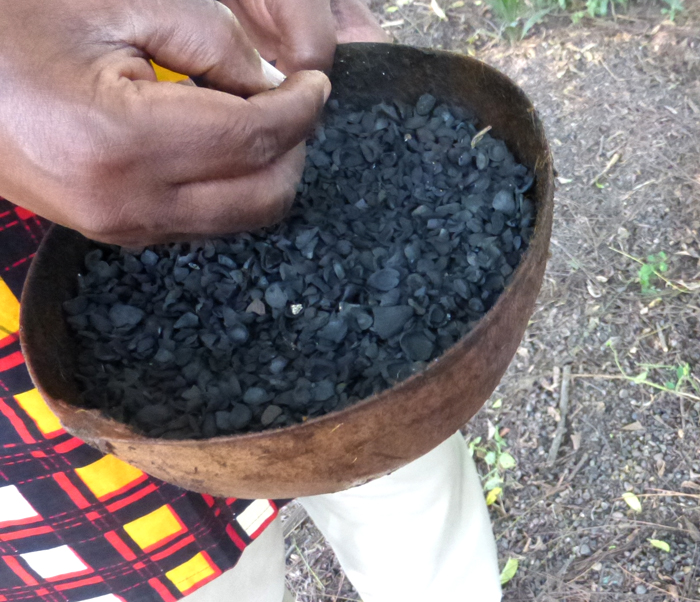 Florentin, the residue from pressing palm nuts and fat for a good fire, is used as a binding agent in manufacturing fuel bricks, which are sold in neighboring markets. As for the stems, they are reduced to ashes, which, once dried, are used for mining potash to manufacture soaps, fertilizers or condiments for sauces. Nothing is lost here, as ideas fuse in discussion to explore new ways of adding value.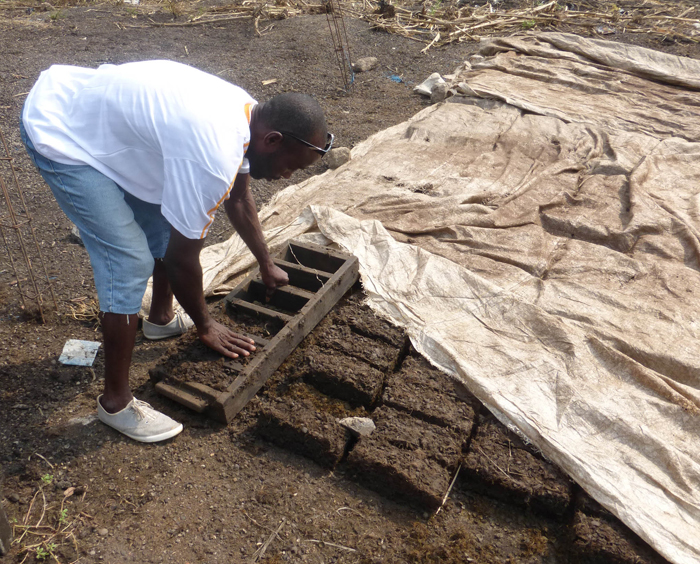 An app to manage the palm grove in real time
Then, right in the middle of the palm nut fibers and florentin storage containers, Yao Dodzi Dogbo takes his smartphone out of his pocket to show me the keystone of the palm grove's success: the Ave Palm app.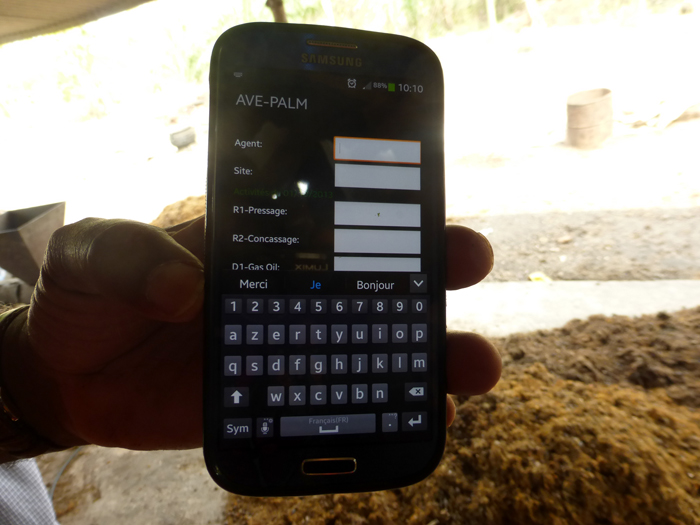 Custom-developed to manage the palm grove remotely, the application has become an essential tool for keeping the company running smoothly. Employees are given smartphones, where they enter the day's data. Any problem sends out an immediate alert.
This transmission of data in real time is about to revolutionize agriculture in Africa, while facilitating management for producers. With just one click (or one SMS), they can access market rates, weather indicators and consulting to optimize their tasks.
"I encourage young African developers to tackle the agricultural sector, a pillar of our countries' economies. Digital technologies are fundamental to our agricultural revolution."

Yao Dodzi Dogbo
Will Yao Dodzi Dogbo lead the way? The launch in April 2015 of the Agritools online information platform for technological projects related to agricultural development in Africa shows that he's not the only one thinking about 100% African techno-DIY solutions.