/ Voices
Wine lee dye. © Caroline Grellier
Column of a material maker #10
Termatière, cooperative project for agricultural waste upcycling into 100% bio-sourced materials, with a decisively maker approach, is following its course on the entrepreneurial highway, between fast lane and slow lane.
A little blizzard attack
Approaching winter, the Termatière team experienced a blizzard attack. A few gusts of wind casting doubt and reduced visibility, this was truly our weather project in early November. And yes, there are such moments when you feel something is wrong, preventing us from seeing ahead. Like a grape seed stuck in the mechanics, like a taste of cork in Termatière.
I was almost worried not to have seen these flaws earlier, but apparently, everything is normal, this is a well known phenomenon for projects leaders, commonly called "having one's head to the grindstone".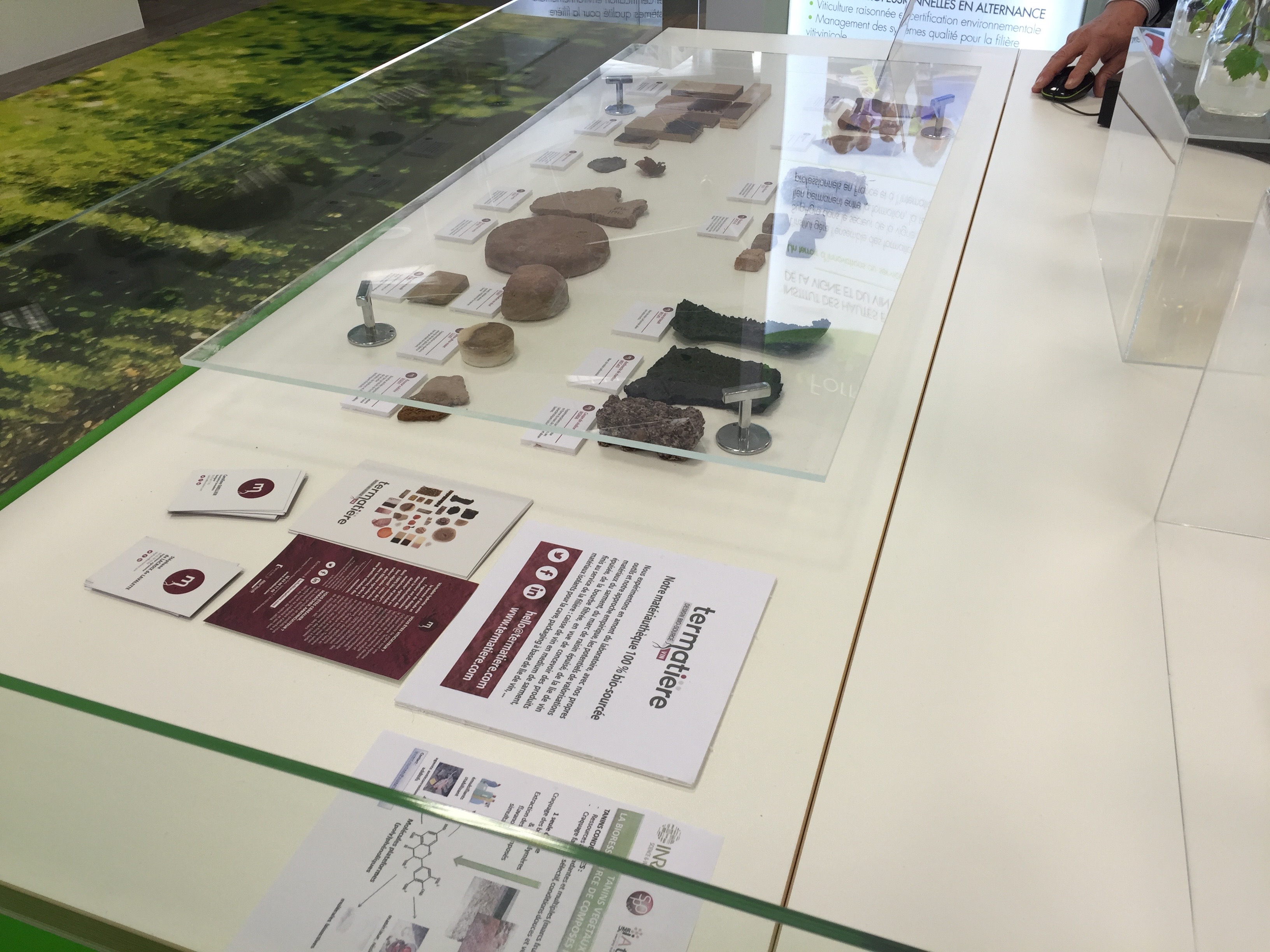 In order to reach this awareness, several episodes were needed. The first occurred at Sitevi, the international trade show of equipment and know-how for vine-wine, olive, fruit and vegetable productions in Montpellier, that brought together from November 24-26 all the different actors of the wine-making industry. Luckily, we were sharing the Research & Innovation booth of the National Institute for agronomical research (Inra) to exhibit our samples of home made materials. Three days in the shoes of salesmen, facing our future clients, partners, even funders. Amongst the enthusiastic and encouraging feedback, several questions remained stuck to our minds because we found them difficult to answer clearly…
Following an intensive meeting with the consulting firm that is coaching us for the realization of a sales feasibility study, second trigger: the suggested sales action plans make us understand that there is a bug in our economic model, leading us where we did not want to go, far away from our values.
At that moment, we had more questions than answers. No panic. Two hours of whiteboard later, Stephane and I, all alone, were turning Termatière around, trying to get back to the fundamentals and our initial motivation, the one that sums up our ideology: finding alternatives to fossil resources, via the upcycling of agricultural waste, to design the materials of tomorrow, with a territorial approach and circular resource management, profitable to local populations.
At the time of writing, there is one brick missing to the November 2015 version of the economic model of Termatière. But this is what is fun in the game of creating a start-up: putting up with early problems and imagining unexplored upcycling circuits, to innovate both in form and content! Our "clients at heart", those for whom we want to work, the farmers and land workers, are back in the right place: at the center of the project, partners and beneficiaries. Next steps: lean canvas, business model canvas, and other useful tools to test theories on our famous last brick.
And the winner is…
Nothing like participating in competitions to expose your ideas to get rebuffed (or voted for!) by a formidable experimented jury, and very often kindly, so you can reorient your project just in time or serenely consolidate your choices. And taking part is great, but when you are looking for money, winning is even better. Termatière finishes on the podium, happy finalist of the Coup de Pousse regional competition for innovative firm creation. We admittedly fell very short of the large check but important things are also elsewhere: the network. And on that point, a resounding success.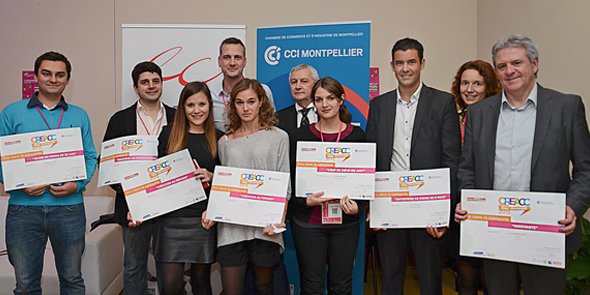 All the more so since good news came pouring in with a double prize at the Cré Acc competition, where Termatière was designated laureate for the "Less than 30 young persons" and as a superbonus "Jury favorite"! Good reason to get back to work in high spirits.
In the shoes of a Swiss knife
Over these past few months, I completely forgot at times that I was a designer. Drawing sofas is not really my initial hobby, but playing with materials and tinkering with samples to torture under fire, rain, even my shoe sole to figure out what they have in them, that yes. I have become a Swiss knife over time: saleswoman, manager, accounting apprentice, secretary, and so on.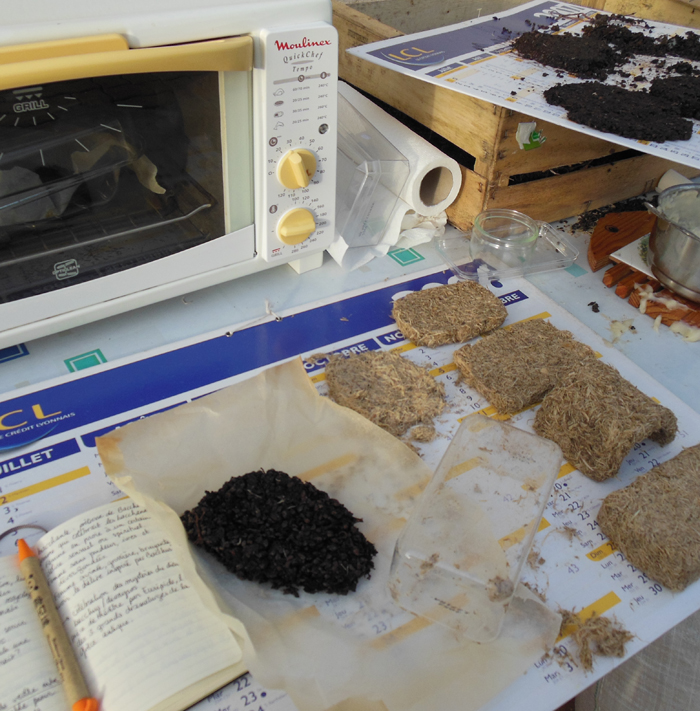 But soon I will need to get my pens out again and scrawl the plans of our prototype wine cases, made from our new material by Termatière + INRA + SupAgro: composite wood made from vine shoots, 100% bio-sourced. Today in France, ten million wine cases are produced every year, mainly in the Gironde region, in maritime pine. Half of that resource is imported, the other half specially sawed…And each year, a million and a half tons of vine shoots are burned or grinded by wine-makers, despite the exceptional qualities of this wood. Go figure.
Fun time at the Caveau d'Héraclès
And because Termatière also wishes to contribute to the promotion of local materials, beneficial for everyone, we co-lead with the collective of artists Polysyrene a "wine lee scribbling" workshop with young aspiring artists, at the heart of the cooperative cellar of Aigues-Vives. Following a visit of the cellar, some explanations on wine making and my work as a designer of materials from agricultural waste, the children rolled up their sleeves to create a collective piece of art.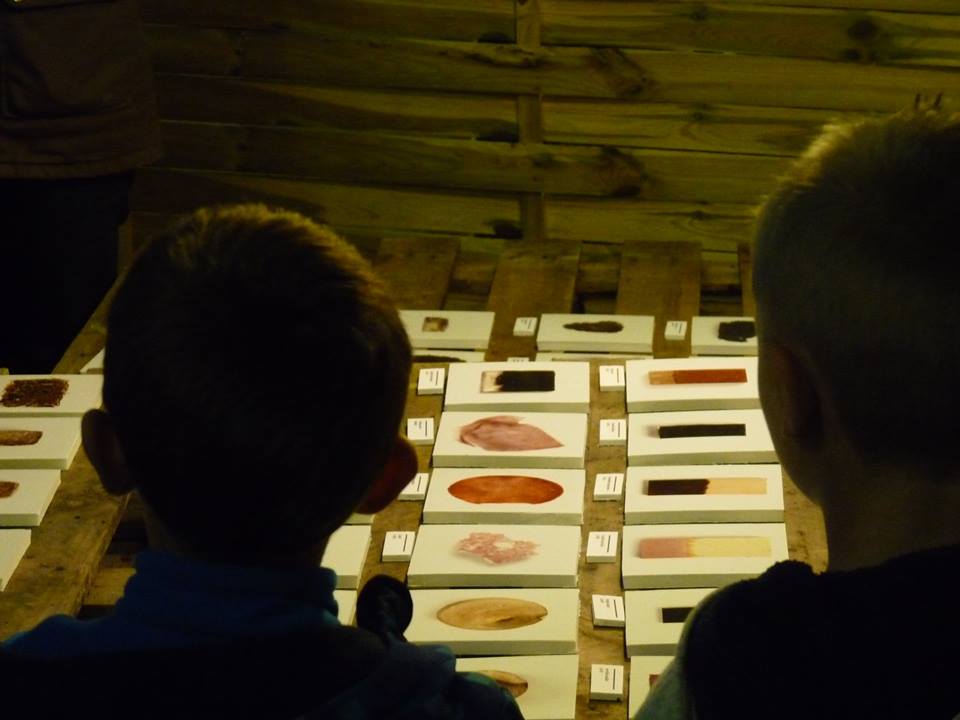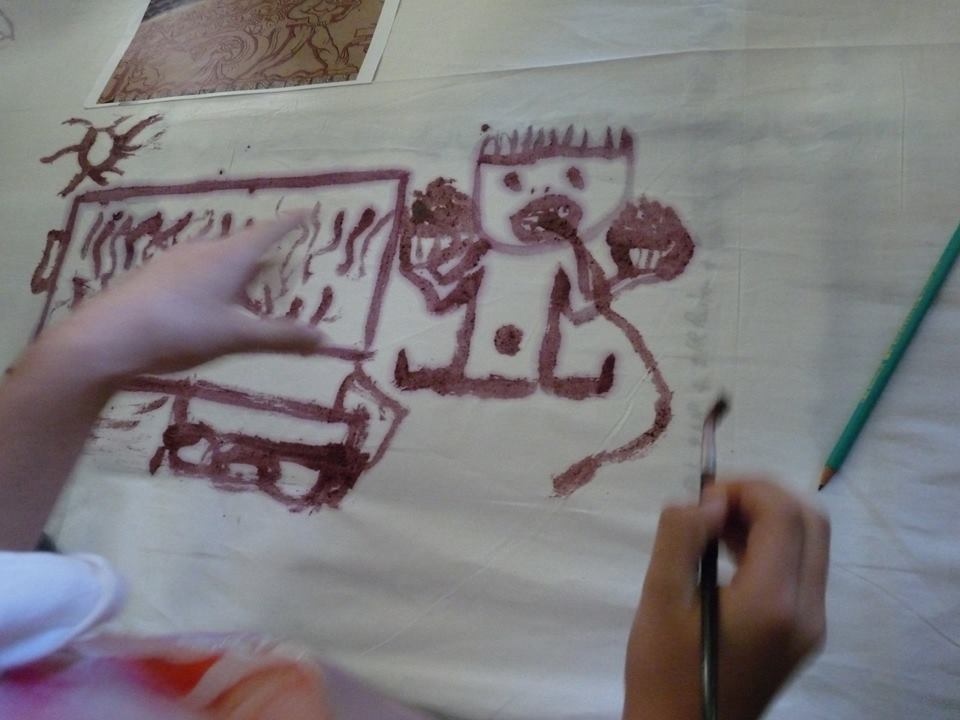 It was about reinterpreting the fresco decorating the Caveau and imagining how one would make wine in the future. Among humanoid robots squeezing grapes in their impressive jaws, giant vines due to global warming, the young painters had fun drawing with a pink liquid with a funny smell, smell that dissuaded several of them to take a tiny sip. In short, a pleasant break, between an Excel sheet and an administrative file.