/ Proto
Freedom of movement with HTC Vive, when your only mission is to dissolve zombies. © Nicolas Barrial
Paris Games Week successfully plays the VR card
Big VR offensive at Paris Games Week 2015, which ended on November 1. A large third of the giant Sony stand was dedicated to Playstation VR, while HTC debuted Vive, in test mode, as a challenger to Oculus Rift.
The gaming world gathered at Porte de Versailles in Paris from October 28 to November 1, 2015 for Paris Games Week. With its stands the size of small buildings, hordes of gamers in LAN mode, cosplayers and electronica to top it all off, the French expo's ambition was to become the European leader of gaming shows. And it did pretty well, if we believe the organizers' attendance estimate of 307,000 visitors.
VR battalions
Among the hysterical crowd of fans snatching up swag from the latest blockbusters, thousands of heads were absorbed in demos—some literally, as immersive virtual reality was initiating its first battalions of players.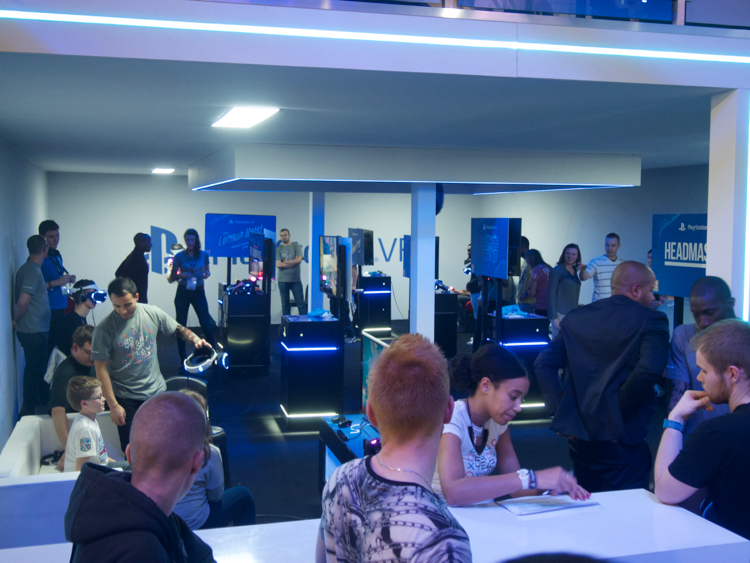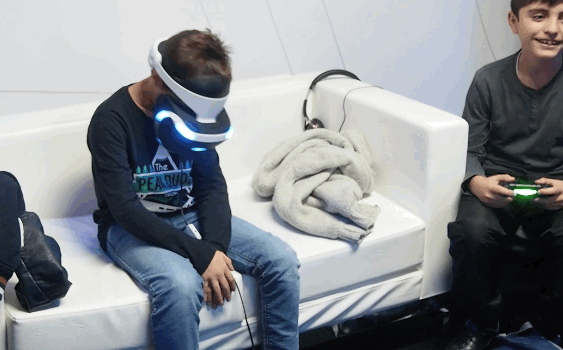 Sony, which chose to invest massively in the show, dedicated a large third of its stand, the biggest at Paris Games Week, to Playstation VR, its virtual reality solution to be released in 2016. Under a "Welcome to the future of gaming" banner, a large open space emitted a bluish light, evoking the LEDs of its SF headset.
Sony also offered registered users a "family" experience, where only one of the players wore a headset, while other gamers were immersed in another multiplayer space. Without a doubt, Sony is on target, while its console competitor Microsoft barely made waves with its Oculus discount offer.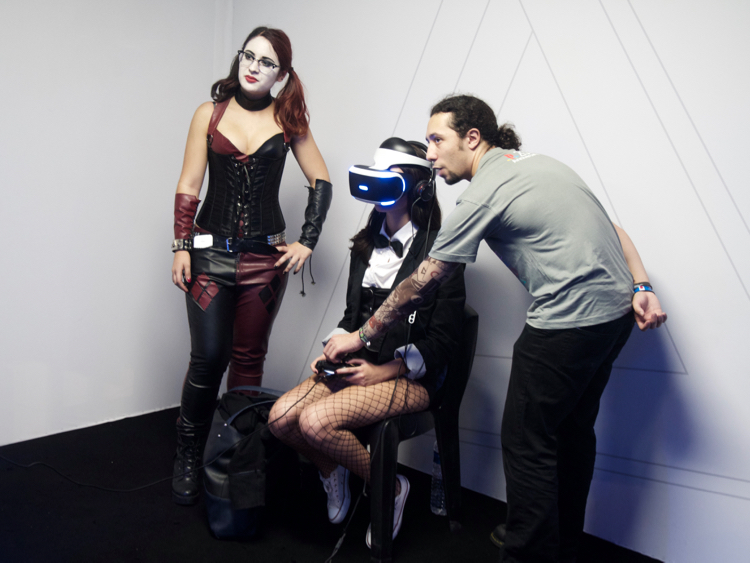 Meanwhile, Oculus itself decided to leave Europe the leftovers. Its stand only presented DK2 (its most recent VR headset for developers), even though the California company already announced that production would be discontinued.
However it did present CV1, the first mainstream Oculus, at the U.S. gaming show E3 last June.
On the other hand, its direct challenger was quite present at the show and successfully roused curiosity. Vive, manufactured by HTC in collaboration with the owner of Steam, the famous online commercial platform for video games, is still in development and only sparsely distributed to developers.
But on paper, it's the most powerful on the market (release is scheduled for the first quarter of 2016).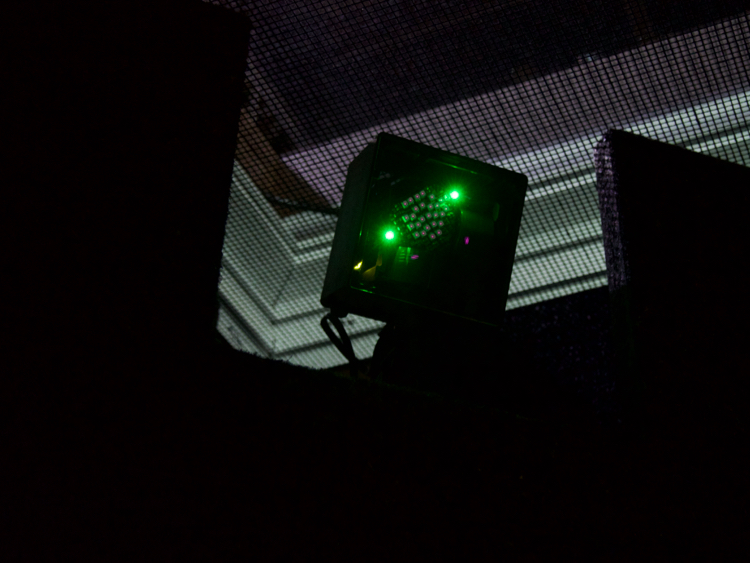 In constrast to Sony's flashy colors, HTC's stand was more evocative of cyberspace itself, with individual cabins of about 15 square meters to showcase LightHouse, the system that frees the player from a static position. A crowd was glued to the stand where some had been waiting for an hour or two.
"Thank you for not filming the computers," I hear. No doubt to avoid calling attention to the artillery of hardware deployed for the occasion (which you're unlikely to have at home). Once the betatester (me) was equipped with the headset, the operator took control of the sound to give me instructions.
First impression: Vive is not as big and heavy as its brutal design might have you believe from the photos. The controller, both light and wireless, is just as stark in design.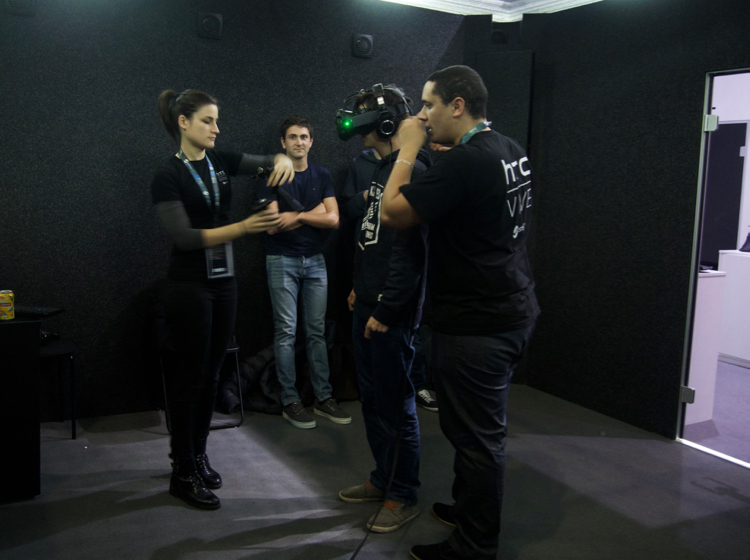 HTC reveals four demos. In the first, TheBluVR, a whale swims right in front of me, and the beauty of VR is that everything is represented in proportion to my body. At 90 frames per second, it's very fluid, the ambiant sound helps a lot but it's somewhat passive. Only the fleeing fish acknowledge my presence. Next, we abruptly emerge on land with Job Simulator, a sort of hectic virtual diner that tempts you to do just about anything. Then Tilt Brush, an immersive painting software that received a lot of press, shows off its precision controls. I scribble something, not giving it the full attention it deserves, but I want action!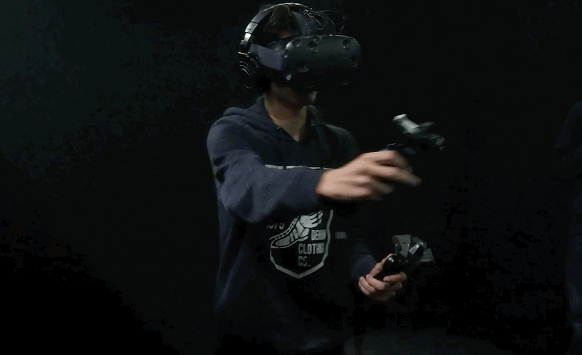 Arizona Sunshine gives me my due. As I'm being attacked by zombies, this first-person-shooter effectively recreates a western-like setting thanks to the quality of the Vive screens. I squat to adjust my line of fire and hit home. Before I know it, I'm acting like Jesse James. I think I could get good at this kind of game, even if I have to break a lamp or two at home.
I calm back down with The Secret Shop, a future add-on to DoTA 2, and its well-translated heroic fantasy world, complete with magician and mini dragon who run away from me. Surprise! When I take my finger off the button, I shrink. The rather restrained freedom of movement in this hobbit-sized habitat actually corresponds quite well to the real size defined by LightHouse.
When it finally ended, I didn't feel the weight of the headset or queasy.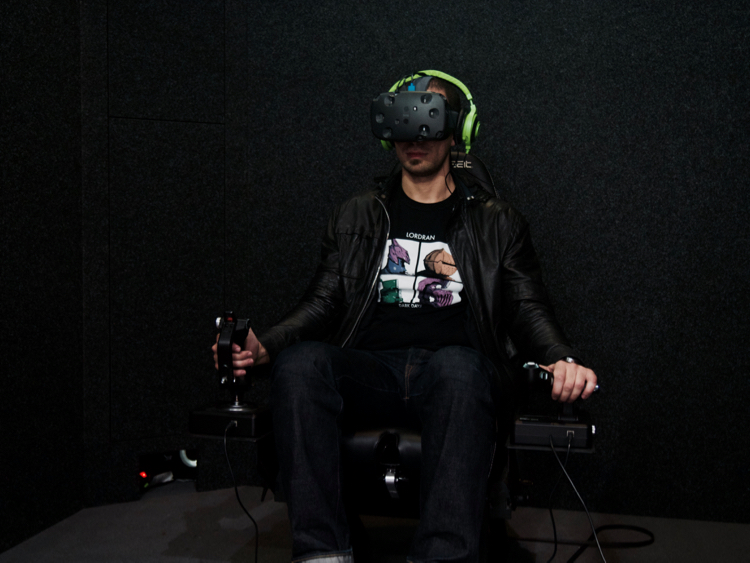 Another type of experience offered on HTC's stand is Elite Dangerous, a multiplayer space battle game. The betatester, sitting in a bucket seat with a double joystick, seemed a bit panicked by the sidereal immensity stretching out before him…
Endgame
In terms of VR headsets, I tested Playstation VR, Oculus and Vive. Frankly, it's hard to say which one will won the battle. The content will determine the winner. The real novelty is that virtual reality is quite functional, varied in its expressions and attractive to the public.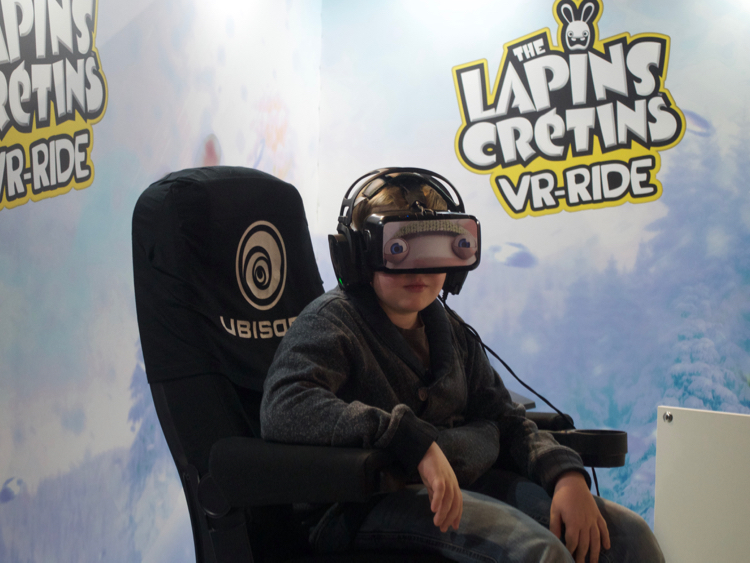 Even if his royal highness Oculus did not deign to advance his pawns, we were able to discover the Oculus VR version of Ubisoft's Lapins Crétins and the immersive attraction of Partouche VR's Roller Blaster. And while the specialized press commended Playstation VR's unprecedented visibility, it was HTC that emerged victorious in Paris, voted Best Accessory in show.
We feel so honoured to have won Best Accessory of #PGW2015. Thanks @ParisGamesWeek! pic.twitter.com/BSJqAqpaV3

— HTC VIVE (@htcvive) October 30, 2015