/ News
The surprise joysticks of the Oculus Rift. © DR
Oculus looks for the wave of the E3 trade fair and reaps a small breeze
Prior to E3, the largest video game trade show in the world, in Los Angeles from the 16th to the 19th of June, Oculus pulls out all the stops to seduce gamers…and announces a partnership with Microsoft.
Following the announcement from Oculus, two weeks ago, of the launch of its virtual reality headset for the general public in the first quarter of 2016, the company expressed itself again a few days before the opening of the largest electronic entertainment trade show in the world, E3, in Los Angeles.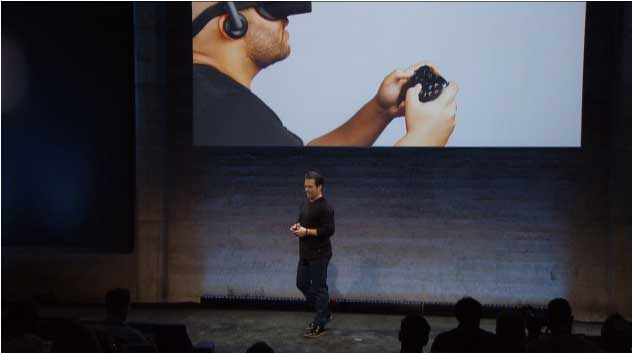 During a a Steve Jobs type conference broadcast on Twitch (the gamers' video platform), Oculus, whose logo has changed, disclosed the final design of its device.
The Oculus Rift general public model, presentation:
Black, matt, smooth, it is very similar to its big brother the Crescent Bay that never came to market. Will it have the same features? Not much to get your teeth into on that side if not for the presence of two screens, therefore a better definition per eye. In any case, no visible LED on the front as is customary, even if they are present underneath: the headset will be delivered with a sensor/camera on a base (nothing new, VR helmets are near unusable without external tracking) and dedicated headphones.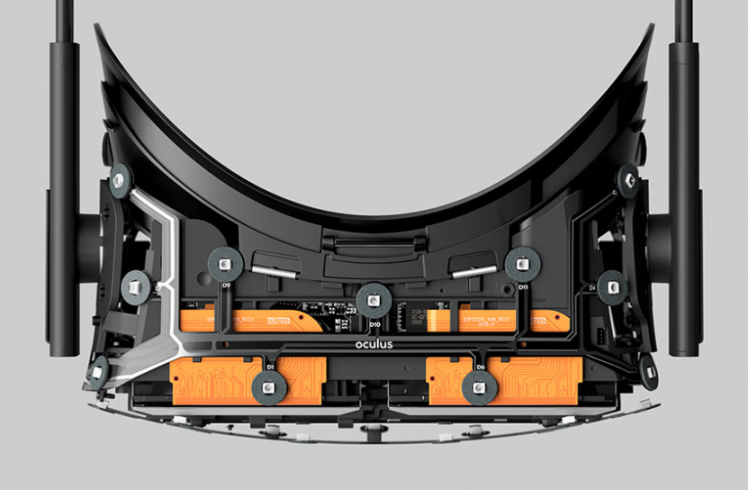 The most innovative, without doubt, are these half-moon shaped wireless joysticks, « Oculus Touch » that were also presented during the shindig… On the program, handling of virtual objects with one's hands, gestures to communicate in virtual worlds and a little haptics (illusion of light weights). Tantalising? Indeed, except that these cyberspace joysticks will not be ready for the launch of the helmet (Oculus remains vague by mentioning the first semester of 2016)…In its place, future buyers will receive an Xbox One controller! Inevitably, it's a little disappointing.
The most interesting information of this conference is in fact the partnership of Microsoft with Oculus that ratifies the admission of the Redmond firm into the virtual reality dance. Not for console content for the time being, but more to promote Windows 10. You will nevertheless be able to play on Xbox One in a virtual room itself equipped with a flat screen.
Rather scant to appeal to gamers of the E3… Especially since Sony should dedicate half of its stand to Morpheus, the VR headset for Playstation and Valve/Steam and its powerful HTC Vive should continue to reap popular support among gamers.
Having said that, none of the competitors of Oculus have distributed 180,000 development kits worldwide. Let's wager that most virtual reality experiences presented at E3 (over here a few game trailers on Oculus) will have been developed for the different versions of the Oculus Rift or still the Samsung Gear VR…also designed by Oculus.
E3 in Los Angeles, from June 16th to 18th