/ DIY
Mycelium. © Wikimedia
Your next-door neighbor is taunting you with his delicious smelling stir-fried mushrooms, but you do not have the stamina to get up at dawn on Sunday morning to go mushroom picking? Makery tells you everything about growing oyster mushrooms at home.
It's the high season for mushrooms! Filled with good resolutions for this new academic year, you wish to become the king of the mushroom and treat your taste buds? To help you, several start-ups have emerged over the past few years that offer the same concept, culture kits of oyster mushrooms to grow in carton bags. Get hold of a vaporizer and a knife to split the plastic and you're all set!
But with an average of €17 for stir-fried mushrooms, the omelet could well remain stuck in your throat… Fast, economical, 100% waste recovery, we explain how to do the same thing in DIY. And what's more, it's fun.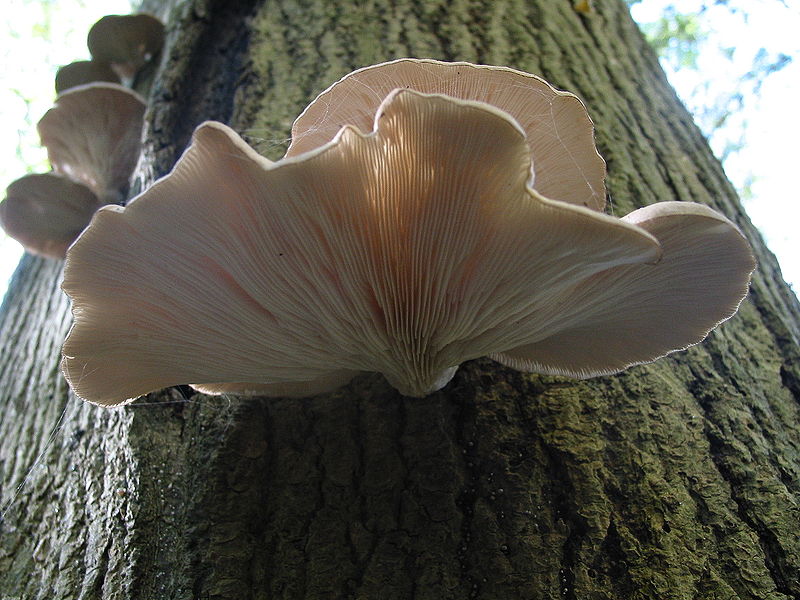 Option 1, with coffee
Coffee grounds, particularly rich in potassium and magnesium happen to be an excellent substrate for growing oyster mushrooms effectively. This technique is in fact used everywhere in the world, up to Zimbabwe where Chido Govera, supported by the ZERI foundation (Zero Emissions Research and Initiatives), is an enthusiastic promoter of this technique for the local socio-economical development.
What do you need?
– a plastic container (bottle, can, freezer bag);
– a glass jar;
– paper towels;
– a bowl of coffee grounds;
– corn cobs (the cob is the core of the ear of corn);
– 15 days of patience.
How do you do it?
Soak bits of cardboard in a bowl of very hot water. Drain off the excess water and place a bit of cardboard on top of a bit of oyster mushroom, on top of a bit of cardboard on top of a bit of oyster mushroom, on top of…Big Mac manner. Place this sandwich in a glass jar covered with a damp paper towel so that the sandwich sows itself.
Prepare a homogeneous mixture of coffee grounds and crushed corn cobs. Place the sowed sandwich at the bottom of your plastic container that you will have pierced with several holes, and recover it with the mixture.
Make sure you always keep your growing device damp and away from direct light to make the work of the mycelium easier. Once the preparation has become hard and off-white, make the holes bigger to let the oyster mushroom shoots come out.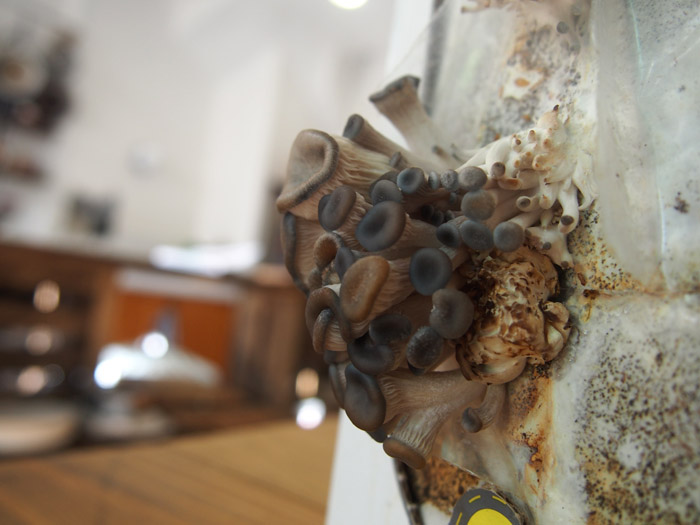 Option 2, with sawdust
We will follow the trick of the Congolese inventor Tsengué-Tsengué. Compulsive DIYer, never short of ideas, he recycles sawdust from the woodworking companies in his neighborhood in Brazzaville, grinds it and then mixes it with wheat or corn bran to obtain a substrate in which he injects a strain of mycelium.
And if you don't like mushrooms, you could always sit on them thanks to the Dutch Eric Klarenbeek and his famous Mycelium Chair, printed in 3D with…mushrooms!