/ Lab Life
The artist Matt Ng. © Marie-Eve Lacasse
Montreal, heart of makers (part 2)
A wave of makermania is sweeping across Montreal. Behind the hatching of fablabs, makers with catching enthusiasm. Encounters around the labs of the Quebec metropolis for the second part of our report.
Montréal, special envoy (text and photos)
The strength of a fablab or a makerspace does not necessarily lie in the quantity of equipment that can be found there. It rather lies in those people who visit them often and their catching enthusiasm. Be they volunteers, teachers, amateurs, artists, engineers or researchers, the users of these spaces have one thing in common: the desire to share their knowledge for free.
Artists at startupers
Whilst I am being introduced to Sydney Swaine-Simon, Concordia University engineering graduate who is now part of the salaried team of d3center, at District 3 Innovation Center of the University of Concordia, a young lady with imposing glasses and short hair walks into the lab.
Sydney asks me to follow him and introduces me to Evelyne Drouin: a sound artist, former resident of the Society of technological art , who works on neurosciences as well as music and visual effects. "My latest project consists in showing visually the effects of sound on the body", says the young woman who also becomes DJ Mini at night.
Even though d3center puts up high potential start-ups, it also makes its makerspace available to artists who need to tinker with things and ask for the expertise of engineers and computer specialist working there.
"We truly intend to attract more and more artists", says Sydney Swaine-Simon. "Evelyne represents a good example of what we can mutually bring each other. We have already carried out several projects together."
And because everybody always wants to do more, Evelyne is also an ambassador for Little Bits, workshops on introduction to computers for small children. Heart with fingers.
Community geek
Marc-André Léger invites me to the Concordia d3center where he has been giving a workshop since the start of the academic year inspired from MIT's famous "How to make something": "How to make almost anything".
During 15 weeks, he will offer free training to whomever wants to set up a project requiring the tools of the makerspace, whatever his/her age or schooling. This trained computer specialist, who defines himself as a geek, started 35 years ago as a programmer then moved on to network manager. Nowadays he teaches information technology at the administration and medical school at Sherbrooke University and at the John Molson School of Business at Concordia University.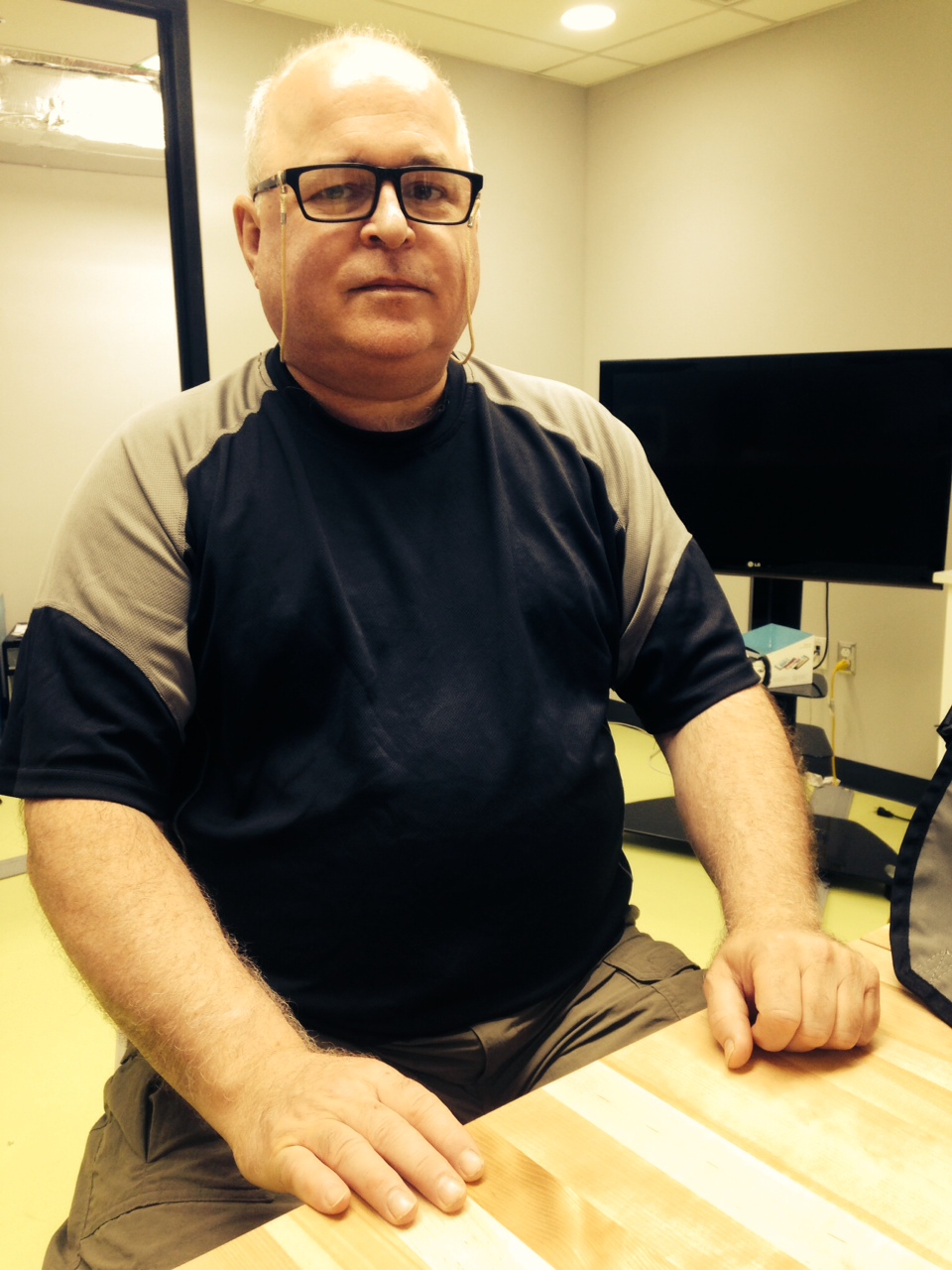 But above all, Marc-André has always been concerned about being involved in his community. He wanted to create a People's university (inspired by Michel Onfray's one) in Hochelaga-Maisonneuve, the disadvantaged neighbourhood where he lives with his wife, then he created a fablab within the computer science museum in Quebec..
"It's a kind of vocation. We have no children and my parents have always passed on these values of sharing and relaying. So it was natural to get involved voluntarily in supporting others."
Inspired by the Maker's café in London, a new makerspace will open shortly in the Hochelaga neighbourhood, still lead by Marc-André. "It is a community vision of the makerspace. There will be an IT support workshop and an internet café that will allow us to cover the costs of the place. One needs to multiply the sources of funding because there are not many grants."
It's not a load of rubbish
At Helios, the makerspace we were talking about here, I met Alexandre Lavoie. Music teacher having trained as a flutist, Alexandre was looking for a workshop to produce his hand-crafted flutes: "They are Indian transverse flutes having undergone a slight modernization. Usually Indian flutes are made of bamboo. These are made of wood, with a rectangular mouthpiece and round corners. They have more bass and treble…"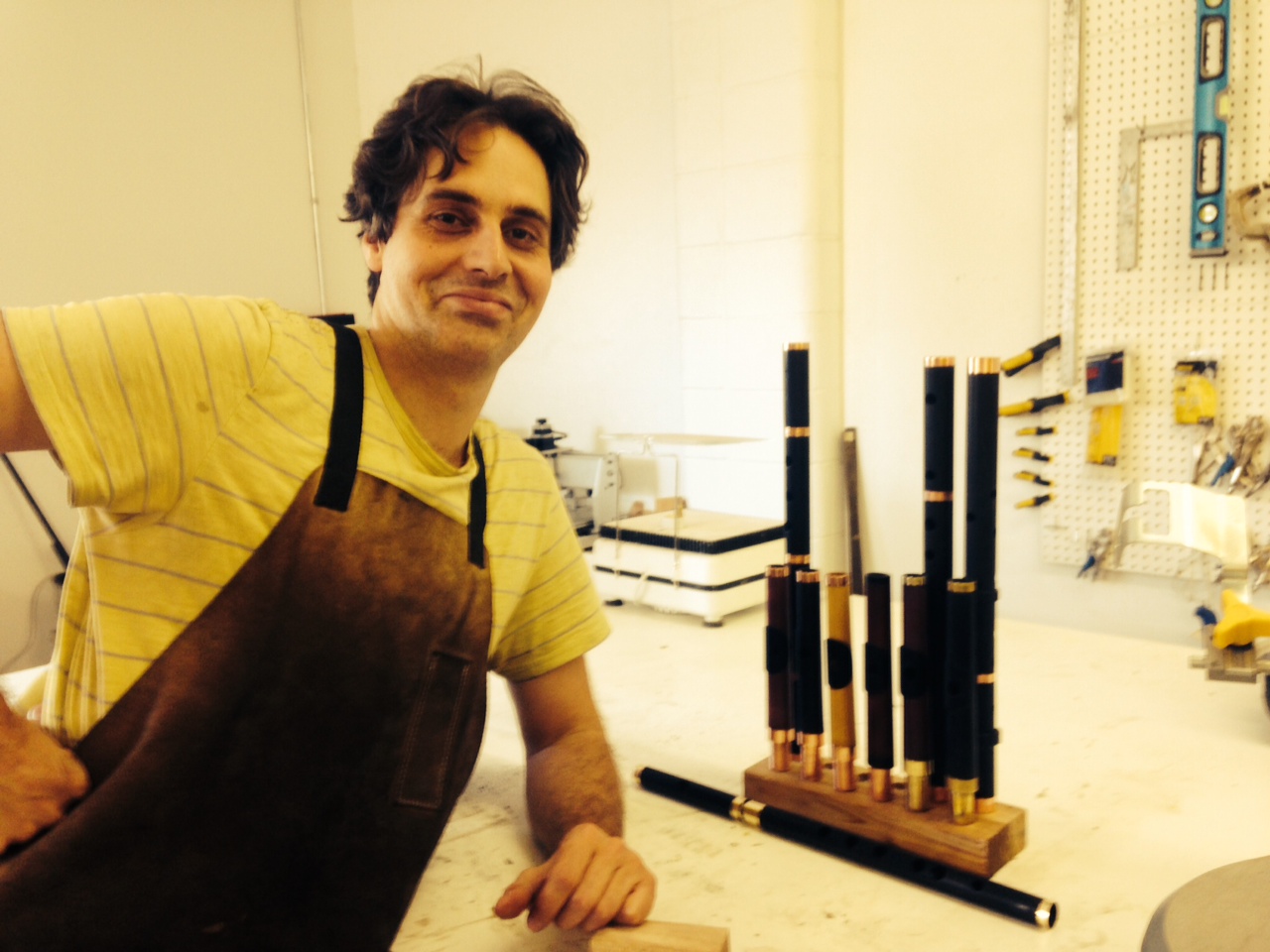 And why produce them at Helios? "I was looking for a place to put down my metal lathe and at Helios they were delighted to welcome the metal lathe and myself!" You can see Alexandre's flutes on his website.
Matt Ng, an art student at Concordia University, is working next to him. Sculptor and painter, he is busying himself on a table building a large size frame for a future painting. "But why make it yourself? "I asked naively. "Because it's fun to do! And also because it is cheaper. The Concordia workshops are closed during summer (we are in August, editor's note) and anyway, for graduates, there is no more access to the workshops of the university, so it's better to find solutions now."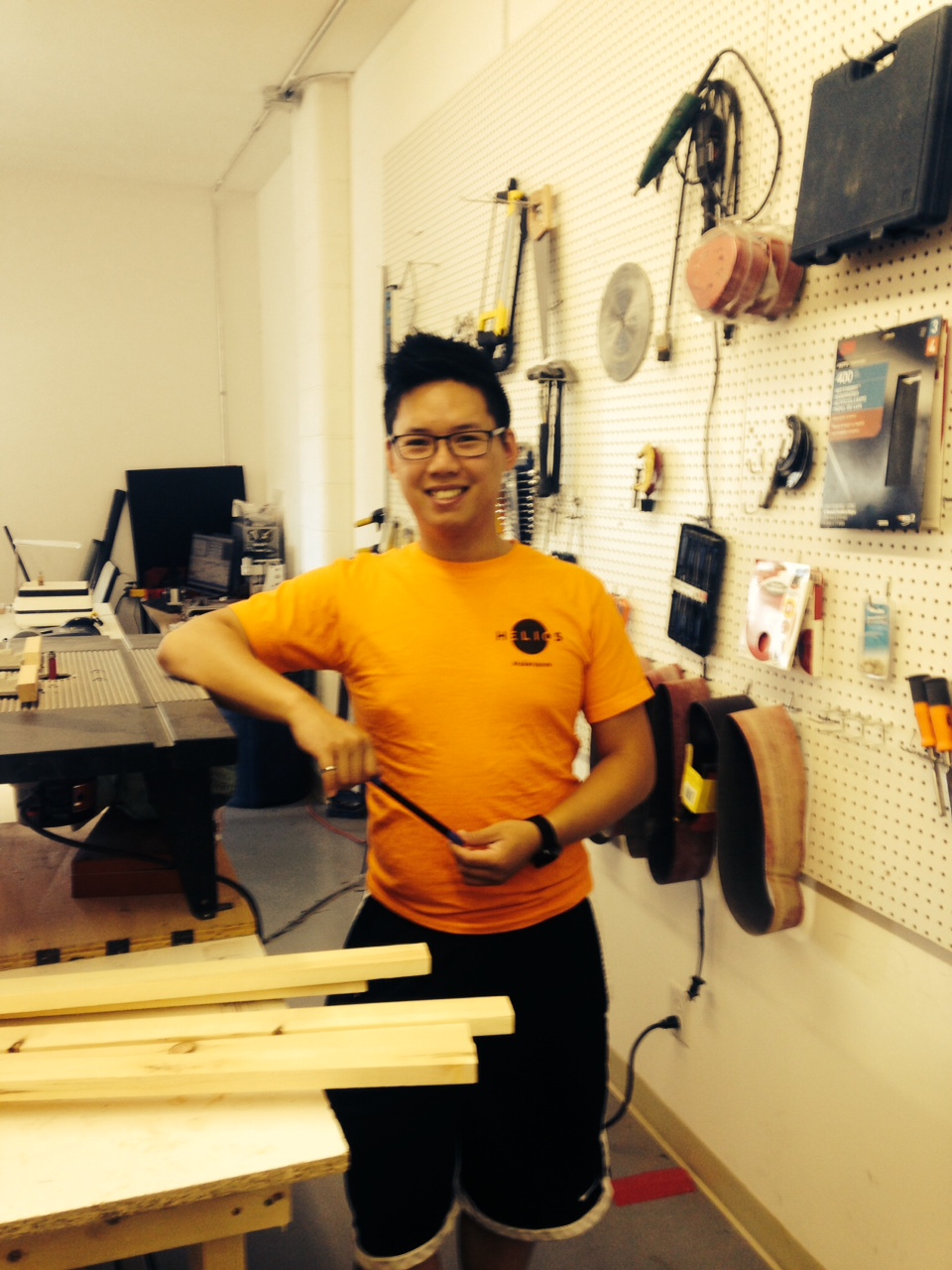 Operating with 15 volunteers, supervised by the daring Lambert Le, Helios proves the successful matches between geeks and artists that are flourishing in the province of Quebec.
Find part 1 of our report in Montreal over here.