/ Lab Life
In Montreal, the labs are bilingual. © Marie-Eve Lacasse
My fablabs in Montreal (part 1)
Montreal, eldorado of new media since the 1990s, has the advantages of being bilingual, inexpensive and welcoming. After the video game studios, the makerspaces and hackerspaces are emerging. Report from the Quebecois metropolis, halfway between Europe and Silicon Valley.
Montreal, special report (words and photos)
How to make your own prototypes after graduation ? Where to find mentors for a passionate geek who is still a legal minor ? Montreal is home to four universities (two anglophone, two francophone) that train engineers and computer scientists who are ready to launch their start-up before they even graduate—who are looking for places to go professional off the conventional path of employment. Rising to meet these needs, with or without government funding, are the spaces that make up Montreal's current makermania. Overview.
Foulab, the initial hackerspace
The oldest institution of its kind in Montreal, Foulab hackerspace set up shop a decade ago in the Saint Henri neighborhood, not far from École de technologie supérieure (ÉTS) and Echofab fablab (also a pioneer, MIT-branded and located in the innovation district).
This former factory, with its broken windows and closed-down appearance, is surprisingly discreet. Inside, raw wires hang from the ceilings, sounds from ghost studios resound in the hallways… I run into workers coming out of woodworking studios, ask if they know the way, but none has heard of Foulab. And everyone assures me that there is no wifi network in the building. Finally I find the entrance to the lab… which remains a closed door.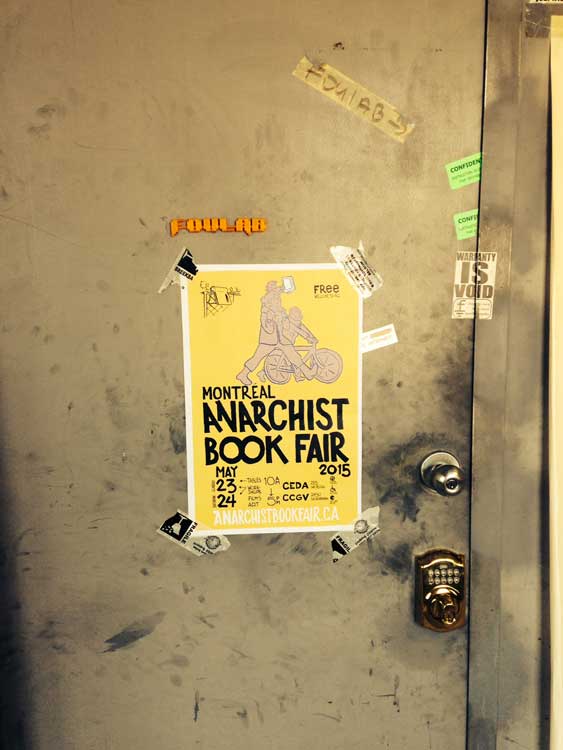 Later I manage to reach Alexander Somma, my hacker contact, by phone. A bit reserved, he explains that his hackerspace is meant primarily to share knowledge and ideas among the community. Nothing illegal whatsoever! The Foulab hackers are nice, curious people.
Foulab is also a space for themed discussions around data, open Internet, hacker thoughts… Their "Junk Independence Day" helps them to round up all conceivable electronic components and recycle them. Another recently finished project : all Tweets from Foulab's @tweletype Twitter account are printed on the hackerspace's TI-745 terminal, a 1964 printer that once belonged to NASA ! Defy time-space ? Now that's a noble scientific ambition.
Foulab, Suite 33B, 999 du Collège, Montreal, Canada, open Tuesdays from 8 PM
Helios, young equipped makerspace
Helios is a budding makerspace that launched 20 months ago, also located in the Saint Henri neighborhood. For a monthly fee of 40 or 50 Canadian dollars (27 to 34 euros), it offers its members a well-equipped studio: two 3D printers, an electronic station, an oscilloscope, a function generator, a soldering iron, a leather sewing machine, a table for sawing, a laser cutter, a drill press, a miter saw, a lathe, a sandblaster drum, a permanent cabinet and even a metal lathe.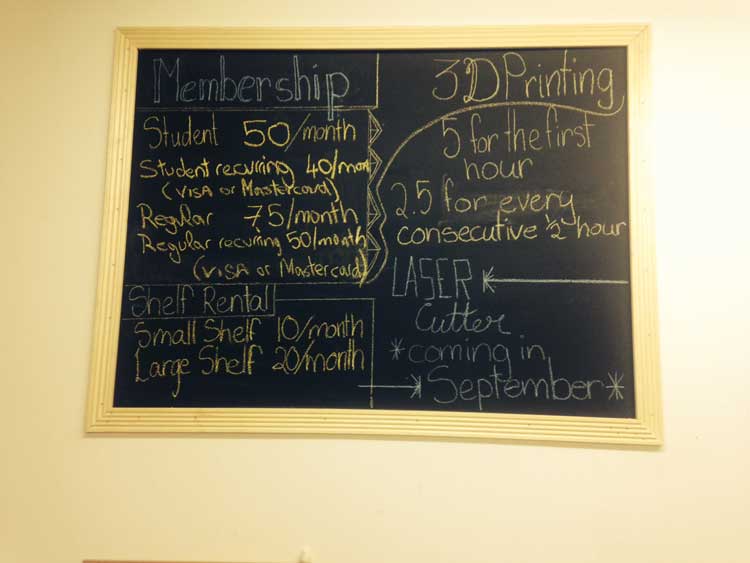 The 15 volunteers who manage the space are mostly Concordia University alumni and can access the studio at any time ; they accompany members and offer consulting for the machines. The project was first incubated for four months at Concordia University's District 3 before receiving funding from the city and the South-West district to strike out on its own.
Its founder, the young engineer Lambert Le, is certain that Saint Henri will become the neighborhood for makers: "This organization that I founded with four other people and 20,000 dollars of capital is still in its infancy. We haven't yet reviewed our costs, but I'm confident that we have a viable model."
Convinced that the maker community must take responsibility for teaching people how to use tools (which is done less and less in schools, as high school technology classes are being replaced by other classes), Lambert also believes in future partnerships between his makerspace and the schools of the neighborhood.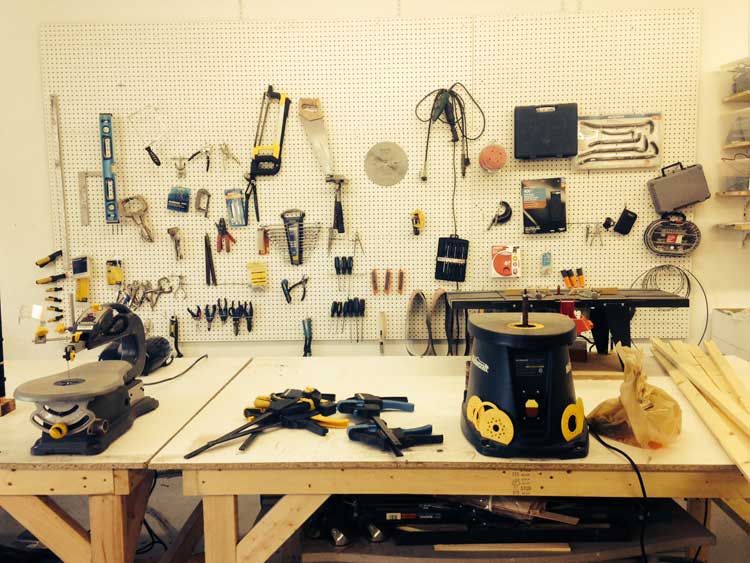 Helios Makerspace, 137 Rue Saint-Ferdinand #270, Montreal, Wednesday to Friday 1 PM to 9 PM, Saturday 1 PM to 8 PM for members, Thursday 4 PM to 9 PM for everyone.
District 3, incubator and makerspace
The District 3 Innovation Center, an incubator of start-ups, is situated in downtown Montreal. Its large, bright space is well-equipped by Concordia University ; on the same floor is a media library reserved for doctorate students in the Arts.
There I meet Sydney Swaine-Simon, a Concordia alumnus in engineering who is now on District 3's paid staff team. The center's ambition is to incubate start-ups with strong potential, all the way through to their complete realization… or failure. With his orange hoodie, Sydney looks more like a coach ready to train a soccer team, but he mostly mentors young startuppers.
"Montreal is the perfect city to launch your business, even if the accelerators are more in Toronto," he says. The 20 odd start-ups incubated at District 3 are run by 20-something entrepreneurs. Their economic potential is estimated at 35 million Canadian dollars (23 million euros). There's a bit of everything, from E-panneur's online grocery shopping and delivery, to Stefanka's 3D-modeled, custom-fit bras, to a portable key-shaped smartphone charger…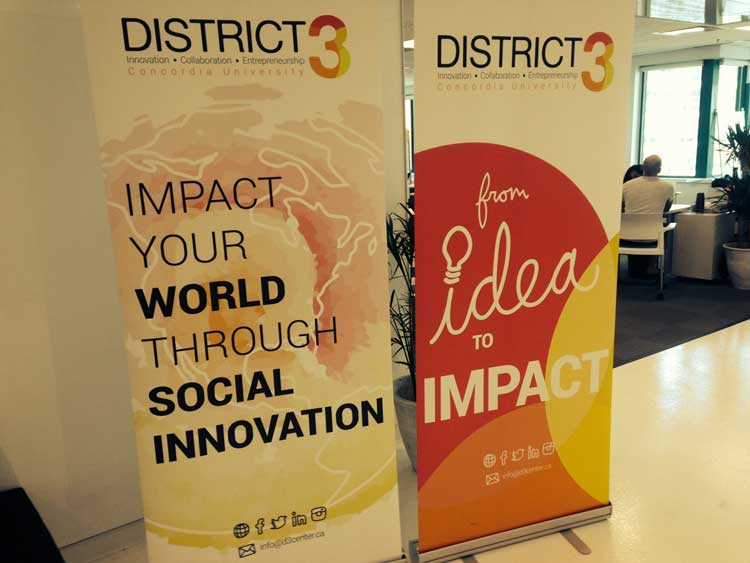 Right next to this hub is a makerspace, to which all the startuppers have access. There we find, for instance, the Heddoko engineers, who are working on smart sports garments that capture every body movement.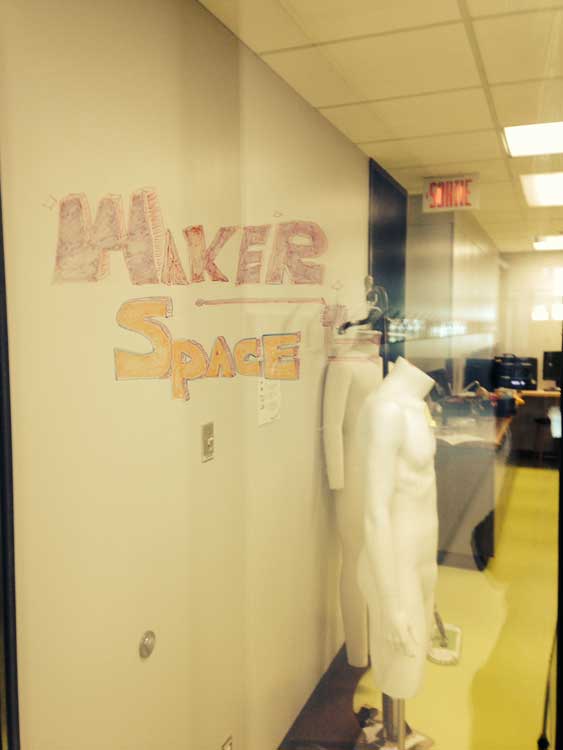 The equipment, space and staff are provided by the university free of charge, in exchange for (optional) future interventions and monitoring from these budding entrepreneurs. In this way, the university hopes to be more involved in Montreal's local community and to actively participate in its economy.
Moreover, workshops and classes are held all academic year round, including a "How to make something" workshop inspired by MIT's famous class "How to Make (almost) Anything" given by volunteer professors such as Marc-André Léger (more on that later).
District 3 Maker Space, 1250 Guy Street, Suite 600, Montreal
Coming soon : part 2 of our lab report from Montreal