/ Voices
Vine shoots as insulation? © Caroline Grellier
Column of a material maker (7)
Back in the vines of Languedoc, the priority in June for La Termatière is hunting for euros! Business and technical feasibility studies are on the menu in order to check what my vine shoot has in its fibre and know if the project can change scale.
Having defined my investment needs and identified the partnerships to set up, the hard part really begins for my project La Termatière, design agency specialised in bio-sourced materials: finding a bit of funds to set off the technical studies and thus clearing the next achievement stage of the project. The requests to the Languedoc-Roussillon region are in progress and meanwhile, the hunt for euros remains open.
Fishing for money!
Several strategies are worth considering to reap euros in one's net, starting with participations in contests. Big, small, regional, national, ultra-local, international in English with one motto: Yes, I can. Why take part? To challenge oneself and meet other project leaders aboard the same boat; to assess interest around one's project; to make oneself known to sympathisers who want to help you, potential sponsors, people open to your claims ("yes ladies and gentlemen, bio-sourced materials are the materials of tomorrow!"), in short, broaden one's network and become credible.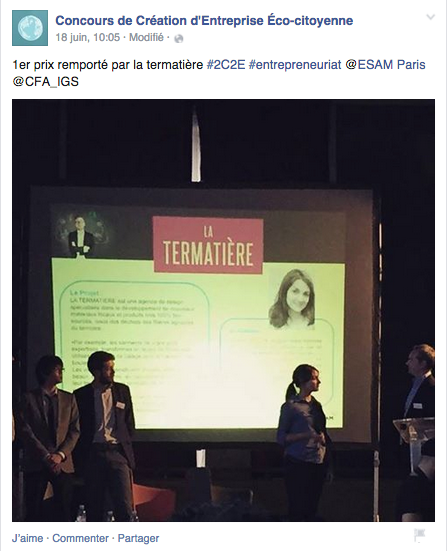 Fishing was good for La Termatière, with a first prize won on June 17th at the 7th edition of the eco-citizen business creation Contest, organised by the ESAM school in Paris. In addition to the most welcome nice cheque and the prizes in kind given, this evening also allowed me to communicate on La Termatière, talk about viticulture waste, bio-sourced materials and circular economy to the hundred or so people attending. A rather conclusive "business card" operation, I am learning on the job to put on my salesman hat and I am taking pleasure in evangelising design as a strategic tool for the implementation of the circular economy.
On July 2nd, another piece of good news was received, a huge help to maintain confidence and motivation up and running! La Termatière is among the 50 national laureates of the Tremplin Prize 2015 i-Lab Contest, organised by PEPITE (student centre for innovation, transfer and entrepreneurship) with support from the Ministry of higher education and research. A large cheque, expected at the awards ceremony in September that comes at the right moment to finance part of the R&D program with the Montpellier INRA (National institute for agronomical research), but also invest in small tools to recreate my low-tech workshop and pursue my experimentations.
Vine shoot fibre, vine shoot bread, vine shoot powder, etc.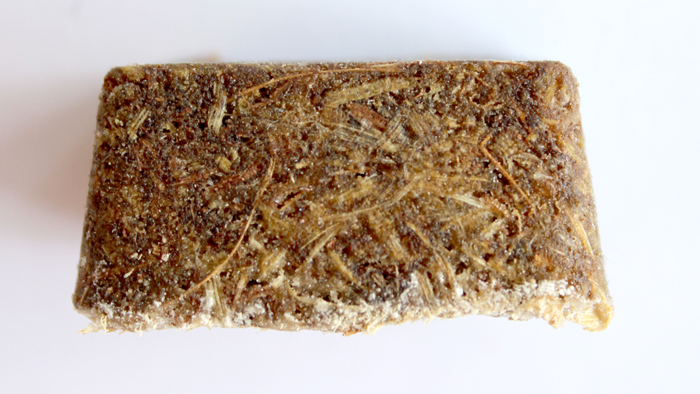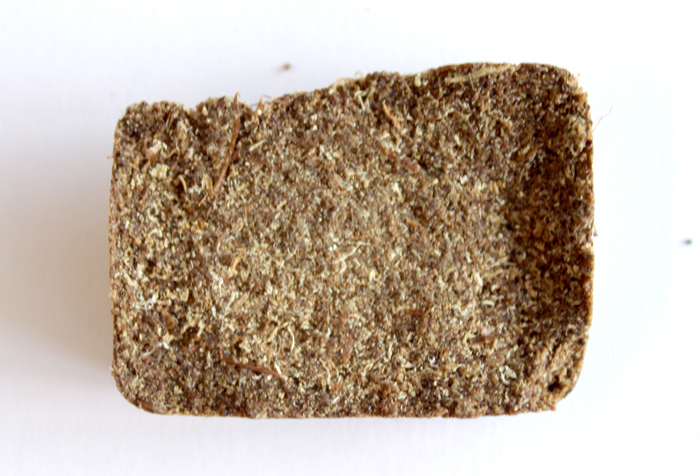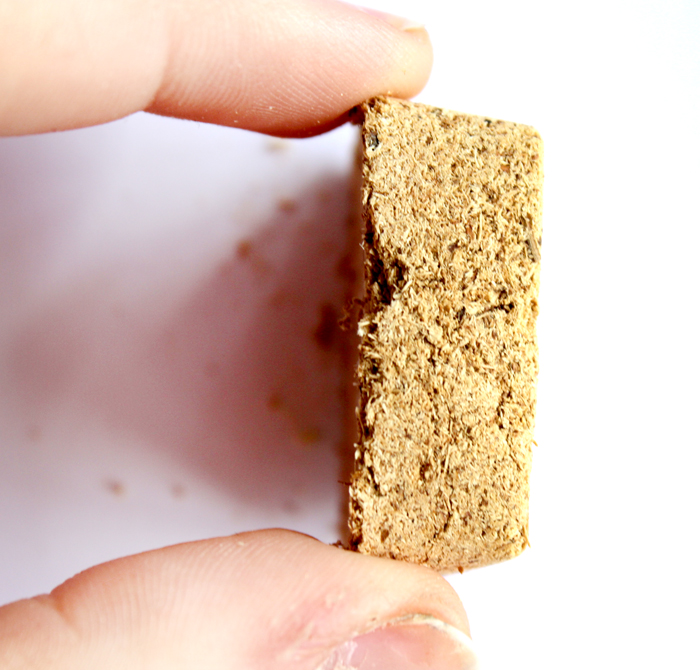 Experimentations that revolve around a main resource representing more than 60,000 tons of raw material in France: vine shoots. This wood with a particularly thin grain, a long and flexible fibre and of exceptional quality would be worthy of an altogether different fate than that of finishing crushed or worse, burnt in the depths of the vineyard, like vulgar waste.
Since the fibre is sufficiently long and resistant like flax, why not weave it, knit it, intertwine it. Reconstituted vine shoot wood, such as medium, proves to be, according to my initial tests, a serious rival to classic reconstituted wood such as medium, chipboard, OSB, because of its better stability when screwing/unscrewing and assembling (no cracking or loss of material) and most of all its incredible lightness. Wood shaving vine shoots to insulate cellars, wood medium vine shoots to design wine cases or harvesting baskets, vine shoot fibre to wedge bottles during transport, etc.
In short, there are ideas to be investigated in vine shoots.
Le Chapitre: experimental domain of Sup'Agro
Last week, first encounter with le Domaine du Chapitre, experimental territory of Sup'Agro Montpellier. A true laboratory where almost vanished old grape varieties are grown and where one teaches students vine selection. During my visit I discovered there existed a new unused raw material: clay soil for wine filtering. A bucket of this odorous matter is awaiting me next week to discover the technical potential of this resource, imagine the field of possibilities of its transformations and define relevant appropriate applications in situ.