/ News
A debauchery of headsets for your eyes only. © DR
12 headsets that will make virtual reality
Immersive headsets are ubiquitous in the media, but very few are available on the market. Makery sifted through the marketing, often as virtual as the reality it purports to create.
No festival or event dedicated to innovation is complete without a little virtual reality (VR) headset demo. However, only 6 prototypes are already on the market, most of them in developer kits. The others are at the more or less well-financed project stage.
From headsets with integrated screens, which are hardly autonomous (they must be plugged into a computer) but very powerful, to boxes such as Google Cardboard, which encase a smartphone and find their applications mostly on Google Play and to a lesser extent on the App Store, we reviewed 12 headsets.
To get an idea of the quality and characteristics of each model, we examined a few criteria up close: screen quality (resolution, refresh rate), field of vision (FOV) and tracking precision (motion sensors, external camera).
Access to the software development kit (or kit dev, SDK) and applications market were also determining factors.
Oculus Rift: where it all began
Type: integrated screen
SDK: available
Release date: inconsistent on ads.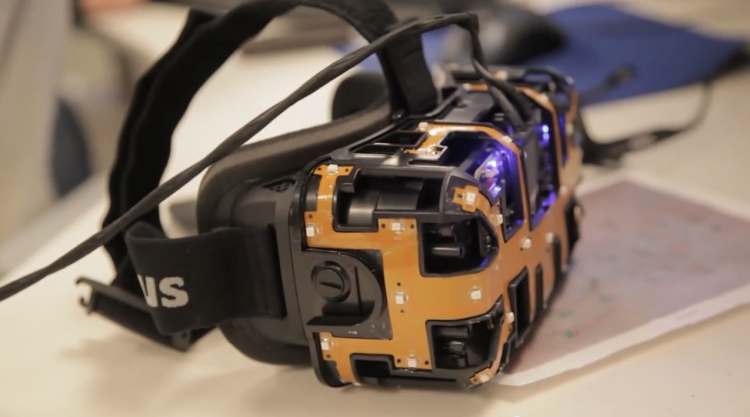 Launched on Kickstarter in 2012, Oculus Rift has been qualified as "a revolution on the scale of Netscape or the iPhone" by investor Andreessen Horowitz. The startup was acquired by Facebook in March 2014 for 2 billion dollars. Around 180,000 SDK are in circulation (DK1 and DK2). In addition to gaming, the Rift is also involved in a number of immersive experiments, and even Hollywood is interested.
Characteristics: The DK2 uses the Samsung Galaxy Note 3's AMOLED screen (960×1080), 100° FOV, a trio of internal sensors and an infrared system enabling it to be followed by an external camera.
Market: PC. Forms an ecosystem with Oculus Store.
SDK: SDK Oculus
Price: DK1 (used) and DK2 (350 €).
Samsung Gear VR: Oculus' mobile little brother
Type: mobile
SDK: available
Release date: on sale now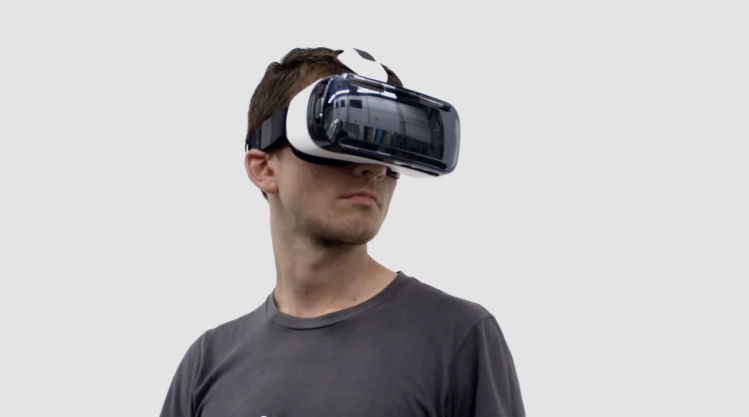 Gear VR resulted from the collaboration between Oculus and Samsung, when Oculus wanted to use OLED screens for the Rift.
Characteristics: Gear has the screen quality of Samsung Galaxy Note 4. It also has a navigation pad on the side and uses the Note 4's rear camera to display real space. Gear VR for Galaxy S6 and S6 Edge is currently being presented in the U.S.
Market: Gear VR is coveted by Oculus, which seeks a presence on the mobile market, with exclusive access to the Oculus Store.
SDK: It shares the SDK tools of Oculus Rift. Limited storage, battery life and device overheating.
Price: 199 € (out of stock). Note 4 : 600 €.
HTC Vive: Oculus Rift challenger
Type: integrated screen
SDK: limited distribution (on application)
Release date: summer 2015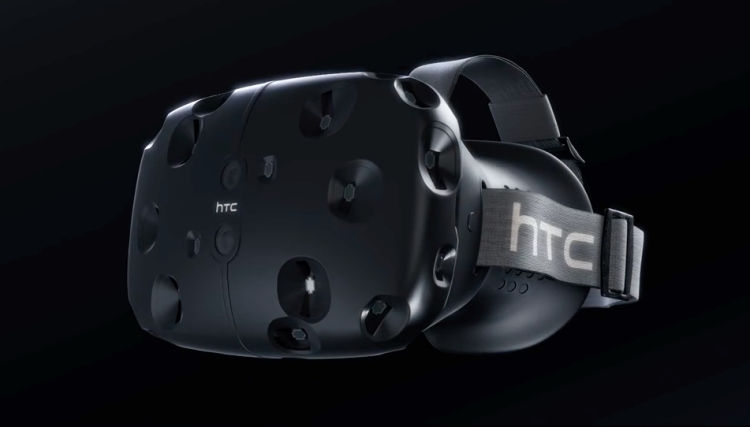 Game publisher Valve gave Oculus a lot of help in the beginning. But since then, Valve has partnered with HTC to design its own headset, the Vive. It also has artillery that gamers know well, the Steam platform. a stone in the garden of Oculus Store. Furthermore, Valve's headset uses triangulation technology, which gives the user more freedom of movement (Lighthouse).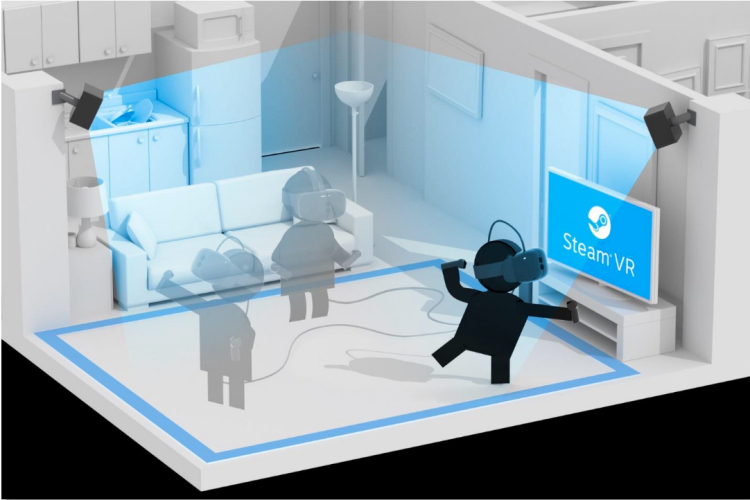 Characteristics: Vive has 2 screens (1080×1200) and a refresh rate of 90 Hz (72 for the DK2). It's comparable to the Crescent Bay, Oculus' latest prototype (not yet distributed). This means that once it's in the hands of developers, it will be the most powerful device on the market.
Market: PC.
SDK: In order to catch up with Oculus, Valve will soon offer free SDK. Apply here.
Price: not published.
Sony Morpheus: Playstation 4 Market
Type: integrated screen
SDK: no
Release date: mid 2016.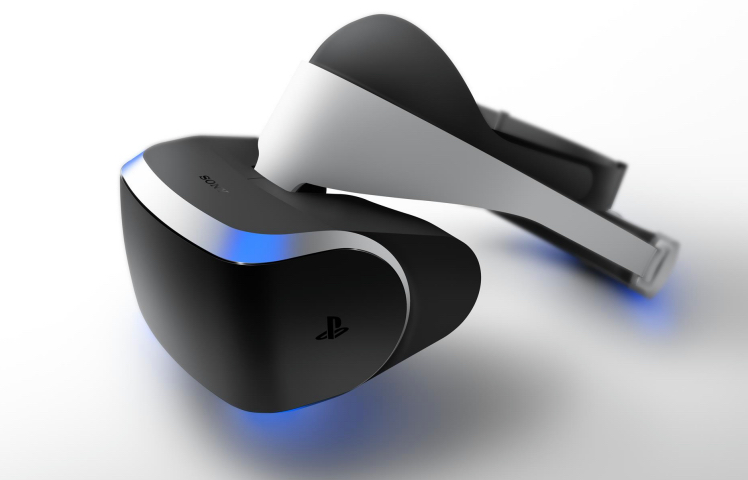 Sony Morpheus is developed internally for the closed PS4 market. We'll see if the clever ones manage to run it on PC once it goes public. Its characteristics are similar to those of the Oculus DK2, except for the OLED screen.
FOVE: under the eye of Microsoft
Type: integrated screen
SDK: no
Release date: announced on Kickstarter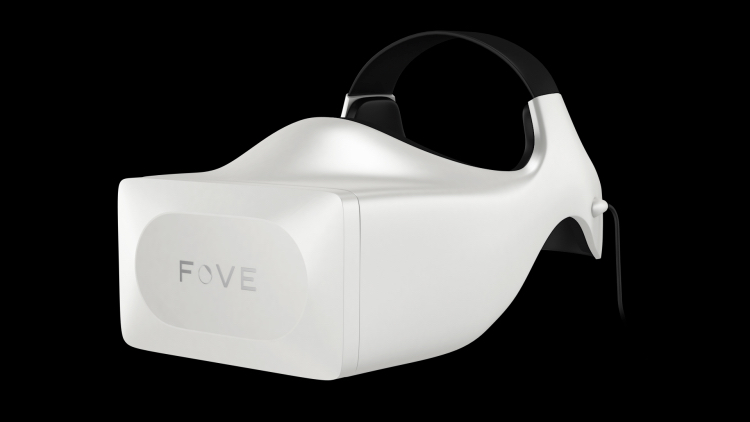 Incubated by Microsoft, this Japanese-designed headset could surprise you with its special advantage—it tracks eye movement. And we can see why: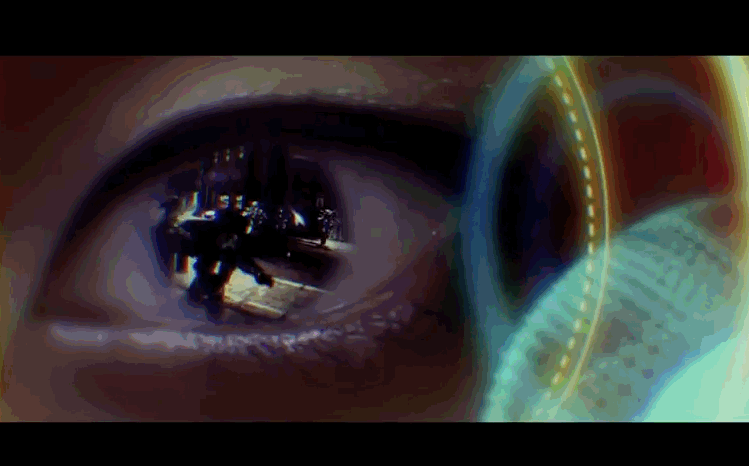 ANTVR: Chinese headset-of-all-trades
Type: integrated screen
SDK: available
Release date: on sale since October 2014
Following its successful Kickstarter campaign, AntVR has begun to deliver its SDK. This full HD headset with 100° FOV should be multi-platform (PC, consoles, drones). A headset that does it all… by itself, perhaps? Non-spherical lenses prevent image distorsion, and sensors were doubled to avoid using an external camera. 220 €… if you can read Chinese.
Google Cardboard: everything works with cardboard
Type: mobile
Release date: sold by third-party dealers
Google Cardboard was originally a joke by Google France to mock the billions of dollars that Facebook invested in Oculus. But more than 500,000 of these cardboard boxes have since been distributed. Instructions are freely accessible, and it is now manufactured by third parties.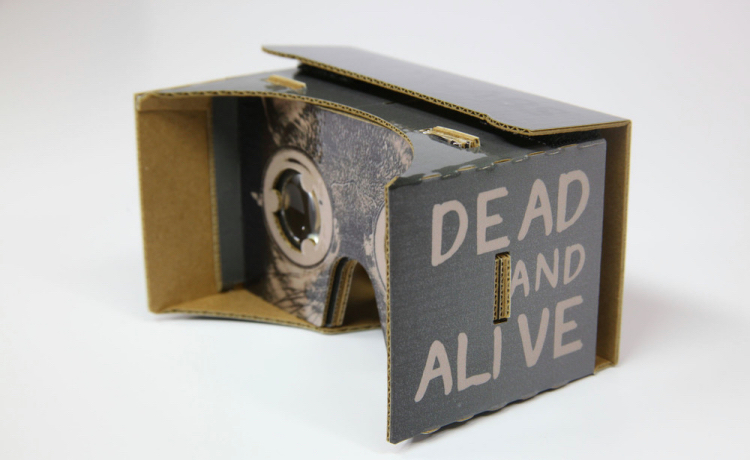 Characteristics: Cardboard and magnifying lenses. Once you slide in your smartphone, it's all about the characteristics of your screen.
Market: All smartphones. Google Play already counts almost 200 VR references. The Apple App Store only offers about 20.
SDK: Google has just launched a certification program.
Works with Google Cardboard - Creativity plus compatibility - read up on all the updates at http://t.co/nLeOpKOCBO pic.twitter.com/RP2I9mMgFU

— Google AR & VR (@GoogleARVR) April 16, 2015
Price: 15-25 € depending on manufacturers and formats.
To find Google Cardboard: DODOcase, Knox Lab, Unofficial Cardboard
Life without Google Cardboard, but with hard boxes
Google Carboard remains rudimentary and perishable. But there exist boxes with better lenses and webbing. Made for mobile, its applications are also on Google Play or the App Store. Each manufacturer offers its own reader of apps or its exclusive startup platform to distinguish its headset from the competition.
Most luxurious: Carl Zeiss VR One, 129 €.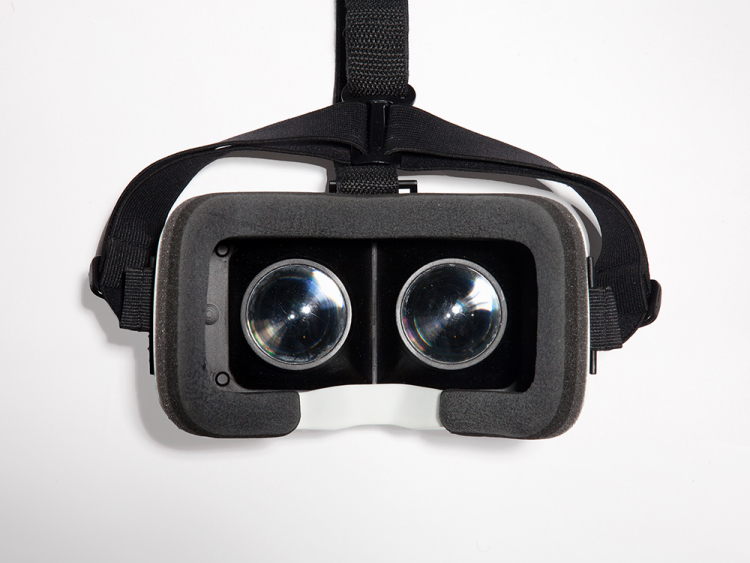 Most French: Homido, 69 €.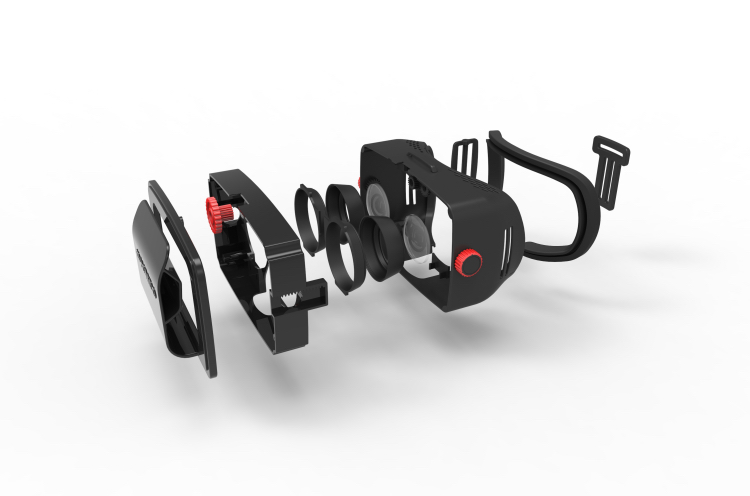 Most innovative: Wearality, Kickstarter campaign in progress.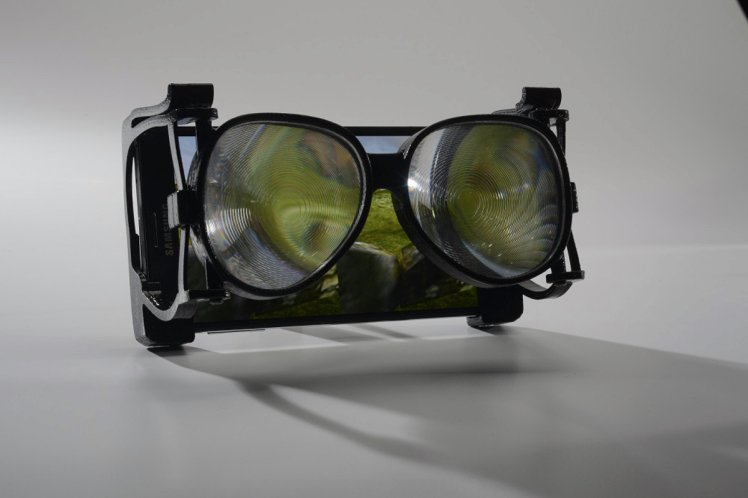 Most portable: Go4D C1-Glass, 35 €.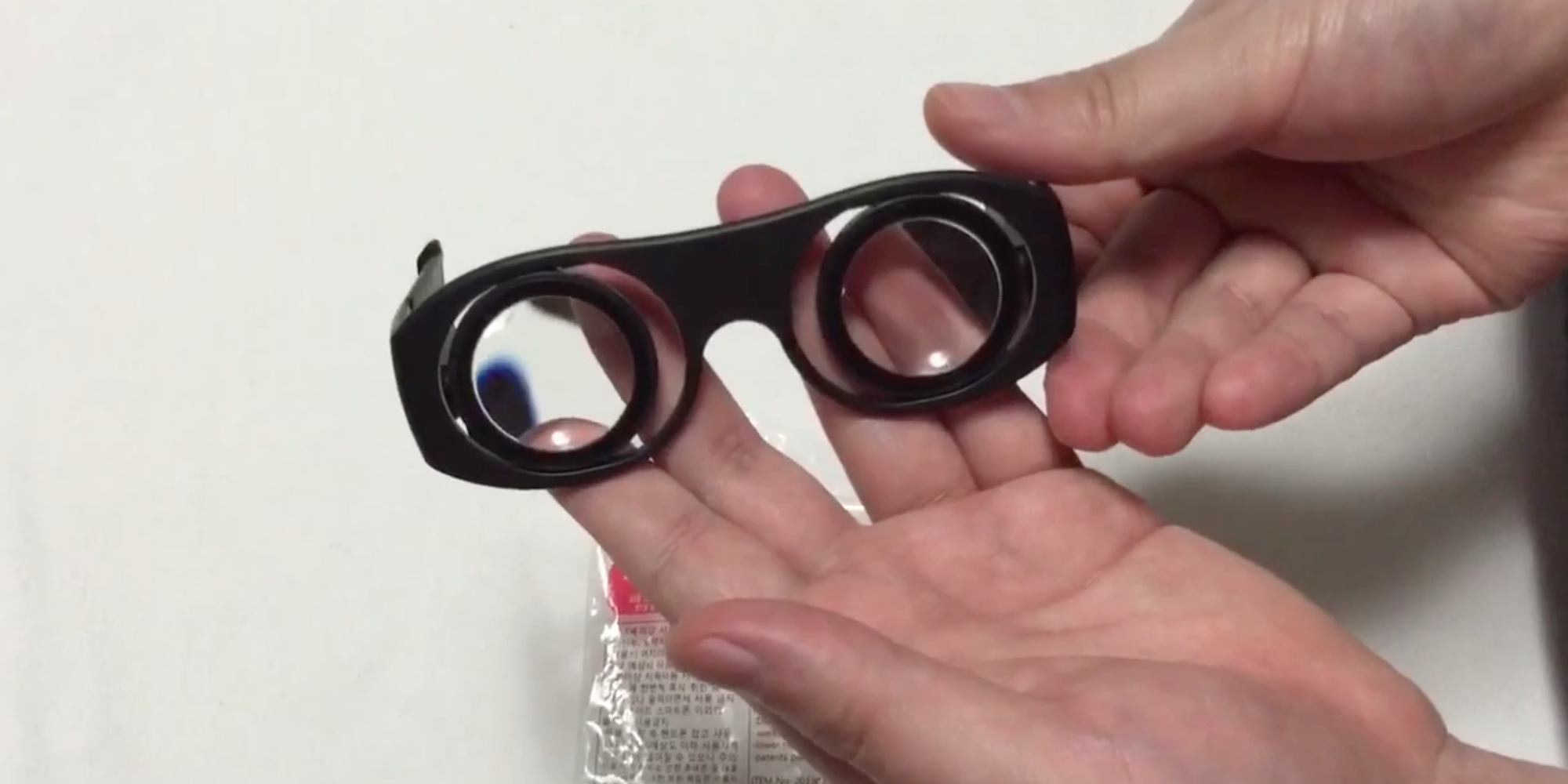 DIY territory
Making a box to hold a mobile phone is relatively simple. Working from the Cardboard instructions, you can also use more noble materials. Like this laser-cut prototype made by Woma for the French VR studio Okio.
Thingiverse, the website for 3D-printed objects, reflects the current craze for customizing Google Cardboard.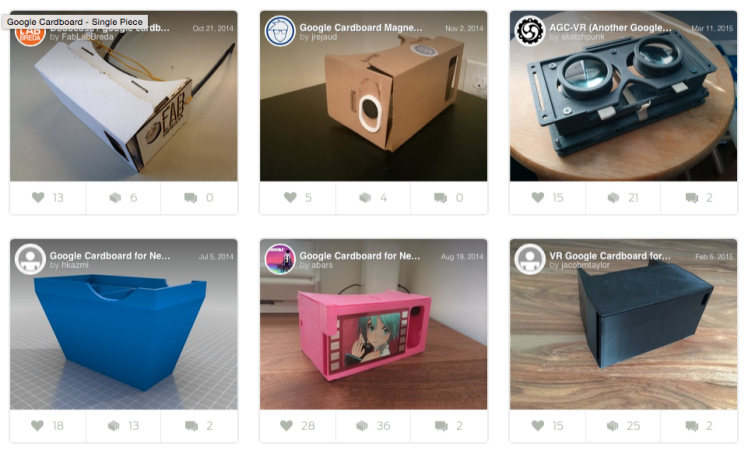 Making a headset with an integrated screen is more complex, but it's what Palmer Luckey, founder of Oculus, 19 years old at the time, ended up doing. He was collecting headsets made in the 1990s, and you know the rest.
This is a lot cooler than it looks -- Palmer Luckey's 90+ FOV HMD, soon to be available as a cheap kit. pic.twitter.com/0DdD8KLY

— John Carmack (@ID_AA_Carmack) May 17, 2012
While waiting to be struck by genius, you can always start with this open source VR project:
OSVR: open source virtual reality
Type: integrated screen
SDK: available in June 2015
Release date: at the same time as the SDK!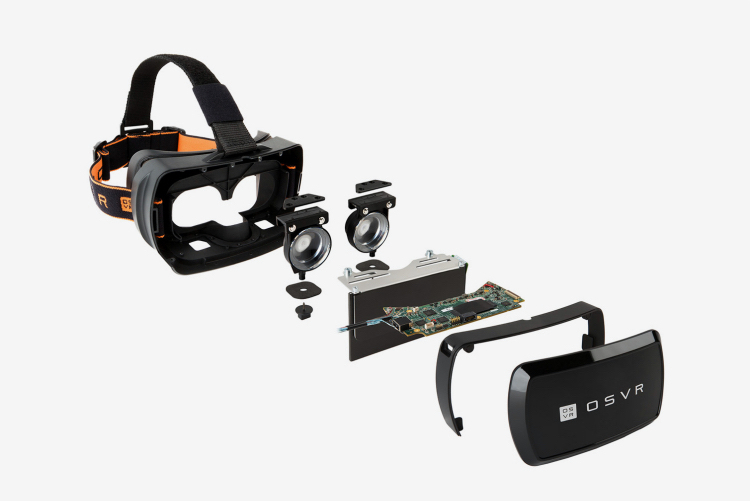 OSVR brings together the big names in virtual reality (Unity, Unreal, Razer, Leap Motion, Ubisoft). Announced as an open source platform, it can also be considered as a response to Oculus/Facebook imperialism.
Characteristics: Razer is in charge of manufacturing the various hardware modules. Its characteristics are similar to those of the DK2.
Market: PC.
SDK: While waiting for the SDK, instructions and resources can be downloaded.
Price (estimated): around 200 € .
Under the headset, VR content
Beyond the headsets, the VR content market remains to be explored. To do so, the Unity 3D engine offers free software, closely followed by its competitor Unreal. There are also plugins to facilitate connecting content to VR systems, such as MiddleVR. To get started, the Vizor website, which hosts VR experiences, has its own integrated SDK tool.
Finally, to display VR on the Web, use Chromium VR (Chrome) or MozVR (Firefox).
For the latest information on VR headsets, British website Kzero's graph is updated every quarter.