/ Portrait
Cyriac Gbogou and Florent Youzan, the fathers of open software in Africa. © Ovillage
Florent Youzan, advocate of free software in Africa
In Ivory Coast, computer engineer and tireless advocate of free software Florent Youzan is the co-founder of Ovillage, a third-space in Abidjan that produces social innovation projects based on open source software.
Will Africa be the future open-source continent ? While open source is one of the founding blocks of the maker movement, open software is hardly a prerequisite in most labs around the world. Some develop their projects without worrying about sharing and cooperation. In Africa, on the contrary, open software is often the first stepping stone for young entrepreneurs, and the true catalyst of social transformation in progress. In Ivory Coast, Youzan is like an African Richard Stallman, who defends and develops from these open-source software another way of solving specifically African problems.
Youzan discovered open software while studying computer science. For the past 15 years, this computer engineer has been fighting for open source. As he sees it, digital tools and open software are part of the formula to respond locally to Africans' everyday problems.
"Through open software, I understood that African youth could overcome incompetence, ignorance and unemployment." Florent Youzan's letter to Africans
What kind of software?
Open software is defined by four rules, linked to the respect of basic freedoms: freedom to use without restriction; freedom to study how it functions; freedom to modify and adapt it as necessary (access to source code); freedom to share modifications and contribute to improvements in progress. Open software places users at the center of the process, as they exercise their rights.
In Africa, students are trained on proprietary software whose licences will be financially inaccessible once the students graduate. Youzan believes that the solution is to install open software directly in the schools, so that young people will no longer have to use pirated applications after graduating, while also understanding how the software works. Once the source code is accessible, modifiable, adaptable and shareable, creativity flows freely, and software once again becomes a tool that serves the project.
"Every African problem is an idea for a company." Florent Youzan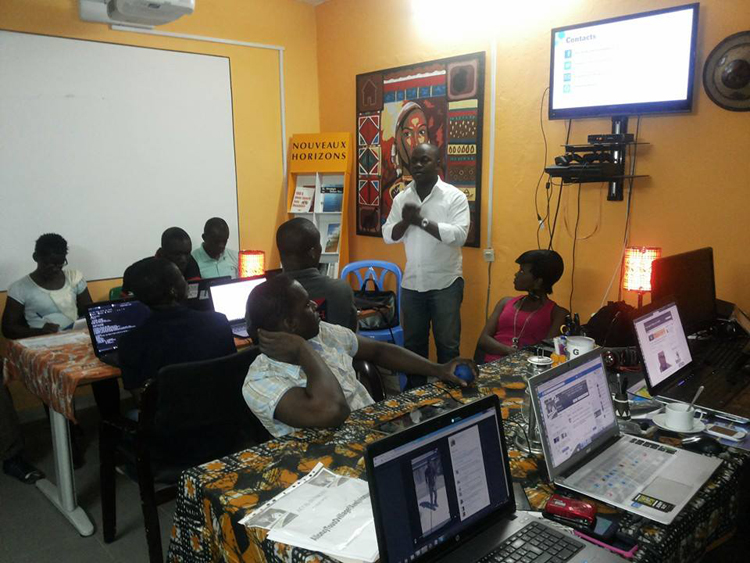 Akwaba Ovillage
Youzan co-founded akwaba (welcome) Ovillage in Abidjan's zone 4. It's a welcoming room filled with two large tables, three airplane seats repurposed as a couch, a TV screen, a big wall for sharing ideas, a pleasantly infused scent of garba, and above all, a dynamic community of villagers, geeks and less geeks, which comes to life each day. In this truly shared living space, both coworking and downtime (shared meals, reading afternoons, etc.) build shared skills and collective competence. "Village Chief" Cyriac Gbogou, co-founder of the space and confirmed Wikipedian, is currently involved in documenting his continent through the recent initiative HelloAfrika. Keyword : open.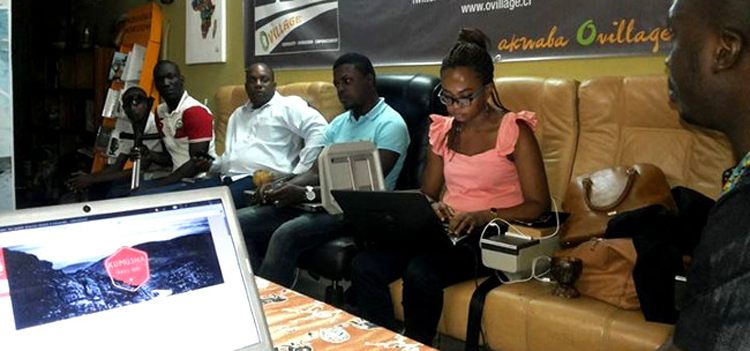 Reinforced by this collective intelligence, socially innovative projects that are in phase with the reality of their territories are emerging. According to Youzan, computers aren't just for geeks, citizens also have their place in open culture and are involved in the project. Ovillage encourages young entrepreneurs to engage in open culture, for example with OpenDjeliba, a platform that can be used to produce and share content through a hashtag sent via SMS to a server hosted on a Jerry computer. The 100 % open software project was developed for zero cents, and is supported by a computer reassembled in a plastic bin from recycled and reassembled working parts.
"In Africa, there are more mobile phones than toothbrushes." Florent Youzan
OpenDjeliba, led by Serge Mian, laureate of the Forum International Francophone de la Jeunesse et de l'Emploi Vert (FIJEV) in Niamey in 2014, addresses the lack of information systems and alerts among digitally disadvantaged communities. But in spite of limited or even impossible Internet access, the entire population is connected to the GSM network. Beyond its social reach, OpenDjeliba can generate revenue by deploying supplementary information services that are accessible by SMS for a surcharge.
Presentation of OpenDjeliba (in French):
For Florent Youzan and Ovillage, educating people through open software helps reduce the digital divide. The villagers are also involved in the organization of JerryMarathons, which aim to democratize digital tools and promote the open software philosophy. In this way, young students can discover computers directly on GNU/Linux.
Bumpy bottom-up innovation
However, if "the road is long but the way is free", the path of bottom-up innovation is equally rocky. Two weeks ago, the villagers were unpleasantly surprised to learn that one of the projects they supported, an SMS server for announcing births in rural areas, was going to be developed by the Ivory Coast government in collaboration with Orange—without any involvement from the project's instigator, despite his having received a national award…
Read more :
54 reasons that Africa should choose open software, by Wilfried N'Guessan (in French)
Map of third-spaces in Africa, by Florent Youzan