/ News
The former Halles Alstom hosted Transformeurs' 6th upcycling challenge in Nantes. © Francis Mizio
Transformeurs: upcycling showdown in Nantes
Transformeurs hosted their 6th upcycling challenge in the former Halles Alstom in Nantes on December 12-14. 66 artists had 35 hours to create artworks or objects from 6.5 tons of material and reclaimed furniture.
(Nantes, words and photos from our correspondent)
We walked into Transformeurs 6th upcycling challenge on December 12 at 4 p.m. with some apprehension. Would this be another parade of recycled nu-kitsch horrors, as opposed to abundant baroque-born kitsch ? Should we expect another hideous display, like bohemians passing off their dirty wares by the beach ? We must admit that, after three days of this artistic recycling, the answer was No. Halles Alstom welcomed from the rubble quite a few original, offbeat, funny works, and many clever objects.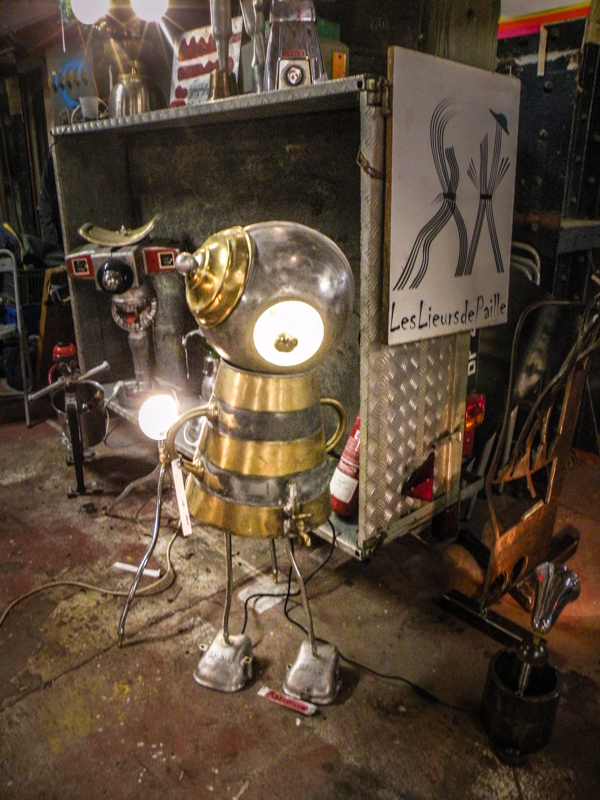 In any case, the event had an audience—"some 4,500 people" as estimated by Transformeurs vice-president Sandrine Richardeau Sunday night. Indeed, the audience was curious, impressed and willing to buy—even a 2-meter-tall mytho-metal sculpture of significant bulk and weight left the premises in a van…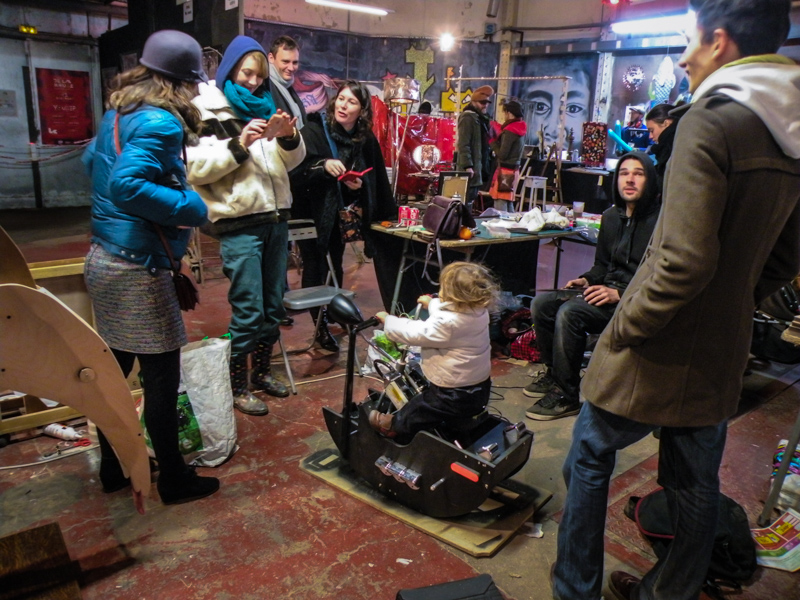 6.5 tons of discarded materials
After spending two months collecting 6.5 tons of discarded objects and materials from "recycling" partners, investing almost 100,000€ (in materials, communication, bar, catering, transportation…) so that the artists would have fun and sell, Transformeurs' 4 staff and 30 volunteers deserve respect. The organization knows what it's doing—it has been hosting upcycling events since 2003, artists in residence for a number of years, and youth workshops in Nantes' Bellevue district and in Niort.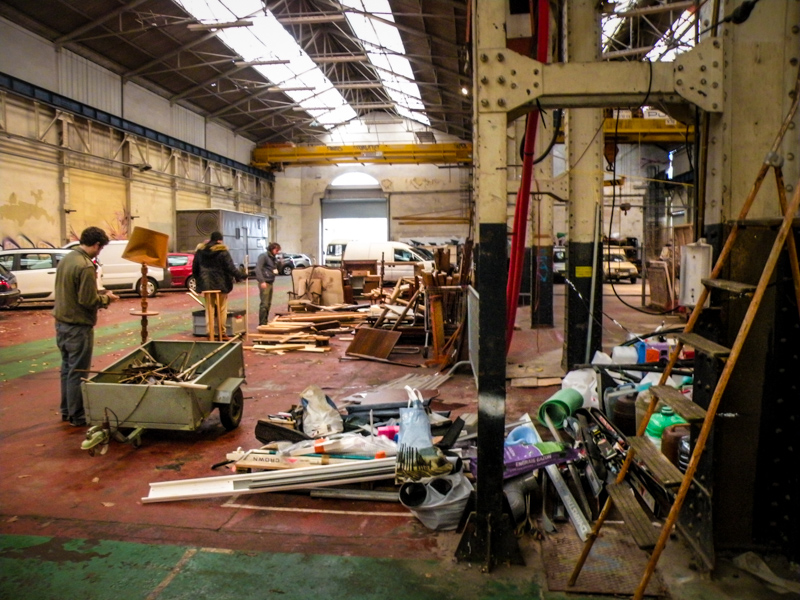 Artistic director Aurélia Leclercq was laughing Sunday about her exhaustion to come. The challenge has helped to dispose of more than half of the metal, but they only had 5 days to make room for the 4 tons remaining. Halles Alstom is currently undergoing construction to become a contemporary art center in the heart of Nantes' "creativity district".
Everything… and anything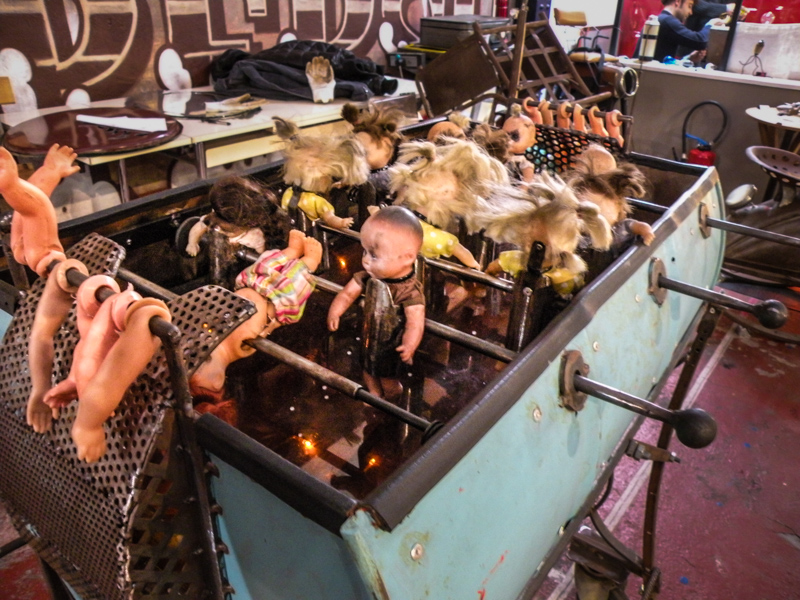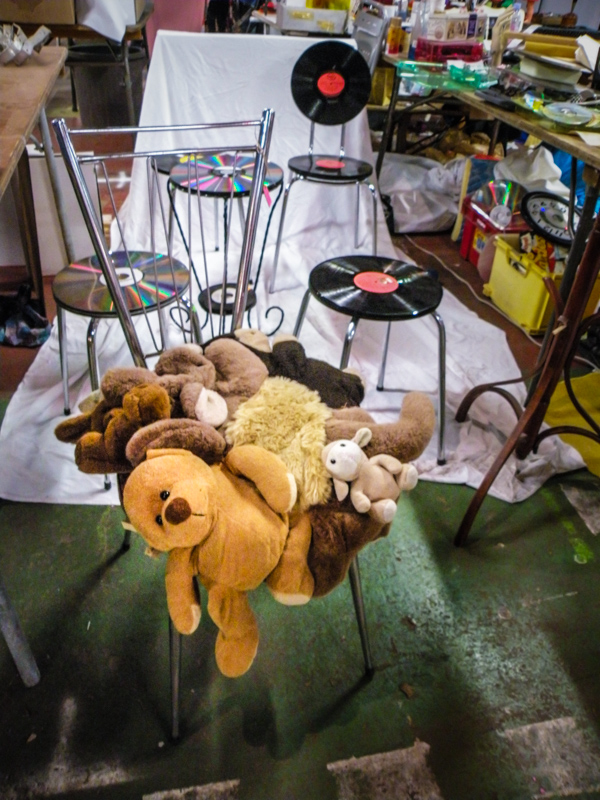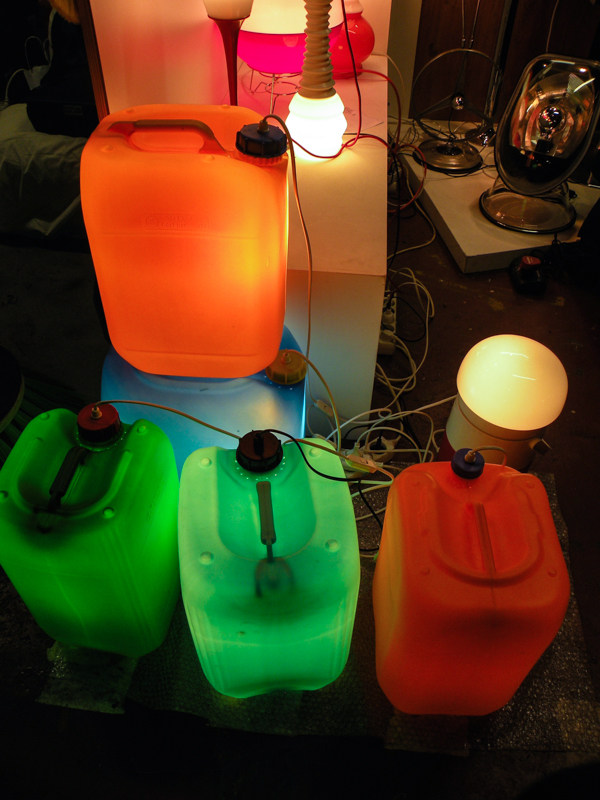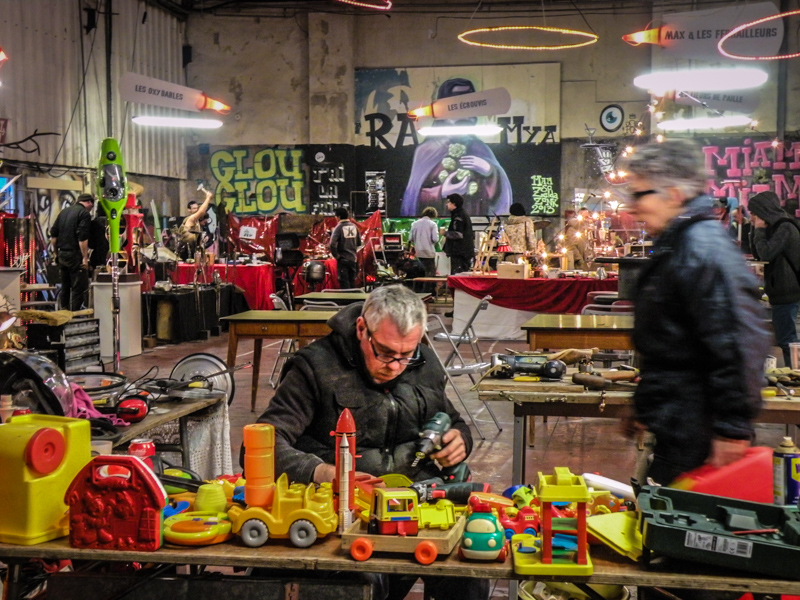 After one day for private viewing (a creative start-up had reserved the first day for its clients), the challenge began on Friday the 12th at 4 p.m. and ended on Sunday the 14th at 8 p.m. At the last minute, the final number of participating artists was less than the expected 79, but the 66 present (including 16 in residence) were prolific: Foos-doll (a carnivalesque foosball made with old dolls), monumental sculptures, lamps galore from the "1950s drones" collection, unexpected furniture (stools made from stuffed animals and vinyl records…), toys reworked into UFO-like trinkets, jewellery, fantastic creatures… and more
Of course, not everything was beautiful, but as a whole, the results were incredibly, refreshingly creative. "The artists are happy, they had fun and they even sold well," Leclercq beamed on Sunday. This time, the show and the work done by the artists will have paid off. We've come a long way from the exploitative hackathon…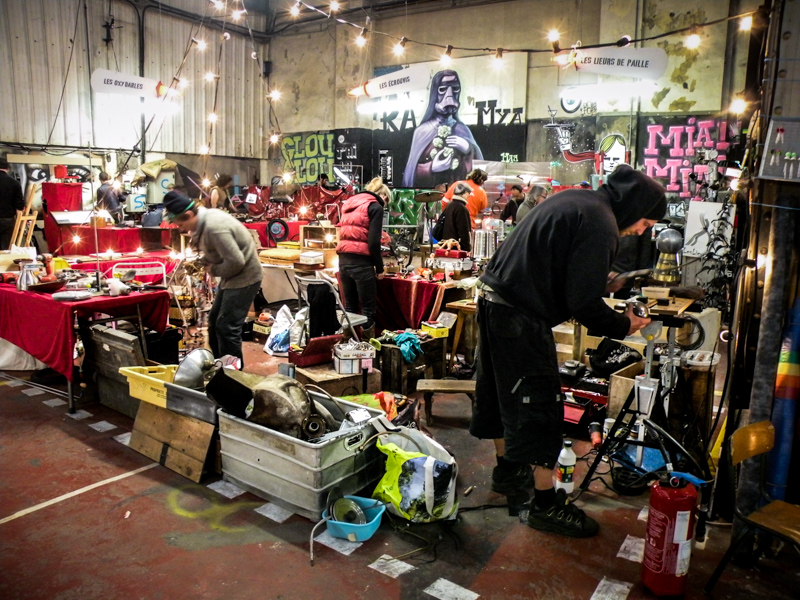 Sipping a beer at the bar under the techno beats that drowned out the hammering of Ludo Looo (read his portrait below) and the noisy crackling of blowtorches, we still pose the question : How will all this be recycled one day ? Will the circular economy that so many desire find its place here too ? One or two years from now, will Transformeurs see the artworks or objects they helped to exist be recycled in turn? If this is the case, it will be because their event is still going strong a few years from now—we certainly hope so.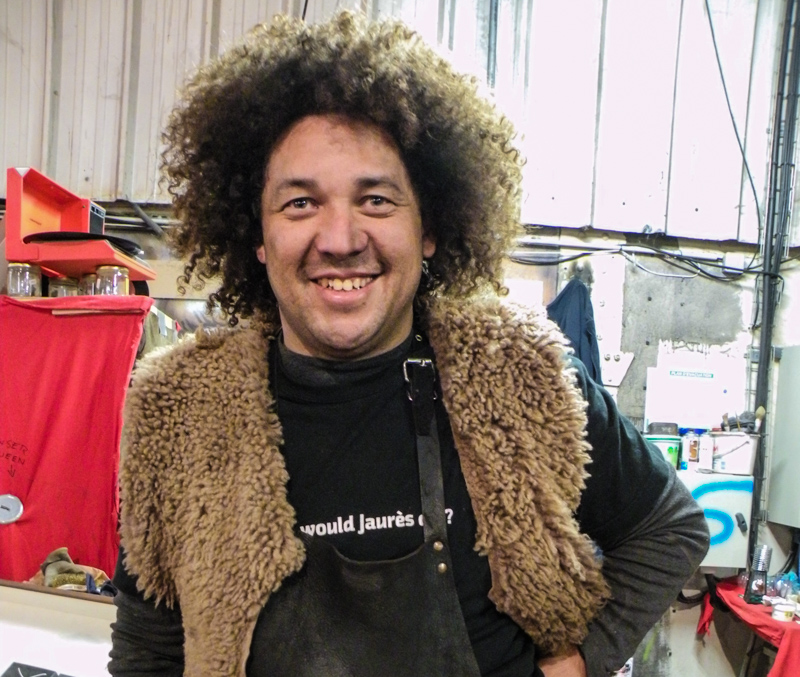 Ludo Looo : "People call it recycling, but for me it's just natural."
His solar smile almost eclipses the fire from his torch. His blacksmith's appearance and hammering don't go unnoticed amidst the upcycling challenge. And in the middle of these objects that are not what they seem, this hammerhead who spent two days beating a beam in Halles Alstom currently under deconstruction to shape it into an elegant sculpture… reveals himself as a soft teddy bear.
Hooked on welding since he was 15 years old, "hypnotized by fire, that creative element", self-taught by working with reclaimed lead, then trained in ironwork, Ludo Looo is a 3-year artist in residence at Transformeurs, where he benefits from a shared forge. Here, he doesn't ask himself if he's "an artist or a worker". "Maybe I'm a mix." He just does his own thing.
"Like everyone, I had a grandfather who fixed chairs…"

Ludo Looo
The concept of recycling doesn't mean much more to him than that : "It's the consequence of having no budget… and it became a way of life. I never asked myself if I was recycling. I always went out to find materials, even on the street. I started early by using the lead in batteries. People call it recycling, but for me it's just natural." For a long time he kept unreasonably large quantities of reclaimed materials, but "I decided to listen to my wife, who said it was becoming a bit much. Now it leaves more space for tools, and especially for people… I can always find material and tools."
Creating, sharing
At age 38, he is as much involved with experimentation as he is in "sharing with young people", following the example of one of his major influences, the Czech master blacksmith and designer Alfred Habermann. ("This man founded a school. He's done everything that I've always dreamed of doing. He works on all aspects of metal and creativity.") For Ludo Looo, experimenting means "working metal down to its atoms, its components, without avoiding danger". This ambition has led him to conscientiously "work down the entire chain, to the mineral," exploring the maps of the Geological and Mining Research Bureau and conducting research with colleagues who share his passion.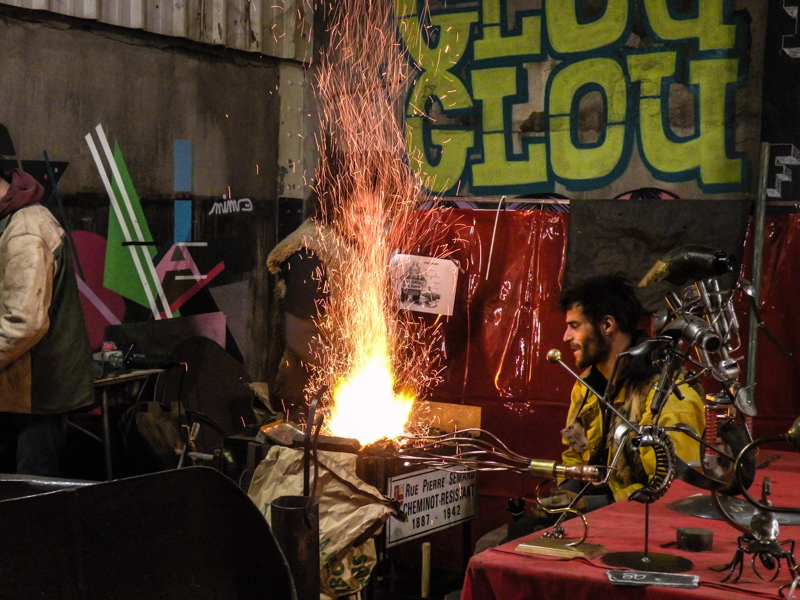 He doesn't know what the future holds, and there is no particular piece waiting to be created : "I'm not saving myself for any one moment. I'm all for sharing." No doubt he will continue to run workshops and pursue one of his obsessions, which consists of "creating clouds from little iron triangles—because I tried with circles, it's not fun."
The upcycling challenge was nothing less than a party for Ludo Looo : "You feel less alone doing things. We fill the batteries among family." He feels that he "sold well", made contacts with individuals and companies that will commission him, and finally, along with his ironworking mates, consumed 200 kg of scrap metal from the available supply. Ludo Looo is not tired : "Ironwork is not at all brutal. It's very technical and not tiring. Lifting the hammer is just like practicing tennis…" The modest blacksmith smiles warmly, then goes back to kindle his forge.