/ Events
L'équipe Bionicohand
Do it with Makers! Makery set up its Pop-Up Lab at LeWeb
Here we go for LeWeb 2014. The annual gathering of some 4,000 actors in the digital world is beginning its marathon of three days of conferences, meet-ups and other live demos (from meditation to hand prosthesis including drones). Makery presents the first «Pop-Up Lab» to introduce a bit of maker culture in this digital economy arena. Photo coverage…
LeWeb, the networking and conference event that has been gathering the actors of the digital economy for the past ten years is the "Cannes festival of the Web"as described by a participant this Tuesday morning. But this year, visitors get a bit more than the traditional demos from Google and other France Télévision, with the first Pop-up Lab, an ephemeral lab proposed by Makery. It focuses on themes of the 2014 edition of LeWeb with project presentations, meetings with makers and hacker artists, in a likely laid-back atmosphere. This Tuesday is dedicated to the double theme wearables (connected fabrics and objects) and art. On Wednesday, the focus is on health, with the Coglab and the Bionico Hand French prosthesis, before moving on to the subject of drones on Thursday with the Flylab. Around these daily themes, the same permanent feature with makers who are analyzing and getting on with their projects, live from the Pop-Up Lab.
In terms of atmosphere, it gets hot as early as dawn at the Pop-Up Lab: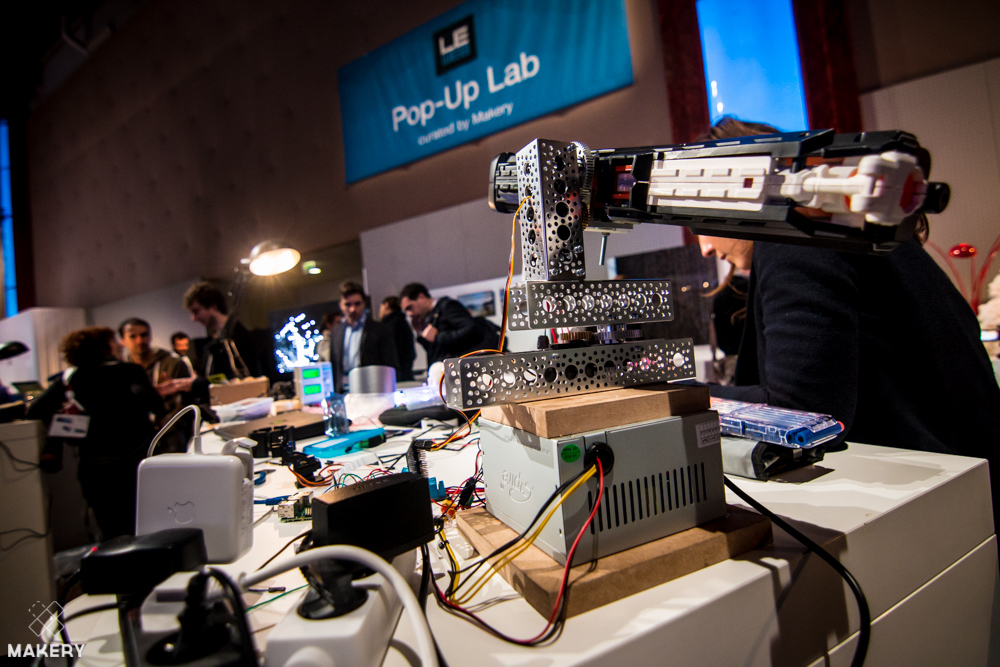 For makers, the members of Hackerloop have three days to finally get done with their automated turret project. Eventually, it should allow you to shoot darts from a bracelet and visualize the target from a camera on-board the turret.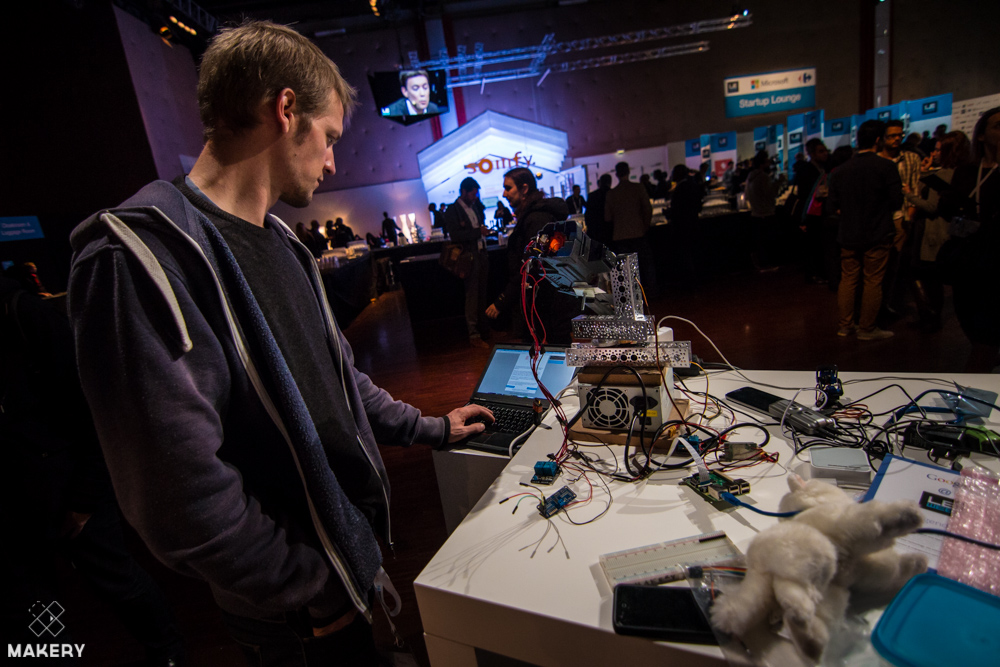 Constantin from the Hackerloop has three days to finalize his turret (but what is the feline cuddly toy doing there?)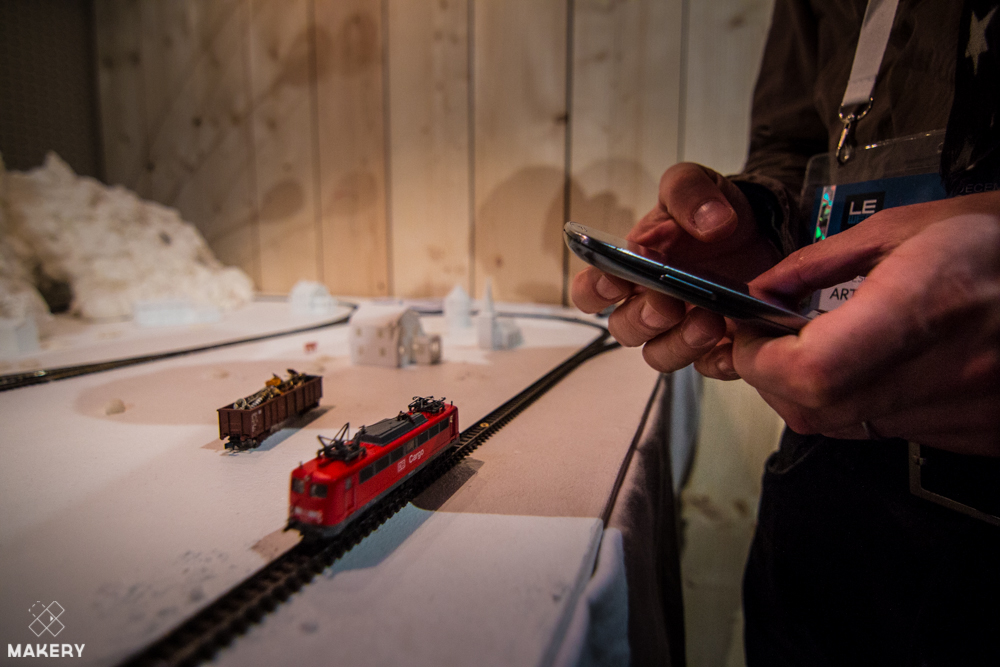 « CatchBarge », installation of the collective We love the Net, to be piloted from your mobile phone (it is the train we are piloting). What is this new manner of playing with a train set doing at the start-uppers' conference? We love the Net imagine this installation could be "reserved for shop windows and designed to attract customers."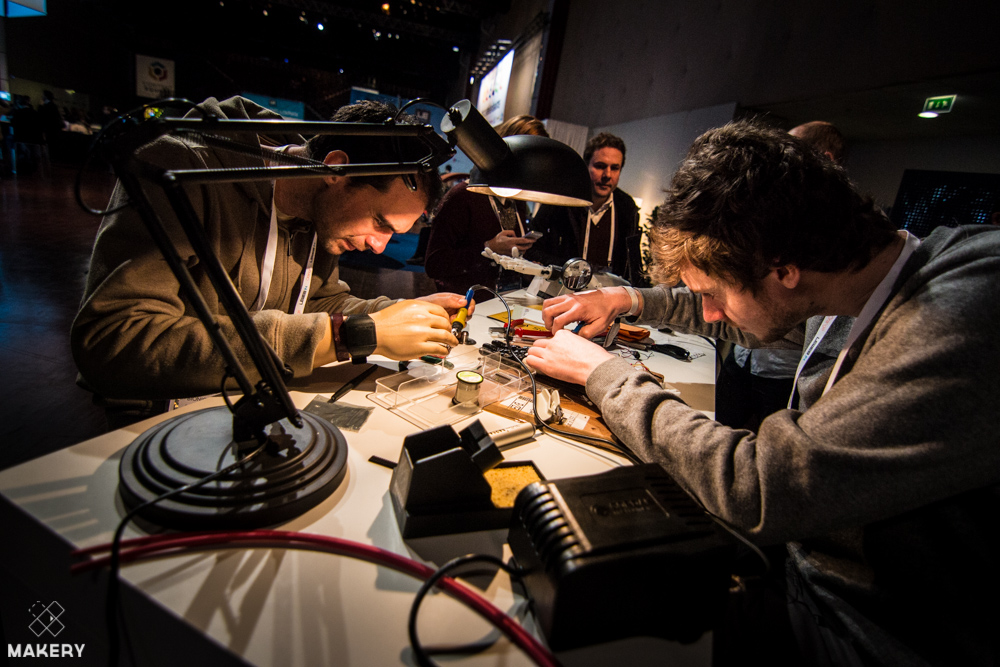 A DiYer himself, Nicolas Huchet joined forces with the Rennes Labfab to develop a "bionic hand that can be piloted by any person who needs one", as does he, since existing hand prostheses are too expensive. For LeWeb, Nicolas came with Corentin Le Bris from the Rennes fablab, and intends to move forward on a forearm articulated with the new InMoov hand of another famous maker, Gaël Langevin.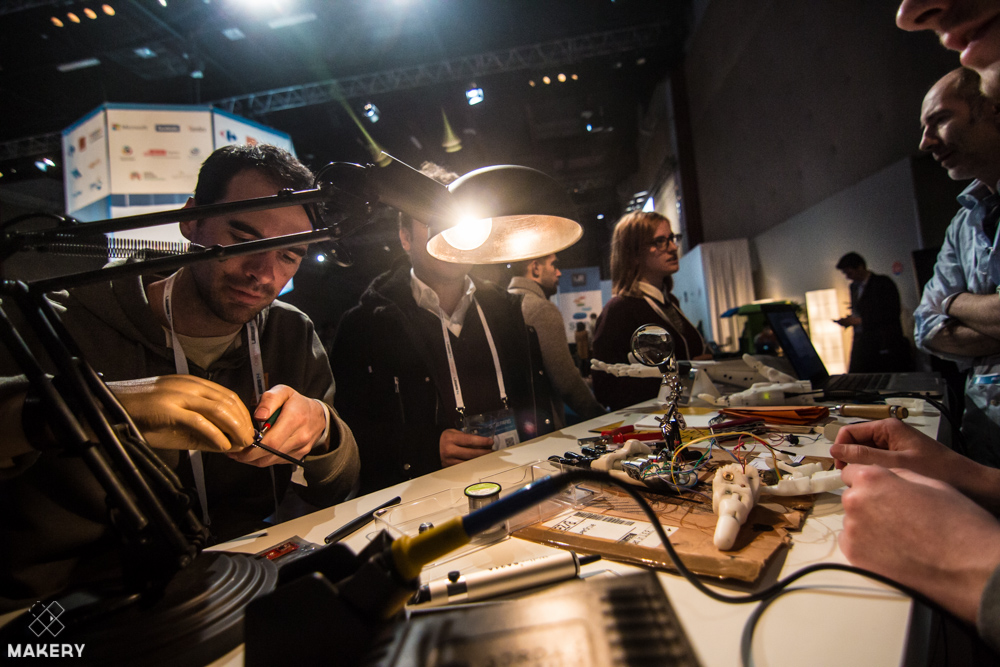 The best demo for an open-source prosthesis is carried out by Nicolas Huchet at the Pop-Up-Lab live!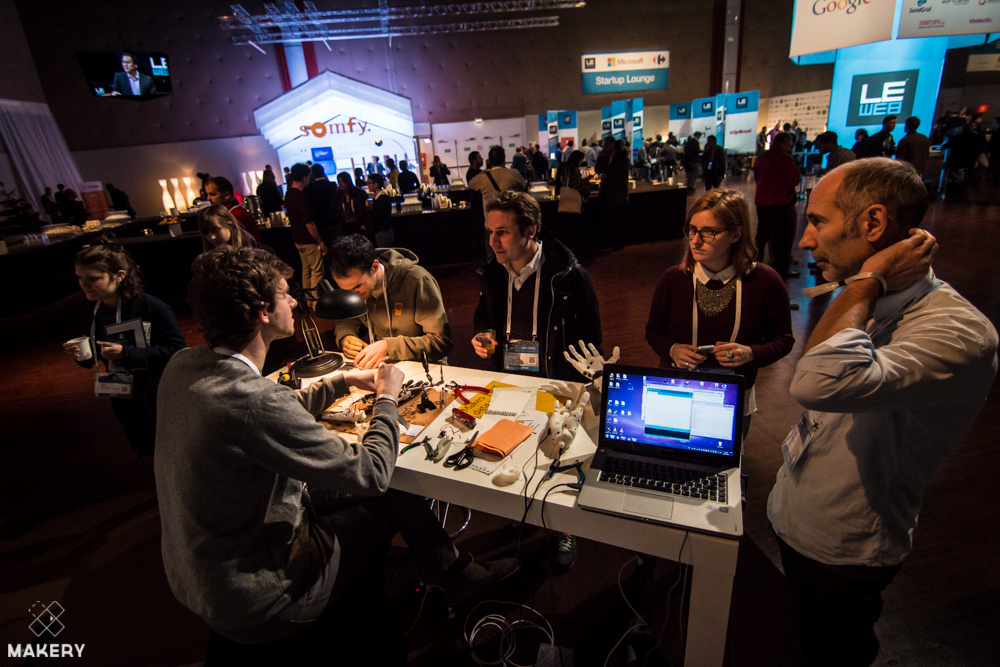 Gaël Langevin (on the right of the picture) came with InMoov, the prototype hand of his open source robot project. Since 2012, this maker has been working on the idea of a human-size robot, completely open source and printable in 3D.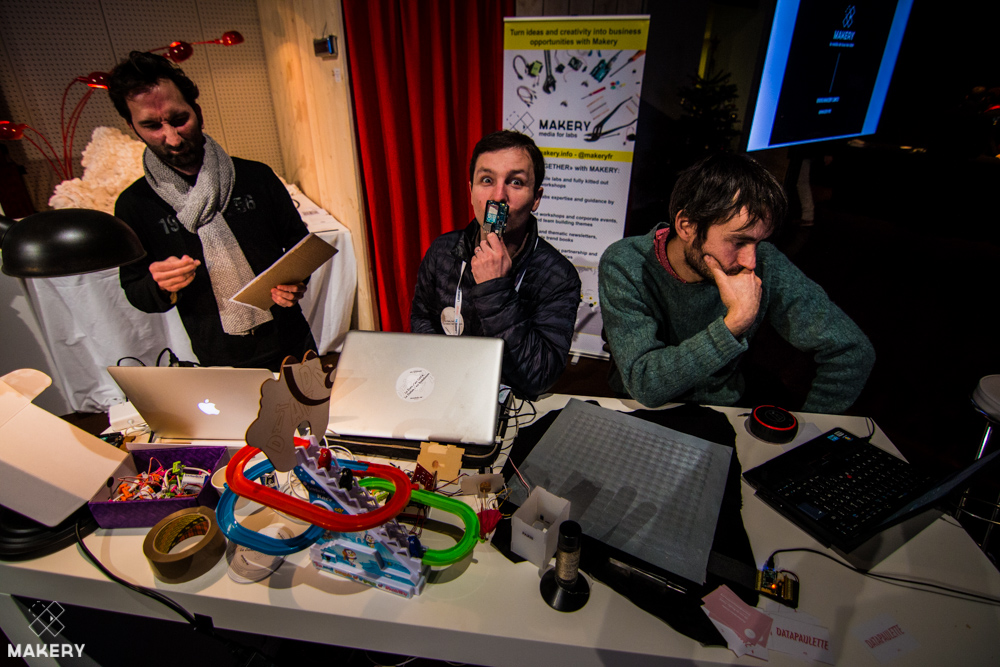 No, the Pop-Up Lab is not the kids area of the LeWeb conference! From left to right, Aurélien Fache and Julien Levesque from We Love the Net present their poetic connected objects, Maurin Donneaud, textile designer and hacker, came with his "robot skin".
The whole detailed programme  and live coverage of Makery's Pop-Up Lab at LeWeb on the dedicated mini-website
Pictures by Quentin Chevrier