Handicap: labs reinvent prostheses
Hand and leg prostheses, wheelchairs, braille printers… more and more projects dedicated to making life easier for handicapped people are popping up in the labs.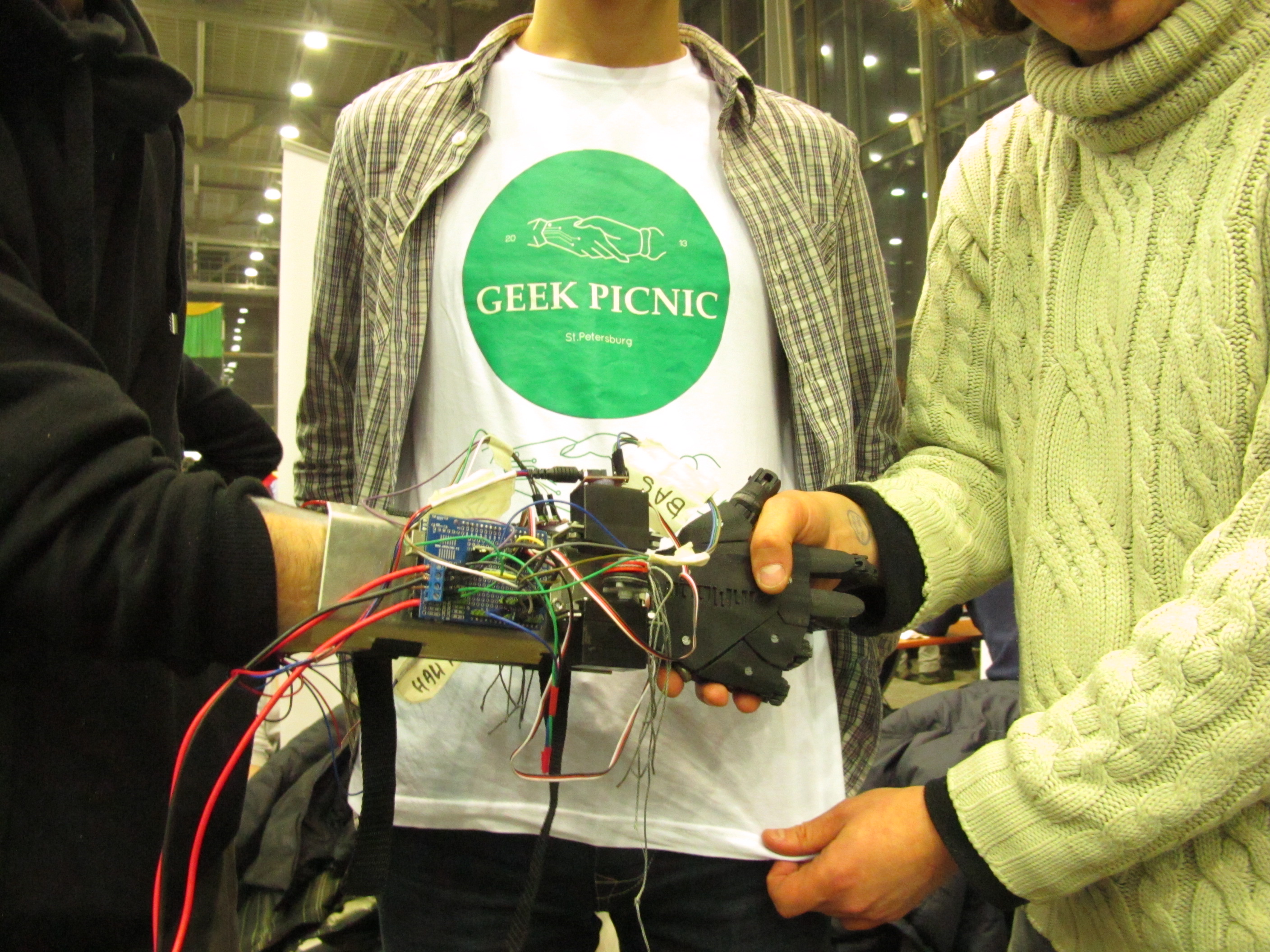 Simplicity, efficiency and accessibility are the keywords of this research. While the labs may not have all the equipment and research methods of the health industry, their iterative methodology, practical case-by-case approach and concern for reproducing prototypes are just as advantageous when it comes to developing tools for (and by) handicapped people. Most of these projects aim to decimate the price of equipment, with the exception of a few inventors who manage to overtake the products currently available on the market.
DIY accessible prosthesis
Frenchman Nicolas Huchet lost his hand at the age of 18 in an accident at work. The price of a myoelectric prosthesis, between 15,000 and 45,000 euros, was exorbitant. After discovering 3D printing and open-hardware micro-controllers, Nicolas set a simple goal for himself: to create a reliable and reproducible prosthesis for less than 1,000 euros. The Bionico project was launched in 2013.
A good part of Bionico's development process consists of not reinventing the wheel, but of finding building blocks that are already available. And there are many: Arduino boards for programming, the open source robotics project Inmoov for the mechanical pieces of the hand, DIY muscle sensors, as well as a Poulain chocolate bar wrapper, kite string, modeling engines… All the components are listed on the project's wiki.
After one year of work, the prosthesis yields the first promising results. Nicolas, 30, is invited to give demonstrations and lectures around the world, and he makes a point of shaking as many hands as possible. From now on, the focus will be on improving, perfecting and also optimizing costs, to make the prosthesis always more reliable, resistant, realistic-looking, autonomous… Nicolas himself says he doubts that he will ever compete with the best prostheses on the market. His goal is first and foremost to reduce fabrication costs and facilitate personal production for (and hopefullly by) handicapped people.
Reducing the costs of disability
Waag (fablab, Amsterdam), Yogyakarta hospital in Indonesia and House of Natural Fibre (HONF, medialab, Yogyakarta) have been cooperating since 2009 on the "50-dollar prosthesis" program. Together they developed a portable 3D scanner that can be brought to people's homes in order to measure the volumetrics of body parts necessary to make tailored prostheses.
In India, I4D, the center for innovation and development in Vellore, has been developing a hand prosthesis that is similar to Nicolas's, as well as a braille printer made for, with and by blind people.
Steve Hoefer of Grathio Labs created a glove equipped with sonars for the visually impaired. The sonars detect the distance between the visually impaired person and a nearby object (or wall, person, etc) and activate a motor that applies pressure to the wrist in proportion to the distance. It's a bit like a virtual cane, except that this one is huge. So far, blind people have been interested and won over by this system. A dog deprived of sight but equipped with the device understood how it worked in less than a day, and "no longer ran into the walls in the house" the next day, as its owner claims in a forum.
See the video of the project Tacit: Sonar for the Blind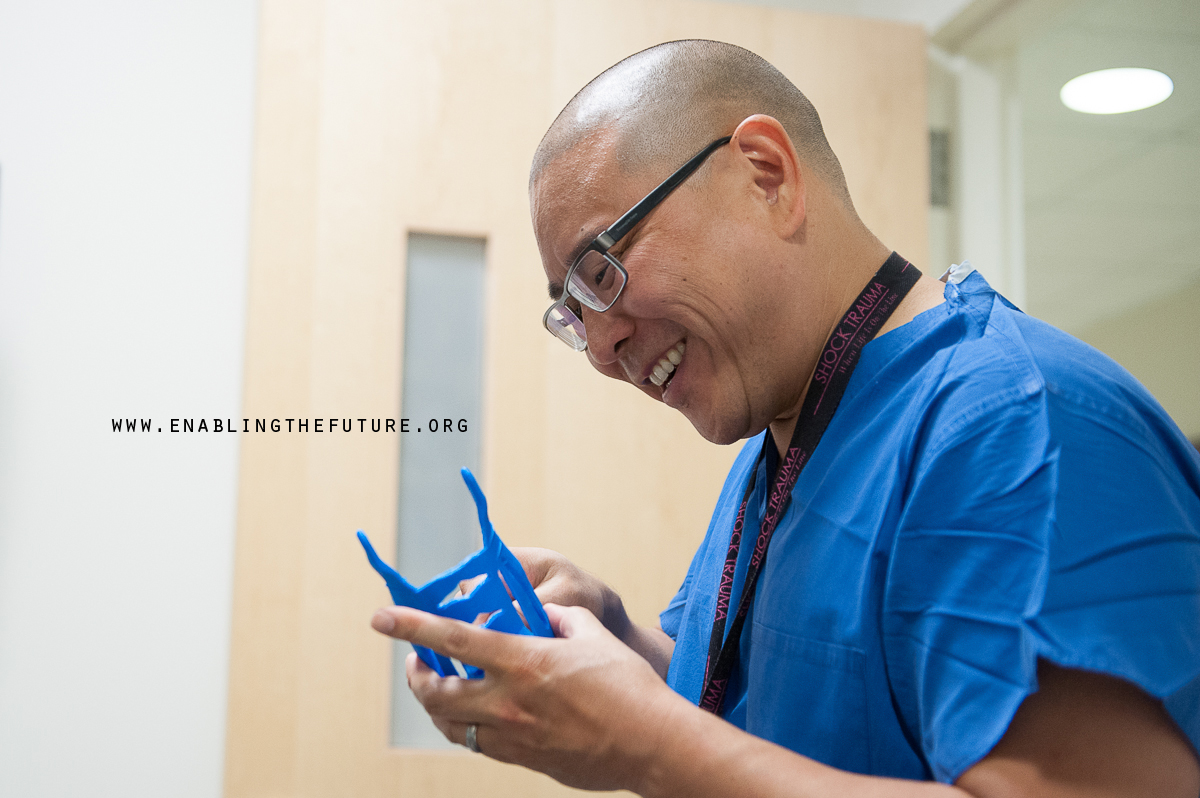 Prototyping for surgeons
"Shut the front door!" was the reaction of Albert Chi, surgeon at the John Hopkins Medical Center in Baltimore, when he saw the prototypes presented by e-NABLE, a collective of volunteers who develop open source hand prostheses for 50 dollars apiece. Feeling "like a kid in a candy store", Dr. Chi gave as much advice as he received, and even committed himself to producing certain e-NABLE prostheses for his patients, according to 3Dprint.com. The low cost and simplicity of producing this equipment is particularly beneficial for children. As with clothing, they must regularly replace prostheses as they grow.
Story of the meeting on 3Dprint.com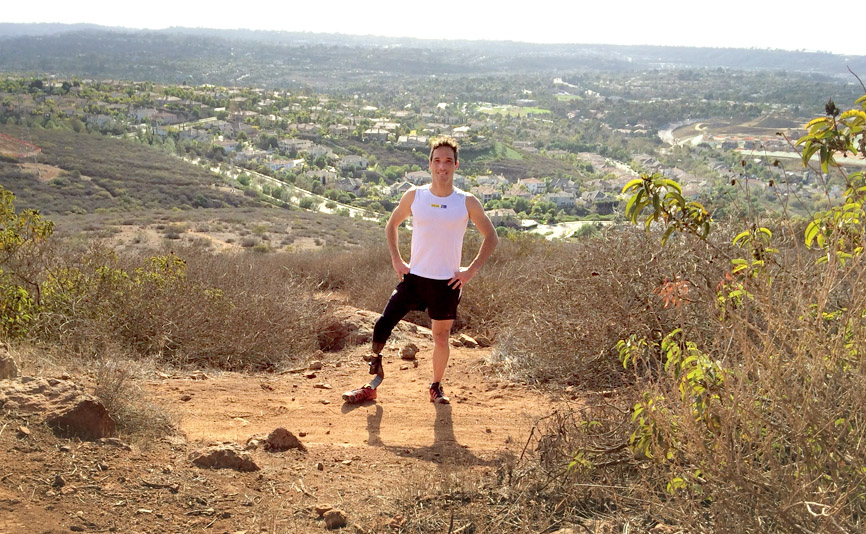 In rare cases, the lab overtakes the industry
Since he was born, Andre Szucs's right leg stops just above his knee. As a high-level athlete, he has multiplied disciplines, victories, as well as prostheses. Such is Andre's problem: each sport requires a different prosthesis, along with complicated fittings and adjustments to go from one to another, to the point that he sometimes feels even more handicapped from this material aspect than from his reduced motor skills. When he discovered 3D printing, Andre saw its potential to develop the mechanical pieces of the prosthesis. In late 2013, he joined the Meetup group of the nearest lab, Fab Lab San Diego, while stating his desire to learn the technologies of digital design and fabrication.
By 2014, he finally tested Gladius, his prototype all-terrain prosthesis, to start… a triathlon, then to go surfing. One sign is proof of his project's success—with the prosthesis he created at Fab Lab San Diego, all he needs to go swimming now is a swimsuit. And all he needs to go running is a good pair of sneakers.
Andre intends to develop a business based on his prototype and is currently looking for a partner to produce the carbon fibre parts, which are "the most difficult to produce in series", he explains.