/ portfolio-2
Tokyo Big Sight in Odaiba, venue for the 10th Maker Faire Tokyo. © Cherise Fong
Retro-tech guest stars at Maker Faire Tokyo
From one continent to another, from city to city, each Maker Faire is unique in its own way. On November 23-24, more than 300 Japanese makers came together at Tokyo Big Sight to show off their latest designs and inventions… Selected highlights below.
Tokyo, from our correspondent (words and photos)
The 10th Maker Faire Tokyo was held on November 23-24, 2014 at the iconic Tokyo Big Sight in Odaiba, reclaimed land best known for its high-tech playground. While the enthusiasm of the Japanese makers was palpable at every turn, the event had the atmosphere of a commercial show inside a hot and noisy hall, somewhere between the Old World charm of Le Cent Quatre in Paris and the almost industrial quality of the great American Maker Faires in the U.S. Less hackers and gadgets, more designers and artisans, toys and trinkets… In short, eye-candy über alles.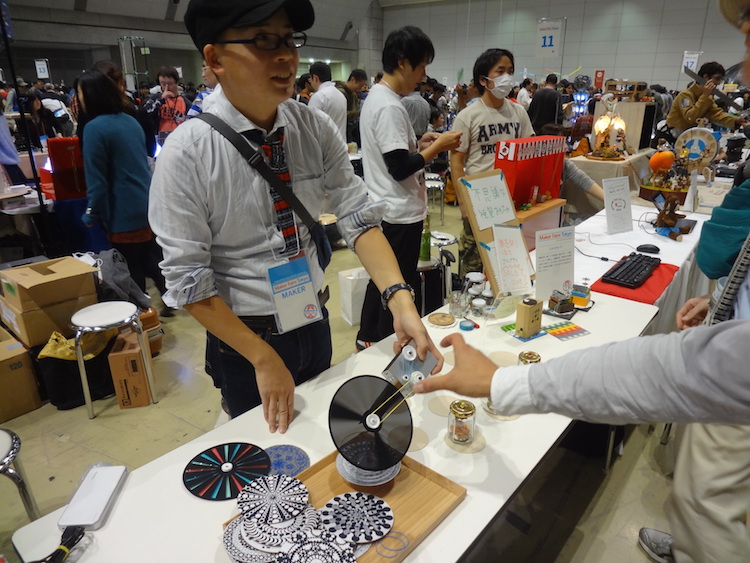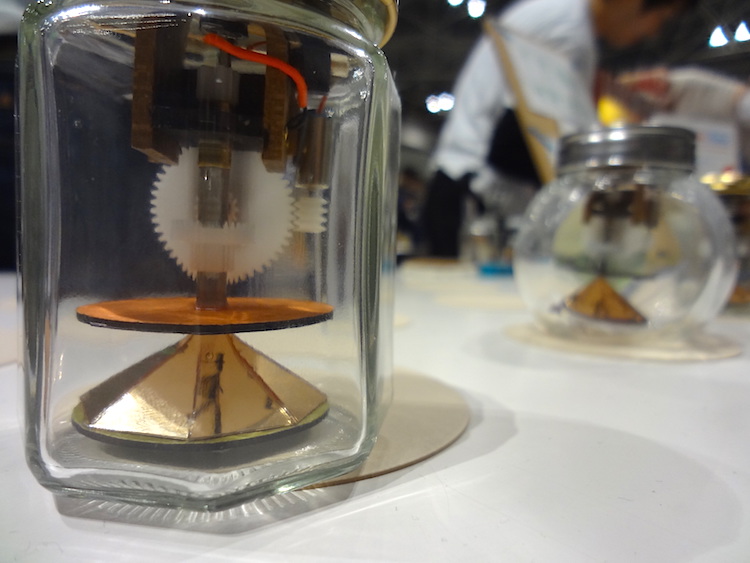 When it comes to moving-image technology, might as well return to the kinetic source. Optical retro-tech is pretty and playful—Daisuke Kawauchi's artisanal eye-candy toys inspired by the 19th century phenakistoscope are neither revolutionary nor financially rewarding, but he conveys a refined elegance that seems to characterize this very site-specific Maker Faire Tokyo.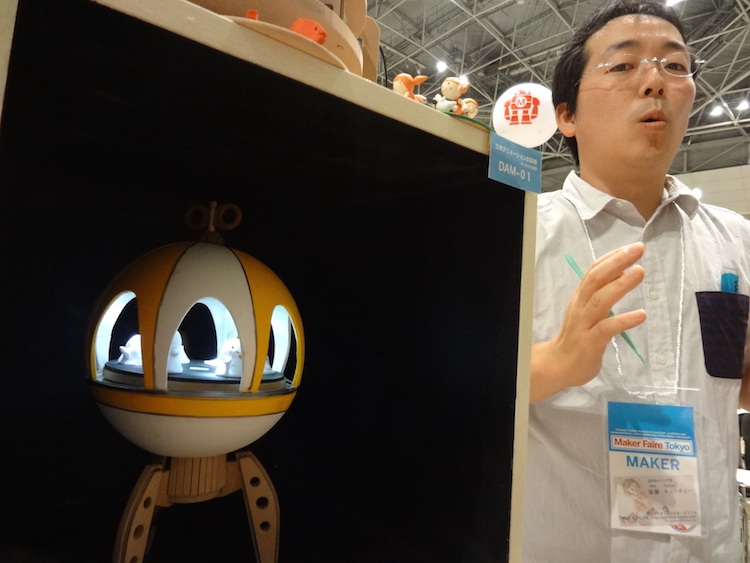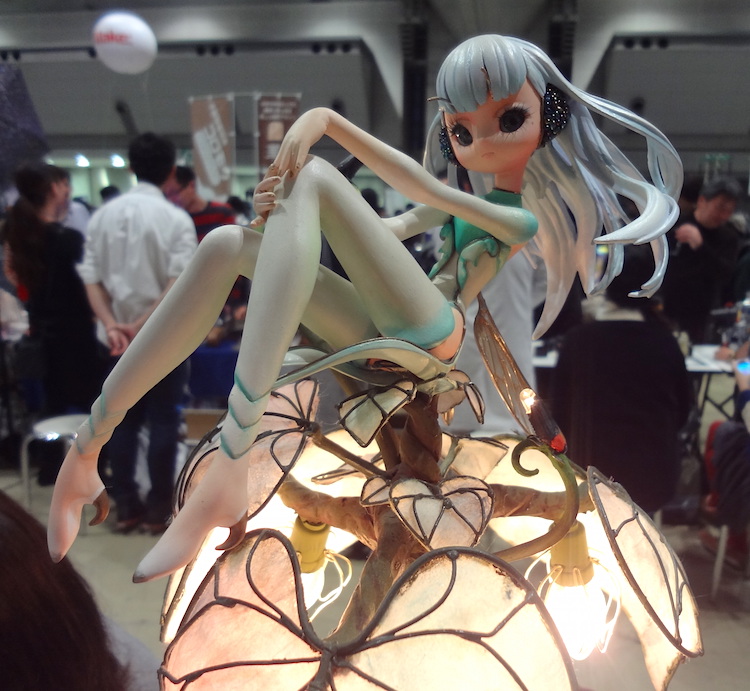 Further down the aisle, the artist Kyutyo Sato brings us forward a few years with his kawaii clay sculptures inspired by the zootrope and other pre-cinematic toys. It's exactly the sort of installation that can be found at the Museum of the Moving Image in New York, or the Ghibli Museum, to illustrate the mechanics of animation. But when done well, we will always see a magic lantern. Also on the table, Sato's playful nod to the futurist spectacle of Hatsune Miku, the hologram idol with the Vocaloid voice.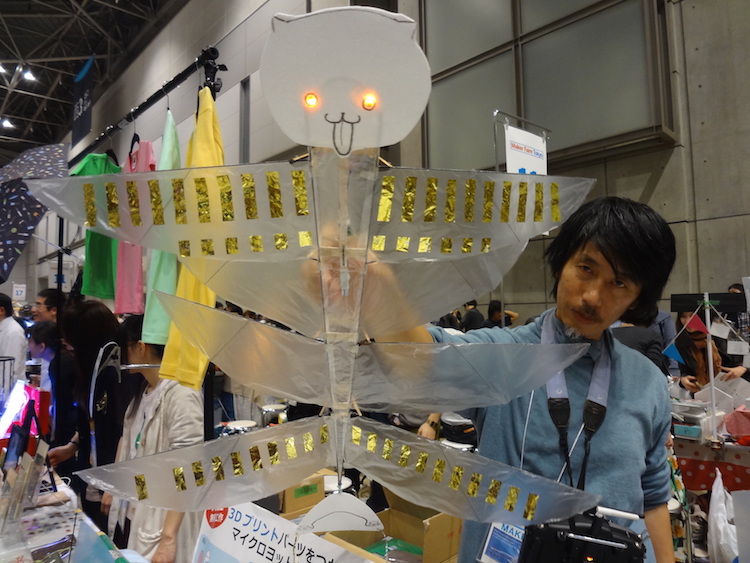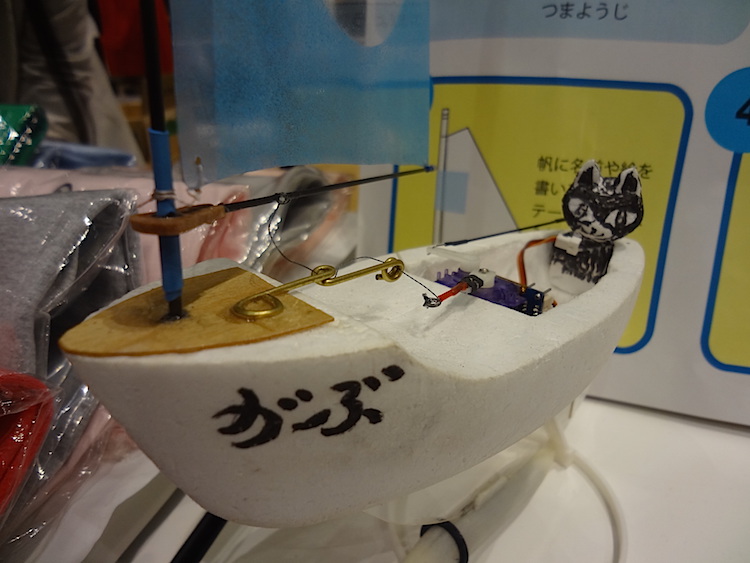 A lover of both aircraft and cats, Toshitatsu Munakata periodically demos his ultralight catcraft, equipped with two motors to control the wings and a microcontroller that navigates the beast with impressive accuracy. All the key micro-elements of his flying and floating objects are 3D-printed, while the bulky handheld controller resembles a military joystick.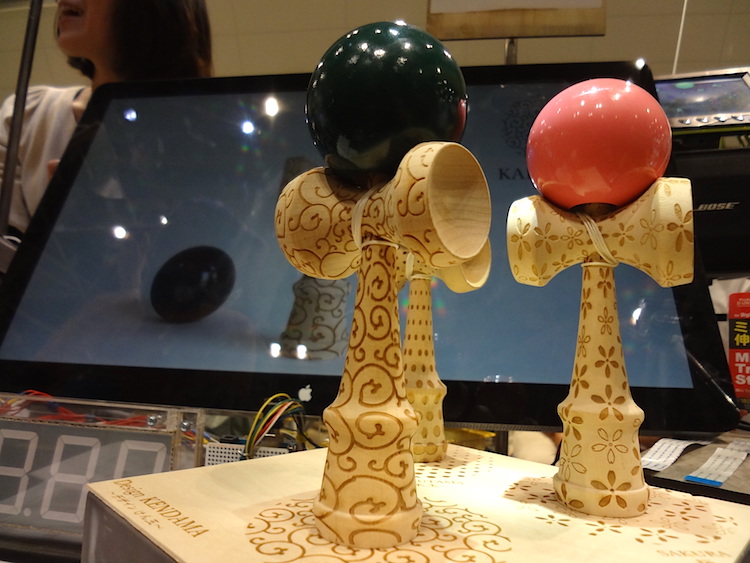 Another recurring theme of the Tokyo Faire is old Japanese traditions and techniques revived by new technologies. For example, by laser-printing traditional Japanese motifs on the wooden cylinders of the kendama, which has already become a worldwide trend, Renoself aims to restore its original handcrafted beauty.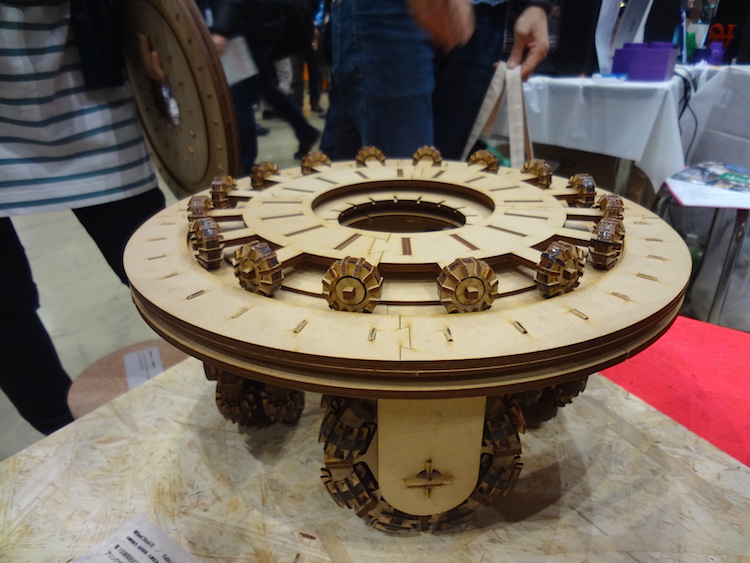 While laser-cut wood is a timeless fetish in Japanese makerspaces, FabLab Sendai's Wheel Stool is a veritable study in ball bearings, which was consequently awarded 1st prize at the Tenkaizu Budokai stool design competition 2014, organized by IAMAS (Institute of Advanced Media Arts and Sciences). Want to make your own Wheel Stool at home? Simply download the specs on Instructables and get to work.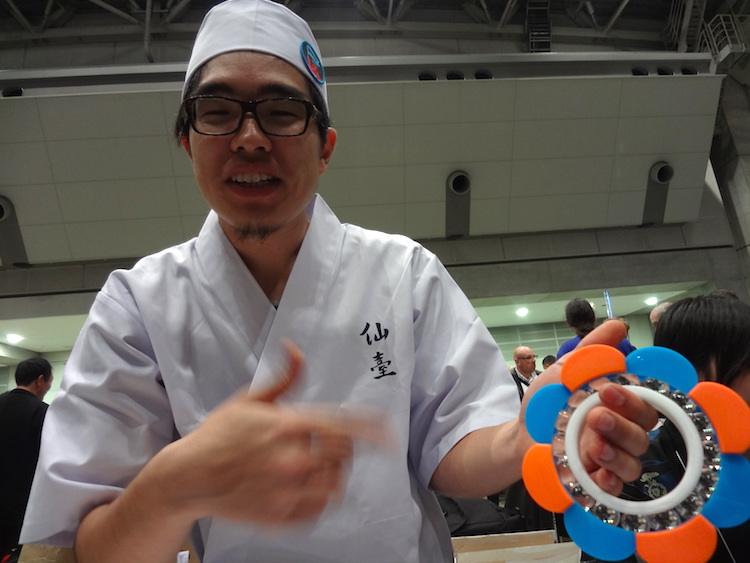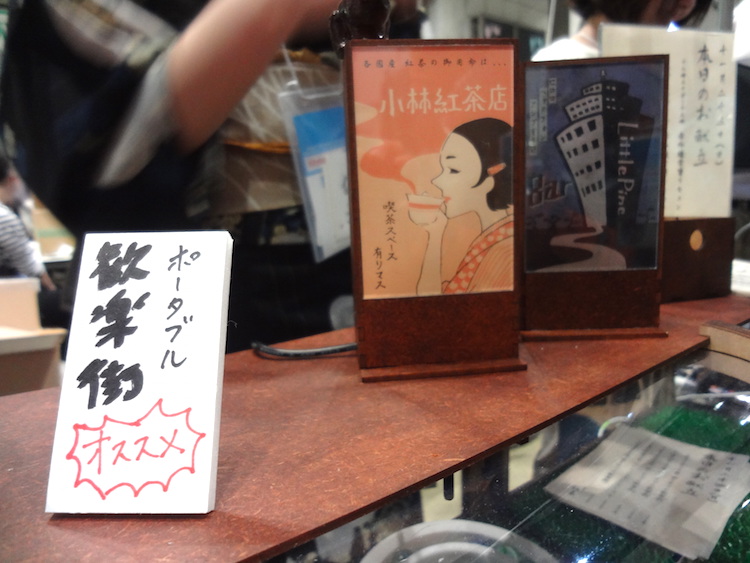 FabLab Sendai, whose permanent space is situated in the northeast of Japan, built its stand around the counter of an izakaya (local sake, beer and tapas bar). According to Takuma Oami, dressed as a chef for the show, when the makers of FabLab Sendai are not fabricating stools or tambourines, their specialty is reviving Japan's traditional crafts through new technology. For example, urushi, the technique used for lacquering wood.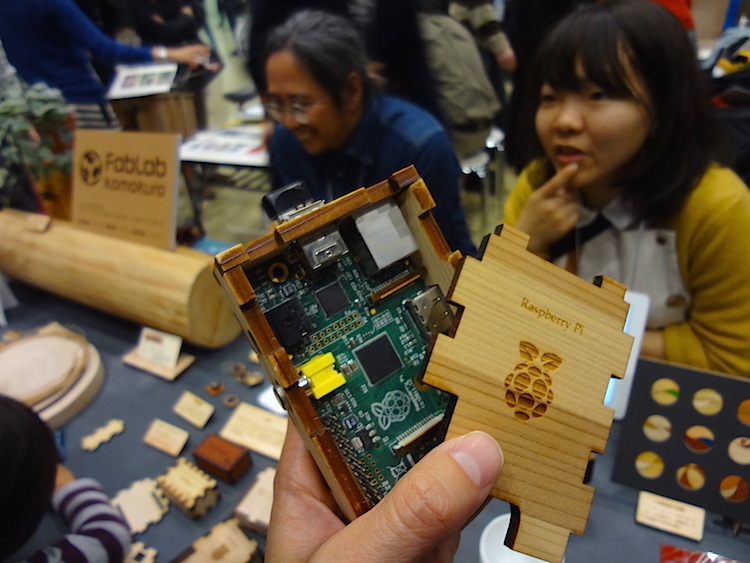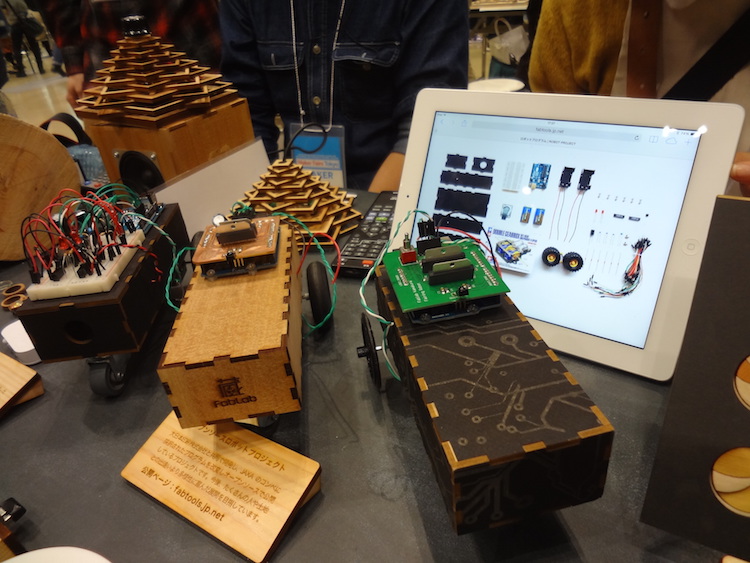 Next to the izakaya, children play with a box that pieces together like a puzzle. FabLab Kamakura focuses on education, says Misato Komano, one of several "fab instructors" of the lab located south of Tokyo. One of their favorite activities is making laser-cut boxes to encase circuit boards or gadgets (far beyond the iPhone case). Another popular activity is building simple robots that run on Arduino.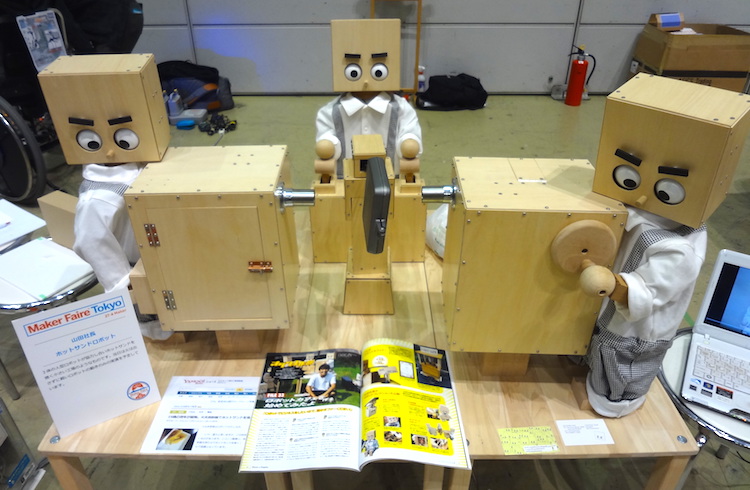 Passionate about 3D imaging technologies, from red-blue stereoscopy to CGI, one maker of Stereo Club Tokyo demonstrates her latest creation: inspired by the good old-fashioned red plastic View-Master, these cardboard glasses transport the viewer into an anachronistic world of virtual reality.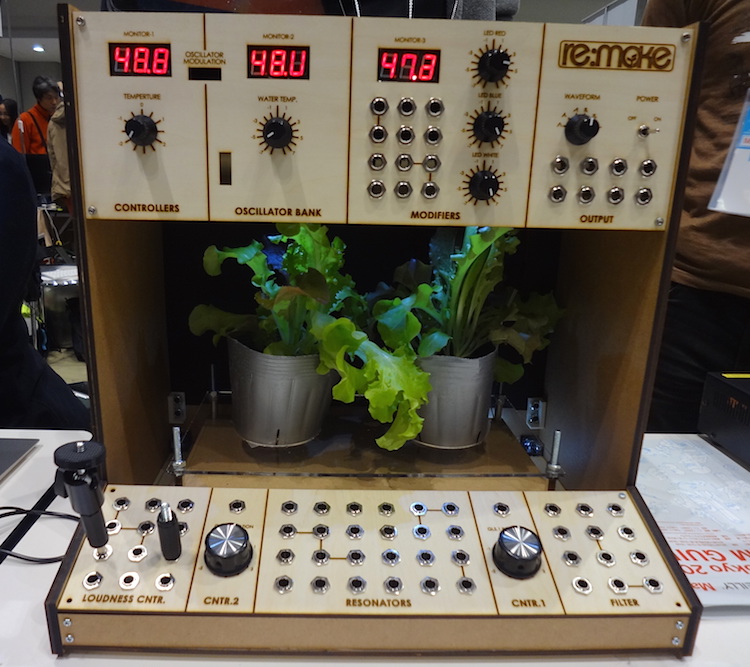 Yet another pretty box for a high-tech device: this mini-stage design borrowed from an oscilloscope patch features three colors of LEDs, a fan, sensors, an Arduino MEGA and more. Project still in research phase.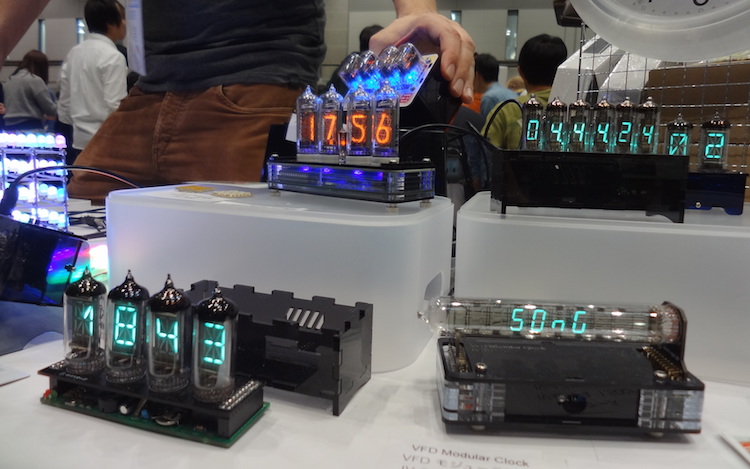 A prime example of retro-tech, the sci-fi clocks made by Akafugu, a small electronics company based in Yokohama, display numbers and letters using reclaimed Nixie and VFD (Vacuum Fluorescent Display) tubes recycled into design objects. Per Johan Groland, the company's Norwegian cofounder, explains that all their products are sold as kits on their website, along with instructions and basic elements (circuit boards, firmware, etc.), to build your ideal gadget. Their philosophy: "To make hardware development and prototyping simple!"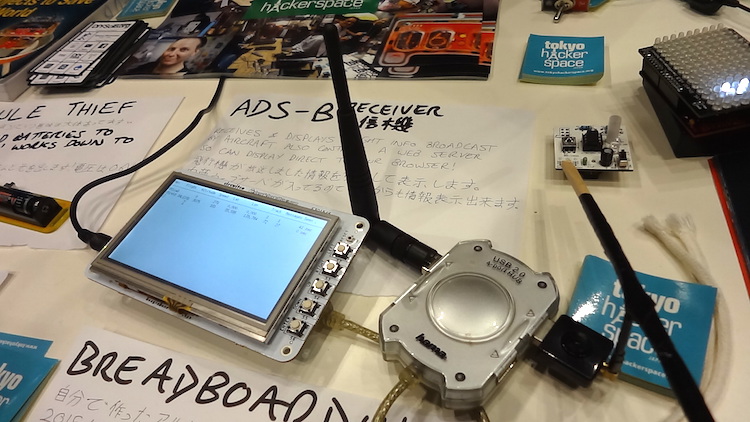 At the other extreme of 3D-printed toys and laser-cut trinkets, Tokyo Hackerspace represented the geeks of the show, with their unglamorous devices to detect passing airplanes (ADS-B receiver), boost the energy of almost-dead batteries (down to 0.6V), amplify the sound of a CD through a valve and oscilloscope, etc. Since 2009, it remains an active hackerspace with an international community that learns and teaches, shares and collaborates on a number of projects all year round.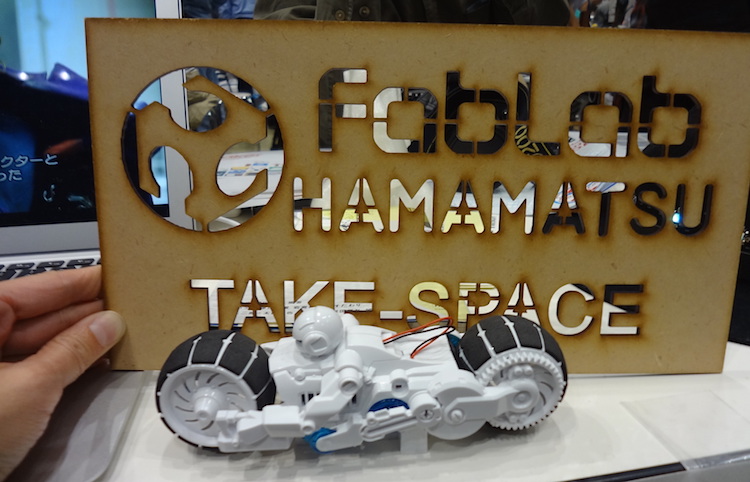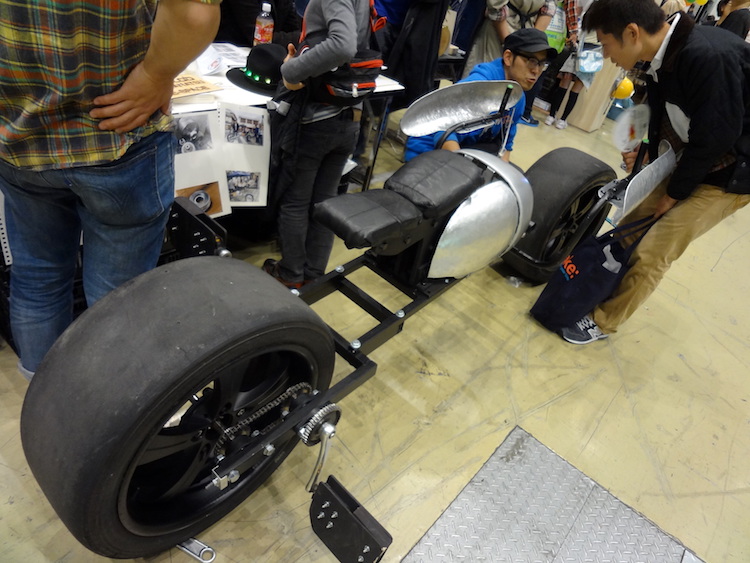 At FabLab Hamamatasu, at least they have fun.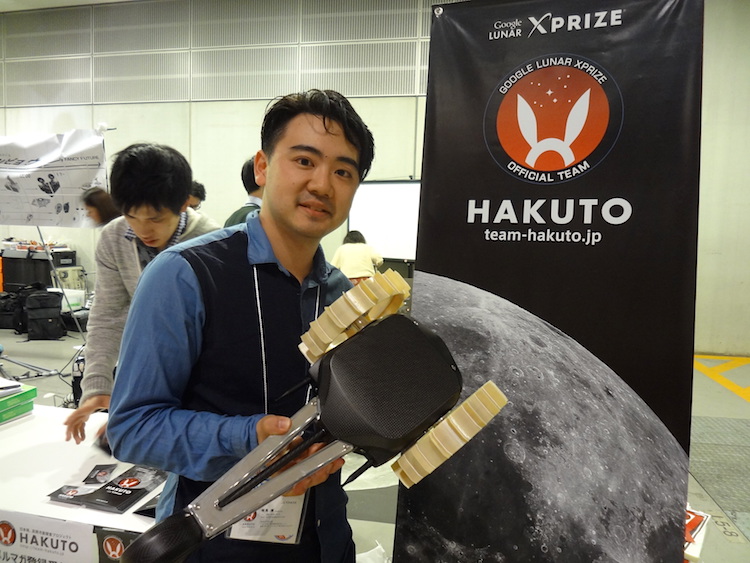 With all this technology, how can one not dream of the moon? Hakuto is the only Japanese team, and one of only four in Asia, among only 18 worldwide competing for the prestigious Google Lunar Prize 2015. The grand prize winner will receive 20 million dollars, after successfully landing a robot on the moon, moving it 500 meters on, above or under the moon's surface, and sending back HD videos. Kei Arima already believes that Japan has the best technology, and the team already has two models in development. Go Team Hakuto!