/ vie-de-makery
screenshot of the Makery map of labs
A new version of our map of labs
Makery launches a new version of its map of labs! Powered by the free open-source GoGoCarto tool, enriched with new features, it provides precise information on DIY and social innovation venues, all over Europe, and beyond to the whole world. All the labs, makerspaces and third-spaces on our previous map are now referenced, and to date there are over 1,000 of them. Now we need you to update the information on your labs, or list your structure on the map! Explanations in detail below.
In the spring of 2024, Makery will celebrate its 10th anniversary. In preparation for these celebrations – and in parallel with a phase of consolidation of our platform to secure our archives which will require a short temporary break in service in the coming weeks – we are delighted and proud to offer a new version of our map! Update your information or register if you haven't done so already!
A unique map in English
We've opted for a single map, unlike what previously existed on our site. Our new map is intended to become a reference tool at European (and why not global) level, so we've opted for English only.
Although the map interface and tools, as well as the form used to reference a lab, are in English, there's nothing to prevent you from entering your lab's information in French, or in another language.
An advanced search and information bar for each lab
We've implemented more advanced search functionalities than before, including three main categories for defining a lab: the workspaces within, the activities it offers, and the services it provides. There is a wide range of choices in each category. You can also search by keyword, and by location (if you type "Indonesia" in the search field, the map will focus on this area). There's also a button in the search field that automatically geotags you and displays a map of the area you're in.
You'll find the categories to which a lab belongs on its info bar, as well as its contact information (address, email, site, telephone, opening hours), the surface area of the venue, its management type (association, company, etc.), any labels and affiliation networks, a free description, optionally a photo.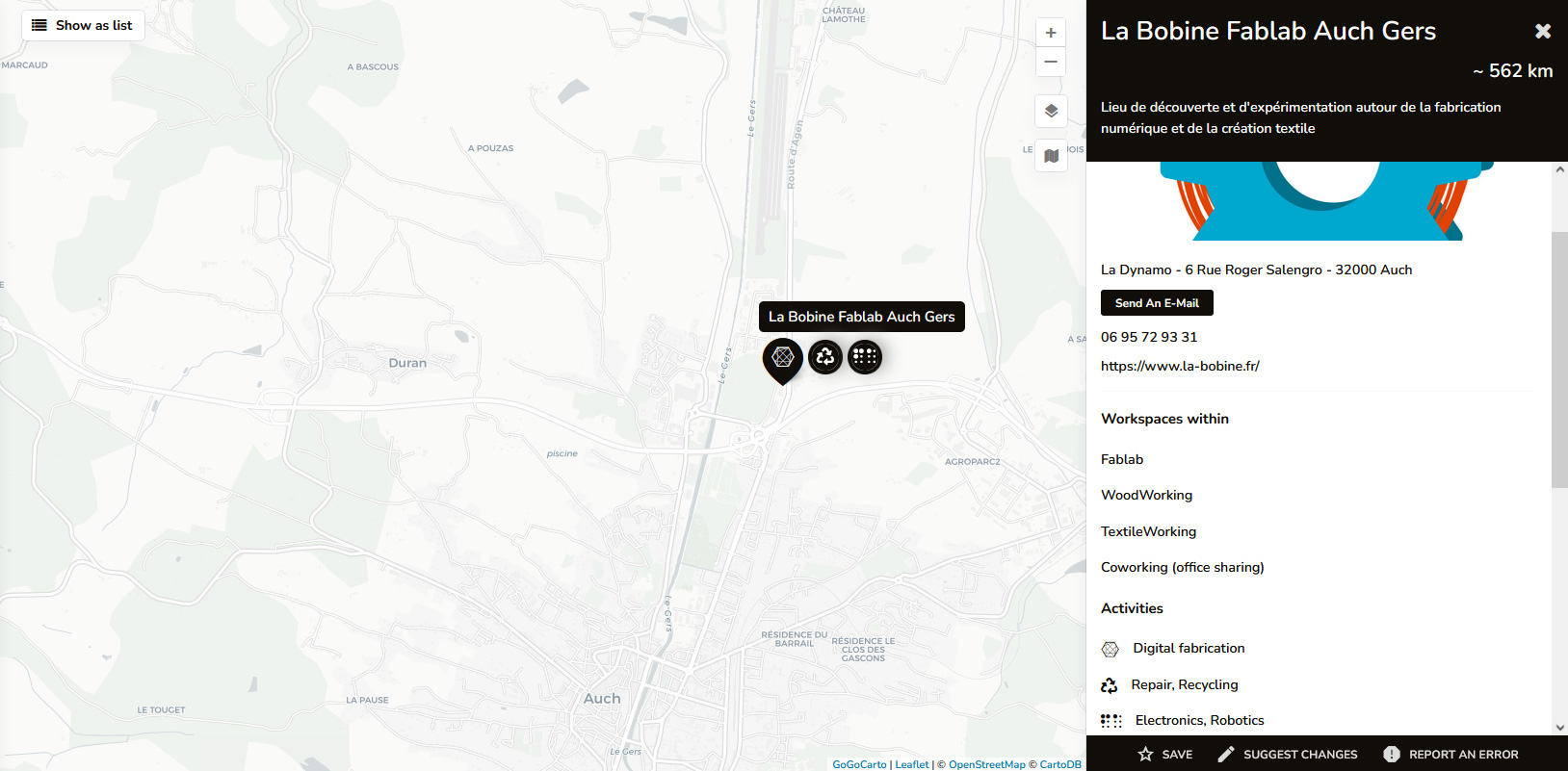 Easily create and manage your lab information
To create a lab
Click on the "Add A Lab" button in the top right-hand corner. It will open the form page. You'll need to open an account (email + password, or a Gmail, Facebook or Lescommuns.org account), then complete the form. Afterwards, you can modify your lab information by logging into this account.
To modify a lab's info
If your lab is already on the map (you're "claiming ownership" of the lab): Open the lab's info bar by clicking on its marker. At the bottom of the information bar, click on the "Suggest changes" button. You'll be directed to makery.gogocarto.fr You'll need to open an account, then you'll have access to the lab's information, which you can modify.
Once your account has been created and your lab is attached to it, you can modify its information as you wish, by logging into your account on makery.gogocarto.fr.
Please note: All information you enter during the lab creation or modification process is subject to moderation. It will initially be on "pending validation" status, meaning a member of the Makery team should validate them. We reserve the right to refuse publication, and to modify certain information on your file (for example, if your texts are too long, we'll shorten them). Moderation takes place once a week.
To delete a lab
If you are aware of a lab that no longer exists, you can report it by clicking on the lab's marker to open its information bar, then click on the "Report an error" button at the bottom. An e-mail will be sent to a Makery moderator, who will delete the lab after checking.

Help us keep our map up-to-date and accurate
When importing data from our old maps, we had to retain just a few basic pieces of information. We had to assign each lab a "default" choice for each of the 3 main categories: so all the labs currently on the map contain a "fablab" workspace, a "digital fabrication" activity, and an "assistance, mediation" service. Of course, this doesn't apply to every location, so it's up to you to modify your listing to accurately reflect the characteristics of your structure! To do so, start by consulting the new map of Makery labs: https://www.makery.info/en/map-labs/