/ feral-labs
Craig, Michaela, Clarinda (in water) and Aaron with baby Oren, by the lake.
Mobility in Motherhood : a personal experience
Shona Robin MacPherson is an artist, curator and researcher based in Glasgow. She is also the laureate of the Rewilding Cultures mobility grant. Thanks to this support, she was able to travel to an artist residency in Finland with her newborn son and partner. For Makery, she talks about the challenges of her mobility in motherhood.
Text and photos by Shona Robin MacPherson
Whilst still (heavily) pregnant with my first baby in April 2023 I applied for the Rewilding Cultures Mobility grant. It felt very important to me at that time, on the cusp of motherhood*, to maintain mobility and a sense of my creative/pre-motherhood identity. I discovered I was successful in receiving the Rewilding Cultures Mobility grant when my baby was just three days old. I was delighted although in a haze from sleepless nights and hormonal tidal waves. However, I set about putting things in place to ensure I could still travel with my baby, such as researching how to apply for a passport for a newborn.
For the grant I applied to be able to travel to meet my collective Those Who Possess Dirt (TWPD) in northern Finland to visit the Mustarinda residency house. By the time of the residency my baby would be three months old and I would be joined by my partner for support.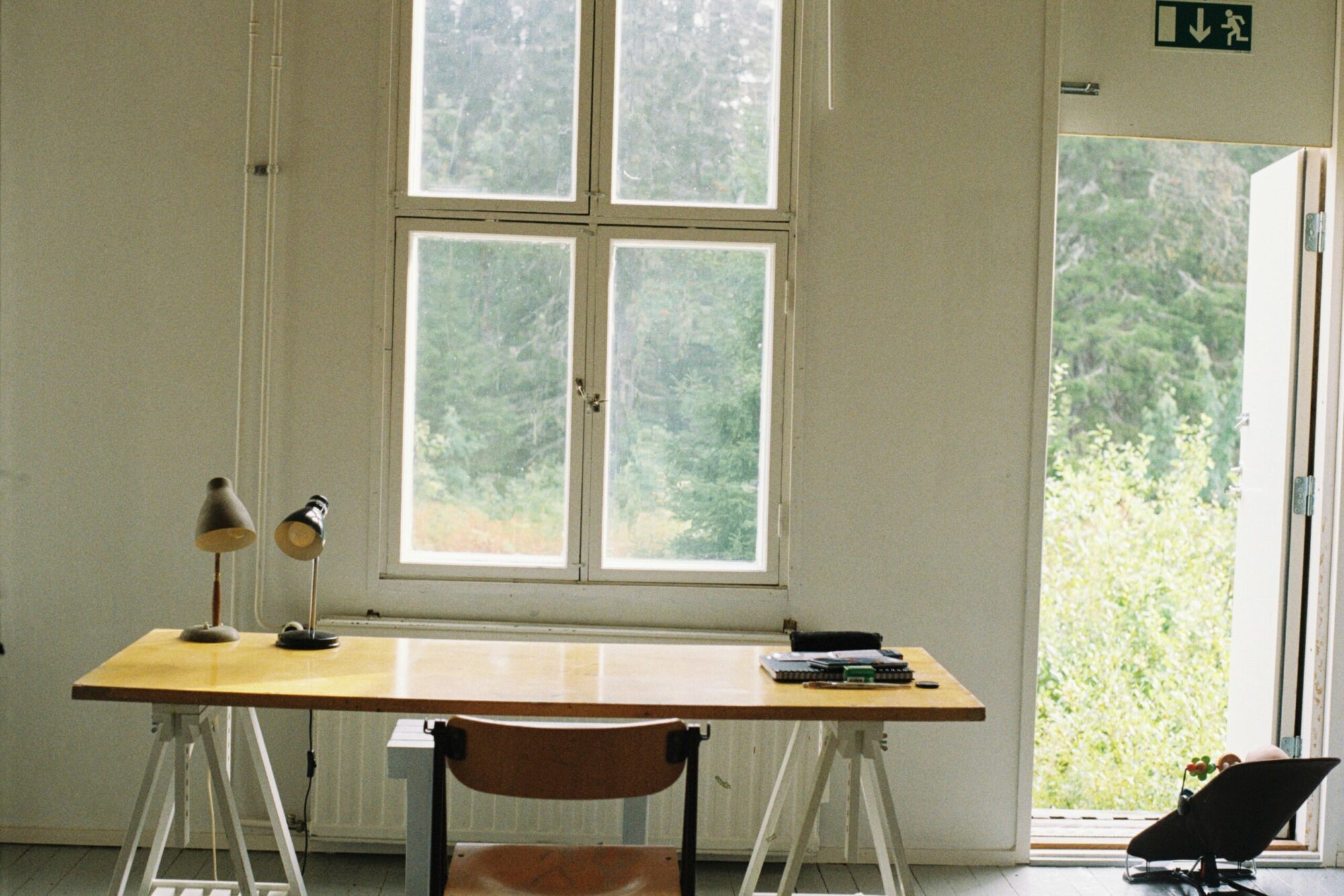 TWPD is a research collective founded in 2020 which currently consists of artists/curators Shona Robin MacPherson, Clarinda Tse & Ruby Eleftheriotis. Formerly Glasgow-based, TWPD is now spread across Glasgow and Norway. We untangle the possibilities of multi-species kinship and knowledge-sharing through cross-disciplinary dialogues, site-specific investigations and embodied, empathetic listening to more-than-human voices as a way to imagine a future of non-hierarchical coexistence.
My partner, baby Oren and I arrived in Finland via a flight from Edinburgh to Helsinki; then another flight to Oulu; then Oulu to Kajanni via train; then Kajanni to Hyrynsalmi via bus. As a solo traveler, I would have definitely opted for a lower carbon approach to travel by slow traveling, however with a small baby I could not work out a feasible way without transferring many times and taking many different forms of transport over a long period which would be distressing for my baby.
We were greeted by Kryštof Kučera at Hyrynsalmi S-market (he had kindly brought a car seat for a small baby all the way from Czech). We were then driven (in Mustarinda's electric car) the final part of the journey from Hyrynsalmi to Mustarinda house. During the final leg of the journey it felt clear how far away from home we were, the forest became denser and the roads grittier, road signs and road markings became less obvious as we finally arrived at our destination, a solid looking old wooden school house set in amongst the edges of the forest. It was 1st September when we arrived at Mustarinda house, there we met Michaela Casková who would be our housekeeper during September along with Krystof.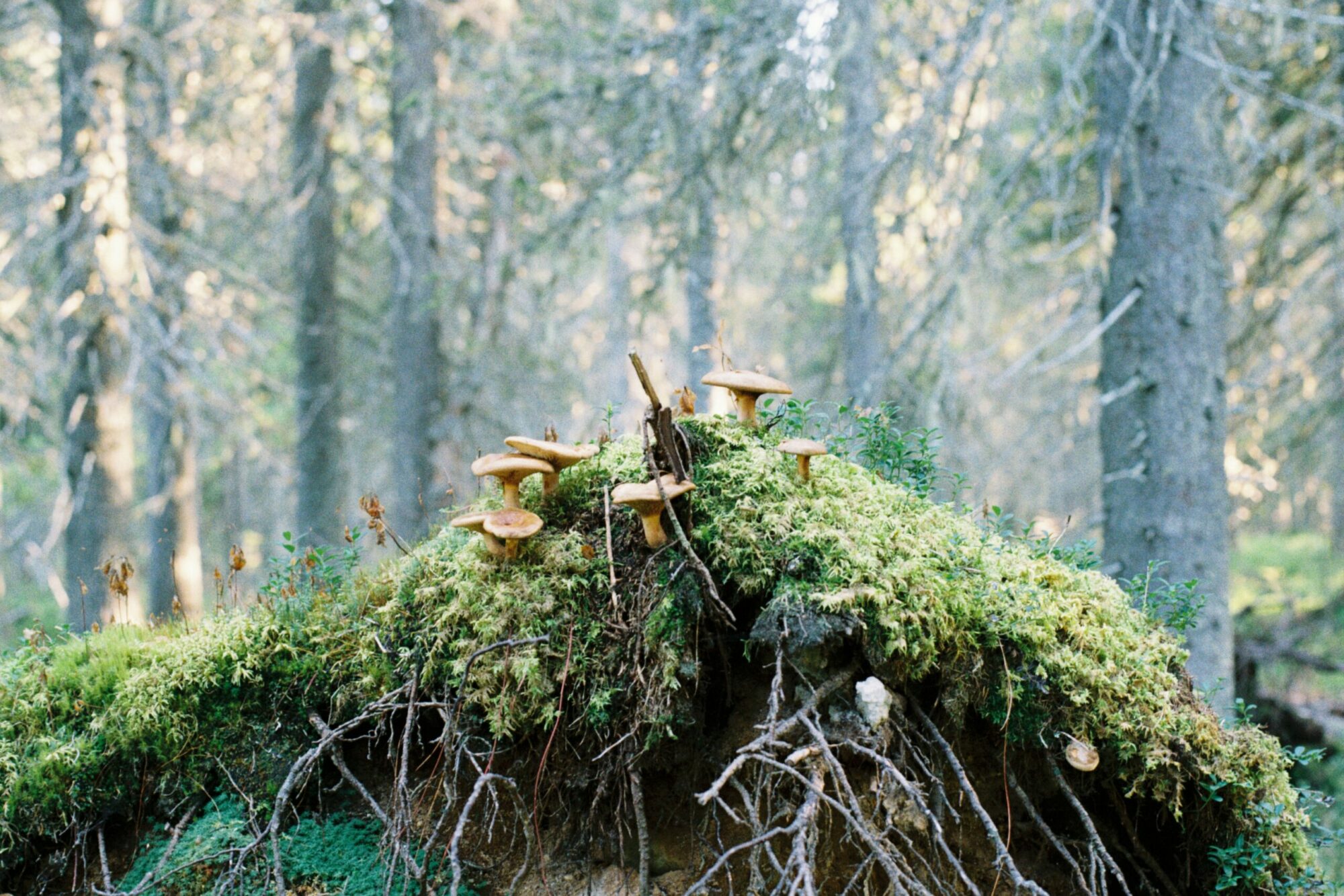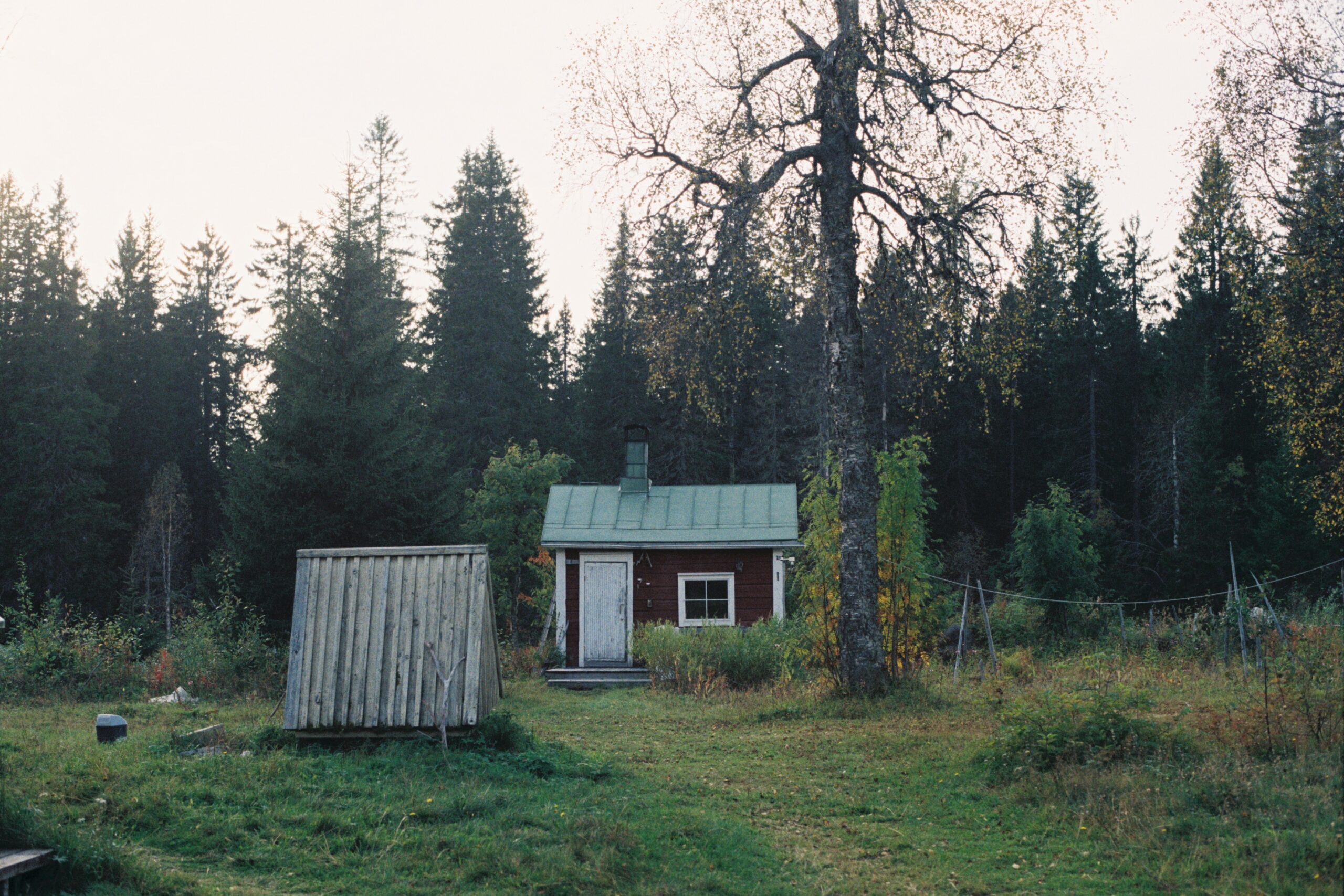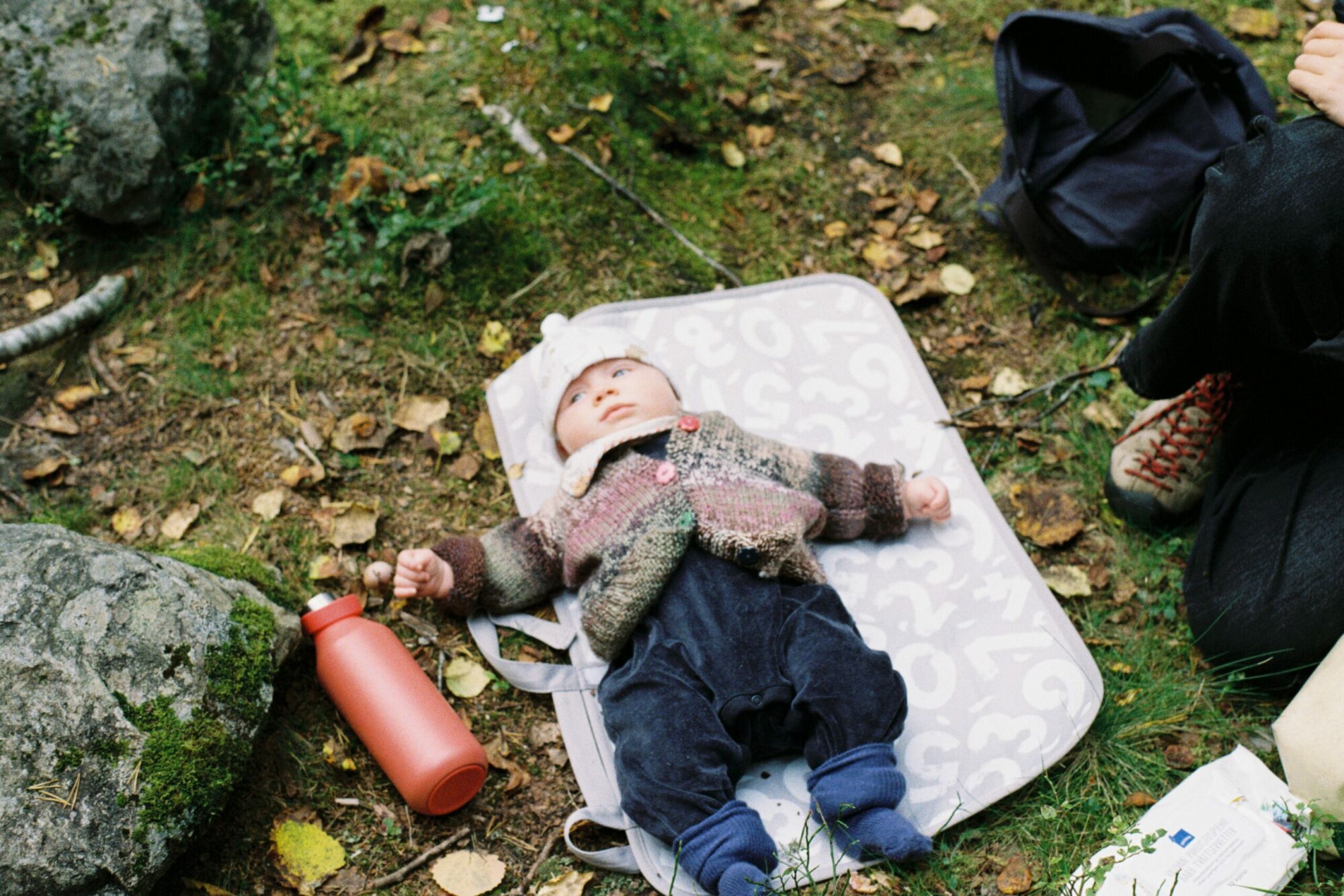 A lot of questions came up for me during my time at Mustarinda, regarding rest and recuperation, labor and artistic practice and support networks as I began stepping out into the world with this new paradigm of care now intrinsically woven into my life. Simple tasks I would usually undertake on a residency, which I would have done without thinking such as getting into the studio in the morning, socialising in the evening with other artists, long walks, reading etc all become much more difficult and almost impossible without support, especially at this early stage of motherhood when a baby requires so much solely from their breastfeeding mother.
As in my application I was aiming to spend three weeks in residence at Mustarinda with some support from my partner and the collective, however my partner had to return to the UK after one week. I then had some time without immediate family support although I was helped by the other collective members. I discovered that there were certain tasks I didn't want to lean too heavily on anyone else with (such as 4am wake up's) therefore I began to struggle without my partner. I decided to cut the trip slightly shorter and return home a week earlier to ensure I wouldn't become too exhausted. These two weeks felt like a good amount of time to enjoy the experience but not place too much pressure on myself and my baby in these early days.
On my return home I maintained communication with the collective and the residency by sharing images, texts, screenshots, voice notes etc and I even managed to listen to the other artists presentations which happened in the second to last week as Clarinda recorded the audio via voice-note for me. This was a lovely way of staying in touch and feeling in some ways like I had continued to be in the surroundings of Mustarinda.
I found I was left with many questions, rather than answers which feel like fuel for further thought, research and projects.
Questions such as; what should an artist's maternity leave look like? There is a sense that an artists' work never stops, but perhaps sometimes it is important to take a pause. How can an artist mother be supported in doing so without experiencing isolation and underrepresentation in the art world? What should that look like? What kind of structures can support artist mothers? What is required of an artist residency to make it accessible to artist mothers? How important is it to experience the wild in formative years? How can we imbue wilderness in children's upbringing?
The ability for me to be in attendance in Mustarinda with my collective and new baby, in retrospect feels quite momentous for me and a huge achievement. I feel as though it sets an inspiring starting point in motherhood for me, one that is interlaced with creativity and wilderness and not one that is isolated in the home as is too often the case in early motherhood.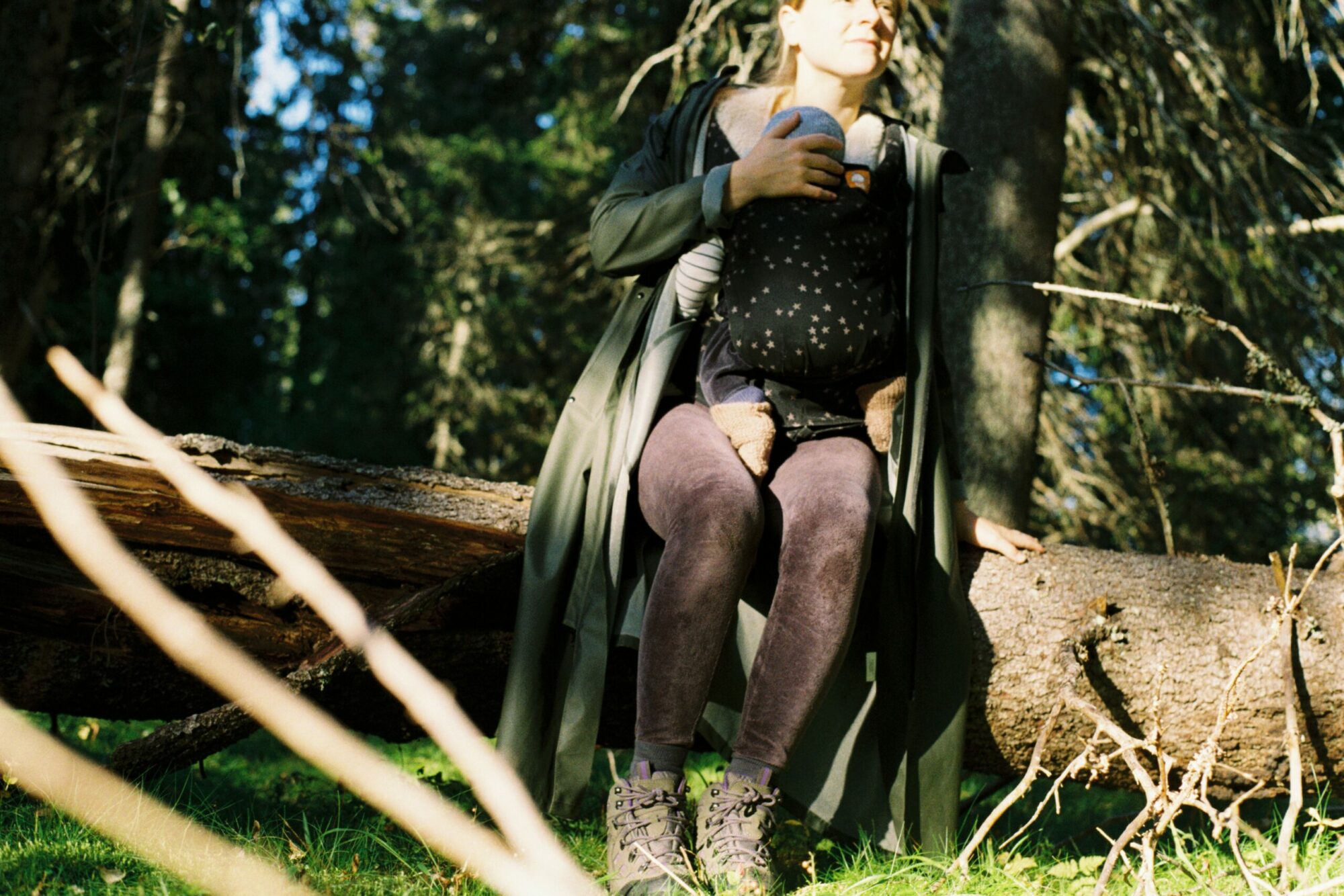 Endless thanks to Clarinda and Craig for tasty meals, and Ruby, Krystof, Michaela and Aaron for taking care of us. And in the flux of friends and residents: Anastasia, Aurora, Ada, Ulla, Myumi, Hannah, Tiina (and Miksi!) for spending time together with the gorgeous Mustarinda house as our anchor.
Also thank you to Spilt Milk Collective for mentorship and support as well as Alexandra Carter for Finland residency advice with a baby.
* the terms motherhood and mothers are used here in this article to describe any caregiver who identifies as a mother.
Shona Robin MacPherson is the recipient of a mobility grant awarded as part of the Rewilding Cultures cooperation project co-financed by the European Union's Creative Europe program.