/ feral-labs
Somatic arrival to "Myco-Meditations". © Katharina Geist
Mycopoetics: embodying regeneration and ways to "compost the toxins of the Anthropocene"
For five days in June, artists, theorists, scientists, performers and researchers gathered in Berlin for Floating University's third edition of (Re-)Gaining Ecological Futures on the theme of Mycopoetics. The festival took inspiration in modes of relating, thinking, and doing from the mycelial world to confront and think critically about the number of social, ecological, and political crises that plague the world.
Floating University opened the third edition of its (Re-)Gaining Ecological Futures on Mycopoetics, unearthing and entangling us into complex networks and the world of mycelium. The lineup of the four-day festival took place between the 22nd and 25th of June and a pre-festival day was held on the 17th of June. The myriad of activities offered were deeply immersed in and explored the many connections and entanglements of the mycelial world.
In addition to the many events offered throughout the festival, an excerpt of text (pdf) from the critically acclaimed book Entangled Life by biologist and specialist on fungi Merlin Sheldrake was shared online as part of the pre-festival, which provided a call to action toward fungal thinking and relating, which served as a crucial framework for the both festival's events and facilitator's practices. Merlin Sheldrake writes in the excerpt, "Many symbioses have formed in times of crisis. The algal partner in a lichen can't make a living on bare rock without striking up a relationship with a fungus. Might it be that we can't adjust to life on a damaged planet without cultivating new fungal relationships?"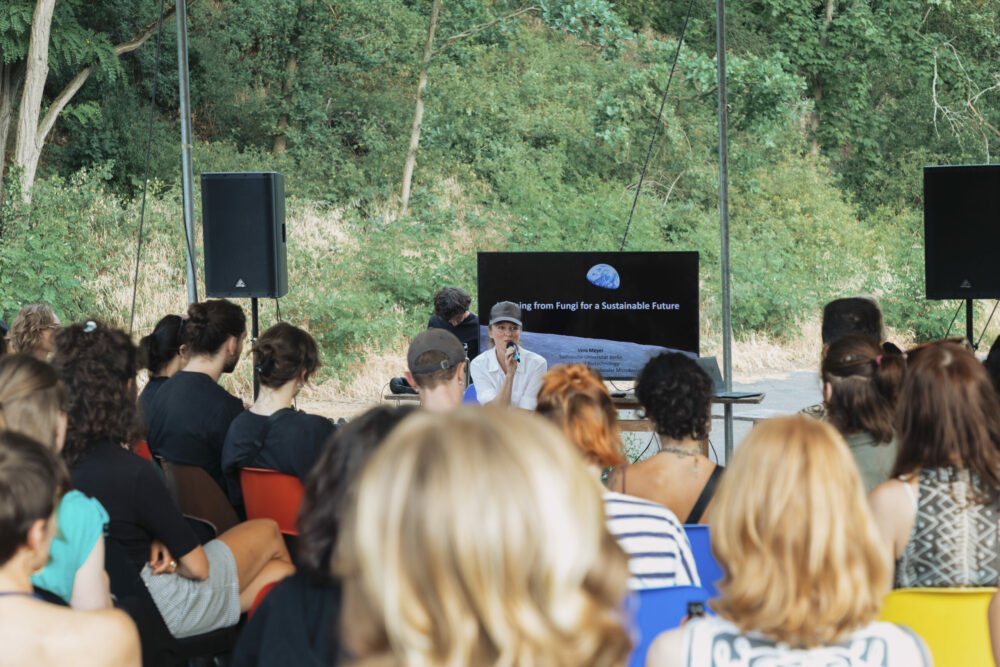 This call to action to find ways to move forward with living on a damaged planet through fungal relationships and modes of relating was also shared by Berit Fischer, curator and founder of (Re-)Gaining Ecological Futures, during the opening welcome and introduction of the opening's main speaker Vera Meyer. Meyer, who is a professor and head of the Department for Applied and Molecular Microbiology at the Technische Universität Berlin, provided both an overview of her research with fungi and her interdisciplinary collaborative projects affiliated with MY-CO-X, a collective she co-founded alongside architect Sven Pfeiffer. Answering Sheldrake's call by envisioning a future where our buildings and homes could be grown from mycelium, Meyer's shared insights concerning the ways that fungal networks can inform technological and design as an attempt to confront issues concerning sustainability and environmentally-driven innovation.
Chaga, fungal adaptivities, and shifting ecologies
The festival program opened with a full day of workshops by transdisciplinary artist and educator Shelly Etkins and dance and visual artist Olive Bieringa, who has a background in somatic movement therapy. Etkins led participants through her "Adaptations" Workshop, exploring the parallels and intersections between bodily 'functionality' and fungal adaptivity toward resilience.
Etkins began the workshop with a meditative consumption of a chaga and birch iced tea while revealing the complex relationship between the fungus and its host, the birch tree. This relationship is typically described as parasitic, as it gives way to white rot disease in birch trees. These tensions between chaga and birch were further explored through a group activity by creating a chaga decoction and birch-infused oil, followed by a meditation on the body's adaptive responses to chaga, which prompted participants to reflect and critically examine their bodies, health, and identity in the context of shifting ecologies.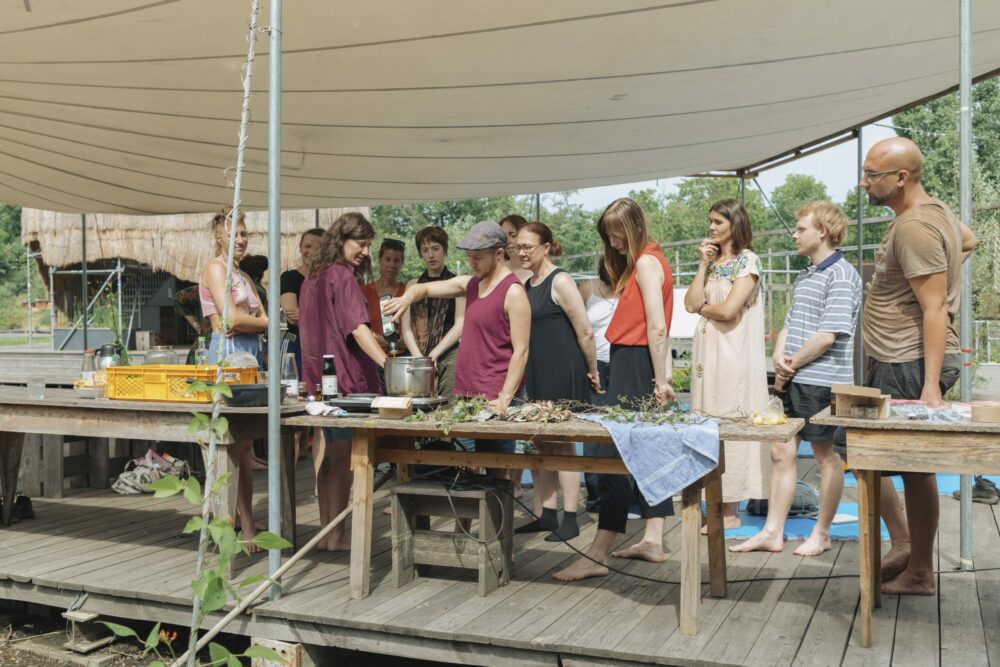 Chaga, one of the many mycelia making an appearance during the festival, had a recurring presence, often appearing as a beverage to be consumed and served in many of the festival's workshops and sessions. While known scientifically as Inonotus obliquus, the chaga fungus' colloquial name is derived from the language of the Komi-Permyak people of the Kama River Basin, whose independence was forcefully taken by Russian powers in 1505 to be part of what is now known as the Russian Federation.
The fungus itself has significant cultural uses, sacred connections, and a prominent role in ritual practices for many different groups of Indigenous Peoples in the northern hemisphere and arctic regions, including the Ainu, Sámi, Kanty, Mansi, Nenets, and more. In Ethnographic studies on the culture of Ob-Ugric Indigenous Peoples, chaga is often noted as being traditionally and ceremonially burned to create a cleansing smoke and brewed as a tea for its medicinal properties.
"Rehearsing connections" with Mycelial Workgroup
Chaga emerged again in Mycelial Workgroup's session "Dives into Mycology" where Dani Bershan, artist, independent researcher, and initiator of the Mycelial Workgroup, held an exploratory session on naturalistic observation and experiencing mycelia in the spirit of erotic scholarship. Bershan introduced the session by explaining their practice of "rehearsing connections", which views connecting with human and non-human others as a continuous act that can never be definitively asserted or assumed.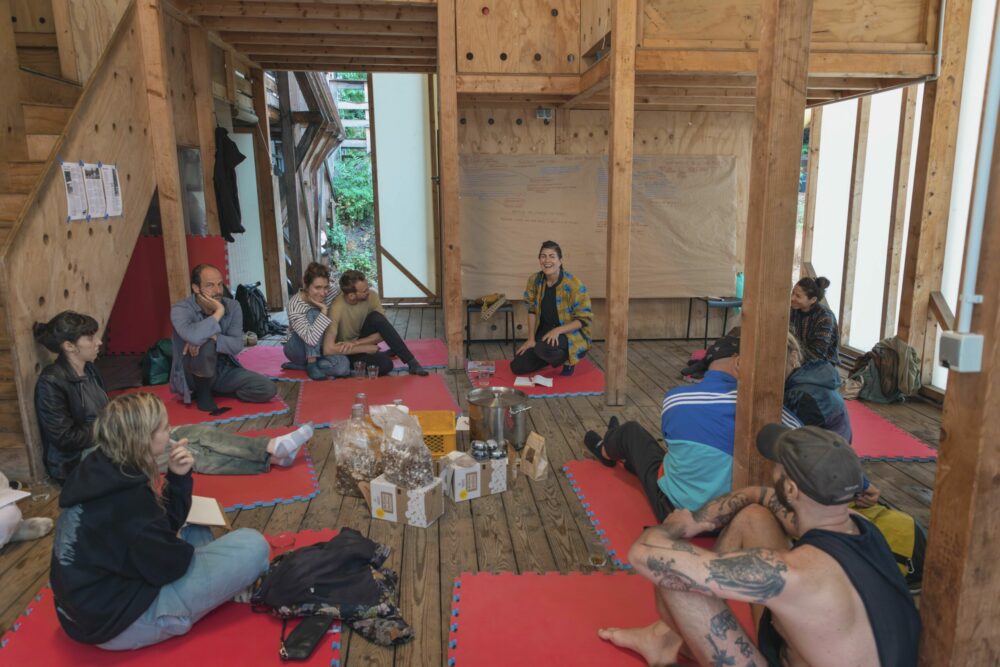 Informed by the scholarship of Audrey Lorde, Bershan led the session from an erotic scholarship approach, which focused on experiencing and exploring mycelium by using the senses to make sense of them. Participants in the session were encouraged to explore different species of mycelia through touch, taste, smell, sound, and sight and were given small magnifying glasses to help facilitate the experience. The exploration led to a collective discussion on notions of responsibility, agency, and care in interspecies entanglements.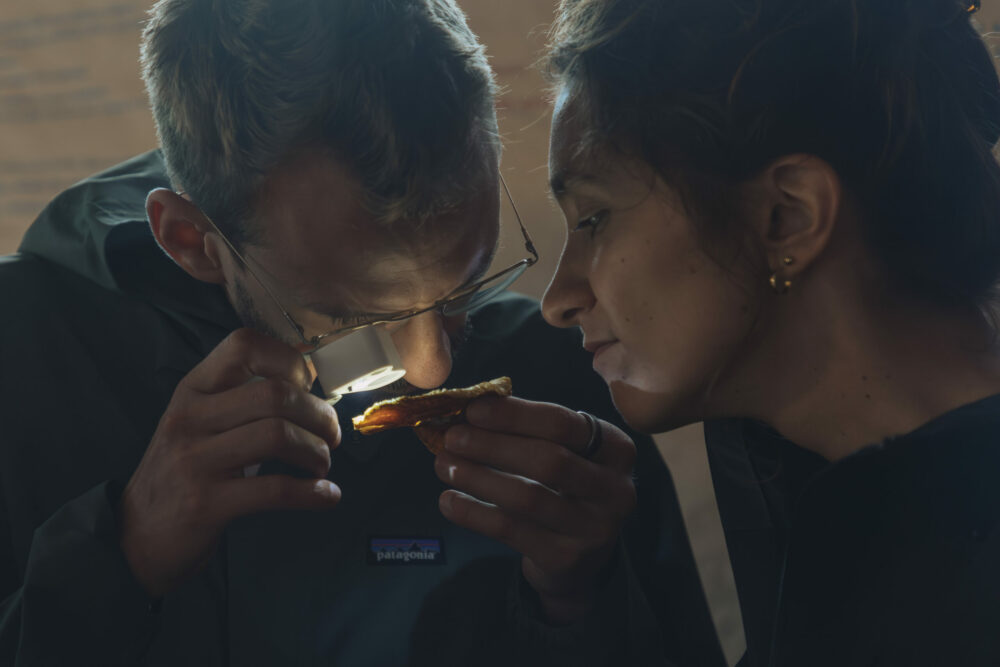 This discussion took on a real-world relevance when the festival collectively experienced a flood. Participants and facilitators alike took note of the site's resident spiders' sensing and urgency to seek higher ground when they suddenly and simultaneously emerged from underneath the floorboards in droves, only moments before the lower levels of the Floating University were submerged by the rising rainwater.
Fungal resistance and regeneration
These notions of interspecies connections and sensing present in the "Dives in Mycology" session materialized again in the discourse of the festival during Berit Fischer's workshop "Myco-Meditations: Fungi Do Not Make Easy Subject of Capitalism". Fischer set the stage for her workshop by explaining their practice as post-representational in its move away from the prioritization of the visual and toward a kind of embodied inter-relatedness.
Workshop participants were led through several exercises aimed at deconstructing the separationism and hyper-individualism that we have become accustomed to in a globalized neo-liberal world, which has been ruptured by what Fischer identifies as exploitative political agendas. Using the fungal way of life as a guiding symbol of practice, each activity during the workshop reached toward exploring notions of togetherness, the intimacy of strangers, mutual aid and benefit, and communal experiences.
This critically informed approach to confronting contemporary issues of globalization and hyper-individualism also appeared in Alistair Alexander's workshop "Regenerative Social Networks: Learning from Fungi and the Wood Wide Web". Alexander's work investigates the ecological and social impact of technology, which in the context of Mycopoetics, Alexander connected with the Wood Wide Web by critically analyzing our own social networks.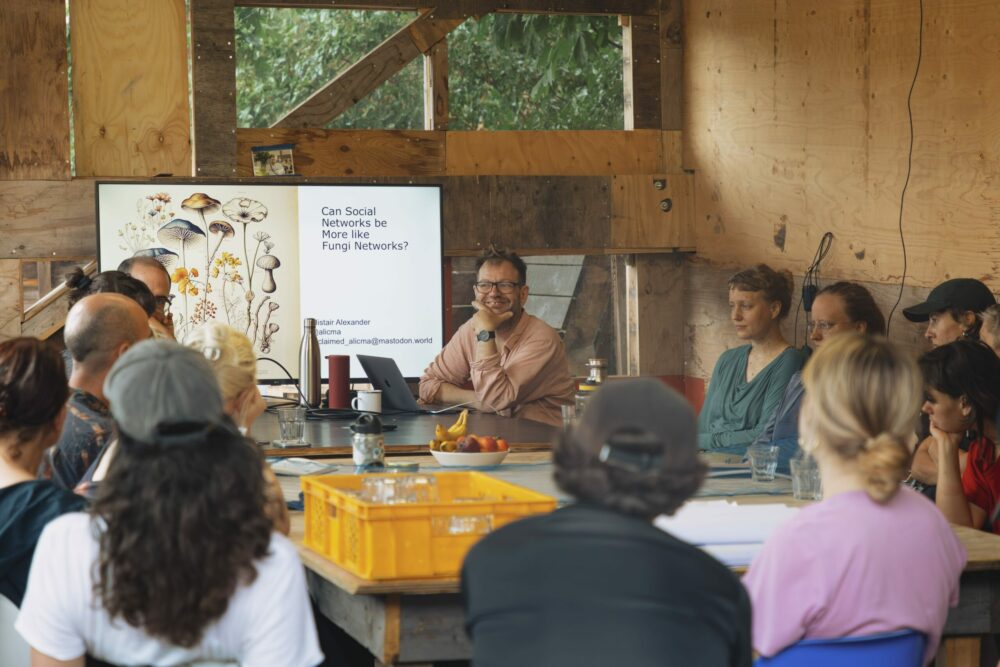 Using the Wood Wide Web as an exploratory and inspirational framework, Alexander guided participants through a presentation and series of activities about the ways we connect, both on- and offline. Within the scope of the workshop, it was acknowledged that these networks cannot be understood as entirely negative or positive, as the mechanisms in which we form connections and relate to others is far more complicated, just like the interspecies networks of the Wood Wide Web.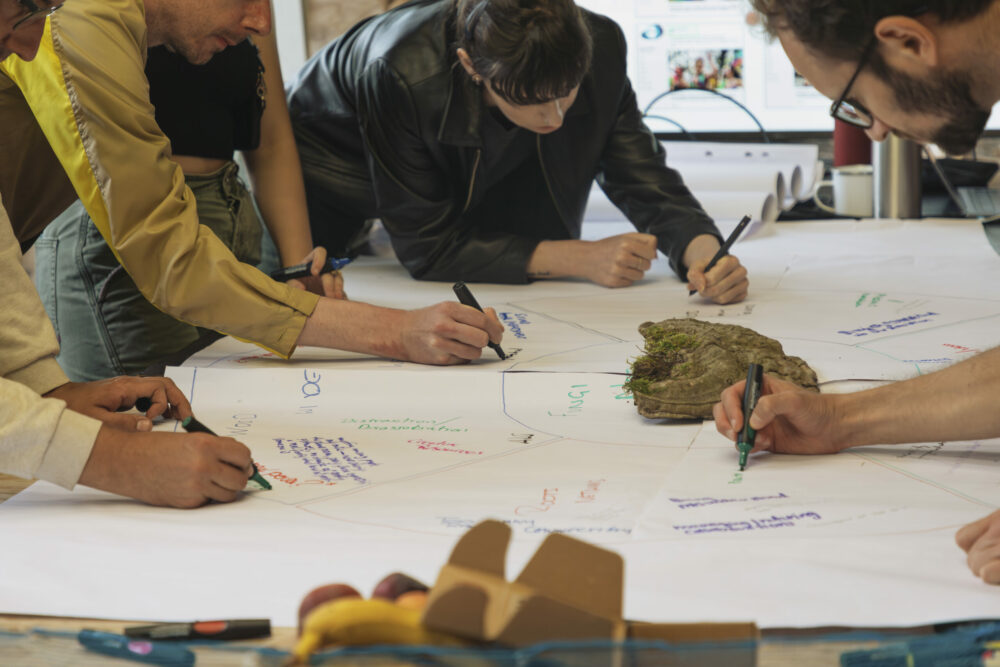 These offerings along with the many other events and programming positioned in the framework of (Re-)Gaining Ecological Futures: Mycopoetics called into question notions of symbiosis and how we form connections and entanglements with both human and non-human others. By embodying a regenerative ethos, the festival made a fertile ground to begin and continue to seek out answers about how we can learn from fungi to "compost the toxins of the Anthropocene"?
More about (Re-)Gaining Ecological Futures and Floating University.