/ Voices
Vivek Vilasini, Secret of Shadows (1996); Wood & Terracotta
Towards a symbiotic future: An intervention, Arts as Catalyst
At the Soil Assembly – 1st to 5th February 2023 at the Kochi-Muziris Biennale – the panel discussion on living communities presented several art&agriculture initiatives in India and beyond. Artist Vivek Vilasini looks back at the emergence of his permaculture intervention in Munnar's hills of Western Ghats of Kerala.
In the early 1990s, there was a rise in farmer suicides and growing concerns about climate change. Looking back, these suicides could have been early indicators of the changing climate. As an artist, I was deeply affected by these events, and my work "Secret of Shadows," exhibited as part of the Sharjah Museum in 1996, reflected my response.
In 2000, upon my return to Delhi after spending five years in the UAE, Delhi was declared the most polluted capital city. Having previously lived in Delhi for eight years, I was alarmed by this, and my work "Capital Dust Breeding" was about collecting atmospheric pollution that descended on the city.For this project, I placed 31 pieces of extremely thin and fragile Tibetan rice paper on the roof of a suburban building. Each day, I removed one sheet and used a fixative to capture the pollution onto the paper. I continued this process for 31 days during the month of May, and the resulting work was exhibited as the calendar month of May 2000. The sheets of paper showed a progression from grey to black, representing the increasing pollution levels as each day passed. The work was again repeated in the year 2017 and was part of the Art Basel, Hongkong.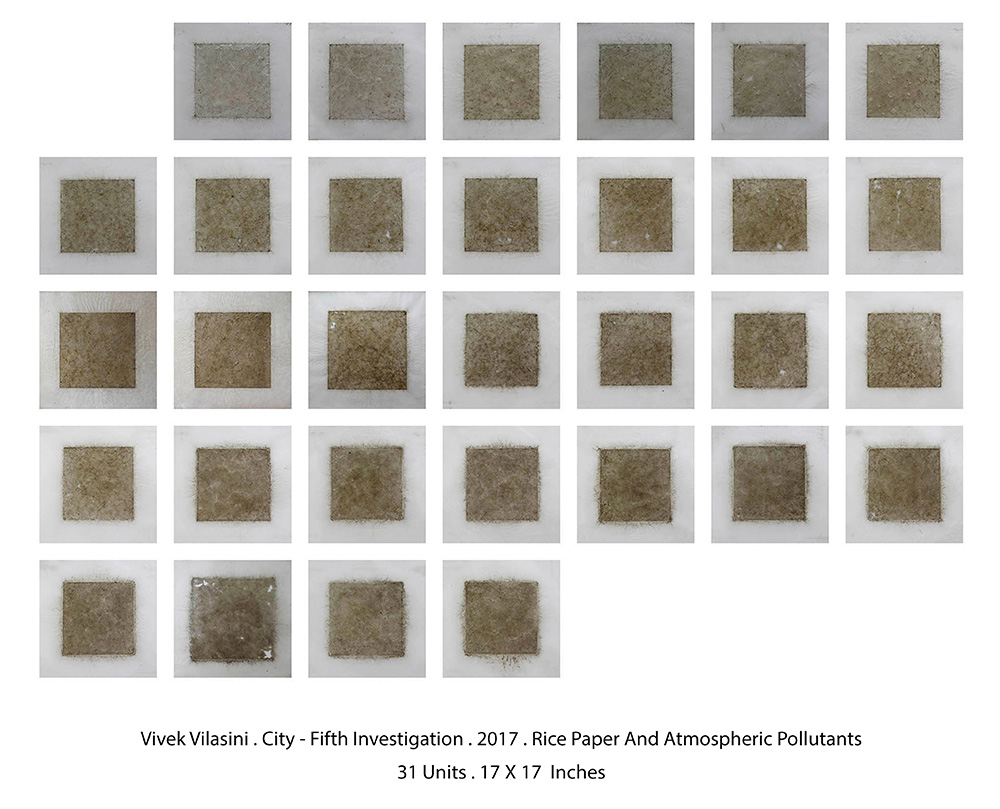 The issue of food security was a major concern in India after gaining independence. The country was eager to experiment with new varieties of seeds, fertilizers, pesticides, and irrigation in what was known as the Green Revolution. However, the overuse of fertilizers and pesticides led to ground water contamination in several places, particularly in Punjab, which was one of the leading participants in the Green Revolution. This contamination resulted in increased cases of cancer and other terminal diseases. In 2018, I created a work titled "Too Many Fables on the Rails (Cancer Express)" in response to newspaper reports about a train commissioned to transport patients from Punjab to a charity cancer hospital in Rajasthan. The government allowed free passage for patients and charged only 25% for bystanders. My work framed this train, drawing attention to the devastating impact of contamination on public health.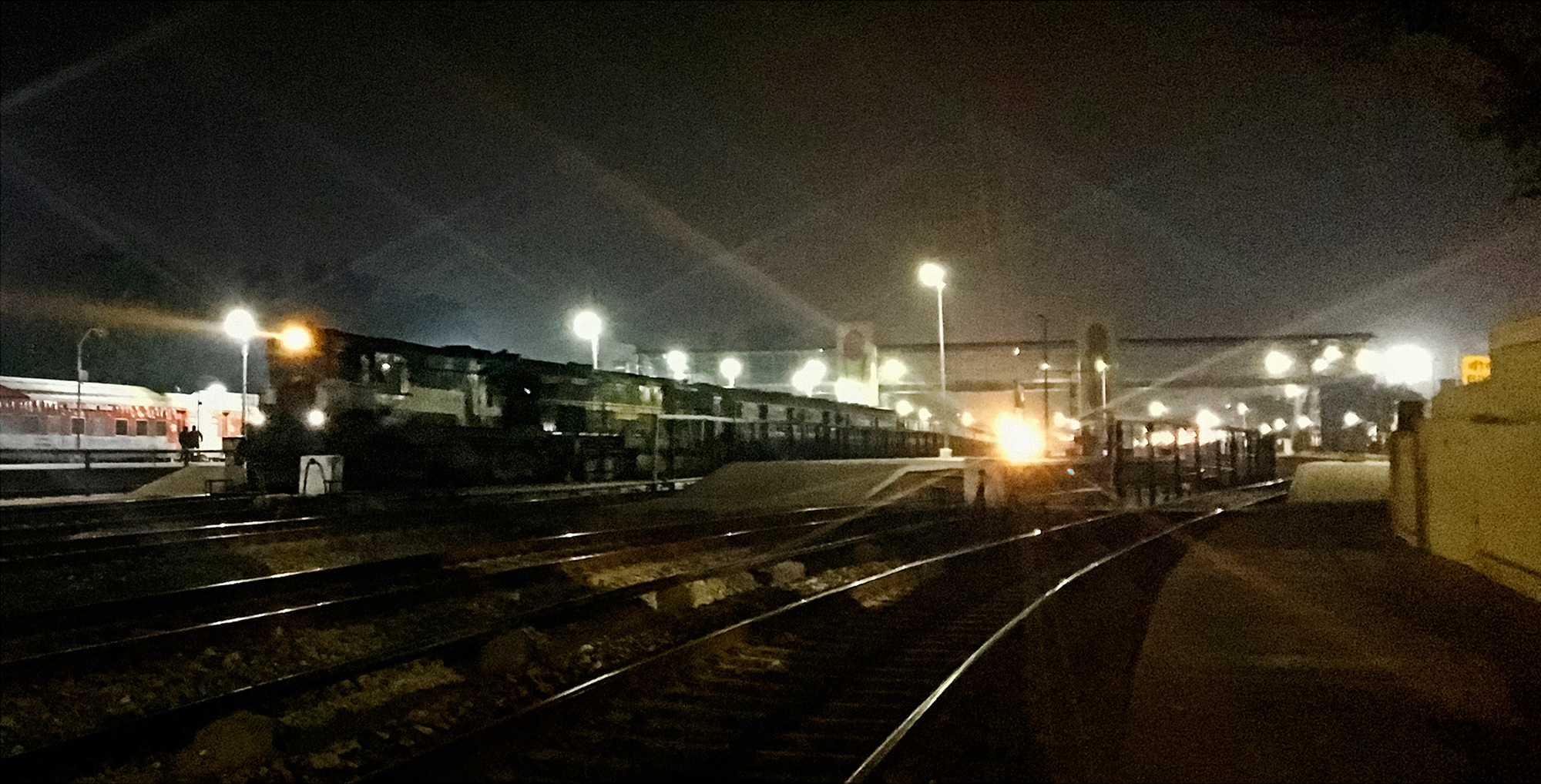 Marx warned about the metabolic rift caused by the separation of human beings from nature and the destructive impact of capitalism on the environment. He argued that capitalist agriculture damages the soil and disrupts the natural nutrient cycle, which ultimately affects the health and well-being of humanity (on this, read Karl Marx's Ecosocialism by Kohei Saïto, note of the editor).
During my research, I stumbled upon Robert Hart from the UK, who had visited Kerala in India and was inspired by the biodiverse homesteads he saw there. He is the one who coined the term 'Food Forest'.
As someone from Kerala who owned land in the region, this was a revelation. Other inspirations were Masanobu Fukuoka's "The One-Straw Revolution" and studying permaculture methods introduced by agricultural thinkers and scientists like Bill Mollison and David Holmgren from Australia, Payman from Australia, Sepp Holzer from Austria, and Ruth Stout from the USA, inspired me to recognize the significance of adjusting to the swiftly evolving times. In 1986, I also met Gopalkrishnan and his wife, who were inspired by Fukuoka's philosophy and had started creating a forest on a small hillock near a deforested area. Their story was life-changing for me.
UDUMBANCHOLA INITIATIVE : Food Forest Project
In 2008, I, as an artist, embarked on a journey to create a food forest in Munnar, under the name 'Udumbanchola Initiative,' named after the region. Munnar is a picturesque region located in the Western Ghats of Kerala, famous for its tea plantations and Cardamom forests. However, the region has also experienced significant changes in land use due to deforestation, soil erosion, and monoculture farming practices, which have disturbed the natural balance of the ecosystem. Settlement areas, which occupied a meager 0.73% of the region in 1910, expanded to 30.57% in 1997, leading to severe land degradation, with degraded lands now accounting for around 14.12% of the total geographical area. The favorable agro-climatic conditions, which were once conducive to sensitive crops like tea & cardamom, have also undergone changes due to large-scale land use modifications.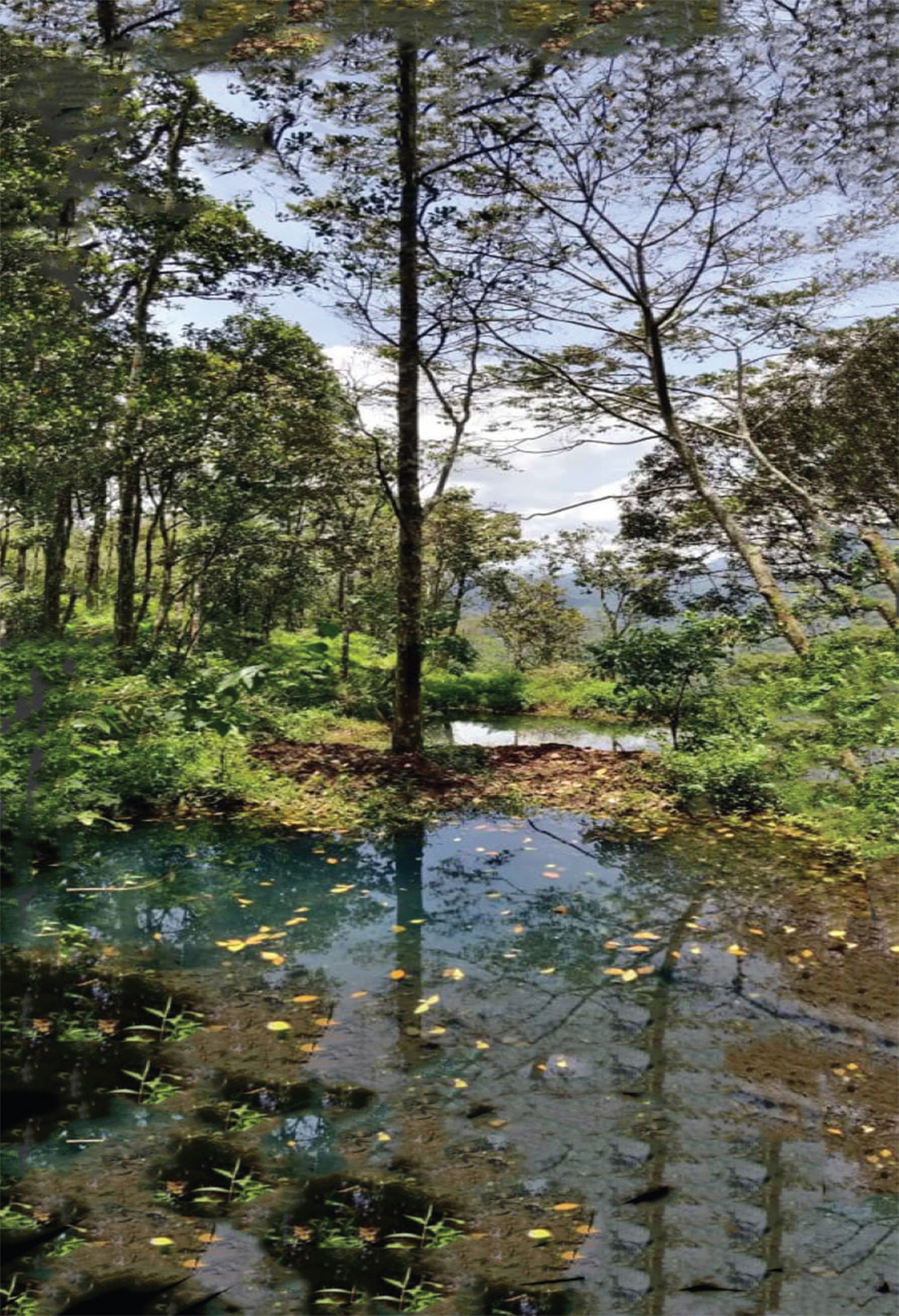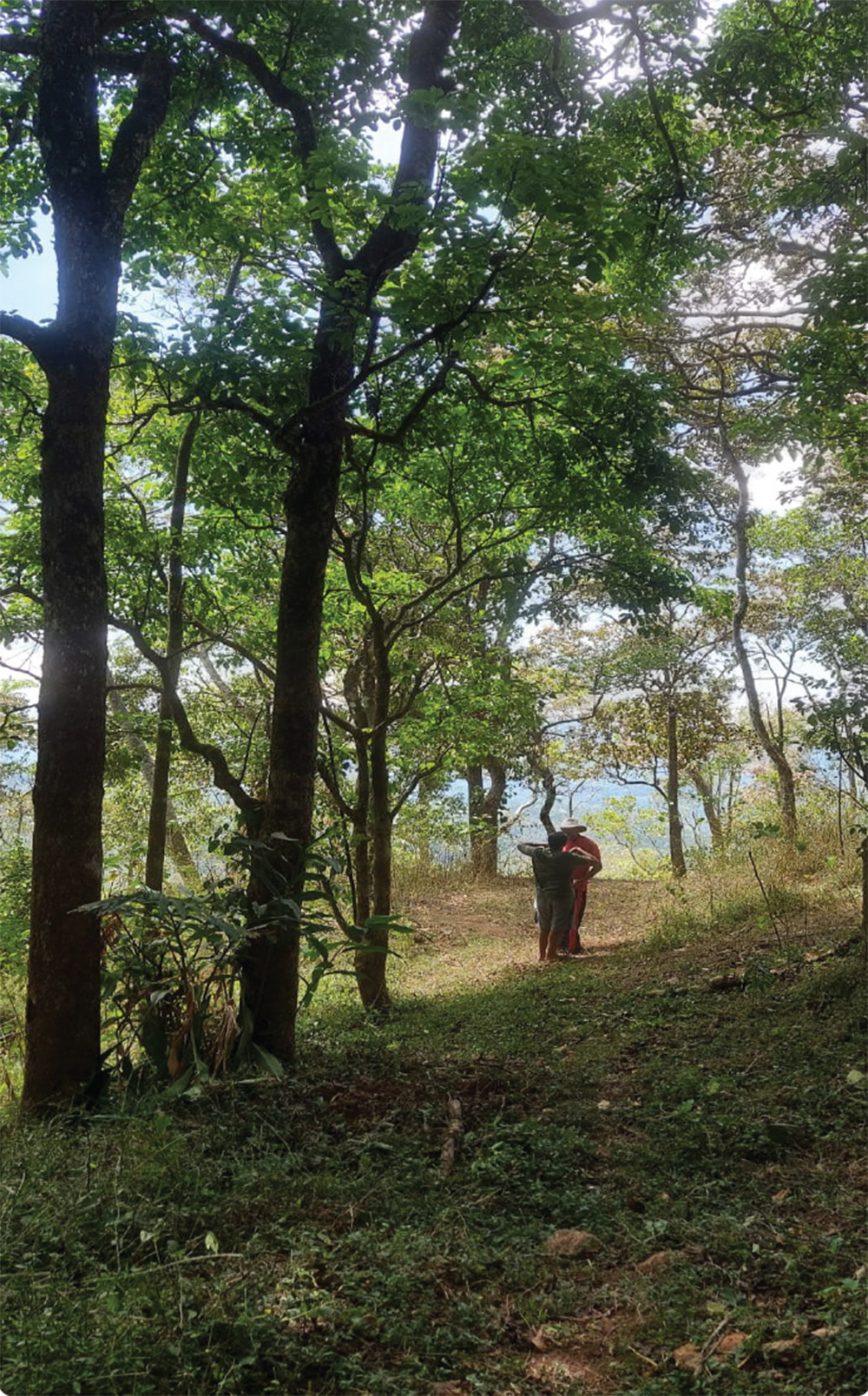 With the fundamental aim of cultivating healthy soil to create an edible landscape, the food forest project began. Healthy soil is vital to our food production systems, and it plays a crucial role in sustaining clean water and diverse ecosystems, preserving cultural traditions, bolstering climate resilience, and providing the foundation for our economic growth and well-being. The project envisioned a self-sustaining ecosystem that not only catered to the local community's food requirements but also helped restore the ecological balance of the region.
To achieve this, I aimed to collaborate with the local community members and connect with a network of local farmers and homesteaders to cultivate a diverse range of crops, trees, and shrubs, including fruits, vegetables, medicinal plants, and spices. These would all work together in harmony to create a thriving ecosystem that promotes sustainable living practices and supports a range of earth-life, including birds, insects, and small mammals.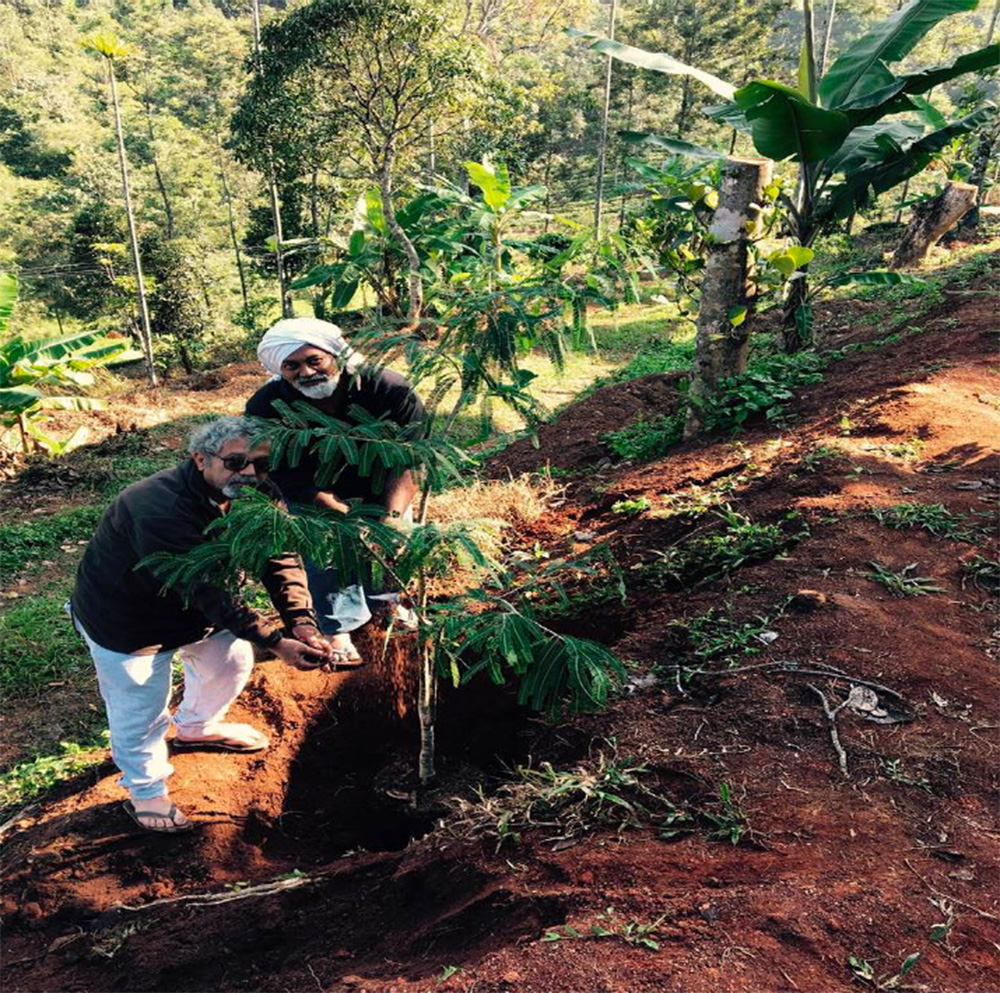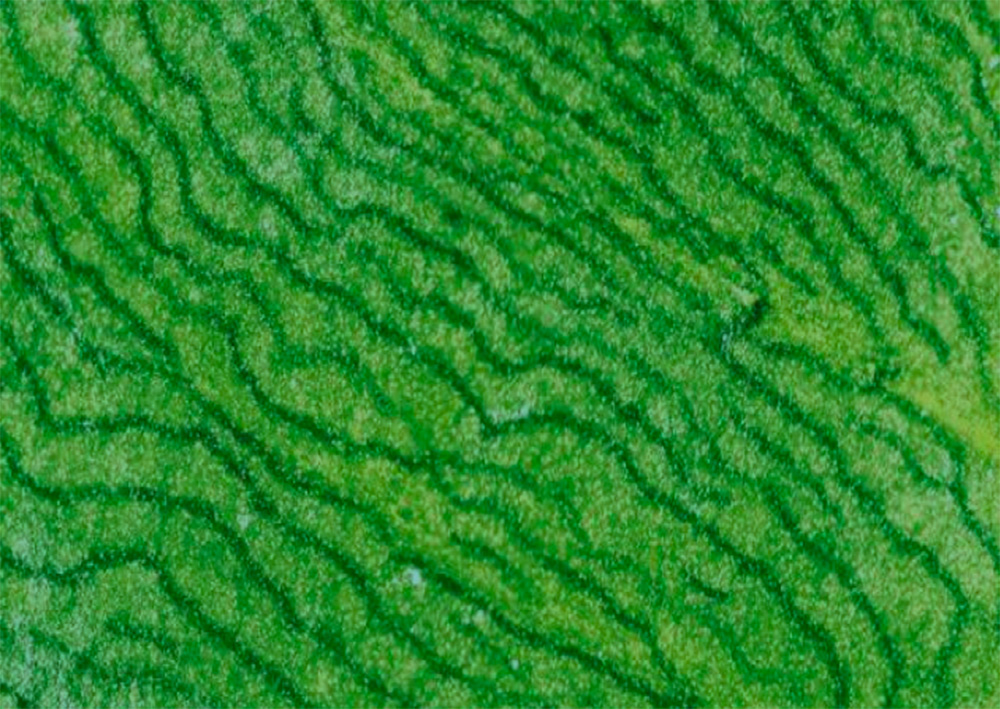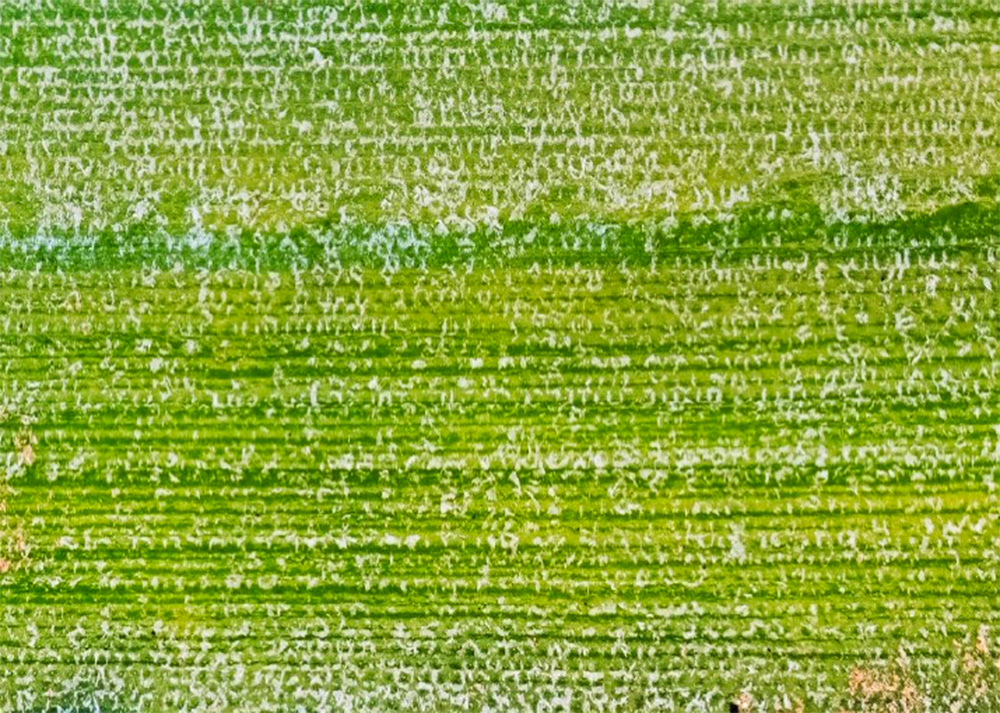 Interview with Vivek Vilasini by Ewen Chardronnet & Maya Minder from Makery, January 2023:
Read our complete report and articles on the Soil Assembly.