/ feral-labs
The Tres Hombres. Credit: Fair Trade.eu
Soil Assembly at Kochi Biennale: food transportation, climate change and ocean trades (1/2)
At the Soil Assembly – 1st to 5th February 2023 at the Kochi-Muziris Biennale, India – the panel discussion on ocean trades showed what is at stake with the transportation of food, along with the low-carbon alternatives, present and future. Tim Boykett from Time's Up argued that alternative fuels, increased efficiency, and better routing systems are not enough to address the fundamental problems of our current transport system. To offer a tangible solution, Boykett presented six currently operating cargo sailboats and several upcoming projects around emission free transport that are currently being developed. He also examined the potential for setting up a sail cargo trading network around the Indian ocean. Boykett extends his reflections in this essay (part one).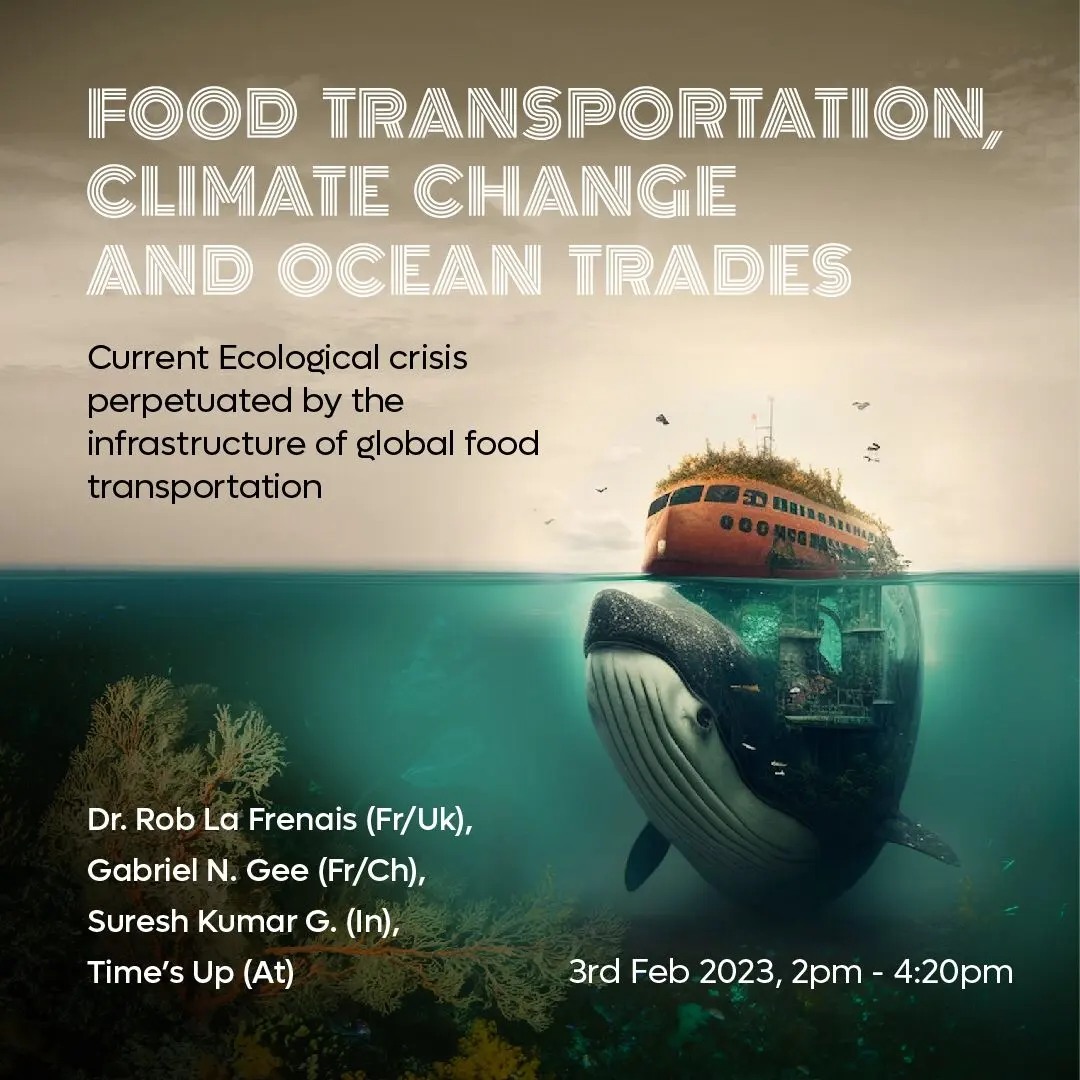 Trade is nothing new, with water and land-based transport networks reaching millennia into the past. One network had the region around Kochi as a nexus point. Contemporary transport and trade, like contemporary agriculture, abstracts away from these banalities for the smooth function of commerce and society. Prefigurative experiments and other de-invisibilisations within activist and arts sectors bring these practices back into the realm of experience, raising questions of transformed processes and alternative futures. Strangely enough, it appears that their success would lead, once again, to a commodification of food and transport, losing their cultural "making special" aspect and becoming just another.
The contemporary Sail Freight movement has (re)emerged in the past 15 years to create experiments of clean transport as a way to deal with the ecological crises of dirty fossil fuels. While many of the practitioners come from nautical backgrounds, a significant number see their roots in movements such as permaculture, a design system that uses natural systems, horti- and agri-culture and systems theory to understand and to design.
Below we will take a broad sweep through questions of how soil and sail interweave. We start with a discussion how the roles of soil and sail intertwine in the deep time of the holocene and anthropocene, then think about infrastructure as the places where these and other fundamental substructures of our culture disappear. Imagining ways out of global heating and the other crises we are inviting upon ourselves requires futures thinking, to imagine possible futures and choose the preferable from among them, that we wish to work towards. Sail Cargo is emerging as a broad spectrum of experiments, some of which allow and encourage strong connections to land based visions. Imagining soil-sail networks across bioregions is something that makes sense across various cultural and arts contexts. We wrap up imagining the movement of artists and artworks in fossil fuel reduced sailing vessels instead of fossil fuel burning aircraft; what repercussions could such travel incur? And what happens if these visions succeed? Do they just turn back into another form of infrastructure? Is success essentially extractive?
Anthropocene = Trade Time?
Kochi has long been the nexus of a trade network that traces its way back to near the end of the last ice age. As the Australian Aboriginals drew back from their coastal places, their legends still speaking of the rising waters and traditions still referring to freshwater springs now meters below the ocean's surface, there was a trading network that spanned, at various points, the African coast and Madagascar, the Red Sea, the Persian gulf, the archipelago towards Papua New Guinea and the mainland of what is now China. Arguable, ocean trade and exchange is as old as the Holocene.
Depending upon one's perspectives, the dawn of the issues that we face today, of planetary heating and disaster capitalism, can be dated to many developments. For instance to the origin of written languages as outlined by Lewis Mumford and Fabian Scheidler in their concept of the Megamachine. They discuss larger systems of power, predominately industrial and military that they recognise as emerging with the invention and widespread use of the written word, money and metals. The subservience of individuals to these megamachines, or to the one overarching Megamachine, undermines the bioviability of the world and humanities place in it.
Alternatively we can locate the roots in the Anthropocene, the geological age shaped by humanity. The Anthropocene has many suggested starting dates, including the creation of agriculture (with the clear interweaving with the megamachine viewpoint above) or the sudden increase in the use of fossil fuels in the Industrial Revolution. If we take the Anthropocene to be delimited by the layer of plutonium and other radionuclides deposited as a result of the various nuclear weapons explosions in the 1940s through the 1970s, then this corresponds to what Piketty refer to as the time when the inequality of employees and capital owners reached minimum; perhaps a time that could have marked the end of extractive capitalism. It is also the time of the invention of the shipping container, the intermodal box that has accelerated freight globally.
This is not to claim that exploitative production and economic relations need or avoid the energy intensities of nuclear or other sources. If we think of the collection of practices of maximising material, energy, work from the land, the earth, animals, crops and people as something called extractivism, then this has a long history. Extractivism might be seen explicitly without fossil fuel support, in the actions of the various lands that scoured their surfaces by removing wood for shipbuilding; anecdotally Greece, Italy and Spain, turning their wooded mountains into barren karst landscapes, perhaps most exemplified in the islands of Croatia or the deforestation of Lampedusa during the colonisation by the Bourbons starting in 1843. These processes denuded the land and the soil was lost, a feature of much of Europe. A Soil Assembly might be the place where lost soils come together to share their experiences and fight for a return to their homelands. A Soil Assembly is a place where the shipbuilding of the past meets the desires for topsoil development in the present, to look at a future where shipping does not denude landscapes or society, where shipping is an integrated into society as food could be.
Suresh Kumar about Sarjapura Curries:
Non-extractivist land care and agricultural practices were apparently not widely known in the west, with the European tradition being one of slash and burn, use for a generation, then move to a new village site while the forest regenerated the previous lands. This is still practiced, for instance, in some areas of Papua New Guinea where soil fecundity and low population density allow the land to recover. When the Europeans took this practice to their settlements in America, then first turned the clear flowing rivers filled with fish into muddy run-offs (Roberts 2009) then as the problems began to mount, with for instance the Dust Bowl experiences of drought and topsoil loss, tried to work out what went wrong. Farmers of 40 Centuries (King 2004), published after a study tour of Japan, Korea and China by King in the early 20th century, is widely regarded as a cornerstone of regenerative and sustainable agricultural practice, being a motivator for the permaculture developments of Bill Mollison and David Holmgren, and so many more balanced approaches to agriculture.
The framework of Permacircularity, developed around 2014-2016, applies the permaculture principles of a permanent culture to the design and analysis of circular economies. In a wide view analysis of circular economy models and practices, Martin Calisto Friant and colleagues have taken various perspectives to analyse circular economy discourses. One is the 2×2 array below. One axis of the analysis looks at the social, economic, ecological and political considerations, aligning them between holistic perspectives and more segmented or individualistic practices. The orthogonal axis dealt with the faith that each discourse exhibited in technological solutions. One end is a solutionist approach that technologies can solve our main problems as opposed to a more conservative or even techno-skeptical attitude. It is arguable that permacircularity lies in the lower left quadrant of the diagram, but with a flexibility to approach the upper left quadrant. It is clear that the two right hand quadrants encourage antagonistic and selfish approaches that are unlikely to get us out of the current predicament. It might be claimed that a suitable approach is to act as if the lower left quadrant is the way to go; technologies we know that we can employ in the service of the whole of humanity. However keeping at least one eye on the upper left quadrant is valuable, in order to allow that technological developments could break us out into a perhaps less frugal model. This resonates with the Tack to the Future discussions from Christiaan de Beukelaer.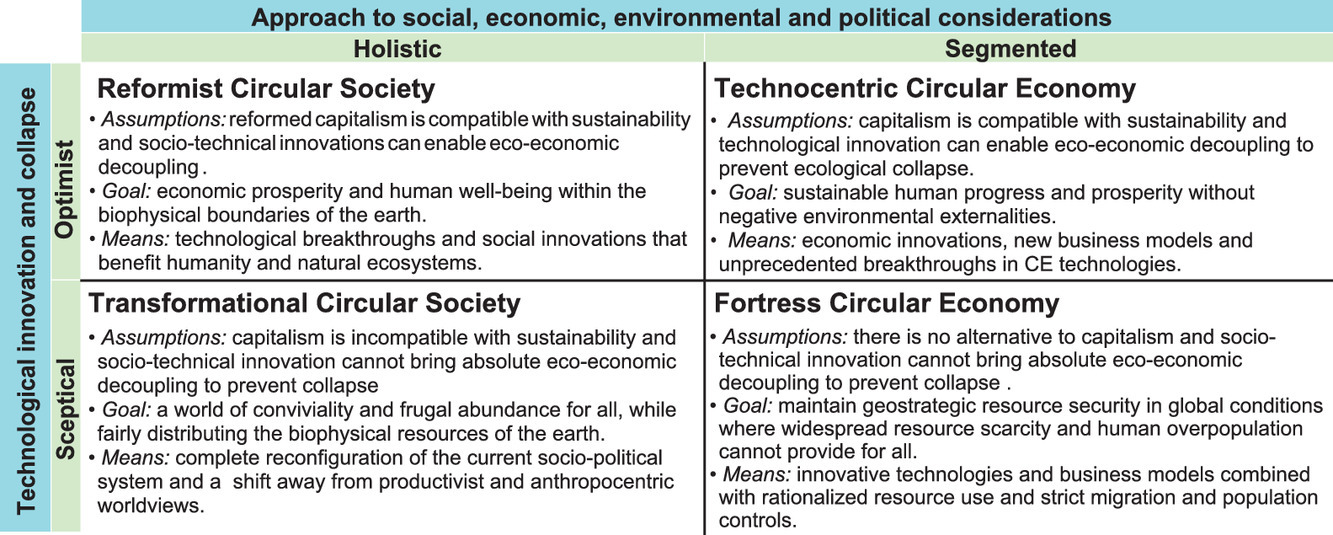 At the Soil Assembly, Suresh Kumar G. discussed the re-integration of food production into his practices and his social structures with the project Sarjapura Curries. Echoing the words of many, he is taking food away from being commoditised and generic, returning it to something with meaning and relationship, something present and pleasantly problematic rather than an abstracted supply chain. Infrastructure is, by definition invisible, it is the basis upon which we build further levels of meaning. Infrastructure as a metasystem is complicit in its own effacement as Paul Raven reminds us. Once something has become abstracted, infrastructured, invisibled, we can assume it to be there and operate at some kind of higher level of abstraction We do not need to worry about preserving produce from the garden when we can have frozen peas in the freezer, dependent upon invisible structures of agriculture, transport, food preparation, whitegoods manufacturing and electricity supply. Once we do not need to worry, we can think about poetry and art, financial transaction optimisation and the pleasures of lovemaking rather than podding peas and preserving them.
Infrastructures
Making the Invisible, visible, might be the essence of several artistic practice around soils, around transport, in fact around infrastructure in general. It might be said that civilisation and culture is all about abstracting away from the gathering, sharing and consumption of food; whether the canonical processes of civilisatory development from nomadic hunter – gatherer to phone toting media addict, or the more intricate formulations of the Davids Graeber and Wengrow, the general process is to move away from the soil. Whether it is the fishing communities of coastal India or the farmers of the Austrian Mühlviertel, there is a desire to help the next generation move away from the land or the sea, with the back-breaking work and repetitive danger. A completely understandable desire, as the role of a fisher or a farmer in todays commoditised world is definitely one of precarity and (self-)exploitation.
The Anecdote Concerning the Lowering of Productivity (Anekdote zur Senkung der Arbeitsmoral) from Heinrich Böll in 1963, re-occurs in reflections upon work. An executive on holiday visiting an unremarkable harbour town. Chatting with a man fishing quietly in the afternoon, they discuss the fisher's life. Early rising, bringing in the catch, local fish market, lunch, quiet time and repairs. The discuss markets and export, the possibility to have a larger vessel, or two, catch more export, perhaps a freezer truck or canning, higher income and growth. The end game is discussed, involving reaching retirement and financial stability, where one can do what one wants. Which is, perhaps, to doze on the quayside while idly fishing. The executive looks at the man, idly fishing, and it is unclear whether he sees someone who has achieved enlightenment or not.
An old quandary is posited here. Does one work to have enough (financial) resources to do what one wants without having to make it financially rewarding, or does one do what one wants and find a way to survive while doing it? One way of viewing this age old dilemma is that the first is a process of transferral, extracting value from employment or elsewhere in order to create the environment for freedom of action, while the second is an integrated approach to value creation and preferred activity.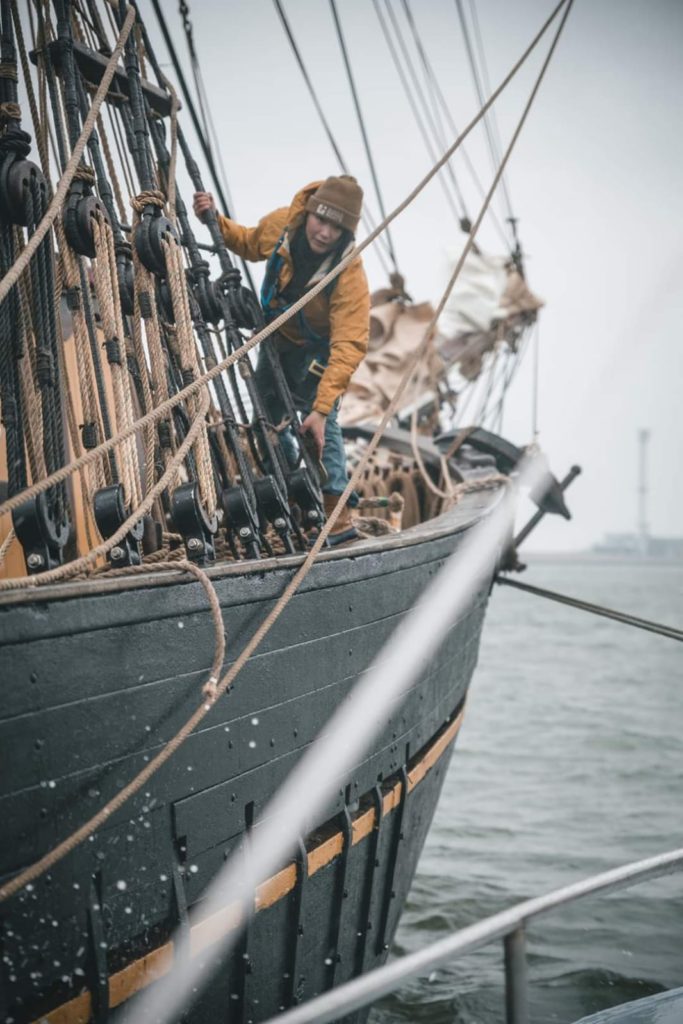 Perhaps the question that remains uppermost in these reflections is whether the process of abstraction and infrastructuralising a fundamental problem is, or is it positive, or is it something where "it depends"? The Megamachine argument claims that all the abstractions led to this problematic present and thus they are all wrong, in a form of large scale historical reductio ad absurdum argument. Writing, agriculture, metals, organisation; all are problematic. Graeber and Wengrow note, on the other hand, that this line of reasoning and development is not linear, that there are many tangents on the route to now that could have been taken, and many that were, that did not lead to the extractivist, destructive, dehumanising, colonialising empire processes that poison our world today. "Another World is Possible" is the rallying cry that stands in opposition to Thatcher's "There is No Alternative"; our job, one might say, is to look at these options and ask which of the alternatives, we want, and how can we defuse the drive to TINA?
This too shall pass.
But perhaps we can talk about how it shall pass and discuss the ways in which the current predicaments can be re-defined and used as impulses to move to better futures. We cannot change the past, but perhaps we have some agency around the future.
Futuring is a (complex) process of imagining how the future might develop. It is both simple and intuitive, while also counterintuitive and complicated. There are two main strands; forecasts and scenarios. Forecasts are based upon measurable scientific analysis and range from the strong (the dates of equinox in many years and thus the dates for Easter) to the more uncertain (climate models) to the short term (weather). Scenarios work with the lack of prediction implicit in social and other fields, allowing practitioners to imagine "what happens if" a collection of events come to pass. Scenario thinking takes place for disease control and military engagements, for activists and business development. If the scenarios developed as part of an imagined possible futures do not surprise, then perhaps they are not really stretching the alternatives. Jim Dator likes to say that any useful idea about the future must at first appear ridiculous, so should invite a short gasp of reductio ad absurdum. Absurdity is useful.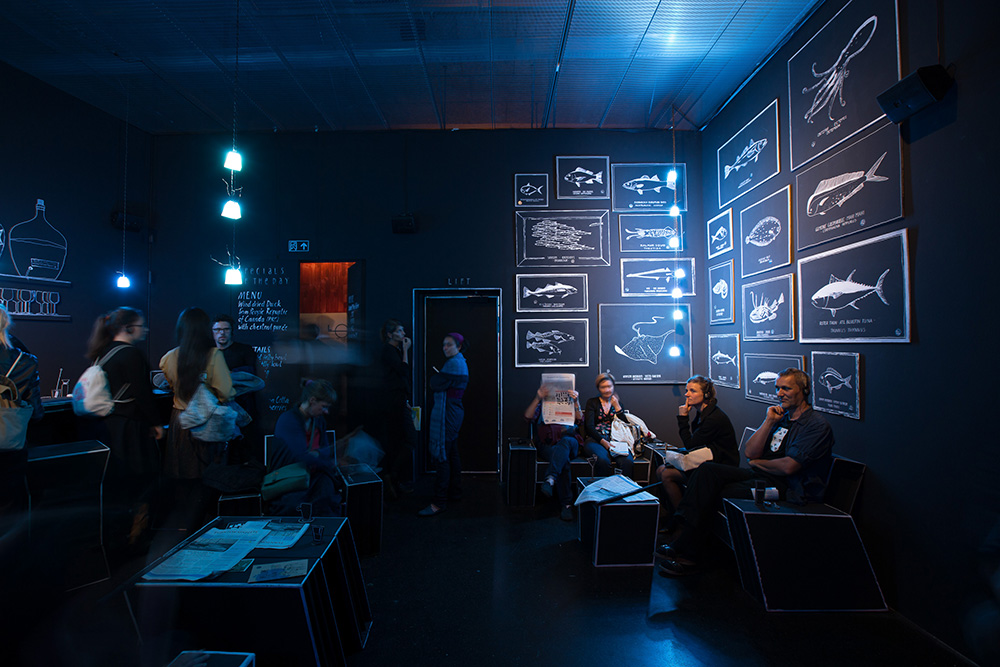 After many years working with scenarios, Jim Dator noted that the vast majority of scenarios fall into one of four categories. Continuation, Collapse, Discipline and Transformation. Continuation is often drawn as a line ascending to the right; Collapse as a rising curve that then curves down and plummets; Discipline involves a flatline somewhere, interrupting either the upward curve of continuation and growth or the downward curve of collapse; Transform is often indicated with an orthogonal curve that takes the trajectory elsewhere. The first three schemes are reasonably easy to imagine, for instance as films: Minority Report, Mad Max, What Happened to Monday. Transform is intrinsically difficult because it involved changing something fundamental about how we imagine the world. We must also remember that these schemes do not come in pure forms; one persons Collapse might be another's Transform.
The types of scenarios that emerge depend strongly upon what sort of question one asks. The value of the resulting scenarios is also dependent upon the questions one asks, but also upon the diversity and depth of the scenarios. We will not dive into scenarios here, even though this would be an interesting and valuable exercise to undertake with various stakeholders. But perhaps we can imagine the sorts of scenarios that could be of interest.
Over the past years an increasing number of artists and designers have been involved in speculations and scenario development, on various levels of explicitness. Creating experiences of possible futures and artefacts from possible futures, moving beyond the standard tropes of science fiction and investigating more mundane futures. Not only design objects and immersive environments, but also prehearsals as an artistic medium have emerged. The borders between these practices and more activist or even entrepreneurial practices, such as José Ramos' Anticipatory Experiments, begins to blur.
Soil Sail Scenarios
We have become interested in possible futures of transport and food production, soil growth and social sharing. Thus the invitation. The Soil Assembly was a program curated by Ewen Chardronnet, Maya Minder, Meena Vari and Neal White, looking at practices of soil and farming, art and activism, future imaginations and relational aesthetics. We were invited to participate in a discussion around food transportation, climate change and ocean trades. A strange combination, it might seem, but one that offers many avenues for thought.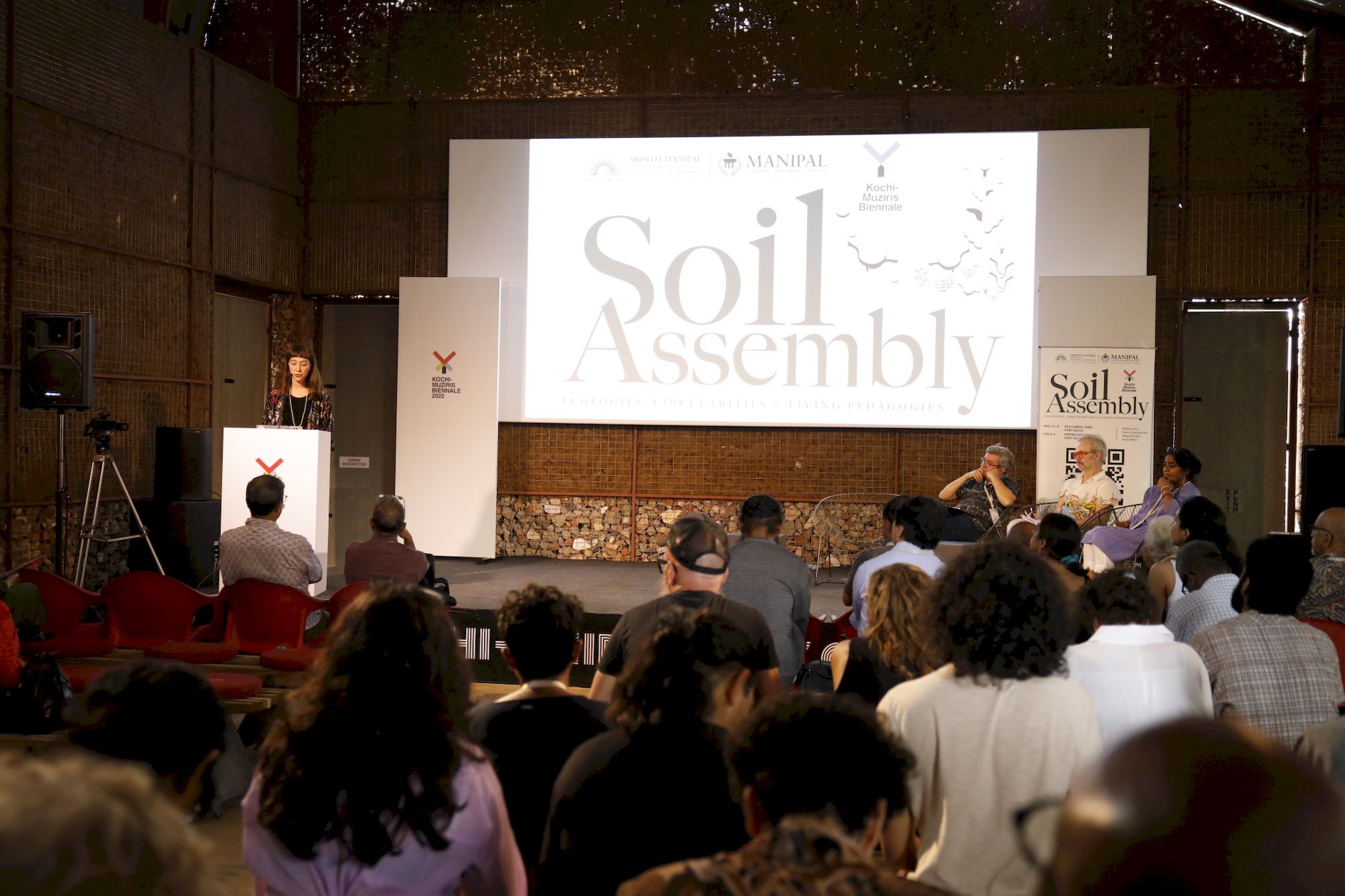 The Sail Freight movement, if it may be called that, is a loose alliance of organisations exploring the possibilities for moving things across the water using sails rather than motors. From small endeavours to shipping giants, from radical activists making the impossible happen to cool headed rational business managers, from classical soft square sails to hyper modern hardsails and Flettner Rotors, there are a multitude of actions afoot, many coming together under the aegis of the International Windship Association, IWSA. Several large projects are being built as we speak, but the operating projects numbers in the low dozens, and are all quite compact, hands-on projects. We will not go into a listing of all the active projects.
While a large proportion of sail cargo projects are aiming at the European luxury market realm with organic cacao beans, coffees, rums and tequilas, there are some that are more mundane, such as the Apollonia running grains, malts and beers along the Hudson river. The discussion of foodstuffs and water transport, community supported agriculture and trans-oceanic provisioning, were wide ranging.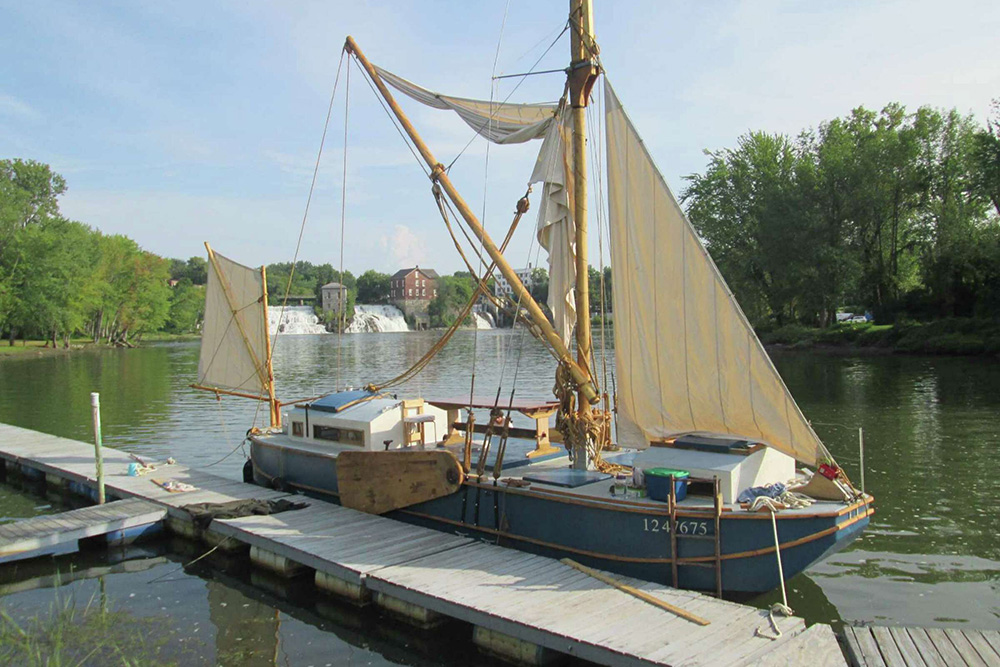 Many of the points we could make have been reflected upon by the Vermont Sail Project and the Maine Sail Freight projects, each undertaken by people in the agricultural sector in north-east USA in 2014 and 2015. The Vermont Sail Project was driven by a farmer Erik Andrus acting for his local community looking at clean transport of their wares down the Hudson river towards New York City. The Maine Sail Freight project was more of a "pageant" that aimed to raise awareness and perform sail freight as opposed to starting it. There was interest in continuing the Vermont project but no sailors were found who could run the vessel; it has also been discussed that, while the vessel Ceres was based upon Thames Barge designs, it was not built to the standard that a longer term shipping project would need. In any case, both of these projects informed and inspired the Apollonia project that has been running freight along the Hudson River for three years and is set to continue.
The performative / pageant / pilot / prefiguration aspects of such projects also appears in the Danube Clean Cargo project that we undertook in 2020. Several other imaginations of coastal and inland waterways projects have also arisen within various discussions.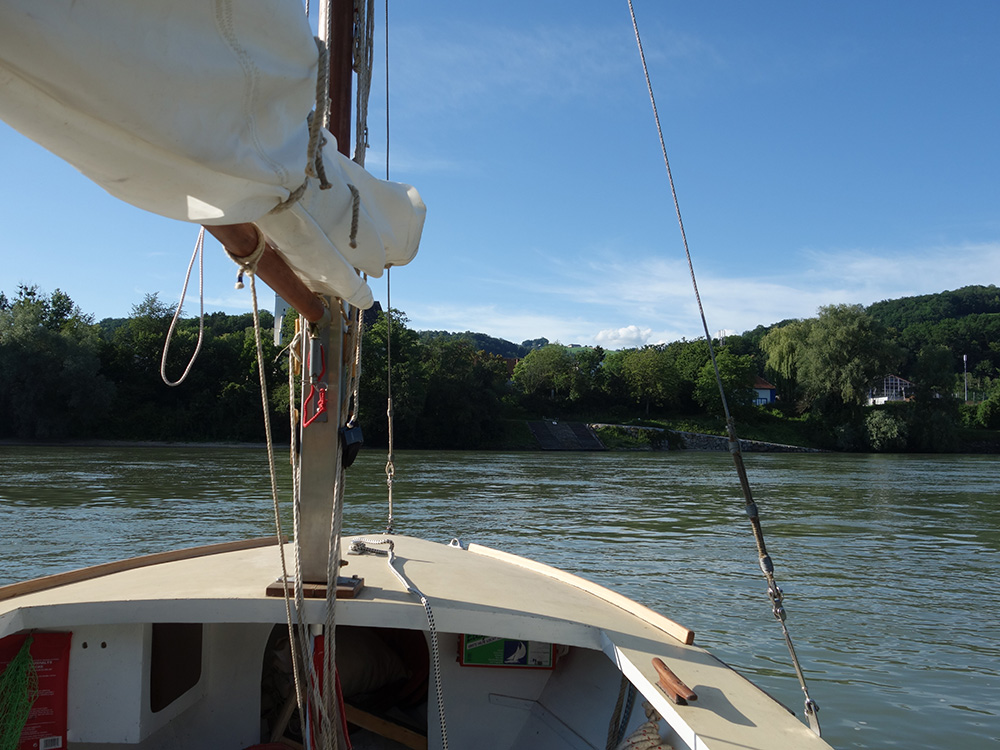 Read Part 2 of this article.
Read our articles related to The Soil Assembly
Visit the Soil Assembly website (complete videos of the presentations and panel discussions).