Bioart and reproductive technologies: two calls for applications open until February 28
TTTlabs, coordinated by the Ionian University and in partnership with Rewilding Cultures, is offering two calls for applications for its residency and Summer Camp, on the theme of bioart and reproductive technologies. Applications are open until February 28.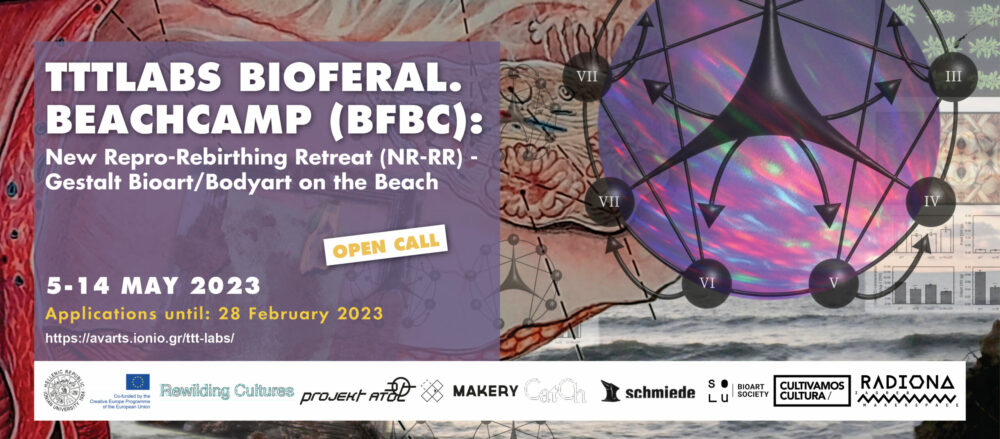 Sea, sun and avant-garde experiments. From May 5 to 14 will be held on the island of Corfu and for the first time the TTTlabs BioFeral.BeachCamp (BFBC), a nine-day event to co-create, co-develop and co-educate on the theme of new reproductive technologies. The camp will focus on understanding ovum and sperm collection, cryogenic storage and speculative artificial womb apparatus design while participants will be invited to take part in performances on the beach.
Applications are open until February 28 and are open to Bioartists, Performance Artists, Gynecologists (ovum and sperm collection/preservation), Animal Studies Ethnographers/Scientists of Animal Behavior, Biologists (Developmental), Video Jockeys (VJs), Biohackers/Makers, Body-Horror/Science-Fiction Writers, Science Technology Studies Scholars, New Reproductive Technology Specialist (ovum and sperm collection/preservation), Body Artists/Performance Artists, Psychologists and Genetic Counselors. Results will be announced on March 15.
In parallel, TTTlabs opens its call for applications for TTTfellows: Art and Science Residency, a hybrid artist and academic experimental project to be organized in three different seasons aiming to bring together one artist and one scientist for 30 days of interdisciplinary friction and Ionian environmental immersion. The organization offers accommodation in Corfu and a fee of approx. 1000 euros to cover expenses related with traveling and research.
The first TTTfellows is taking place on 17-30 April (online) and 1-16 May 2023 on the island of Corfu including taking part in the activities of TTTlabs. The call proposes the collaborative development of an Art&Science workshop / lecture performance and draft of a speculative piece proposal for publication / exhibit related to informal surgical training for artists, philosophers and social theorists on the topic of human oocyte collection and sperm/ovum banking.
Applicants should be willing to contribute to the development of a local Feral Labs DIY Bio Hub i.e. presentation for graduate students at the AV-school workshops-seminars cycle of the Audiovisual Arts Festival; and drafting a speculative piece proposal for publication / exhibit to be included in the archive of the Ionian University. Deadline for applications is on the 28 February and results will be announced on March 15.