/ feral-labs
Marta Moreno Muñoz's 2020: The Walk, where walking is a form of rebellion. CC BY-NC-ND 4.0 / The Walk
Marta Moreno Muñoz's 2020: The Walk, where walking is a form of rebellion. CC BY-NC-ND 4.0 / The Walk
2020 : The Walk, a "climate pilgrimage" from Spain to Finland, ending in prison
For 2020 : The Walk, Marta Moreno Muñoz and Oscar Martín traveled 4,000 kilometers on foot, by train and by ferry, to reach Finland from Spain. A rebellious "climate pilgrimage" ending in jail for Marta Moreno Muñoz.
If they can't fly, they'll walk! In 2019, in the face of accelerating global warming, video artist, performer and activist Marta Moreno Muñoz decided to stop taking airplanes. Her last trip to Helsinki was to present her Collapse performance at Myymälä2 gallery. That evening, she and her "rebellious comrades" of Extinction Rebellion (XR) Finland read the Declaration of Rebellion. That was when she vowed not to fly again and return to Helsinki the following year, from Grenada, Spain, on foot.
Then the pandemic postponed her project for two years. Marta finally set off on her pedestrian journey on April 1, 2022, accompanied by sound artist, programmer and researcher Oscar Martín, who shared every step of her journey, along with a few XR members who accompanied them symbolically. In five months, they traveled across Spain, France, Germany, Denmark, Sweden, and finally Finland. 4,000 kilometers on foot, by train and by ferry. ("The entire journey would have taken us two or three years to complete entirely on foot," says Marta.)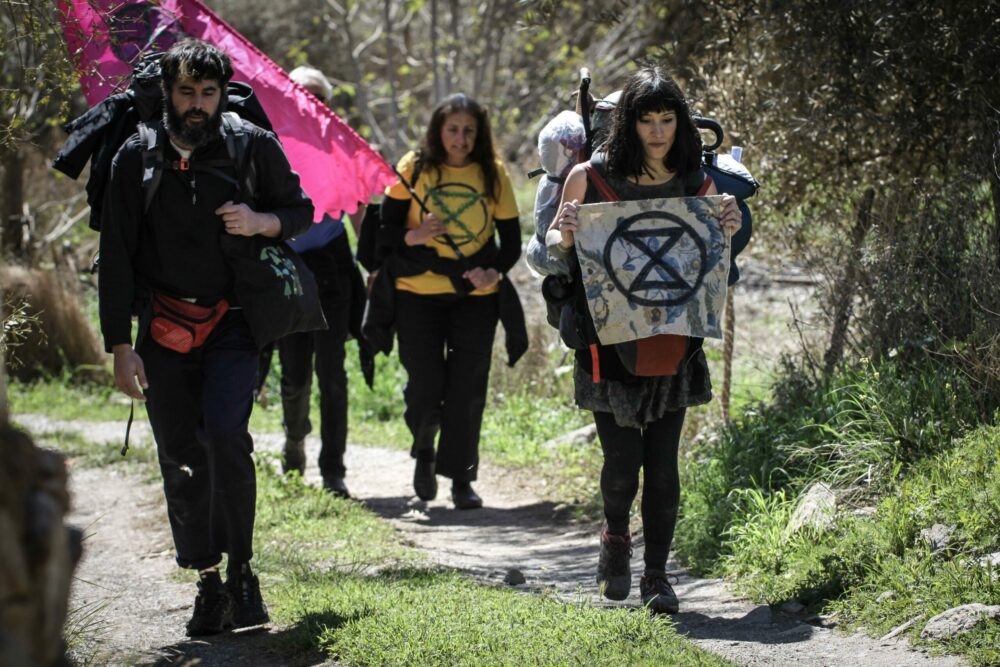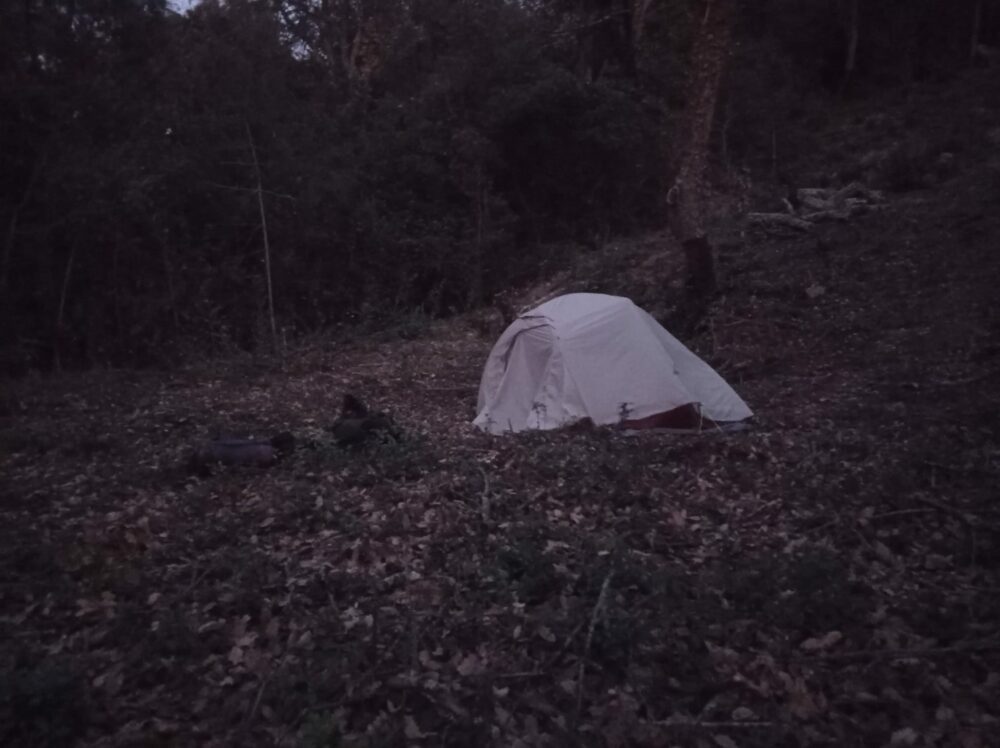 Radical presence and solastalgia
In this project, titled 2020: The Walk, walking is an act of rebellion. "Not long ago we used to walk long distances, and in some places they still do on a daily basis," observes Marta. "Walking nowadays is an act of resistance against the speed and the insane acceleration of global capitalist societies. And it might well be again a necessity in a post-oil and collapsed world."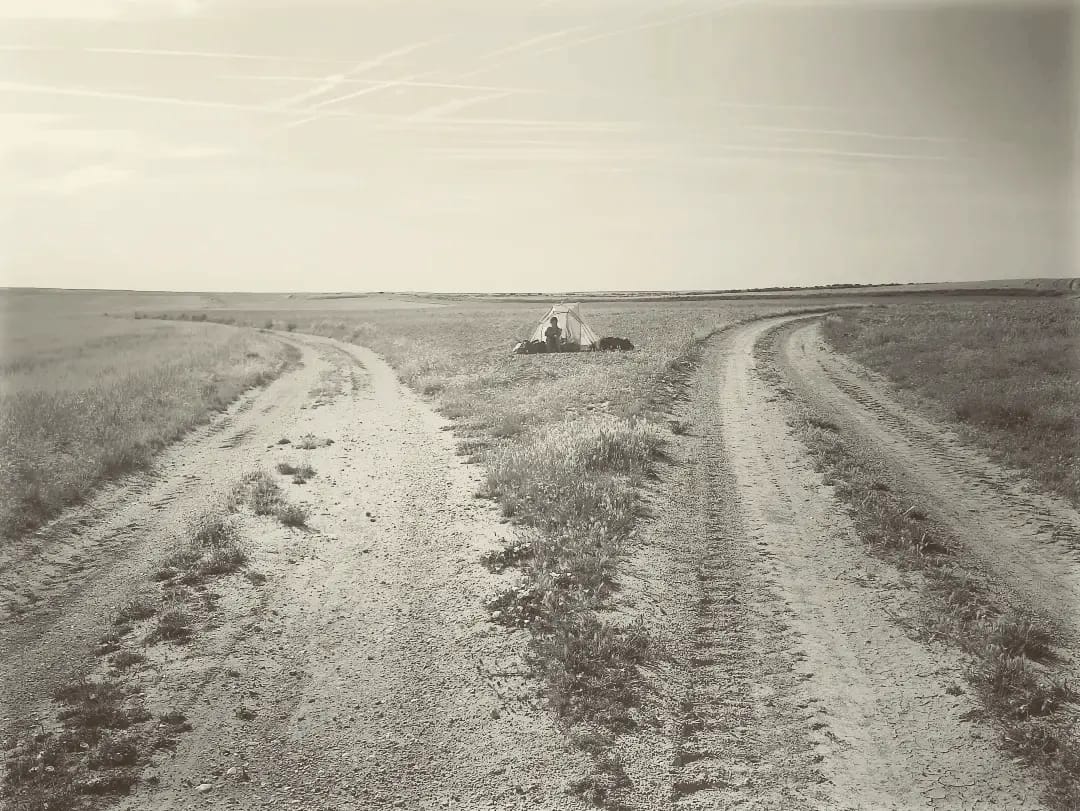 They planned their itinerary to follow certain well-known long distance hiking trails. They also had fixed "nodes" where they could meet people, and when other artists and fellow activists could join the walk. The duo also left some space for improvisation along the way, adjusting for talks or events, the significance of the landscape, stocking up on supplies, and according to Marta, "considering our strength – we were carrying extremely heavy backpacks, which slowed down our pace remarkably."
"Through this slow travel and the immersion in the landscape that this induces, new altered states of consciousness and perception arise," Marta continues. "Walking and living outdoors also brings you another kind of experience and another perspective of the territories. Being radically in the here & now, it is easier in this slowness to understand what types of plants, trees, animals inhabit those specific territories and how we are connected through infinite relationships. It totally changes the perspective of what we are used to and understand as 'travel' these days.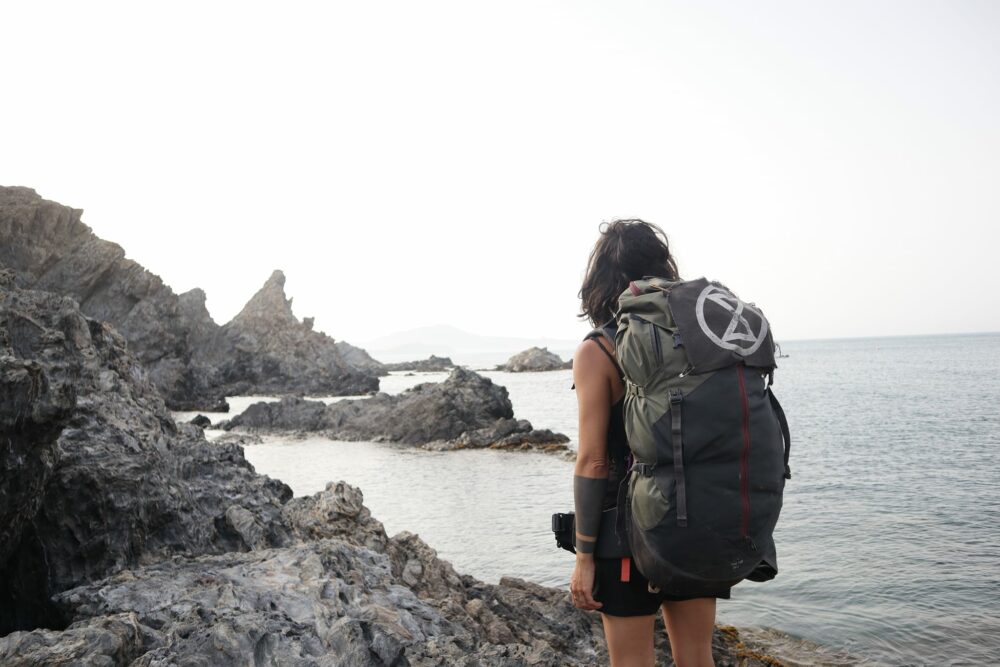 "We also felt it as a transhumance, or extreme nomadic way of life: living outdoors, in the open and the uncertain. Reconnecting with nature, appreciating all the beauty in the web of life, while grieving for what is going to disappear, bearing witness to the territories that are being dramatically affected by human activities and extractive industries, evoked also a deep feeling of solastalgia on us."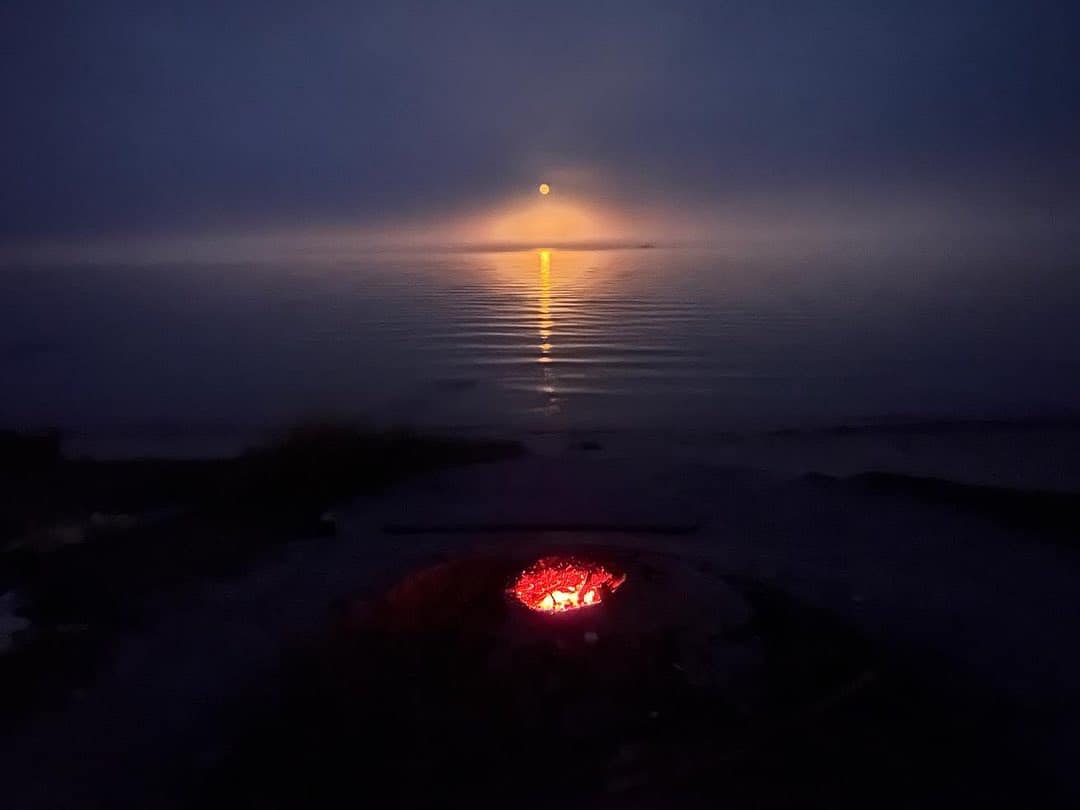 After five months of walking, The Walk ended at Art See Ocean, an artist residence near Stockholm, "where the forest meets the sea" for a two-week residency to which the artists arrived "physically and mentally exhausted".
"Quasi-religious" encounter with permafrost
The Kilpisjärvi Biological Station in Lapland provided an epilogue to their journey: two weeks spent exploring the environment, doing research, writing and filming the last scenes, through an Ars Bioarctica residency facilitated by the Bioart Society.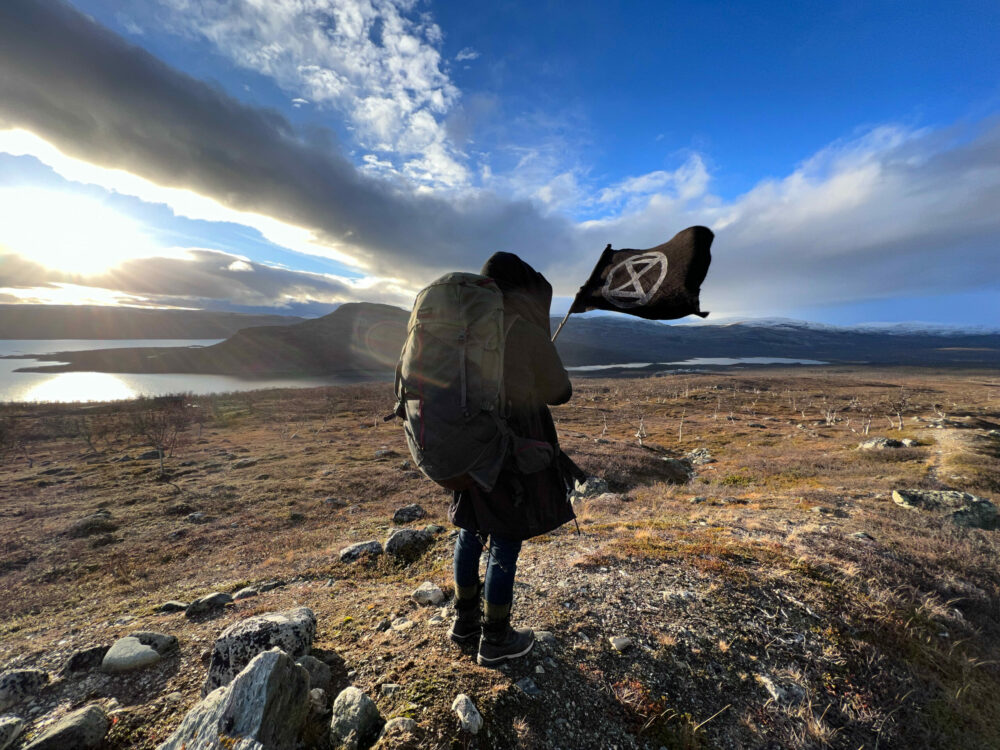 Situated in the extreme northwest of Finland, 400 kilometers north of the Arctic Circle, this territory is particularly sensitive to global warming. "Arctic temperatures are rising fast, at least three times as fast as the global average," Marta explains. "Frozen for millennia, permafrost soils are abruptly, intensely, thawing. In some places it's thawing so abruptly that landscapes are collapsing in on themselves. Northern soils will release huge amounts of carbon in a warmer world, and carbon released into the atmosphere from permafrost soils very likely will irreversibly accelerate climate change."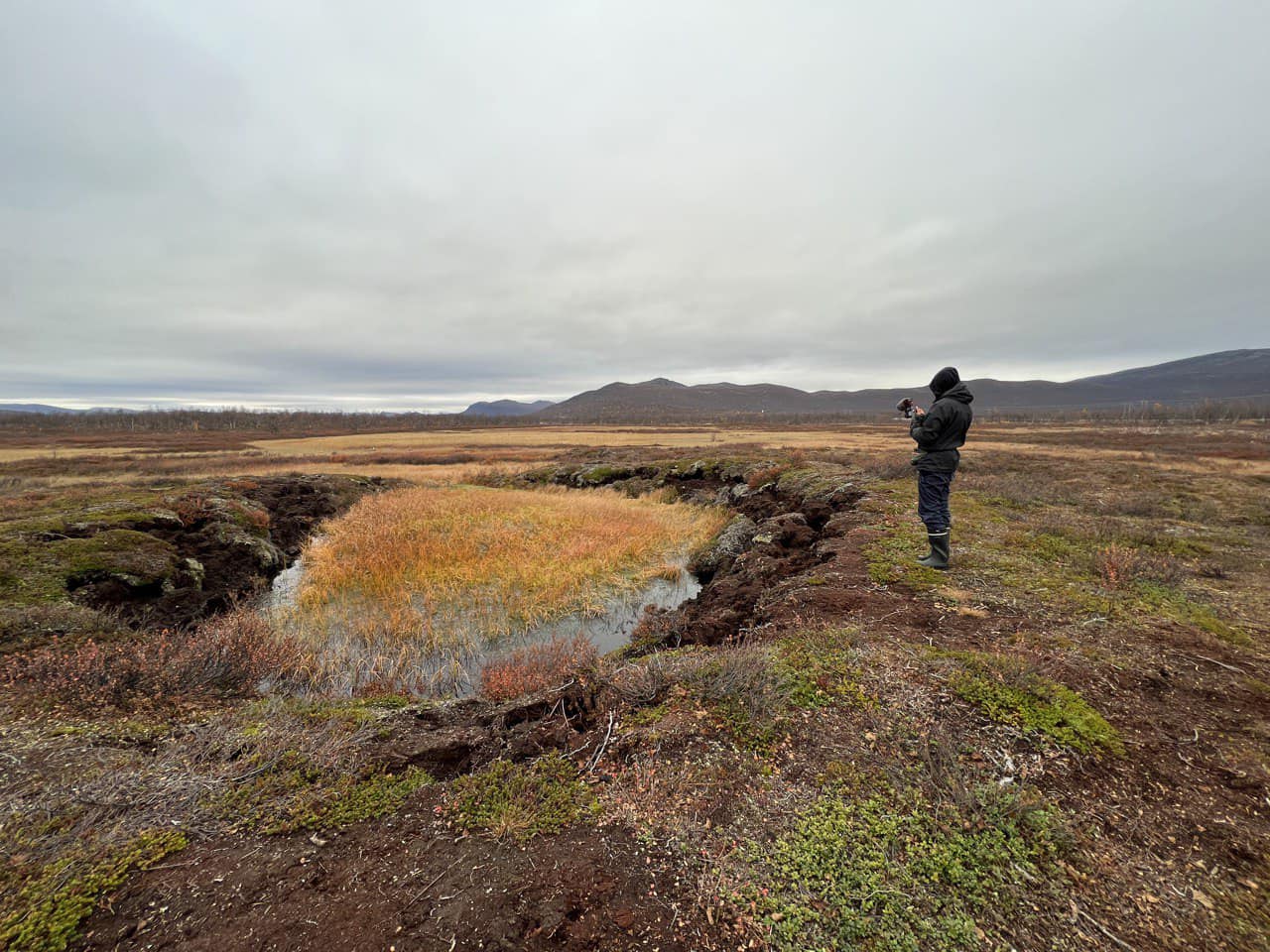 To conclude their "climate pilgrimage", the artists sought out a "physical" encounter with permafrost. "That encounter was one of the most striking moments of this project, quasi religious," says Marta. "Having finally arrived in the most northern part of Finland, it was a moment of immense emotion, gratitude and surrender that helped to reconnect with our higher purpose."
"It is our moral duty to rebel"
This higher purpose was to raise public awareness of the environment and of Extinction Rebellion, an ecologist movement born in the United Kingdom that uses non-violent civil disobedience to compel the government to act. Marta Moreno Muñoz became a member in 2019; Oscar Martín is not a member of XR, but he felt "the need to get involved in some kind of more explicit eco-activism than just my individual art practice and to put my body into it." When Marta invited him to join her walk, he fully jumped into the project without hesitation.
As the messenger of a catastrophe foretold, Marta Moreno Muñoz sprinkles her narratives with scientific data on our climate imbalance: "We face floods, wildfires, extreme weather, crop failure, mass displacement and the breakdown of society, the many symptoms of the ecological overshoot and the great acceleration brought about by exponential economic growth. The time for denial is over. It is time to act," she says. "It is our moral duty to rebel."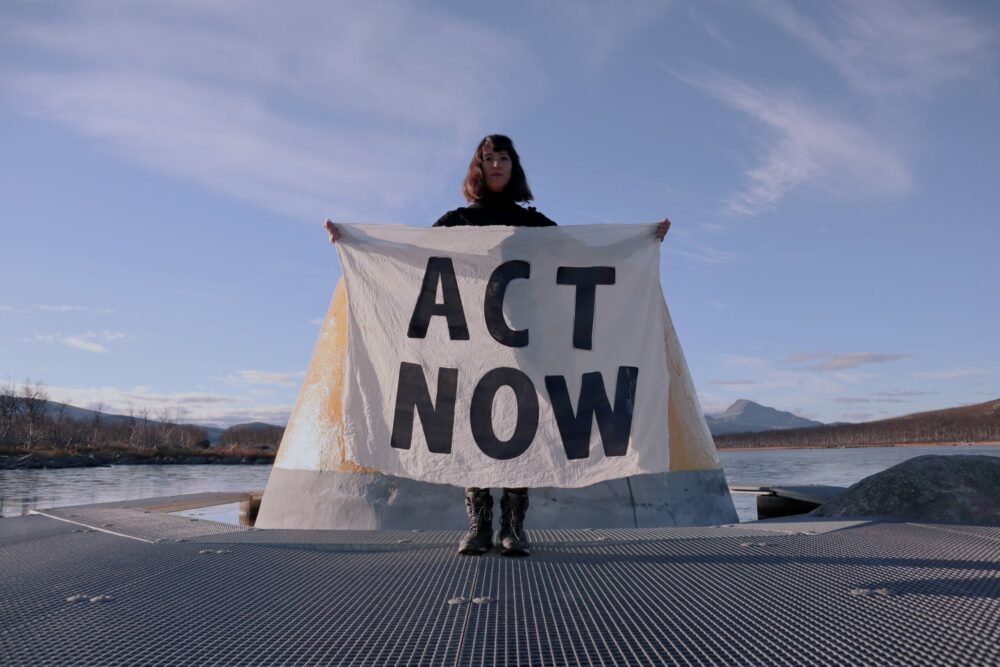 It was this sense of duty that landed her in prison, after she completed her walking journey by joining a wave of non-violent civil disobedience actions in Munich. "Germany, as other countries, is imprisoning scientists and climate activists for non-violent protests," declares Marta. "For the actions in Munich, I was in preventive prison for a week and still pending trial together with other 15 Scientist Rebellion activists." Prison was the "actual final destination" of this climate pilgrimage, she says, "a sacrifice I was and I am still willing to make."
Art and activism change paradigms
Marta Moreno Muñoz intends to continue combining art and activism, especially by launching a Spanish counterpart of Culture Declares Emergency, a cultural platform for organizing and participating in ecological activism, and "as a cultural worker facilitating encounters with artists-activists reflecting about community resilience in times of collapse".
In addition to his personal exhibitions, Oscar Martín also plans to reactivate group projects such as EEMEEMEE, a collective learning group that mixes mycology, art, ecology and critical thinking.
"The synergies between art and activism have much to contribute to create the conditions that favor the social, economic, cultural and ecological paradigm shifts we need if we want to get out of this toxic system, survive as a species and leave future generations a liveable planet," conclude the two artists.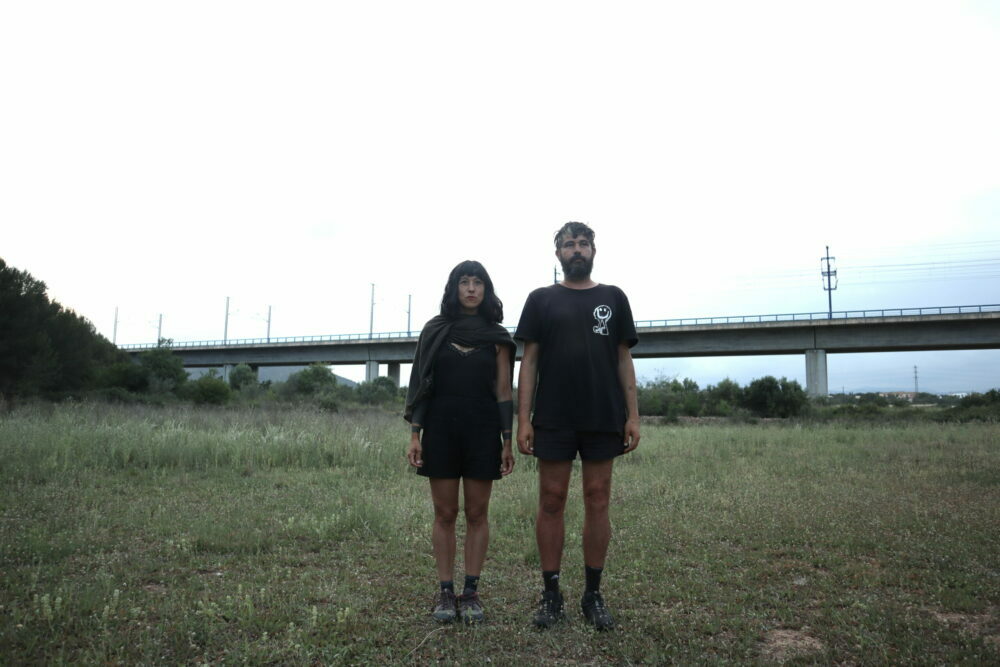 The film 2020: The Walk will make its debut screening at Museo Nacional Centro de Arte Reina Sofía in Madrid on April 13, 2023. A book will be published to accompany the first exhibition of the project at Centro José Guerrero in Grenada in September 2023.
Bioart Society is part of the Feral Labs network and the cooperative project Rewilding Cultures co-funded by the Europe Creative programme of the European Union.