/ feral-labs
Artists collaborating at Schmiede 2022, in Hallein. © Gabriele Krisch
Schmiede 2022: Enter the labyrinth of ideas
For the past 20 years, Schmiede has been gathering coders, biohackers, dancers, composers, filmmakers, game designers, neuroscientists, philosophers and writers in the Old Saline of Hallein in Austria. Ten days of wild encounters, brainstormings and collaborative prototyping that culminate in an extravagant group exhibition.
As the closing event of the summer in the maker camp community, Schmiede has been held since 2003 in the small town of Hallein, near Salzburg. Literally, ein schmied is a blacksmith (hence the participants are called Smiths), but what is forged at Schmiede is first and foremost a philosophy. It's a mindset that calls for openness and collaboration among various disciplines, between creativity and entrepreneurship, between theory and turning thoughts into action.
For Rüdiger Wassibauer, co-founder of the event, "Every Schmiede is a snowflake. They are all similar but never identical. It started off as a cooperative event focused on the culture club and audio-visual productions. Now it's a co-creation festival focused on process and peer learning. We started with post-graduate students aged 18-30, and now we have more master and PhD students, artists and scientists aged 25-40."
A scapegoat to facilitate collaboration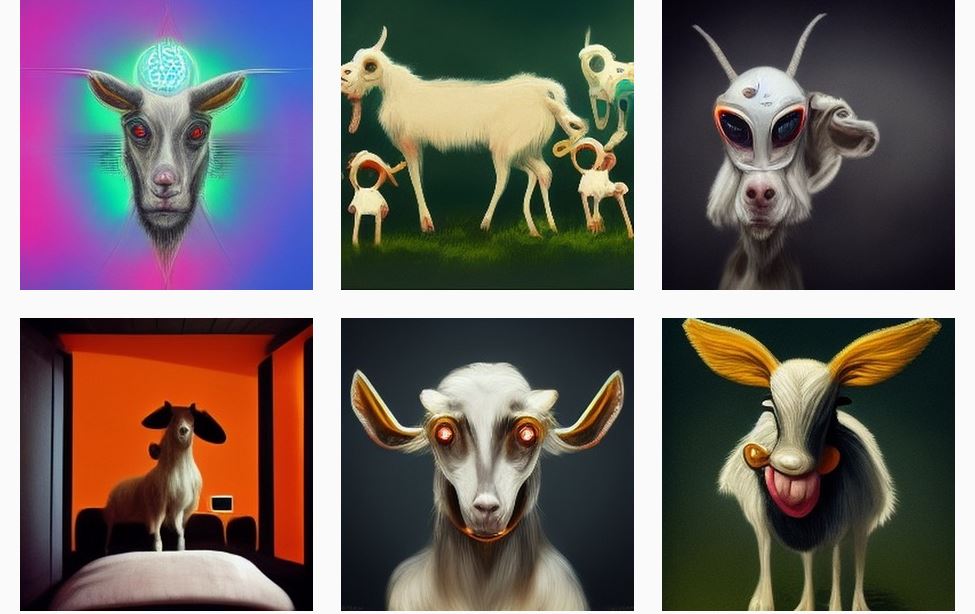 Schmiede 2022 celebrated its 20th anniversary, gathering more than 300 people from nearly 20 different countries, under the theme Sündenbock ("scapegoat").
"The scapegoat is the fruit of self-satisfaction. It's an often very practical – and simplistic – response to complex problems that agitate our era. This theme, chosen for our anniversary edition, is our way of destigmatizing the individual during the group work process. It's logical that the scapegoat takes all the responsibility and has nothing to say. It's the perfect projection screen. It's a bottomless well into which we can deposit our problems, but it's also a starting point, because we leave lighter in order to work together. This is the mindset that we enter in this 20th edition, as the festival is oriented more toward the collaborative work process than on the result."
In the inspiring and impressive atmosphere of the former smithy on the central island (Pernerinsel) of Hallein, various artists, entrepreneurs, hackers, game designers, authors, performers worked together on various group projects interwoven with talks and meetings, workshops and informal collaborative creative time.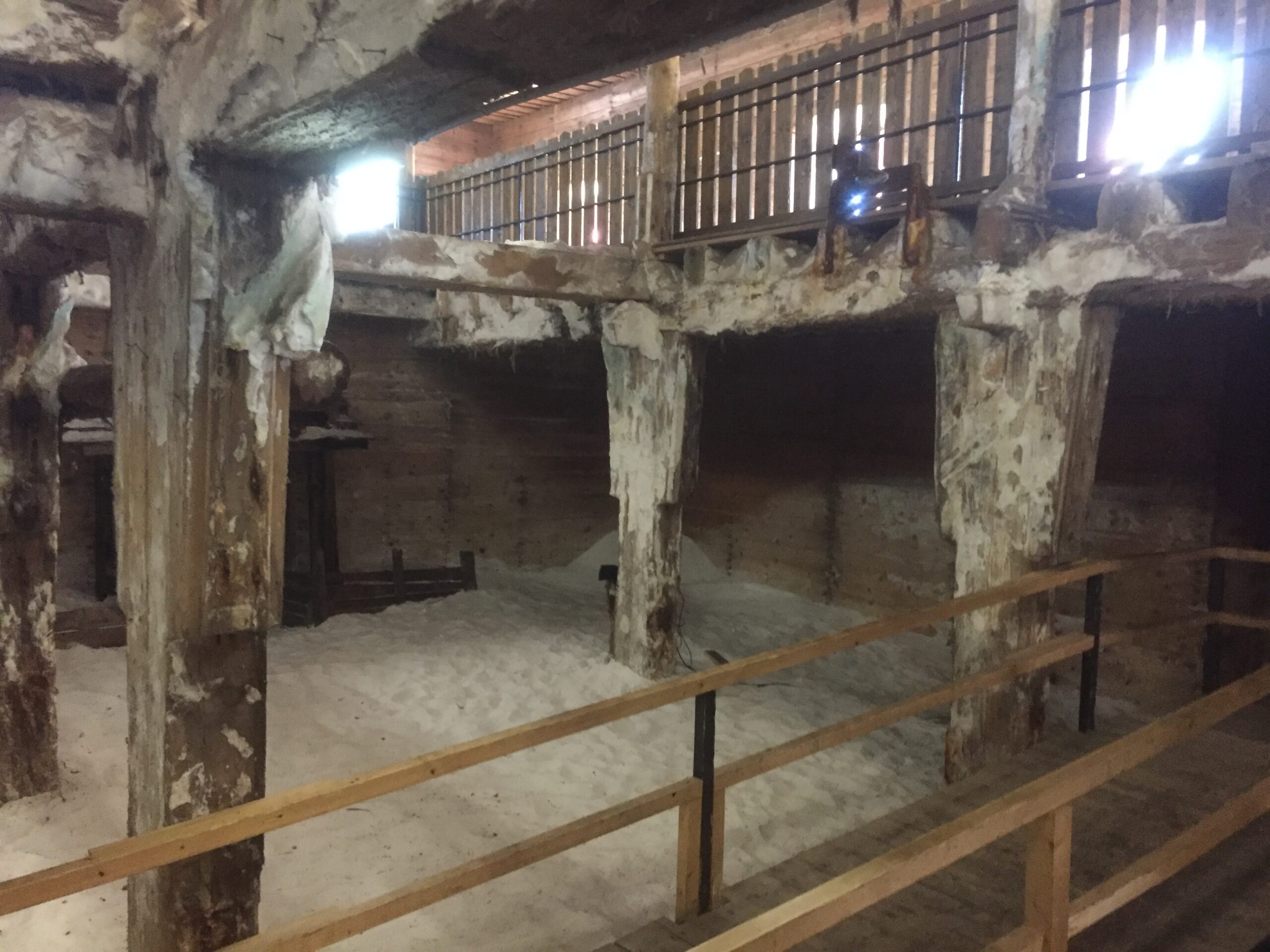 Simple ideas, efficient results
Working together for ten days to realize various projects through exchange and knowledge-sharing is the objective of this "grandfather of European maker camps" conceived by Rüdiger and Philipp Wassibauer. The two local brothers wanted to create an operational base in Austria where artists, and more generally creatives, could meet, exchange ideas, and finally collaborate. For the past 20 years, participants from diverse artistic approaches and philosophies, hailing from all the continents, have been making the pilgrimage to Hallein.
"The attraction of Schmiede has as much to do with the moments spent on site as with the idea of process," says Rüdiger. "It's a place that Smiths come back to. Around 45% of participants are Smiths who come back each year. They facilitate the process for the newcomers. 95% of new Smiths were motivated by former Smiths. All this creates a very friendly atmosphere and a feeling of belonging. The result is a shared time that is both productive and fun."
Indeed, what is created here is not just fantasy. Some of these improvised partnerships have gone beyond simple prototyping to become concrete projects in the real world, and even internationally. This was the case of Philipp Wassibauer's company Gidsy (now owned by GetYourGuide). Gidsy's pioneering concept in 2011 was to introduce people who wanted to discover, offer or book unique experiences during their travels (similar to Airbnb's "local experiences"). Meeting, exchange and entrepreneurship – we can see how the co-founder of Schmiede was inspired by maker camp philosophy for his start-up!
Committed and colorful participants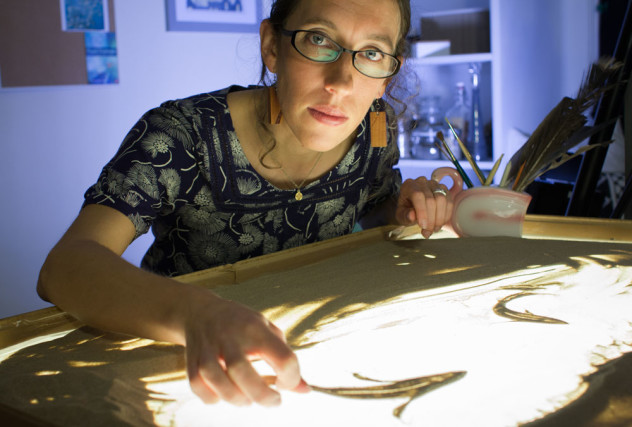 Among the creative and entrepreneurial activists at Schmiede 2022, we met the American artist Corrie Francis Parks from Montana, a stop-motion filmmaker currently in residence in Salzburg through a MediaART grant. Parks came to present her interactive video installation Embodied Ice, for which she used samples of materials found in the Salzach river surrounding the island of Hallein to illustrate how human activities are dependent on their environment (mountainous geography, climate of ice and snow, economy based on former salt exploitation, etc). Using these materials, the artist is attempting to revive the Ice Age in the Tennengau valley in images.
Also in the spotlight are members of the feminist art collective Mz* Baltazar's Lab, based in Vienna, who came to give the workshop "Feminist Hacking – Building Circuits as an Artistic Practice" throughout the entire event. They also presented their SOS – Salon for Open Secrets, an initiative that came out of the pandemic, which includes an online space where female artists, hackers, makers, scientists can talk about existing challenges and solutions, building an interconnected network of materials and ideas around ecologies, economies, work, geography, ethics and politics in our more-than-human world. Their interventions were presented as an exhibition at Tennengau Art Circle (TKK for Tennengauer Kunstkreis), an art space in central Hallein, in the ironic form of a tea house, or a digital/analog cabinet of curiosities, emphasizing the phenomena of interdependencies between the human and non-human needs of the global economy, and the burden they place on our planet.
Mz* Baltazar, a lab connected to current affairs
Mz* Baltazar is a intersectional feminist collective laboratory based on an inclusive philosophy that imagines itself as a safe space for people who are conventionally excluded – or who feel unsafe in spaces where science and technology are taught and used. Members invite women and trans people to give or participate in workshops that integrate technology, art and a critical approach to social structures. Their exhibitions and events aim to support women in the largest sense, as well as those working on feminist issues, empowerment and overturning the patriarchy. Their philosophy is based on open source technology, which enables them to share and collaborate without restrictions. Gender is more or less fluid within the collective depending on the projects, but Mz* Baltazar's Lab remains flexible, and members come from various linguistic and cultural backgrounds.
According to their website: "Working on, in, and with the collective is a fruitful experience, and a challenge, and we are always happy to meet people interested in working with the collective in whatever capacity they can."
But these are only a few of the artists among the many at Schmiede who were preparing their presentation for the final Werkshau (Workshow/Exhibition), open to the public on the last day.
Sündenbock Werkshau, the rabbit hole of Schmiede
On September 23, day of the great restitution (Werkshau), we walk among the pillars of the Old Saline's huge forge, opening doors, going up and down stairs, trying to anticipate what we'll see later. Wandering around Schmiede this evening is like going down an endless rabbit hole, always being surprised, disoriented, troubled, touched. Within more than a dozen different spaces with evocative names (Dungeon, Tower, Machine Room, Stairs, Wood Room, Sea of Salt, etc.) we are amazed to discover more than 60 collaborative works, all realized during these past ten days, covering the fields of contemporary art, digital art, alternative video game, surreal installation, photography and video, not to mention performances, dances, concerts, DJ sets, body interactions and big jokes.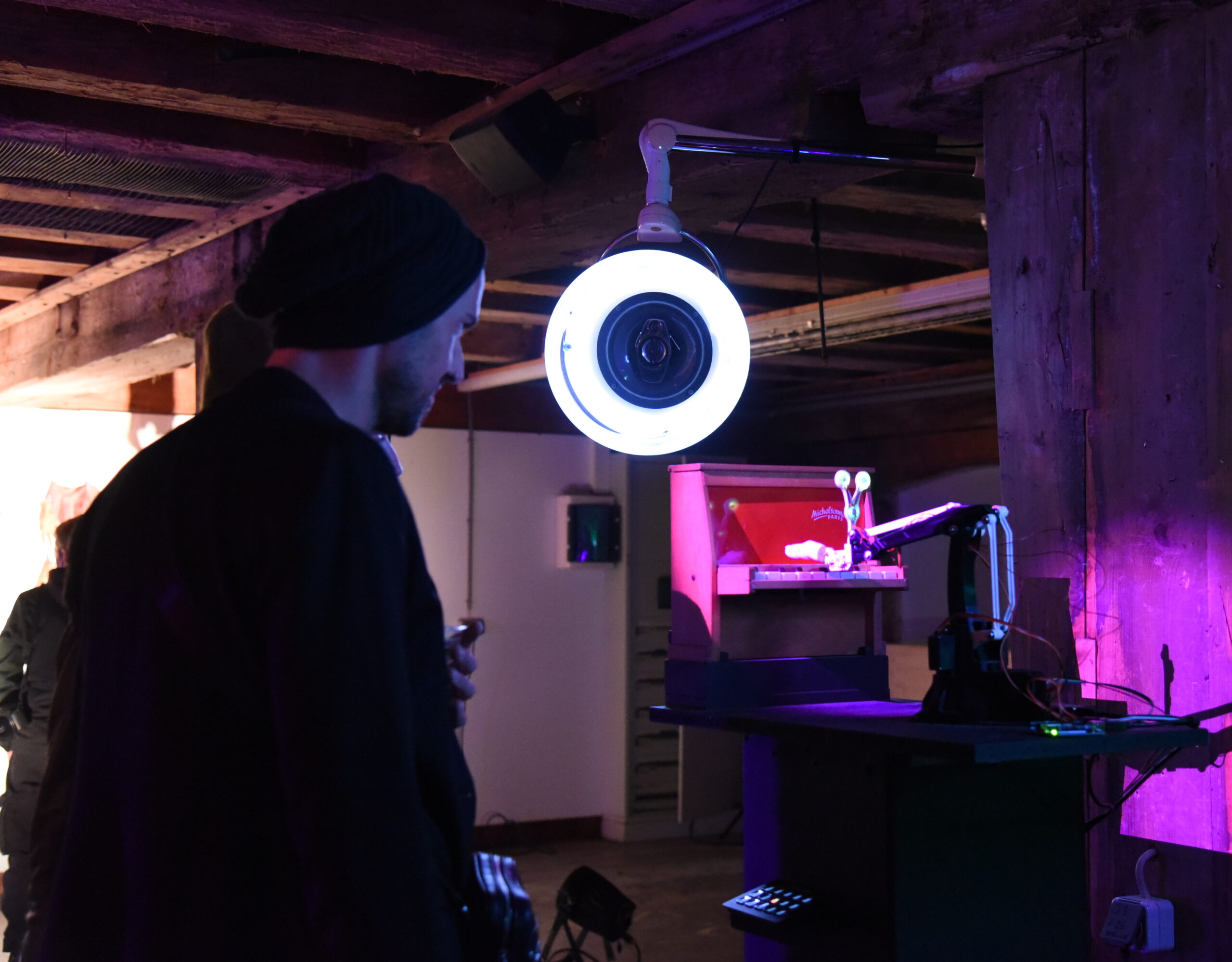 We also discover The Saline Sea, Corrie Francis Parks's poetic expression of prehistoric marine fauna in the form of an animated video projected in the building's old salt storeroom, and the installation 4 Sentimental Reasons by Christian Schratt and Matthias Leboucher (a one-finger robot pianist paired with an AI that falls in love with its audience).
In the Machine Room, we find ourselves caught up in what is supposed to be the audio-visual extension of this former industrial space: Cauldron 21, a collaborative installation by the MO:YA collective (Werner Huber, Roland Mariacher, Robert Vörös). In the same room is Manuel Tozzi's Romantic Machine, an industrial robot arm transformed into a studious scribe copying the great texts of German romanticism.
Later in the evening, the old salt storeroom becomes the set for a curious ballet combining motion, laser and salt: Elusive Wish, a dance performance by Daniel Nuderscher and Tuula Simon, where modern technology meets the history of the site. While the participants let loose on the dance floor until late into the night, visitors keep coming to view the various artworks on display.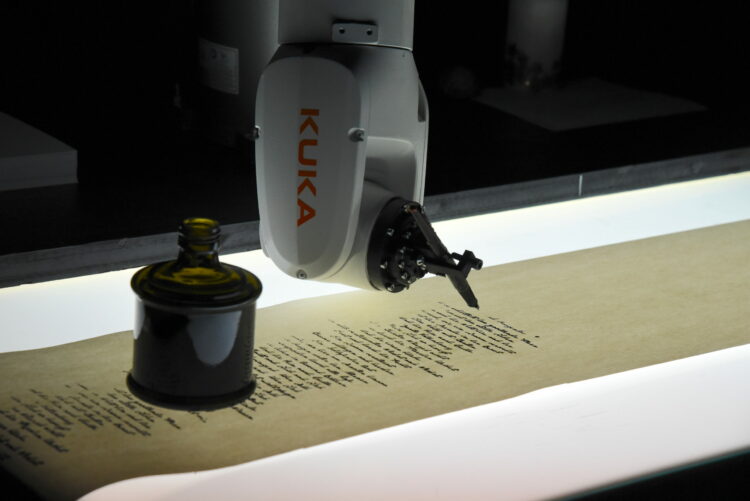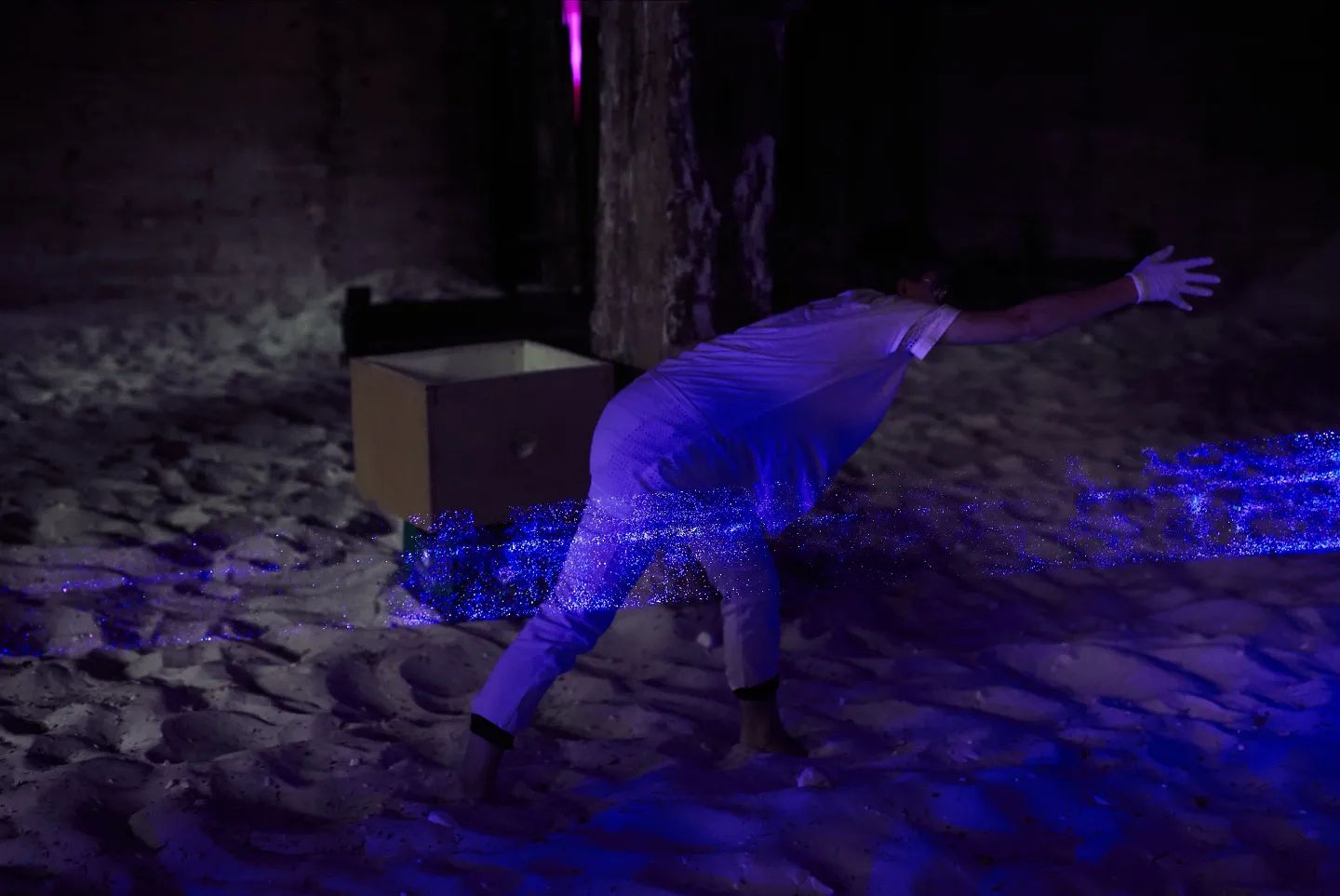 Indeed, Schmiede is an escape in time, a magical moment suspended in an amazing, unforgettable space – hidden, almost secret, in the heart of rural Austria, but that leaves traces, like the stored salt, and images that stay with you long after you leave. It's definitely a unique experience, one that you won't find on GetYourGuide!
Maxence Grugier is the Chronicler-in-residence of Rewilding Cultures, a project co-funded by the Creative Europe programme of the European Union.