/ feral-labs
Laser projection on the mountain at Electric Wonderland. © Tomislav Tukša
In Croatia, Electric Wonderland wakes the mountain
On August 5-11, the Croatian makerspace Radiona hosted Electric Wonderland, a summer camp in the Velebit mountains. One full week of DIY synths and creative circuits among campers and hikers. Makers' actions resonated in the great outdoors.
"I'm impressed at what point it's chaotic and at what point it works well," comments artist Mirabelle Jones.
For its fourth iteration, Electric Wonderland deployed its delights at Camp Velebit, a campsite equipped with hobbit houses nestled in the Velebit mountains, a 30-minute drive away from the nearest city. "We're thinking of settling on this site for the next four years," projects Deborah Hustić, co-founder of Radiona and Electric Wonderland's orchestrator-in-chief. She is already thinking about infrastructures and investments to optimize cohabitation among campers seeking calm in nature.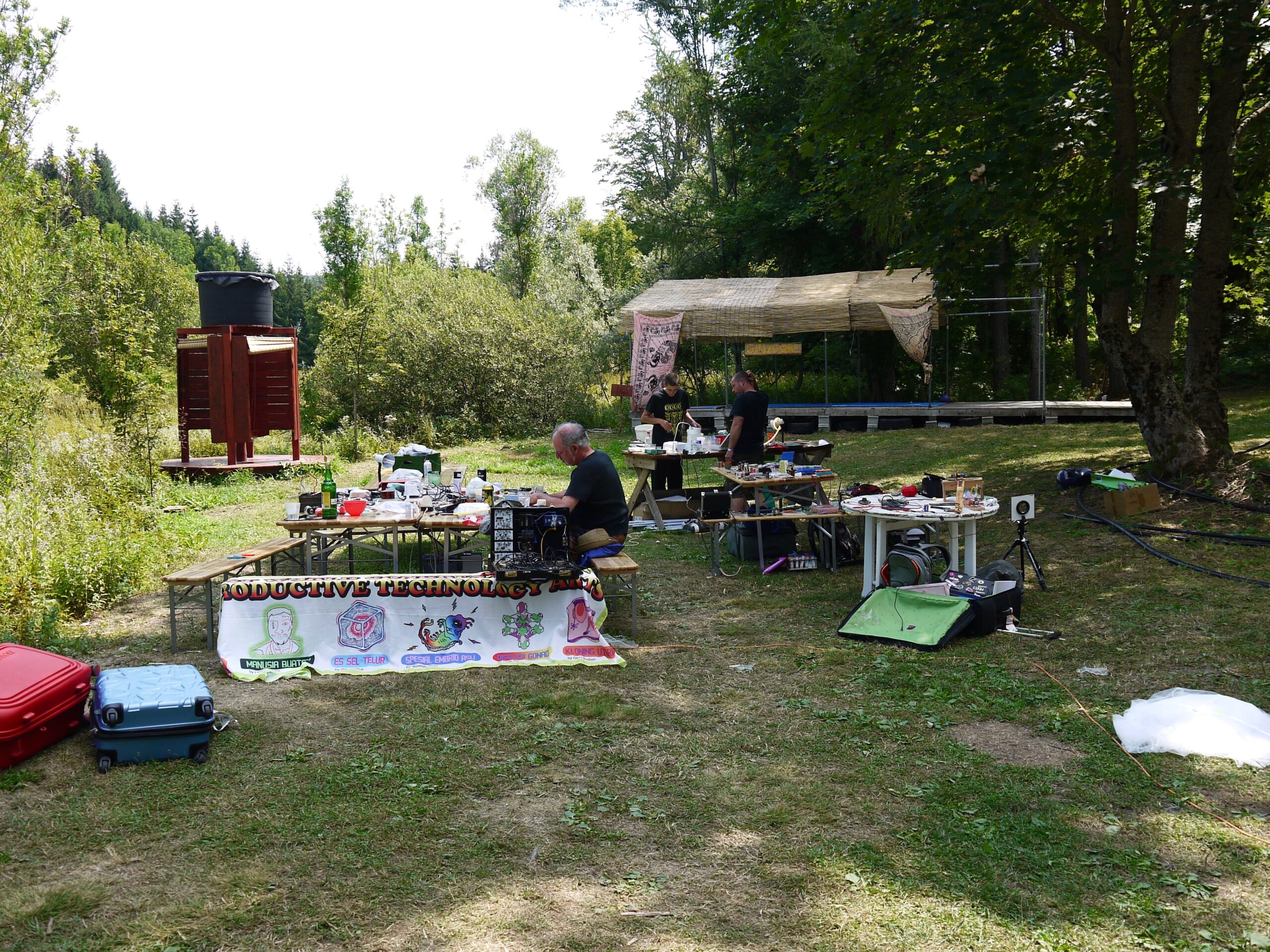 "Think like an artist, not like an engineer"
Far from the labs, this is the place and time to think outside the box. As it happens, this is precisely the specialty of Zohar Messeca-Fara and Yair Reshef, who form the duo Idiot (Idea + IoT, also to emphasize that the projects are accessible to beginners). In an improvised laboratory – Queer Science Department – set up in a clearing, Zohar Messeca-Fara makes electronic circuits and musical instruments amid a joyful mess. He introduces his first vintage "noise generator" from 2004, built from an old Sony amplifier and a guitar pedal: "For me, it was about finding my own sound."
Zohar moves on to the many creations of Idiot, their prototype lab founded in 2015: plug-and-play platforms for beginners, an instrument to read and loop cassettes, one of the flexible PCBs ("rarer and less documented" says this underground fan), pseudo-medical hallucinogenic glasses ("mindfuck headset")… "We heard that listening to frequencies of 40 Hz per day could prevent diseases like Alzheimer's," he explains. The Idiot duo also gave a "smart candy" night workshop to make a lollipop mounted on an electric circuit that lights up when you lick it. A hit.
Mirabelle Jones, an American artist based in Copenhagen, presents a new way to read books. "A book is anything that can be read," she begins. "We are books, nature is a book. […] Every gesture creates a story." Based on this enlarged definition, she invites us to rethink the format. She introduces her book-objects made with 3D-printed heartbeats, with inked words that we approach to read, a symbol of consent, or with pages made of shattered glass. She also shows the carved books of Brian Dettmer, Maggie Puckett's books in which paper is the material "content", and the book sculptures of Julie Chen. Together, we make a collaged "flag book".
American bio-artist Adam Zaretsky explores the connectivity of the human body and the electric power of slaps and tickles, in a chaotic and jubilant representation.
Also on the fringe, Marc Dusseiller, co-founder of the Hackteria network, invites participants to "think like an artist, not like an engineer" in his workshop for designing creative PCBs, which he then engraves using a photolithography process. He tries to recreate a child's mindset by giving the participants colored pencils and paper, "instead of a software". Marc is just as inventive with language, as he calls the the electric conductivity tester the Peepsy, in reference to the "peep" made by the machine when the current passes. "The way we call things is important," he says. "Making jokes too."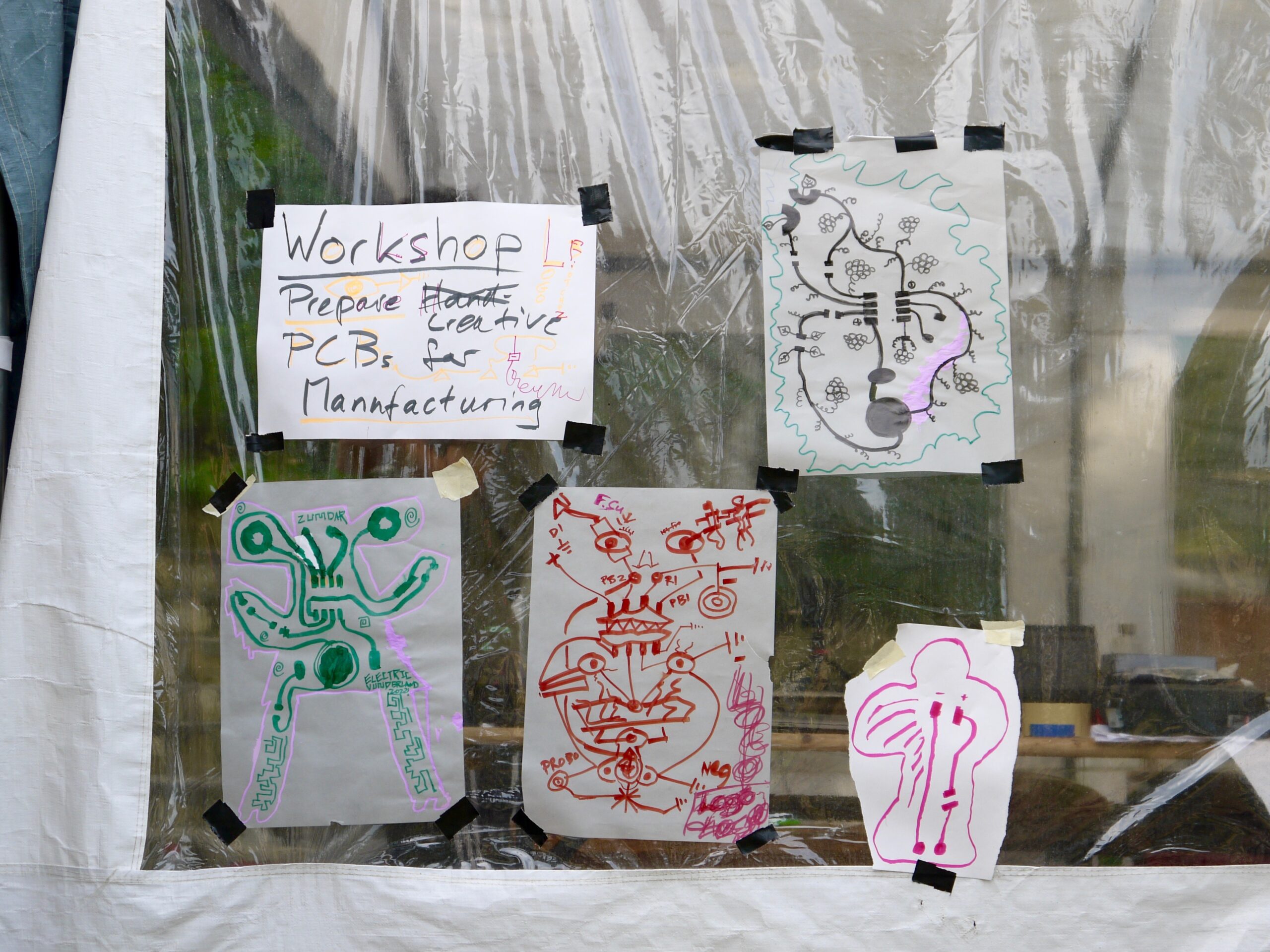 We also build 3D objects using 2D files with Albert Thrower, send photos through a walkie-talkie with Tomislav Tukša, make crystals with Paula Pin, luminous bracelets with Lavoslava Benčić, synths with Paul Tas, of Error Instruments, and Claude Winterberg, a.k.a. FlipFloater. We use soundwaves to draw with Hansi Raber and Jerobeam Fenderson, artists who use vintage oscilloscopes to create laser shows – such as the one they projected on the side of a mountain.
"Electric Wonderland has always focused on the workshops," confirms Deborah. If she usually proposes a concept to guide the artists in their approach, this time she preferred to give them carte blanche. "You see! I wrote two lines on silence, and this edition revolved around noise," she laughs.
Rethinking the format, opening up to others
Amidst the noise of machines, new connections are made. "These networks are my nutrients," says Shih Wei Chieh, a.k.a. Abao, maker and media artist from Taiwan. "Here I find energy, knowledge and encounters." He has come to present his naturally dyed photovoltaic signals read by a laser in order to create audio signals. His practice combines knowledge and new technologies – he has worked with Aztec people in Mexico and Incans in Chile. While he is excited about meeting artists from all over Europe, he would like to see more aboriginal or Asian knowledge represented.
"There's Western tropism," he remarks. "We talk about makers, but these artisanal crafts have existed for thousands of years. We have a lot to learn from ancient cultures. There exists no library of aboriginal knowledge, and these people have no access to our scientific culture. There are things to do to combine this knowledge." As the first brick, Abao has organized the Tribe Against Machine camps in Taiwan in collaboration with Atayal people.
Why do a camp? How to do it? Still exploring this experimental format together, the ecosystem actors discuss the possibilities. "I'm always attentive to what's going on in other communities, in particular those that don't receive any public funding," says Deborah. "Their approach is different."
Supported by Creative Europe via the Rewilding Cultures program (which also includes Makery), Electric Wonderland is exploring opportunities. "We have a certain responsibility, we want to think about how the program can have some influence, a social impact," Deborah continues. "It's not about building a space station, we don't have that kind of ambition. We need to find a balance." Keywords: interdisciplinarity, intergenerational, diversity, inclusiveness, freedom…
In a way, according to Deborah, "We've already succeeded." In this strange village, hackers share their playground. A French family spontaneously joined the camp and participated in several of the workshops – so enthusiastically that they forgot to go to the beach. "It's surreal," sings Fanny Charmont, a singer who is fascinated with vintage machines and DIY sounds, who never knew such a movement existed. Already, ideas are forming, along with growing desires for future collaborations. "It plants seeds," says her partner Thomas Brosset, a visual artist. Indeed, unexpected connections have been seeded in the mountains of Croatia.
Electric Wonderland is part of the Feral Labs network and the cooperative project Rewilding Cultures co-funded by the Europe Creative programme of the European Union.