/ feral-labs
Biennale of the damaged mountain. © Laurent Chanel
BIVOUAC#9: A poetic hybrid adventure in the Vanoise mountains (1/2)
Learning to be in a hybrid relationship with the natural environment, performing in high altitude, perceiving differently, decentering gravity… Laurent Chanel, passionate artist, performer, dancer and poet, offers all this and more during his cycle of Bivouac# open-air workshops under AAA (Artistic Altitude Academy). On July 25-29, participants experienced choreography and poetry in a 360° perceptual exploration of the Vanoise massif (and glacier) in eastern France. We joined the adventure.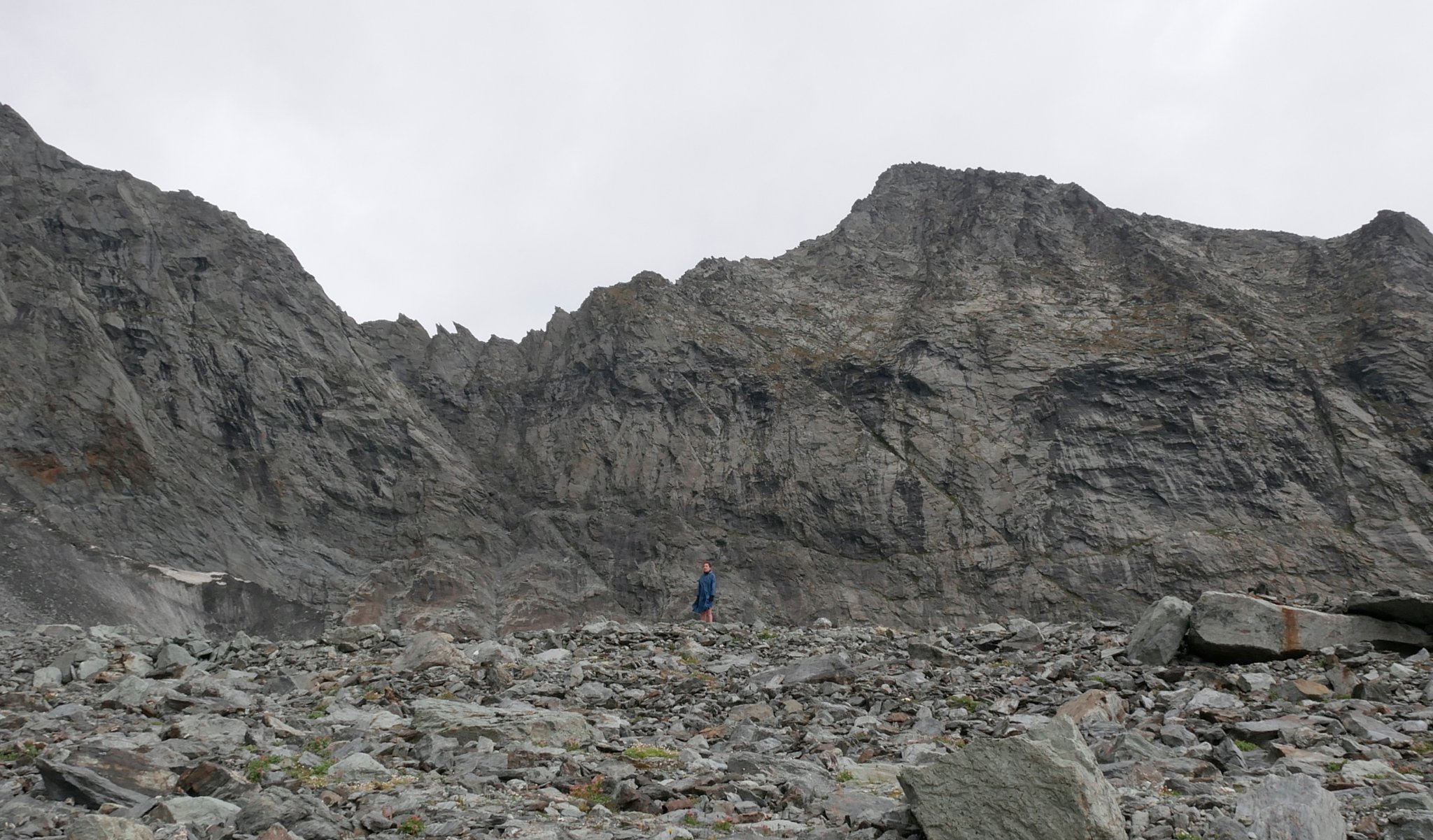 In the late 19th century, Charles Sherrington (Nobel Prize in Medicine) described the way that our body perceives (and apprehends) its environment. He calls this perceptive quality proprioception, or kinesthesia. The term describes the nervous system's sensitivity to information coming from the muscles, articulations and bones. In short, with proprioception, the body teaches the mind through movement.
Laurent Chanel is very familiar with this daily experience of body-memory. From the beginning, the artist, performer and dancer has been exploring all disciplines that relate to our physical and physiological (as well as philosophical) approach to the world around us. His Bivouac# cycle (this is the ninth) invites people from all walks of life to discover an environment that is sometimes hostile (or perceived as such), often difficult, always astonishing, during the course of artistic explorations that "connect in-situ practices of progression and immersion in wild environments with choreographic and poetic actions".
Bivouac, the exterior adventure
We often hear about the "interior adventure". New Age thinking advises us to recenter ourselves, reconnect with our "authentic self", feel the "heart" of our "hard core", in which we supposedly find our "deep self". More generously, Laurent's outdoor Bivouacs invite us to do the opposite: participating in a Bivouac# means learning "to dance the environment, to immerse oneself physically and mentally in the characteristics and atmosphere of a territory, a material, an area, a climate".
According to Laurent, "Bivouac# uses a constellation of experiences to generate perceptive adventures." It involves "playing with meteorologies, their characteristics and their characters. Absorbing the tactile and sensory qualities of wind, heat and shade. Playing with optical and gravitational qualities. Surveying our interior geographies. Materializing the metamorphoses of the landscape. Performing the biotope, immersing onself in the living matter that surrounds and engulfs us. Participating in high-altitude ecosystems, hallucinating mountains, dancing the space, and sowing imaginary topographies."
Le Canada at La Vanoise
At 1pm, I get into the car with Céline, who will share this adventure with me. For now she is my driver, and later I will treasure her invaluable support. Together we depart Lyon for Le Canada campsite, a laidback ride of more than two hours during which we get to know each other.
We arrive on site on time. We discover the already lush environment where we pitch our tent for the night in preparation for the climb. Mountains in the distance, inside Vanoise National Park, at the foot of the massif, in the east of Savoie department in the region of Auvergne-Rhône-Alpes.
Laurent Chanel welcomes us. He will be our guide. At the campsite bar, drinking homemade ice tea, we nine participants introduce ourselves: Vanina, Muriel, Xing, Benoit, Céline, Stéphanie, Claire, Laurent and me. At Le Canada, we are far from the heatwave ravaging the rest of France in temperatures under 16°C at 5 PM. But the "master of ceremonies" has already created a warm atmosphere with his charismatic, radiant personality, driven by his passion and evident will. His face hosts a gentle smile under two eyes squinting with happiness. He often wiggles his hips, moves a bit differently. His favorite expression is "C'est goûtu", punctuated by deep "hmm"s.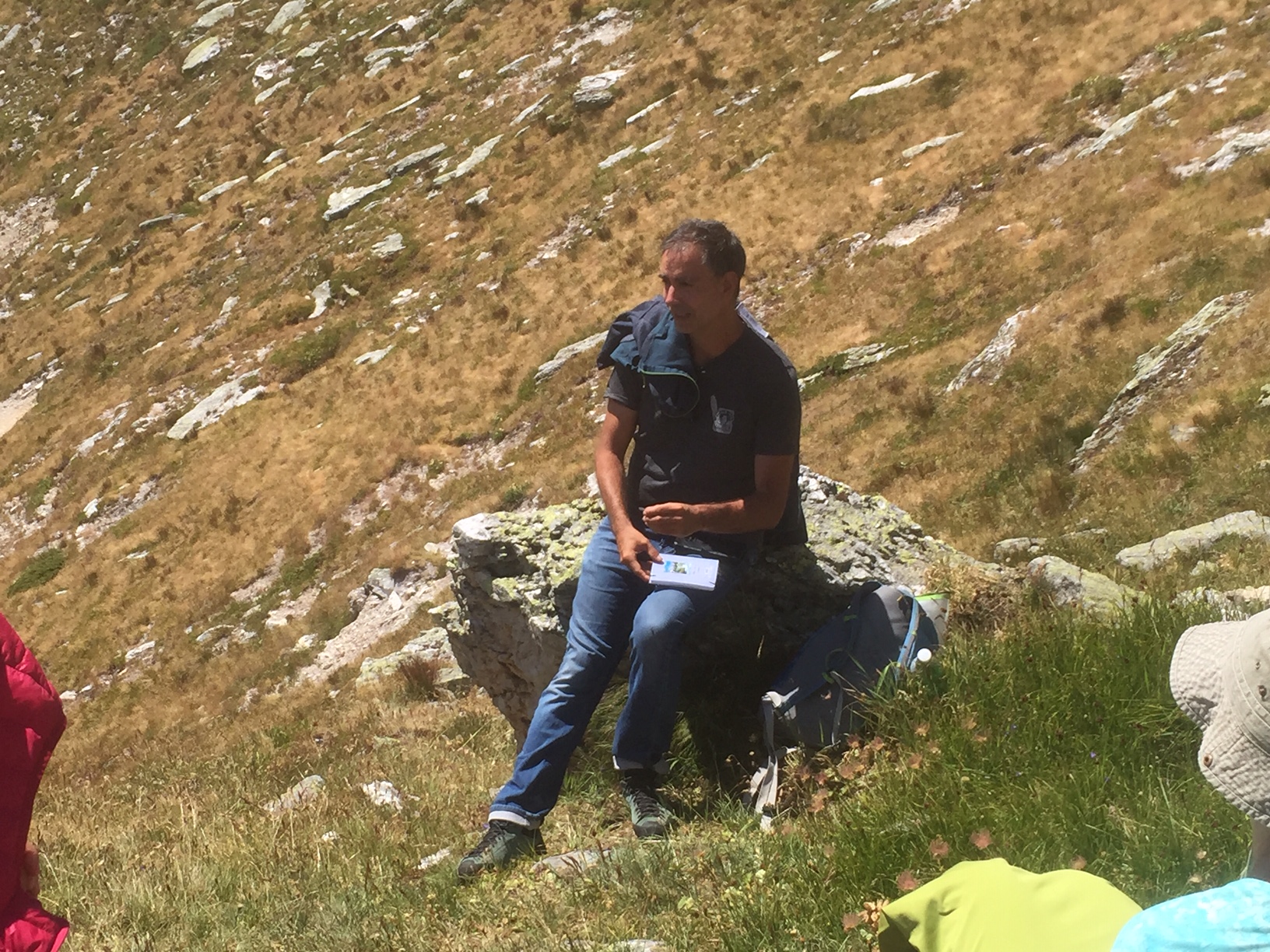 Science-fiction film opening
End of briefing. As a warm-up, Laurent starts us off with a session of decentering reality around a bizarre structure at the entrance to the campsite. It's a totem made of steel and wood, he explains, that becomes covered with ice when the valley reaches polar temperatures. The "ice tower" of Champagny le Haut, now naked from the heat, summons the dreams and chaos of the imagination. Here, we begin to let go. We leave the rationality of daily life behind us. We invent a possible world by circling this artifact that has emerged before us at La Plagne, at the foothills of La Vanoise.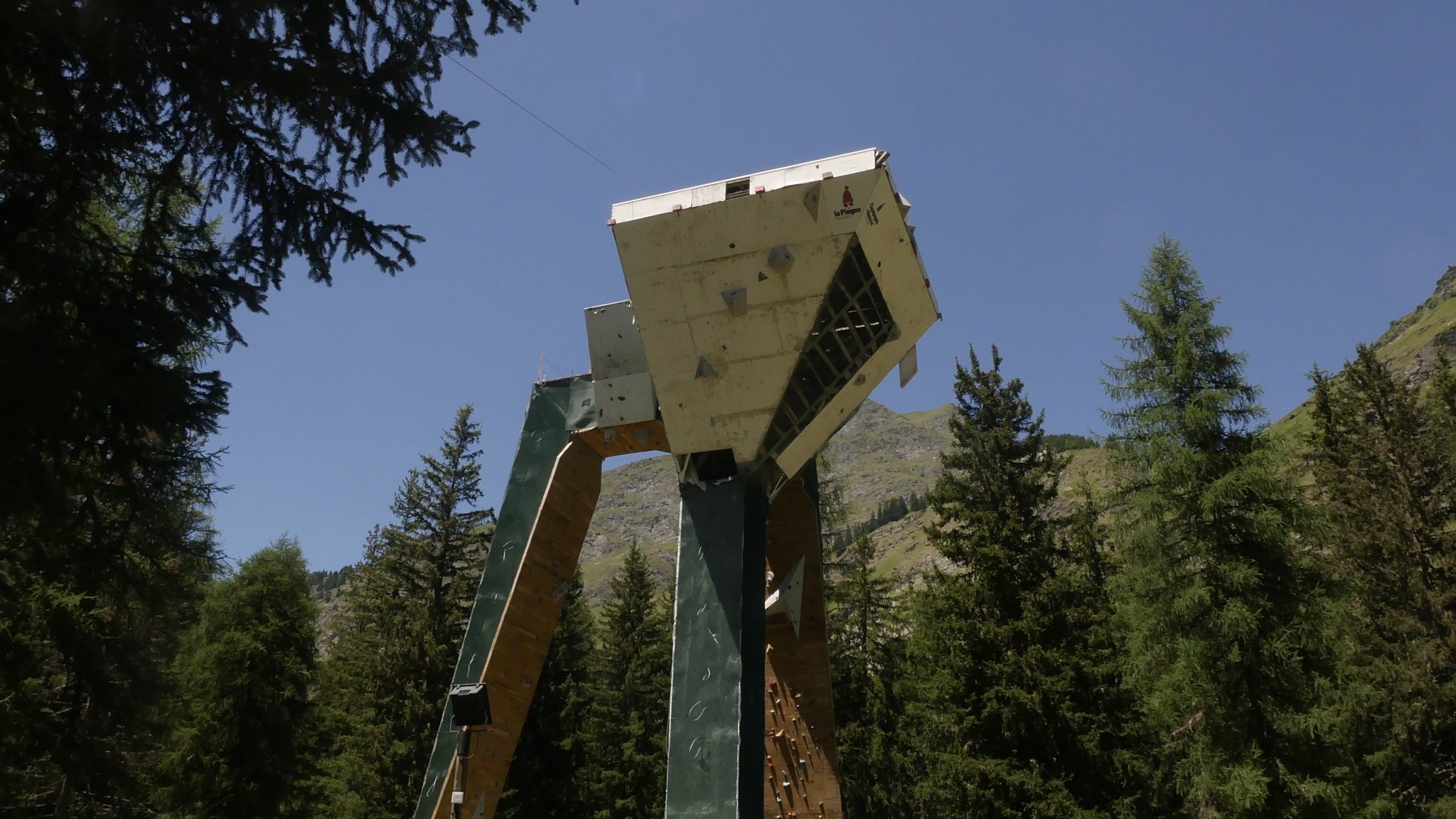 It's a bit like discovering the vestiges of an extremely advanced but little-known because difficult-to-access society, or seeing a possible incarnation of a post-apocalyptic future. This vestige could also mark our own history, after there is nothing left. We aren't quite there yet, but the mountain is already the vehicle of a journey through time that might be called "gravit'air", a space for geophysical possibilities and a territory of spatio-temporal aberrations.
"Anything but human"
We rise at 5:30 AM for a 7 AM start to our first day of climbing: a difference in altitude of 1,000 meters in 4-5 hours. As soon as we set off, my heart freaks out. My body is not yet in sync. No pain but extreme perspiration and above all, certain hyperventilation. The first cramps surge at 450 meters from the Leschaux pass but calm down fairly quickly. Right before the ascent, Laurent suggests that we make a gesture, an action at each stage of the climb. A ritual to symbolize abandoning the valley and ascending toward the summits.
As we walk, we discover a stupefying mineral landscape. Also silence. Then about four hours later, we finally see the first glaciers in the distance. The temperature drops drastically, but the sun is shining just as hot as ever. Below in the valley, all human efforts seem trivial. But no despair, as we are proud to have experienced very tiring, very hot, very cold, pain, extasy. Soon we'll reach the pass! Recalling the Jesse Owens stadium in front of which I camped during the Bellastock festival (read the article), I raise my fist like the Black Panthers. No cultural appropriation, just a tribute to this Afro-American who conquered the "Big Whites", just as I finally conquer the "Big White Mountain".
But I am still human
My references are from here
When will I become mountain?
Very soon!
More about AAA (in French)
Maxence Grugier is the Chronicler-in-residence of Rewilding Cultures, a project co-funded by the Creative Europe programme of the European Union.