/ Voices
The last Boeing 747-400 flew on December 19, 2017. Aero-Icarus (CC-BY-NC-SA-2.0)
New mobilities after the lockdown: How about retooling the airline industry?
Started in 2015 as a research project in art and design with the Srishti Institute of Bangalore in India, the independent curator and critic Rob La Frenais runs today the "Future of Transportation" group on Facebook. He writes in Makery his thoughts about mobility after the lockdown.
For those citizens of countries where exercise is allowed during the crisis, an extraordinary, high-definition view of the urban world is now available. It's as if an optical filter has been lifted. For example, Central London is clear of haze and there are breathtaking views of the Shard and other significant buildings from the Millennium bridge, as exercising cyclists enjoy the cycling superhighways along the river Thames. Elsewhere birds are singing, owls are hooting and nature is growing closer, the fresh spring air tempting people outside, hopefully physically distancing, despite different restrictions in, for example, France (attestations and 1km limit), the UK (policing sunbathing despite no restriction on exercise) and Spain (total lockdown). Only urban foxes (in London) are looking sad and desperate as there is no food being thrown away from the closed restaurants. It's a payoff. The fear and loneliness for some, the trapped children in city high-rises and the rising mental health problems in locked-down communities and of course the fear of catching the disease itself – not mention the hundreds of thousands of people who have died – as opposed to clean air, almost car-free roads, not having to do that crowded commute and in cities a dramatic drop in pollution (thought to have increased the chances of infection in the first place) are in direct contrast to each other.
So the big debate, before we can even see the light at the end of the tunnel, is what will we do with our transportation options after the crisis. 90% of planes are grounded, airlines are calling for bailouts, which in my view they should not get. Climate activists, while careful not to be seen to be capitalising on the crisis, are suggesting we should definitely not go back to business as normal, while politicians, for example in Milan and the North of England, are suggesting we should use this window of opportunity to plan for a car-free future. In the Guardian, the Deputy Mayor of Milan said: "We worked for years to reduce car use. If everybody drives a car, there is no space for people, there is no space to move, there is no space for commercial activities outside the shops. Of course, we want to reopen the economy, but we think we should do it on a different basis from before. We think we have to reimagine Milan in the new situation. We have to get ready; that's why it's so important to defend even a part of the economy, to support bars, artisans and restaurants." Milan has announced that 35km of streets will be transformed over the summer, with a rapid, experimental citywide expansion of cycling and walking space. The Mayor of Manchester, UK, Andy Burnham said: "There needs to be a new normality where we improve things. We ask for the public's patience because we're going to build back better."I think people do want to keep the cleaner air, they do want to keep exercising, they do want maybe have a more flexible working life where they don't have to go in the office every day."
But what about those grounded planes? What about the factories that are producing them? Airbus is temporarily adapting commercial aircraft production and assembly activity at its German sites in Bremen and Stade and pausing production at its A220/A320 manufacturing facility in Mobile, Alabama in the United States. It is also using its test aircraft to help bring in facemarks and equipment from China: Airbus continues to purchase and supply millions of face masks from China, the large majority of which will be donated to governments of the Airbus home countries, namely France, Germany, Spain and the UK. In a recent press release it stated that "An Airbus flight test crew has just completed its latest mission with an A350-1000 test aircraft. This is the third of such missions between Europe and China. The aircraft returned to France with a cargo of 4 million face masks on Sunday, 5 April." But we and the manufacturers are still faced with the fact it may not be feasible to imagine a market for flying equivalent to what had existed before.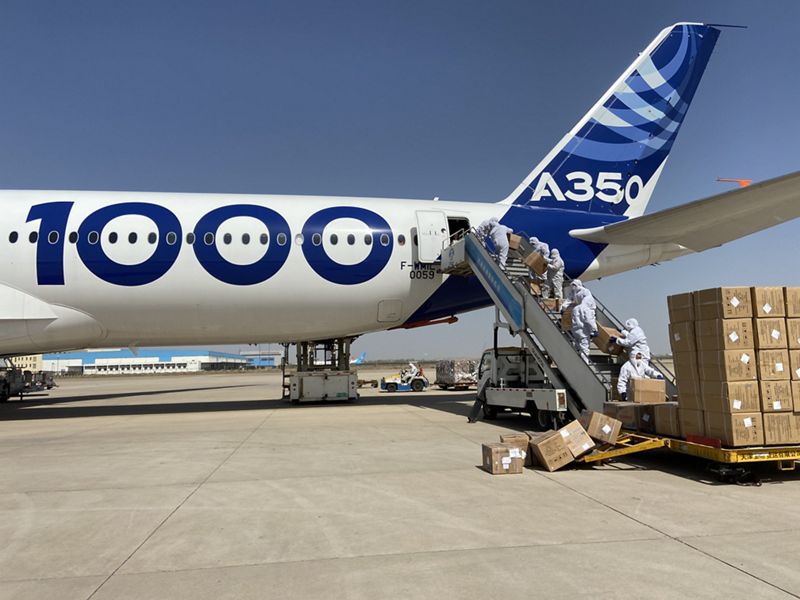 Retooling
So let's look radically at the concept of re-tooling. After all many industries have started retooling to manufacture ventilators, personal protective equipment and hand-sanitiser (by breweries). What is an airplane, after all, but a long metal tube with wings, computers and engines attached? Last year, before I dramatically reduced my flying, I took a plane from Toulouse airport to the UK. I arrived at 5pm on a Friday and the airport was congested with massive queues of weekly commuters returning to Paris and vice-versa. For approximately 10 trains a day between Toulouse and Paris, including both TGV and Intercities there must be at least 50 planes. This is traditionally because the TGV stops at Bordeaux and slows down, so the ratio is much worse than, say between Paris and Marseille. (Although the new trains, when they ran, had got the journey time down to 4 and a half hours). Also everyone knows the chaos on the French autoroutes at peak holiday times. If we totally rethought the speed at which we needed to travel, radically changed our expectations about personal car ownership, I have thought of a way, thinking out of the box (or just maybe crazy) we could save the airline industry and rethink travel in Europe in a not-too distant future. Already some airlines (Lufthansa and KLM, for example, before the crisis, started to encourage their customers to use the trains for short journeys such as between Amsterdam, Koln, Brussels and Paris.
It's kind of sci-fi but also in the spirit of DIY culture, but…how about planes on wheels? It would not take much imagination to think of an airplane fuselage retooled as a train (with the wings maybe retooled as windmills, but let's cross that bridge when we come to it). In real life, Alstom manufacture both trains in Europe and business planes in Canada. Let's take the concept one stage further. Let's make long road trains of plane fuselages, to be hauled on highways, autoroutes and autobahns, hauled by renewable electric trucks or hydrogen vehicles. Like Zeppelins and ocean liners, the journey could be made luxurious enough to enjoy the longer travel time, with good food, live music, travelling cinemas, and art galleries. For those who enjoy the airplane experience, the road trains could even simulate the business class experience of a long-haul flight. Such a train would probably take 8 hours between Toulouse and Paris. Of course the road trains would have to take priority over the hopefully-dwindling private transport, maybe fitting in to scheduled journeys of autonomous vehicles. It would be a retooling of an almost unimaginable scale, but would save jobs and there seems no reason that existing factory technology to produce fuselages could not be used to make such trains – perhaps with less exacting specifications needed for 700 kph flights (twice the speed of an average TGV). It's like Space without Rockets – an almost unimaginable concept, but thought about by artist Tomás Saraceno and engineer John Powell and reported here.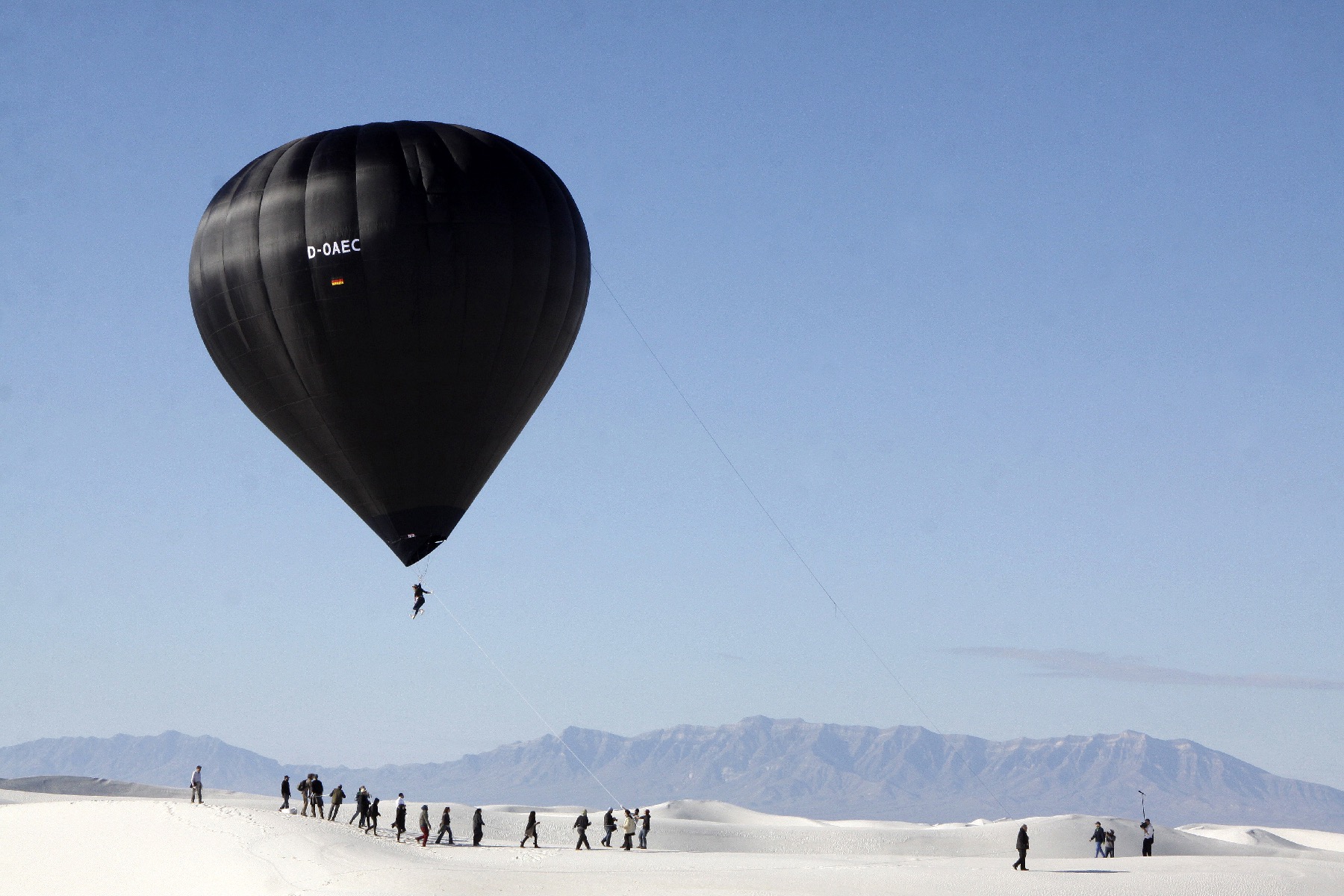 When I thought of this rather fantastical idea – riding my bicycle across a deserted North Circular Road the other day – it was a for a post-crisis fiction I was planning to write. However, a search shows these ideas have been around for some time. 'The Engineer' proposed an idea nor dissimilar to this in 2014. Richard Morris writes in his blog: "Sometimes we must think further ahead and consider new transport concepts. One new idea for mass public transport is the 'highway train'. Unlike platoons and road trains, this concept involves a new type of vehicle: a form of hybrid carriage with some of the characteristics of both a bus and a train. In the highway train, battery powered carriages similar to buses would operate independently on our existing urban and rural road network…The benefits to society are many fold. Reducing urban congestion due to a smaller number of cars on the roads, and inter-urban congestion due to a higher traveller density per road mile compared to a line of cars. A reduction in noise and local pollution in the urban environment due to electric drive, and the use of an efficient and optimised locomotive (due to its large size and narrow duty cycle) would minimise fuel consumption and emissions on the motorways. Finally, expensive new infrastructure would not be required."
Before the crisis there were already speculations into the plane/train concept – but in reverse – with trains that turned into planes, projected 50 years into the future. Now we have a 'sci-fi present' during the crisis, why can't we think the impossible, with ideas similar to 'planes on wheels' radically refreshing our thinking on everything, from work habits, clean air, better living and rethinking mobility?
The 'Future of Transportation' group on Facebook. Additional research by ClimateKeys.