/ DIY
Hortomation © Fablab Lisboa
How to build your own watering system with Fablab Lisboa
Fablab Lisboa will give a workshop to build your own watering system on October 26 at Volumes Coworking in Paris. Makery asked Rafael Calado and Gustavo Funke to explain their objectives.
How many of us gone away on vacation, wishing they had an automatic watering system for their plants that they could control through an app on their phone? Fablab Lisboa can help you build your own electronic irrigation system for indoor plants using the Arduino open source platform and your creativity. The workshop at Volumes Coworking will teach you how to assemble all the electronic and mechanical components, as well as program the watering schedule with humidity and temperature sensors. Finally, participants will discover how to remotely configure the system through a mobile application.
Makery: Can you introduce yourselves and your organization?
Rafael Calado: I'm an architect and the FabLab Lisboa program coordinator.
Gustavo Funke: I'm a software engineer, and almost full-time maker at FabLab Lisboa.
Rafael Calado: FabLab Lisboa is a small hub based around a fablab with a maker community. It has the support of the Lisbon city council Economy and Innovation Department. We are well linked with the maker community in Portugal and beyond. We are also working with the European Creative Hubs Network, just as Volumes does in Paris.
How did you become interested in bringing agriculture and electronics together?
Rafael Calado: We are setting up a biolab at FabLab Lisboa as a way to shift part of our community toward a new agenda and goals, especially in bioart. I included Lisbon Science Faculty in the process and we started to have biohacking workshops on many topics—one was mixing biological organisms, namely plants and electronics.
Gustavo Funke: It came naturally as a challenge. Every time I traveled, my aromatic herbs died in my kitchen. So we decided to create a machine (structure and electronic system) that would take care of the plants, even when I was away from home. This resulted in the Hortomation project, a system that manages the needs of my kitchen plants. The machine analyzes the temperature and humidity sensors to calculate the amount of watering required. With Hortomation, anyone can have aromatic plants at home, always fresh and without chemical additives. You can plant seeds, or just buy plants at the markets. The main idea of the workshop is for participants to assemble the supplied Hortomation kit, learn how to set it up, and take it home. The secondary idea of the workshop is for Volumes to have trainers for future Hortomation kit workshops.
What is the context for the workshop? Can you describe your methodology and general philosophy?
Rafael Calado: The workshop is aimed at makers and also people interested in plants and agriculture, self-sufficiency and circular economy, all of them on our radar of users at FabLab Lisboa. The workshop is the first that we have shaped as a platform for future distributed workshops. Hortomation experience goes well beyond the 7-hour workshop: it will have a social platform with a forum where alumni and current participants can post, discuss, etc., a platform were people can update their system or download automatic firmware, community databases for plants, soils, geographic climate data, and so on.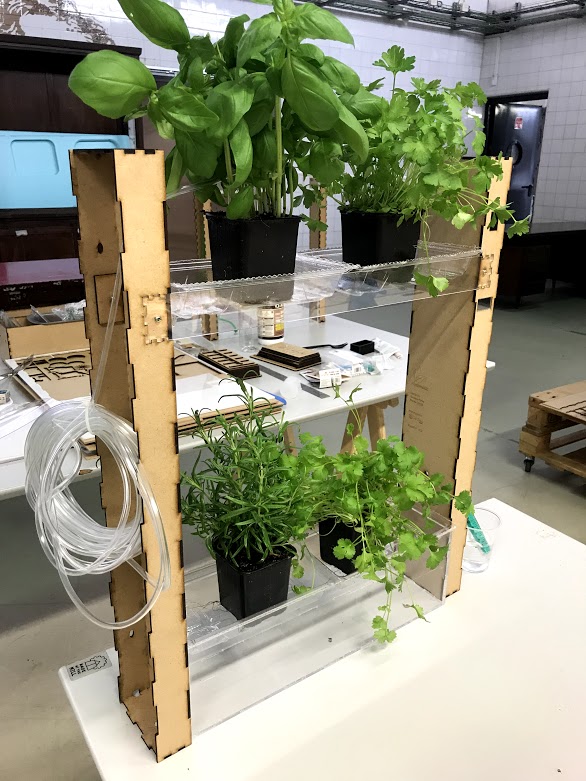 What you would like to propose in Paris and what do you expect from the participants and this collaboration with Volumes?
Rafael Calado: The context is to build a platform/canvas for distributed workshops that in the future we can spread across other spaces and share after fine-tuning it. This experience with Volumes will definitely add some valuable iterations, so we both can reshape it towards an international workshop to spread it across creative spaces. Volumes has a foodlab and a makerspace, that means that they have communities that are related to our purpose. The organisation of the workshop is part of a peer to peer program that have been launched by the European Creative Hub Network (ECHN) in the framework of the European project FLIP. This program aims to create cooperation and exchange between creative hubs from different countries. Fablab Lisboa as the visiting hub had created the content of the workshop and Volumes the host hub organise the event in Paris. The idea of the 'distributed workshop' and more generally also of the P2P programm is to empower the host hubs by transmitting the knowledge and skills in order to organise by itself the same workshop.
Promotional link for the Makery community – a ticket for up to 2 persons with 1 kit for 60€ instead of 90.