/ Lab Life
Re-Store: a dedicated space for reusing materials. © WoMa
Re-Store: reclaiming space and reusing materials in Paris
Managed by the WoMa fablab, Re-Store has just opened its doors in the northern Paris suburb of Saint-Denis. On February 7, the people behind the project presented the new space to the public and invited others to join them.
Along the canal, not far from the Stade de France in Saint-Denis, the former site of the Christofle jewelry factory is undergoing a period of transition. Opened in 1876 and closed in 2005, the site is officially listed as a Historical Monument since 2007. At the peak of its activity, 1,200 employees worked in buildings spread over almost 20,000 m². The Madar group, which took over the site when it was being classified, has been managing it as is for the past nine years, with no ambitious renovations for the 20 artisans, jewelers, artists and business owners who continue to occupy this dilapidated space.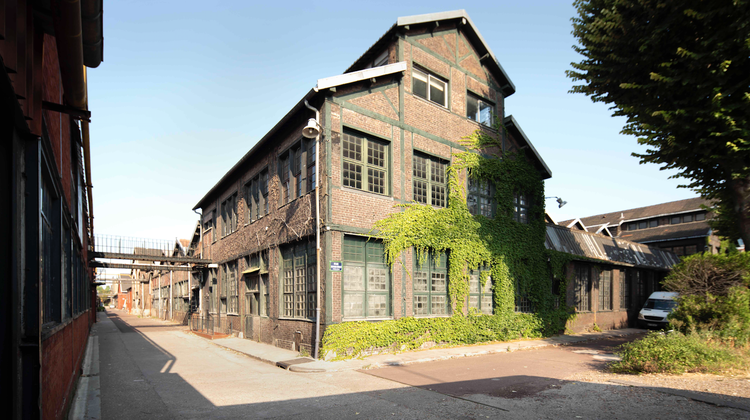 In 2016, the real estate developer Quartus saw big potential for these red-brick buildings covered in ivy, which were sometimes used as film sets. It bought the property with the intention of renovating it, enhancing its image as a company that works from the grassroots up. Quartus aims to implement a soft transition, finding a balance between traditional and modern activities. For this reason, the restoration and restructuring of the Re-Store site (baptized "L'Orfèvrerie", literally "the goldsmith") have been commissioned to architects Reichen&Robert, while an experimental transition period from September 2018 to August 2019 is being managed by cultural agent Manifesto and the collective Soukmachines to shape the future of the venue. In autumn, a number of artists moved into the building along the canal.
Following up from Fab City Summit
In July 2018, Quartus was a partner of the Fab City Summit organized by La Villette, which focused on various approaches to localizing production (with coverage by Makery). "The Re-Store project is a local continuation of the goals outlined at the Fab City Summit," says Minh Man Nguyen, co-founder of WoMa and president of Fab City Grand Paris.
Following the Fab City Summit, Quartus and WoMa wanted to collaborate on an experiment involving both reused materials and waste in order to carry out construction projects. Although their "Reuse Factory" project was not selected by Inventons la métropole du Grand Paris, L'Orfèvrerie offers them a venue to implement a first stage, which explores smart storage with multiple partners within the Re-Store program.
However, "Re-Store is not just a project supported by Quartus," says Nguyen. "The goal is also to involve other developers, such as REI Habitat, which is already invested with its ReMake branch." Now settled into L'Orfèvrerie's 200 m² of office space, 200 m² of studios and 1000 m² of storage, Re-Store now aims to collectively develop tools and methods applied to reuse for scaling up: smart storage with indexed and categorized materials; transforming deposits into usable materials and upcycling them into finished products in collaboration with designers and architects; developing digital tools that can be deployed and replicated on a large scale. In particular, Re-Store aims to reuse materials left over from construction sites and events.
Collaborative and open
The Re-Store initiative already includes 10 partners, situated at various levels of the reuse chain, and others are invited to join.
REI Habitat, already invested in the iconic Wiki Village Factory project, specializes in wooden habitats. Through its experimental action branch ReMake, it imagines new ways to reuse wood, designing furniture based on the primary qualities of the reclaimed materials, rather than first designing objects and then going out to find the materials. Also involved is Rêv Café, a community café in Montreuil resulting from the collaboration between ReMake, Yes We Camp and Quatorze. The Rêv Café team has been reclaiming wood for furniture at Place de la République in Montreuil since June 2018.
Another partner, this time in the field of consulting and engineering for reuse, is R-USE: an agency that identifies waste deposits and evaluates the resources in order to plan feasible and constructive solutions.
Les P'tits Clous works with the younger generation, in an age where kids who have grown up with digital games and personal screens are less interested in making things by hand. The P'tits Clous van reaches into the community to (re)teach children (and their parents) how to use analog tools and materials.
Le Pavé is a project by SAS minimum, whose goal is to manufacture 100% recycled and recyclable plastic tiles for construction, upcycled from plastic waste collected in nature. The strategic design studio thr34d5 (pronounced "threads") intends to develop an open source model for engineering a natural material from kombucha. EMA Architectes offers environmental and bioclimatic consulting, project management in reusing and testing materials—for example, designing bricks from the residue left over from brewing hops at the Gallia de Pantin brasserie.
WoMa's architecture studio WAO is interested in designing a machine to index wooden boards in a database, by automatically measuring them using micro controllers, for easy sorting and stock management. Their first prototype scans parallelepipedic volumes. The second will analyze weight in order to determine the density of the material. The project will be shared and open source. Matthieu Borssette, a student in the Design by Data master program of Ecole des Ponts Paris Tech, wants to develop "re-generative design", whereby generative approaches are applied to architectural design from reclaimed materials.
European cooperation
Minh Man Nguyen emphasizes that Re-Store is an open collective, which invites interested parties to participate in the ongoing, on-site collaborative approach at L'Orfèvrerie. To Makery, he explains: "We hope that the experiment will continue beyond 2019. We're pretty confident that Quartus is willing to extend the adventure, but first we need to prove that Re-Store works."
In any case, Quartus will continue to collaborate with WoMa and Fab City Grand Paris for the next two years as part of the H2020 European cooperation program "Reflow", in which Quartus is associated with the City of Paris, Ars Longa, Volumes, Fab City Grand Paris and many other French and international players.
Reflow stands for "constRuctive mEtabolic processes For materiaL flOWs in urban and peri-urban environments across Europe". Reflow's vision is to "develop circular and regenerative cities by repositioning the flow of materials at various scales". Six pilot cities are committed to the project: Paris, Amsterdam, Berlin, Milan, Vejle in Denmark and Cluj-Napoca in Romania. More specifically, Reflow relies on fablabs and makerspaces to catalyze a systemic change in urban and peri-urban environments. Reflow aims to leverage the circular economy to "facilitate, visualize and structure the free circulation of materials, people, (technological) knowledge and common goods, reduce the consumption of materials, maximize the mutifunctional use of public spaces and plan for regenerative practices." Quite an adventure—to be continued.
More information on Re-Store