/ portfolio-2
The Arch. © Benoît Laurent - OST - Constructlab
The construction of The Arch Festival, what's this building site?
At the end of August, in Genk in Belgium, the Constructlab collective organized a "construction of The Arch Festival" on a former mine site. An open building site, with the creation of a special brick on top. Photo-report.
Constructlab, collective of European architects, builders and artists, has been leading since May The Arch, conversion project of the former mine site Waterschei, at the invitation of the city of Genk in Belgium.
From August 21 to September 2, around thirty people participated in the closing summer camp, The Arch Building Festival, that provided for the mass construction of plastic bricks. Julie Guiches, Benoît Lorent, photographers of the Franco-Belgian collective Oiseaux sans tête (OST Collective), and Bert De Backer produced pictures of which we are showing you an overview.
How does one create a friendly and inspiring atmosphere on the top of a former coal mine? The site where the arch stands is to become Thor Park, a park dedicated to the development of new and lasting technologies. The popular and open artistic research method of Constructlab consisted in exploring the cycle of plastic and proposing a process of production and transformation of waste into a standard brick.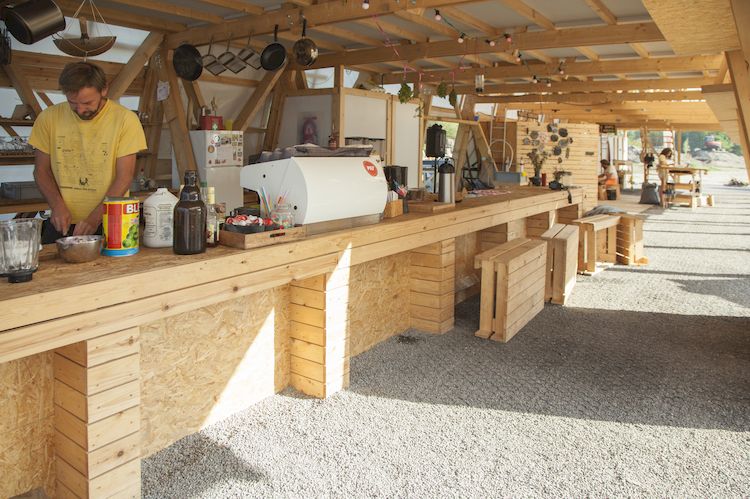 As soon as June, the arch was inhabited. Above, Alexander Römer, founding member of Constructlab, is having a peaceful breakfast in the kitchen.
During the summer, the first workshops were organized around the creation of the brick in recycled plastic, the social dynamic of the project and ways of including the neighborhood in the project and vice versa.
Ya+K and the members of The Arch are exploring the neighborhood to spread the story of the project and collect plastic waste in a miniature arch, a way of raising awareness among the neighborhood on the development of the Arch but also on the recycling of plastic waste.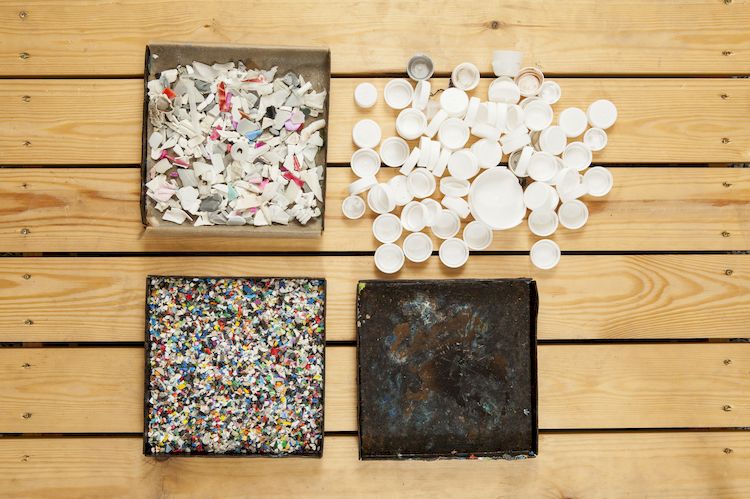 Local welders, former workers in the mine or for Ford, helped the thirty or so participants of The Arch Building Festival to build the metal support structure to produce bricks.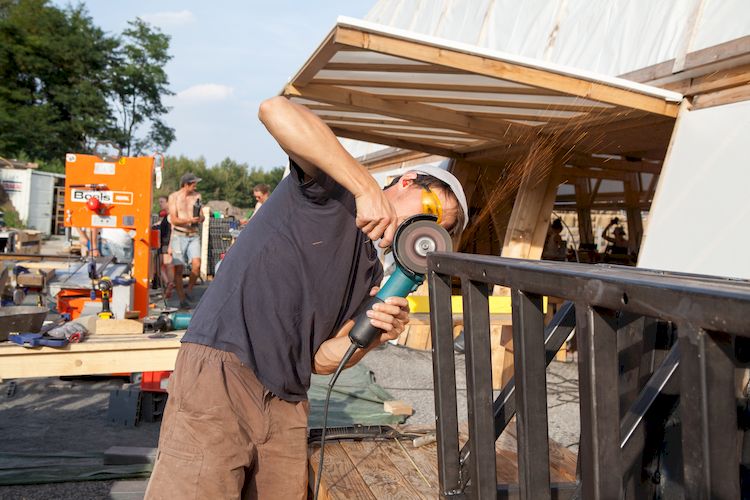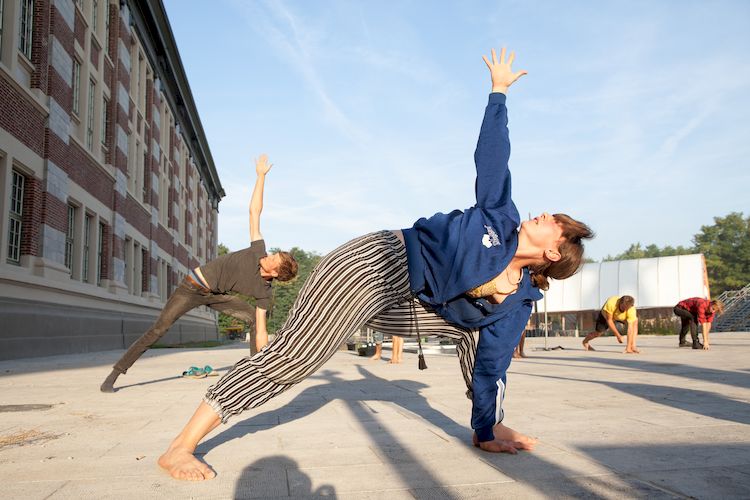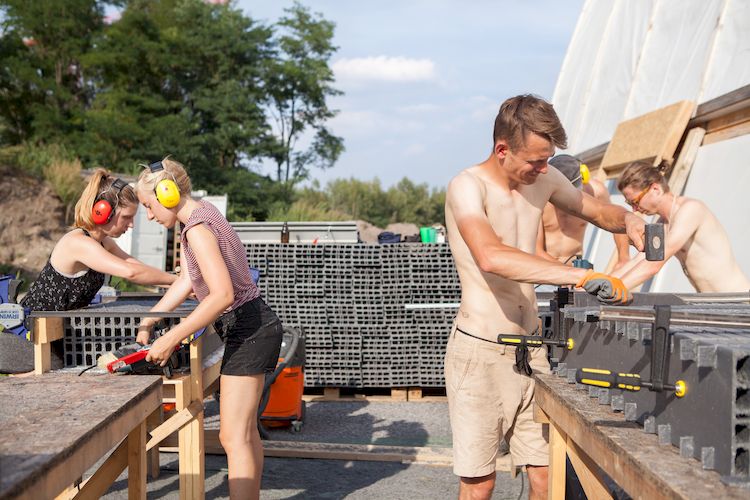 Mass production of the plastic brick. The idea? That a plastic section of the arch outlives the wooden construction.
Last step in the brick production process, cutting out the final brick from a large assembled piece.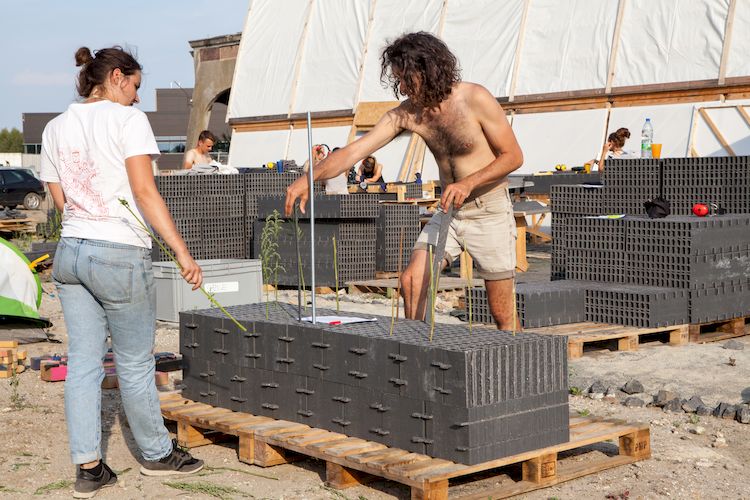 What is the best way of connecting steel cables inside the plastic bricks? Testing with the surrounding plants.
Following the bricks, the tiles! During the week, visitors could produce them from their own plastic waste, such as bottle tops. Above, the tile workstation with the different stages: selection, weighing, melting, casting and molding.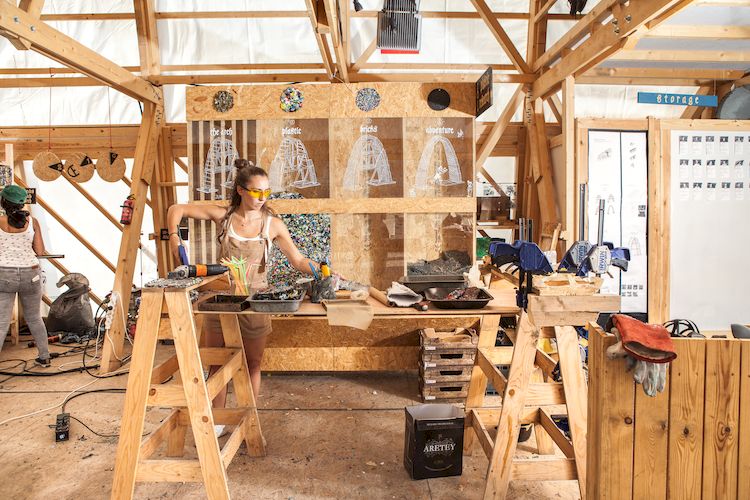 Storage space and demonstration of the states of recycled plastic and its different kinds of granules.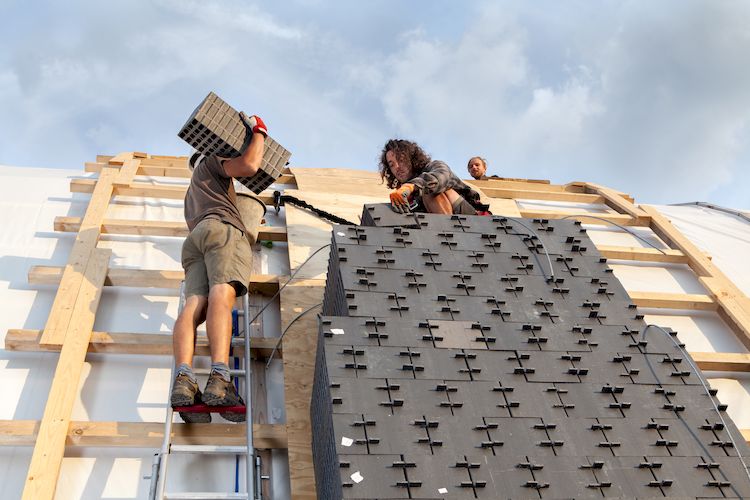 Bricks pile up and the plastic arch becomes more and more real.
Staging of the participants of the Arch Building Festival building site, The Archists, by the collective Oiseaux sans tête.
More information about the collective Oiseaux sans tête, Constructlab and The Arch