/ Voices
The M.A.A.R.S. team at 5837m, in the n°3 refuge near the Nevado Ojos del Salado volcano, on the Chile-Argentina border. © Benjamin Pothier
I explored the Atacama desert as if it were Mars (2/2)
Experiencing very high altitude to prepare for a journey into space: artist-researcher Benjamin Pothier tells Makery about his expedition in the Chilean highlands.
Benjamin Pothier, French artist-researcher on life in extreme conditions at Plymouth University, was selected for the M.A.A.R.S (Mars Atacama Research & Simulation) Analog expedition in the Atacama desert in Chile in February 2017. After a period of acclimatization to the lack of oxygen at intermediate altitudes, the artistic-scientific team headed up to the highlands, toward Nevado Ojos del Salado, the world's highest volcano, peaking at 6893m. Part 2 of Benjamin Pothier's logbook for Makery.
At 4000m, the salty desert of Laguna Santa Rosa
"We received a warm welcome from the guards of the natural park when we arrived at the refuge at Laguna Santa Rosa, a magnificent salar inhabited by Andean pink flamingos. We were even visited by a desert fox! The landscape is straight out of Star Trek. However magnificent, I'm anxious about the geology. We are at an altitude of 4000m, but as we are on a plateau, it's a very different sensation from being on the Himalayan mountains, when it took us five or six days to reach the same altitude by foot… Taking Diamox, a diuretic prescribed for altitude sickness, since yesterday, becomes quite necessary.
"After a few days acclimatizing to 4000m and various treks and field studies, we leave for base camp n°1.
At 4350m, Laguna Verde base camp
"We stayed a few days to acclimatize to Laguna Verde. The place is used as a base camp for climbs in the area. The campsite is populated by Chileans, Nepalese, British, Germans, Russians and Americans. Some come to chat with us over tea. Part of each day is spent going on preparatory treks. I've unpacked my climbing gear: 2.5kg ice boots, helmet, bag loaded with audiovisual equipment and survival gear.
"The sense of isolation is a considerable psychological factor—my Iridium Go terminal satellite helped a Chilean family who had an accident nearby. Here, satellite telephones are the only way of communicating with the 'rest of the world'. Overcoming this psychological factor in extreme situations is no doubt what brings our experience close to astronaut training. Each one of us is very focused while remaining sociable, and as teammates we check each other's capacity to withstand the isolation, fatigue and very high altitude, for the security of the group as a whole.
At 5255m, refuge n°2 at Ojos del Salado
"Arriving at refuge n°2, Ojos del Salado, at an altitude of 5255m, wasn't exactly smooth—one of the 4x4s got stuck in the sand en route, which became more of a path, then a desert with a few traces of cars here and there… When we stopped to try to pull the car out, I took a few 360° shots and appreciated the scenery: an impression of solitude and vastness before this unbelievably wide horizon, a desert surrounded by more or less dormant volcanos…
"Here, at 5255m, there is no doubt about the extreme nature of this experience. Our nine-person team is totally isolated, the cold sharpens its bite after sunset, the sound of the wind never abates. If we find some respite in the hard refuge where we gather for our meals, we face promiscuity!
"Adapting to very high altitude has gone more or less well depending on the team member. I'm lucky to share a tent since the beginning with Thomas Edunk. His professionalism, his fraternity and his mountaineering skills are very appreciated.
At 5837m, refuge n°3 in the Atacama
"In addition to another day of acclimatization and a morning of geological field tests (despite the extreme winds), we made two round-trips to refuge n°3 to bring the equipment necessary for the final climb.
"One of the components of this expedition is exposure to very high altitude. As the doctor specialized in high altitude (see Part 1) pointed out to me a number of times, good preparation and taking Diamox the day before reaching 4000m can protect you from certain symptoms of acute mountain sickness, but the dangers are very real. In spite of my fatigue, I manage to climb to 5500m on an unexplored glacier in Nepal in 2016 without suffering any of the most alarming symptoms—around 20% of individuals experience acute mountain sickness, from a simple headache and fatigue to pulmonary or cerebral edema, which can quickly be fatal. This risk interested the astronaut candidates, who are always in search of challenging performances and pushing their limits. Exposure to lack of oxygen (hypoxia) is common in astronaut training (learning how to react to oxygen leaks, for example) and very high altitude mountaineering.
"Everything went pretty for me until the day before we climbed Ojos del Salado. After one night at 5255m, we headed back up to refuge n°3, a 5- to 6-hour walk carrying about 25kg. A few hours after we arrived, I suffered a vascular retinopathy in my right eye—or in non-scientific terms, a blood vessel in my eye burst, most likely due to fatigue, and the effort of climbing too rapidly to 5837m. Nevertheless, morale is still good, as well as my mental faculties, given that very high altitude can also lead to disorientation and delirium (especially because of hypoxia).
Art in extreme conditions
"I wasn't able to join the climb to the summit of Ojos del Salado. But having reached the same altitude as an Air Force pilot and well-trained astronaut candidate like Casey Stedman, I was quite satisfied with this new performance. It's easy for me to say now, as everything has returned to normal since I came back.
"I joined this new expedition both to satisfy my passion for exploration and extreme performance and to develop my artistic projects. In addition to my usual work as a photographer and filmmaker, I partnered with the 360° production studio HERVE.io to shoot various immersive videos during the expedition. A first edit of the film, currently in post-production, will be presented at the international Balance-Unbalance conference in Plymouth, UK, in August 2017, co-organized by Sustainable Earth Institute, North Devon's Unesco Biosphere Reserve, Beaford Arts and the Fulldome UK community.
First 360° footage of the Atacama desert, photo by Benjamin Pothier: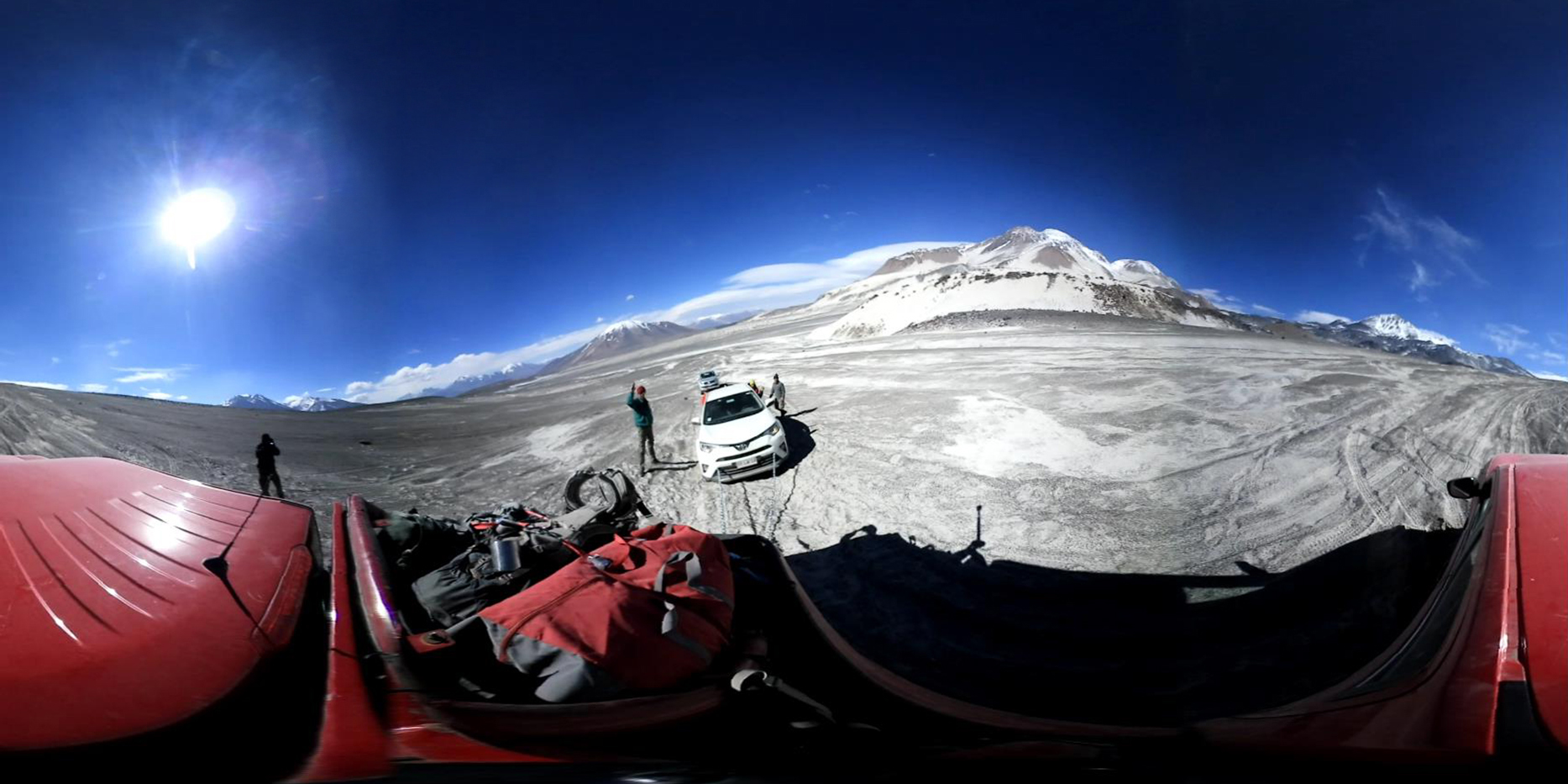 "Currently, thanks to a research grant from Plymouth University, I'm developing a project with the artists Daniela de Paulis and Lee Nutbean. We plan to send field testing images taken by the Mars Curiosity probe, in the form of radiowaves, from the Dwingeloo radio telescope in the Netherlands to the Moon, where these images will be reflected off the Moon's surface to another radio telescope.
Read Part 1 of this logbook and Benjamin Pothier's website