/ News
Birdly ride behind the glass at MK2 VR in Paris, the flight simulating highlight of a space launched in December 2016. © Benoît Florençon
We tested the new VR playgrounds
Will virtual reality be the attraction of the future? Over the past few months, a flurry of VR spaces have each played their card, from pure made in France to video game kitsch. Which one to choose?
These newly opened spaces are already competing to sell dreams, innovation, immersion and never-before-seen adventures in parallel worlds. They dislike being labeled "theme parks", but invest in the latest technologies of virtual (VR) and augmented reality (AR) to offer "experiences" whose prohibitive cost keeps them out of our own living rooms… for now. These past few months, commercial VR spaces are gaining ground.
The next big thing, or just a passing trend? While in the U.S., the CEO of Disney has refused to include VR in their theme parks, others have already made the leap, such as Bobbejaanlands's VR-augmented rollercoaster in Belgium. In Lyon, Tokyo or Paris, who will win the prize for best VR theme park of the future? Like the laser games that once proliferated in cities and suburbs (about a hundred in France alone), does the VR park have a future? We tested a few to find out.
Role-playing experts: Virtual Room (Paris)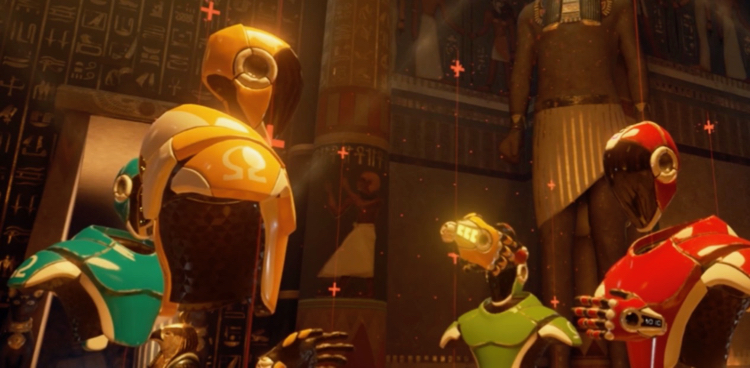 Open since late February 2017, Virtual Room is a mix between escape games and virtual reality—no doubt informed by the life-size escape rooms inspired by Japanese video games of the 2000s, which have grown to almost 8,000 rooms worldwide. Two French specialists of the genre, Jean-Louis Bouthinon and Jean-Luc Gignoux, decided to make a VR version developed by the studio Monsieur K.
Price: 100€ (2 to 4 people).
Age: 12+.
Experience: Behind an anonymous door on Rue de Turenne in the 3rd arrondissement of Paris, an open-air corridor leads to the lobby of (EDIT: Virtual Room moved in January 2018 in a larger space on Rue du Chemin Vert in Paris, to accommodate two teams of four simultaneously), Virtual Room, a small space enclosed by stone walls. There are four of us (as recommended). The short intro begins. We are promised that everything is very intuitive. We are spread out into four tiny rooms, each of us equipped with an HTC Vive headset, headphones and two controllers. But we will only use the trigger, to grab and release objects, much to the relief of the VR virgins among us.
The virtual room inside the headset, reminiscent of the movie Tron, adds a nice dimension to the space for gameplay. The avatars of our teammates appear in the four cardinal points, while their torso, head and hands indicate which direction they're facing. We hear each other loud and clear and send each other projectiles as a warm-up. A voiceover explains that we are space and time-traveling agents who will journey through Medieval times, ancient Egypt, etc. In each polished scene, we need to find the object that will trigger the mechanics to propel the team into the next era. Sometimes we toss each other objects—in "zero" gravity—, using a mirror to reflect a beam or defend ourselves with a bow, for example. The game lasts half an hour, without frustration.
The well-calibrated adventure, with no downtime or frenzy, leaves plenty of time to have fun clumsily exploring, or to help a partner who might feel a bit lost. The game, available for lease, should spawn more to come. Another room is scheduled to open in Brussels in a few months, along with a new script.
Practical info: Virtual Room, 93 rue de Turenne 75003 Paris (EDIT: 36 rue du Chemin Vert 75011 Paris). Open daily from 9am to 9pm. Online reservation required. Plan to spend one hour on site.
The cream of VR studios: MK2 VR (Paris)
If virtual reality is sometimes presented as the future of cinema, the French movie theater chain MK2 decided to invest 1.5 million euros in a VR game showroom at the top of its MK2 Bibliothèque complex in the 13th arrondissement of Paris. The architecture of MK2 VR, inaugurated in December 2016 in partnership with BNP Paribas, is already quite stunning. Its transparent 150m2 space and terrace bar attracted production from the biggest development studios in the VR headset business: HTC Vive, Oculus Rift and Playstation VR. MK2 VR is betting on 100,000 visitors in 2017.
Price: 12€ for 20mn; 24€ for 50mn.
Age: 6+.
Experience: The room itself, straight out of Westworld, is worth visiting. This kind of VR showcase is unique in Europe, and probably in the world. The space, which can accommodate up to 15 people per session, fills up fast, so reservations are highly recommended. In the center of the room stands the Birdly, the full-body flight experience brought to us by the Swiss company Somniacs. The elegant-looking machine is the standout "installation" piece among other experiences that offer little more than a headset.
The cream of VR studios are all present: French studio smartVR and their vertigo-inducing experience The Walk; Ubisoft with their Eagle Flight experience to test the Playstation VR headset; while the Quebecois studio Félix & Paul basically presents a contemplative showreel of their works for Oculus Rift. Electronic Arts lets you take command of an X-wing in Star Wars Battlefront. On the FPS side, we played the excellent Superhot, in which time—and bullets—stand still when you stop moving. Another must is The Climb, by the German studio Crytech, although like most of the experiences on offer, there's not much value added to playing it inside the space. Holofit, on the other hand, is a two-player rowing experience through scenes of paradise.
Twenty minutes is just enough time to try all 12 experiences. With a 24€ pass, you can also enjoy Perchoir, the terrasse bar. MK2 VR offers less of an alternative "arcade" to the VR experiences it presents than an exclusive collection of games negotiated by the various headset manufacturers with the studios. In any case, this classy showroom can also help you choose your own home equipment!
Practical info: MK2 VR, 160 avenue de France 75013 Paris. Open Wednesday-Sunday 2pm-8pm, during school holidays Monday-Friday 2pm-8pm, Saturday 11am-11pm, Sunday 11am-8pm. Reservations online and on site.
Calibrated for kids: Yoo Moov Stations (Paris)
Launched on December 15, 2016 inside the new shopping mall next to La Cité des Sciences in Paris, Yoo Moov Stations was conceived by the founder of Laser Game Entreprise (LGE and its hundred franchises in France) as a "hyperspace travel agency". Jacques Denavaut, the former communications director of Arianespace, holds the reins of the Parisian vessel. In two journeys, (25mn and 1.5 hr), 16 "travelers" board the ship and make several stops along the way—for 360° video simulation and hyperspace battles on dynamic seats, from VR headset multiplayer experiences to pure laser games.
Price: 12€ for interstellar mission (25mn); 25€ for intergalactical mission (1.5 hours), on site or online.
Age: 7+.
Experience: It starts off sparingly, in a futuristic cardboard decor inhabited by hostesses and gadgets, in the first room with three large screens, for the introduction to the hyperspace voyage. The initial absence of interactivity is a bit boring, but fortunately this changes fast. In the long version, you experience the Star Jammer, in a dynamic seat with a rifle pointer on a giant screen for a shared battle (in two teams) against hordes of invaders. You're physically shaken but well harnessed in the Moov Craft, which totally immerses you in a giddy world—inside the VR headset with enemies approaching through a hyperspace tunnel, mixed with the real-world disorientation of your head upside-down and dangerous turns (experienced gamers will have a certain advantage). The scary augmented reality attraction Spheris is a 360° tour of planet Kapteyn b (where dissident samurai fight monsters and other heroic fantasy figures). Finally, the Accelerator Room is a pure laser game with two levels and multiple recesses. The hyperspace storyline is rather kitsch—the good genie Yoo, commander of the Moov Machine, promises to explore the tunnels of Einstein—and clearly aimed at a very young audience. The stops are well timed, and we emerged more enthusiastic than on the way in.
Practical info: Yoo Moov Stations, Vill'Up shopping mall, 30 avenue Corentin Cariou 75019 Paris. Open daily from 10am to 1am (last long journey at 10:30pm).
VR 100% made in France: Eydolon (Lyon)
Eydolon (pronounced Eye-do-lone, like the Greek word for simulacrum or ghost) is the first virtual reality space conceived by GIE VR-Connection, a network of more than 40 French VR companies, with exclusive content made in France, in partnership with LDLC for the equipment and Altiplano (Exalto) for the space. Inside Exalto Parc's 130m2 in Villeurbanne, just outside Lyon, 10 terminals offer four different VR experiences (between 5 and 15 minutes each).
Price: 10€ for one experience; 25€ for discovery pack (3 experiences).
Age: 13+.
Experience: After a heavily promoted launch, the first Eydolon park is rather modest. With its living room setting and sofas to sit and chat about your experiences or watch your friends on the screen above the player losing their footing on the virtual walkway, it's more like a prototype than a polished park. Walking on a mini-platform (ROVR) treadmill, wearing a HTC Vive headset and holding controllers, we're off on an exhausting hamster race (by taking tiny hamster steps). Naturally, the scenery is larger-than-life, as we incarnate the animal that must grab as many doughnuts as possible in a house with stairs, carpets, corners, etc. Actually quite funny, Hexamster represents the "universal access" aspect promoted by VR-Connection—not so much battle zone, so as to avoid veering toward the arcade. Hexarena, in which hordes of humanoids try to invade your arena, is closer to a traditional FPS (and will soon offer "a collaborative mode, and eventually championships" between parks in the network, promises Eydolon CEO Erwan Cavanagh).
Erwan Cavanagh demonstrates "Hexarena" for Makery:
We didn't try the two other experiences, Hexatemple (an Indiana Jones-style journey of discovery through Mayan temples) and Hexamecka (the hydraulic seat on cylinders was out for a demo), a passive experience as the passenger of a crazy taxi-droid.
Even if the content is still sparse for now, the ambition to promote an exclusively French VR experience is rather sympathetic. With its 200,000€ proof of concept, Eydolon has already paid for itself and should soon see its offspring, as at least 15 more new spaces are planned to open in France in 2017.
Practical info: Eydolon, Exalto Parc, Aux Puces du Canal, 5 rue Eugène Pottier 69100 Villeurbanne. Open daily, 5pm-9pm (Monday, Tuesday, Thursday, Friday), 2pm-9pm (Wednesday), 10am-11pm (Saturday), 10am-7pm (Sunday).
Cheap thrills: VR Park Tokyo
The unimaginative name says it all. Launched on December 16, 2016 by the Japanese company Adores on the 4th floor of its own dark and smoky mega arcade in the heart of Shibuya, VR Park Tokyo is the latest gimmicky extension of the casino and arcade brand.
Price: 2900¥ (25€) with advance reservation; 3300¥ (28€) at the door; free soft drinks.
Age: 13+.
Experience: True to the arcade tradition, Adores adores shoot'em up—two of its seven VR games are explicit FPS, including the short but convincing high-rise action Dive Hard, while two others are played with fantasy weapons firmly in hand. All are experienced through HTC Vive headsets. The only truly exhilarating journey is Salomon's Carpet, which can also be experienced simultaneously by two players, without shoes on a real "flying carpet" platform that tilts in front of wind-simulating fans to carry you through fantastic landscapes, but the aerial "adventure" hysterically narrated by a cartoon voiceover sends us back to the primitive arcs of early CGI. Just added in March, Jungle Bungee is pure simulation, but on a small scale with little interactivity, more of a passive experience. Tokyo-based Gree VR Studio's Hacha Mecha Stadium reprises the baseball classic with your choice of fantasy bats, but without any haptic feedback, you might as well bat with a Wii wand. The latest addition, Creeping Terror, is a comparatively static 4D interlude for horror film fans, if only to kill time while the other games are busy. Because even 80 minutes is just enough time to play each 5- to 10-minute game once, as you wait your turn during peak hours.
Practical info: VR Park Tokyo, Adores Shibuya 4F, KN Shibuya 1 Bldg, 13-11 Udagawacho, Shibuya-ku, Tokyo. Open daily from 10am to 11:25pm, with 9 fixed 80-minute sessions. Online reservation is recommended, otherwise first-come-first-served, with a limited number of participants per session.
By Nicolas Barrial (in Paris), Annick Rivoire (in Villeurbanne and Paris), Cherise Fong (in Tokyo)