/ News
"Fear and Love", the reopening exhibition at the New Design Museum in London. © DR
With "Fear And Love", the Design Museum questions our future
For its reopening, one had to hit hard. Therefore, it is on fear, love, hope and doubt that the first exhibition of the Design Museum in London relied on. Quite a program.
London, from our correspondent
Done with the Thames banks. The Design Museum has moved and rejoined South Kensington, a few steps away from the Science Museum, the Natural History Museum or from major universities, like the Imperial College or the Royal College of Art. A chic and cultural neighborhood for this design institution opened in 1989, under the influence of the designer Terence Conran, founder of Habitat, and reopened on November 24 last year.
The new Museum—located in the former Commonwealth Institute, restored by the Dutch architect firm OMA and the London firms Allies and Morrison and Arup, for 83 million pounds (approx. 94 million euros) – is expecting to welcome more than 500,000 visitors. For its season opening, the temple of industrial products, fashion and architecture has given a fair share to makers with its new permanent exhibition Designer Maker User where 3D printers and Kano's computer in kits mix with the first Apple computers and Vespas.
But it is with its first temporary exhibition Fear and Love that the museum wants to make an impression. "When the Design Museum opened in 1989, the first exhibition, Commerce and Culture, was about the value of industrial products" writes Justin McGuirk, chief curator of the museum, in the press release. "Three decades later, we now take that value for granted. Fear and Love goes further, and proposes that design is implicated in wider issues that reflect the state of the world." Eleven artists, designers, architects or fashion professionals were invited to explore these themes and present their installations.
Rural life, urban life
The exhibition opens on the installation of the Rural Urban Framework, a non-lucrative architect firm that helps to consolidate rural Chinese communities transformed by mass migration towards cities. In a short documentary, the architects take us to Ulaanbaatar, capital of Mongolia, to meet nomad populations who are settling down.
Further on, the Colombian collaborative architect firm Arquitectura Expandida presents a reproduction of the building built for the purpose of this exhibition for Ojo al Sancocho, a collective that teaches youngsters to make films in Ciudad Bolivar. A collaborative construction in one of the poorest and most violent neighborhoods in Bogota that rural migrants seeking to flee conflicts between government and paramilitary groups have given birth to.
Contrast between urban and rural lives, still, with Ma Ke, presented as one of the most influential designers in China. Successful stylist, she decided to abandon commercial fashion ten years ago to go back to craftsmanship. Now she can take up to several months to make her fashion pieces, in a ritual process of "seeding, harvesting, hand weaving, dyeing with plants and, finally, sewing by hand".
Mimus, the robot that gets bored
But it is mainly through its reflection on technology that Fear and Love wins its public over. Star of the exhibition, Mimus, an industrial robot conceived to handle repetitive tasks within a production line. Under the inspiration of the American artist and researcher Madeline Gannon, from Atonaton studio, the robot is programed to spot the presence of spectators, play with them and get bored when its partner stands still.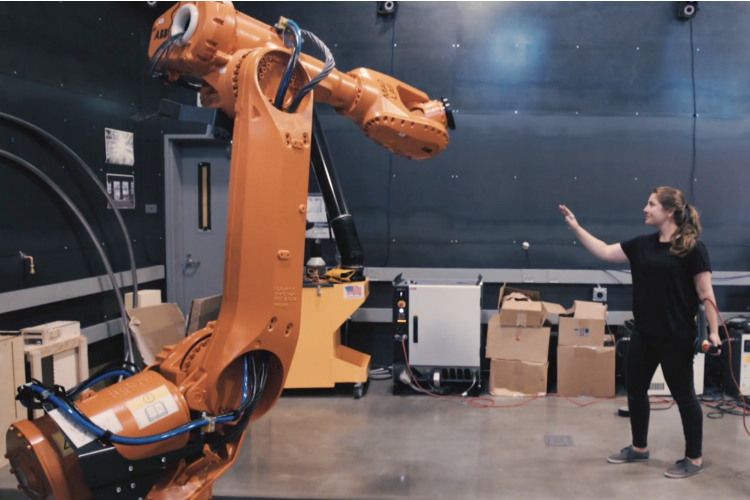 As an answer to Ma Ke, the Chinese stylist, the artwork Fibre Market by the Dutch designer Christien Meindertsma, explores a new generation of machines capable of recycling textiles according to their colors and fabric types. A first allowing to imagine a more lasting future for fashion.
Ultimate favorite of the exhibition: Vespers, by Neri Oxman, director of Mediated Matter, a design research group within the MIT Medialab. 3D printed masks, with staggering accuracy, reactivation by the designer of the funerary masks that permitted to safeguard the deceased's spirit in the Antiquity and protect his soul "in a kind of rebirth" says Mediated Matter. Oxman explores this tradition in the light of new technologies. The ability to print at the scale of nerve cells announces a future of biological objects to support, in order to feed on nutriments or balance our micro-organisms, for instance," predicts the artist.
"Fear and Love", until April 23, 2017, 12£ (13,50€), Design Museum, 224-238 Kensington High St, Kensington, London W8 6AG