/ Interview
Adam Savage launches Nation of Makers from the studio of his Tested website (screen capture). © DR
Stephanie Santoso: "Nation of Makers advocates for the movement"
The Nation of Makers organization was launched in 2016 by star maker Adam Savage to promote making for everyone. Interview with the group's cofounder Stephanie Santoso, Making advisor at the White House.
In November 2016, Adam Savage, who spent 13 years on the Mythbusters show concocting "don't try this at home" experiments for Discovery and BBC, announced his latest initiative, Nation of Makers, an organization to promote and defend the maker movement.
Adam Savage presents Nation of Makers:
Among the founding members are Harley K. Dubois, cofounder of the Burning Man festival, and Stephanie Santoso, the White House's very first Senior Advisor on Making, from 2014 to 2016. She who helped develop the government's Nation of Makers initiative answered our questions about the eponymous organization.
Great to see the launch of https://t.co/9Q1WyMV5CA, a community of over 300 maker-organizations across America #NationOfMakers pic.twitter.com/vIvRQvmdA3

— The White House OSTP (@whitehouseostp) November 16, 2016
What is the relationship with President Obama's Nation of Makers initiative?
Nation of Makers, an independent non-profit organization, takes the same name of President Obama's initiative as an homage to the efforts that the initiative was able to achieve in raising awareness of the maker community and the maker movement for innovation and problem-solving and convening a wide variety of organizations and institutions (i.e. schools, universities, museums, libraries, foundations, companies, makerspaces, hackerspaces, fablabs) to take steps to broaden access to the resources, spaces and programs to enable making in more communities across the country.
The mission of Nation of Makers is to support the full range of organizations that impact makers by encouraging connections, broadly sharing resources, facilitating funding opportunities, engaging in policy development, and advocating for the maker movement. Nation of Makers has received over 300 letters of support, and our initial seed supporters who have contributed funding include Cognizant, Google and Chevron.
Is this a way to continue President Obama's initiative in view of Donald Trump's transition into the White House?
The outgoing Obama administration and incoming Trump administrations are currently in the transition process; we will need to wait to see how things develop moving forward. However, the impacts of the maker movement, such as the democratization of resources, technologies and spaces for prototyping, design and digital fabrication are inherently bi-partisan/ politically neutral issues. One bi-partisan group who has been incredibly supportive of the maker movement is the Congressional Maker Caucus, formed in 2014 by both Democratic and Republican members of Congress, which has been supporting local makers in their districts in a variety of different ways and highlighting the importance of the maker movement on Capitol Hill. Their support will continue through the new administration.
Why is the term "fablabs" not mentioned in the presentation of the organization?
Fablabs are an important part of the maker community and the ecosystem that supports makers in local communities across the country and around the world. Nation of Makers has received letters of support from a number of fablabs, including Fab Lab Tulsa, North Carolina Central University Fab Lab and Fab Newport. Fab Lab D.C. was kind enough to allow us to host the first Board of Directors meeting in their space. Nation of Makers aims to serve three distinctive groups which work with makers or who want collaborate with or support makers: institutions, spaces and events. This includes fablabs, but also a diversity of other organizations who are involved in working with the maker community across a broad range of topics, from education and entrepreneurship to solving pressing real-world challenges and broadening manufacturing capabilities.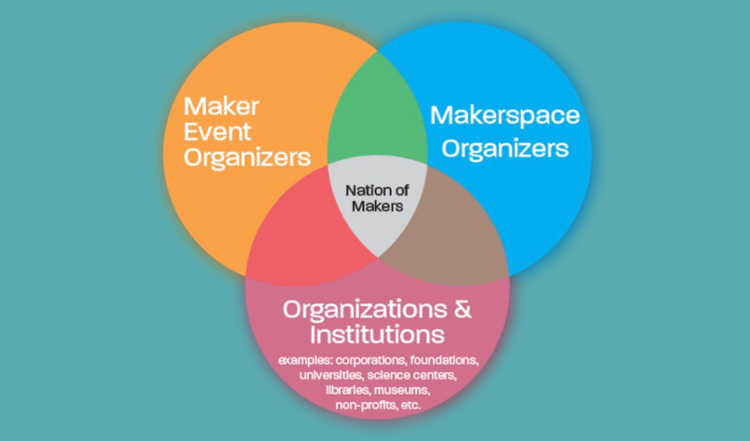 What will be the organization's first concrete actions?
We will gather the best practices about starting makerspaces and maker events to create a centralized resource library where these can be openly accessible. We will participate in critical policy development processes impacting the maker community at the federal, state or local level. This can also take shape as key stakeholders across different sectors are convened with the maker community to identify and collectively develop ways to address key needs. We will collaborate with funders to develop new grant opportunities and launch a program that aims to place makers with unique skills and experiences within organizations such as federal agencies, companies and research institutions to work on specific projects and inspire a culture of making within organizations. Finally, we will ensure that National Week of Making continues to serve as a platform for highlighting the creativity, innovation and ingenuity of the saker community.