/ Investigation
Visit San Francisco in Gulliver mode with a HTC Vive or an Oculus Rift headset. © Amber Garage
What's new with virtual reality headsets
Almost all have graduated from their prototype phase. Virtual reality headsets are now entering the "positioning war" phase, with augmented reality in ambush. Products in review.
The big names in VR have released their mainstream headsets. While sales figures of heavyweights HTC are Oculus have not been made public, we can still make a good guess—Raw Data is the first VR-only game to bring in more than 1 million dollars in one month, following its release in July. And 20% of HTC Vive owners bought it, claims the publisher of the $40 game. This would mean that around 140,000 Vives were sold. Oculus refuses to give out numbers, but the different versions in development reached some 175,000 units.
Ready for Christmas
This month of October will be full of announcements: the launch of Google Daydream, a platform that aims to improve the mobile VR experience, in a few weeks; the Oculus Connect conference on October 5-7, which should see the release of 3D controllers that were lacking in the Oculus Rift; and on October 13, delivery of the Sony Playstation VR headset. Not to mention Futuretown Totalmotion, a curious cross between virtual horse and virtual surfboard to unleash a full range of sensations, announced for 2017.
Presentation of Futuretown Totalmotion Platform:
In terms of augmented reality, if Google Glass is still in revision, Pokemon Go and its cheap mix of reality was the summer splash that we know. As for Microsoft, it prophetizes that computer holographics will rule the future.
VR forces in review.
HTC Vive: most expensive but most complete
Type: integrated screen
Environment: PC
Release: available for $799, accessories included
Features: two screens (1080 x 1200 per eye) and 110° field of vision..
Applications market: Steam, Viveport, Itch
The Vive is developed by Valve, owner of the Steam video game platform, and manufactured by HTC. Launched after the Oculus Rift, it innovated from the start with its Chaperone system to play standing up without bumping into things and its 3D controllers. While it doesn't offer the same exclusive features of the Oculus Rift, Steam offers some of its own, such as Google's Tilt Brush, 3D painting software considered to be the killer app of VR. HTC has just launched Viveport, its own dedicated VR application platform.
"City VR" (Amber Garage), a giant's view of San Francisco:
Oculus Rift CV1: great headset, so-so environment
Type: integrated screen
Environment: PC
Release: available for $599, accessories included
Features: two screens (1080 x 1200 per eye) and 110° field of vision. The headset includes folding earphones.
Applications market: Oculus Store, possible to use on Steam, Itch.
The CV1, mainstream version of the Oculus Rift, may have the best features, but the same can't be said for the entire package. Even liberating the player from the chair and the traditional controller comes out of an agreement with Microsoft.
But the Oculus Store offers quality experiences (Oculus has its own development studio), and should continue to do so, as most developers are aware of the power of Facebook (which acquired Oculus). Oculus will also offer 3D controllers and is working on a system to define the game space, largely inspired by the Vive.
"Minecraft" in VR, exclusively at the Oculus Store:
FOVE: promising but struggling
Type: integrated screen
Environment: PC
Release: pre-orders from November 2, 2016
Features: one screen (1280 x 1440) and a 100° field of vision
Applications market: TBD
Funded in just four days on Kickstarter in 2015, the Japanese headset Fove was expected to follow the fabulous success of the Oculus Rift. But the delivery (for backers) was delayed until autumn. The Fove is still the favorite among investors, who are betting on its eye-tracking technology. Not only does it offer enhanced gameplay, but it's a way of optimizing resources by narrowing the calculations for display to where the player is looking. The result is faster action and less mobile battery consumption. According to the project director, this technology could also be integrated elsewhere, "like Dolby".
A disabled child plays the piano using the Fove headset:
Playstation VR: and Sony popularized VR…
Type: integrated screen
Environment: console (Playstation 4)
Release: available for $399, without accessories
Features: two screens (1080 x 960 per eye) and a 100° field of vision.
Applications market: Playstation 4
The Sony Morpheus headset was renamed Playstation VR, to mark Sony's dedication to virtual reality. Less expensive than its PC competitors, it's closer to the DK2, the developer's version of the Oculus Rift. However, the screen display refresh rate (120Hz) is the best on the market. Extras include a (necessary) camera and (optional) 3D controllers—not counting the console. Sony's VR library is not as rich as that of Vive or the Oculus Rift, but Sony is no doubt waiting for the first sales figures. Hint: the headset beat the record for fastest sale on Gamestop in the U.S.
Playstation VR, Japanese commercial:
OSVR: powerful headset, weak ecosystem
Type: integrated screen
Environment: PC
Release: two versions, the HDK1 for $299.99 and the HDK2 for $399.99 (available on OSVR's website)
Features: two screens (1080 x 1200 per eye) and a 110° field of vision.
Applications market: Steam, Itch
Open Source Virtual Reality (OSVR) brings together big names in gaming (Unity, Unreal, Razer, Leap Motion, Ubisoft, etc). If Razer, its manufacturer, offers a new version with decent performance. The other OSVR members, especially software, are a bit too apathetic… A plugin allows you to play titles on Steam, especially those developed in OpenVR, the universal development kit. The headset is compatible with High Fidelity, the open source virtual world from the creator of Second Life.
Samsung Gear VR: best mobile software library
Type: box without screen
Environment: mobile (Samsung)
Release: available for $99.99
Features: depending on smartphone (Galaxy Note 7, S7, Note 5, S6), they display minimum 1280 x 1440 per eye and a 101° field of vision.
Applications market: Oculus Store
Gear VR, the result of a collaboration between Oculus and Samsung, benefits from the Korean company's smartphone performance (especially screens that are superior in pixels to the Oculus CV1, even if they refresh less often). As the only mobile alternative to Google's Android, the Gear has exclusive access to the Oculus Store, which includes the VR version of Minecraft, for example. Microsoft (which bought Minecraft) has made it compatible with an Xbox controller. Samsung, Facebook, Microsoft, virtual reality creates unprecedented associations. Next up, challenge Sony on console?
"Notes on Blindness", experience based on author John Hull's text, Samsung Gear VR version:
Cardboard: the cheap headset that invests in the ecosystem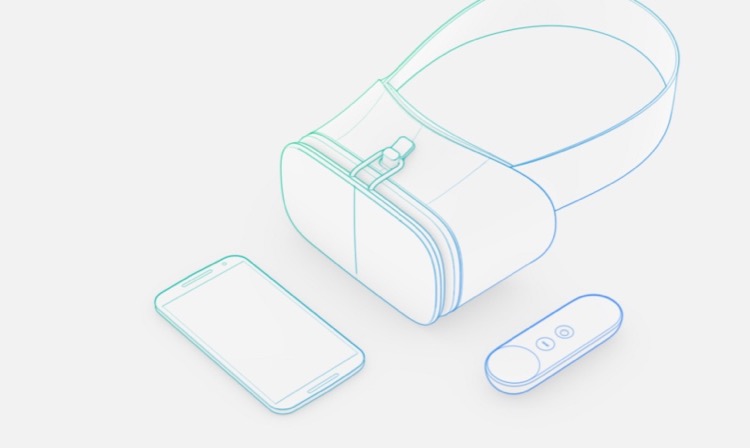 Type: box without screen
Environment: mobile (Android, iOS)
Release: available for $15 to $40 from Google
Features: box equipped with lenses
Applications market: Google Play and App Store (iOS).
In January 2016, one and a half years after it released its headset made from folded cardboard, Google estimated that there were 5 million Cardboards on the market. If for a period Google entrusted distribution to third parties, it has since taken back control, even offering branded variants ("Works with Cardboard"), such as Homido's mini VR glasses.
The online giant pursues its deployment in the world of VR with Daydream, a VR development platform for Android, iOS and Unity, which promises a processing time under 18 milliseconds (faster than PC headsets). Finally, Google will offer an unbranded headset and controller for manufacturers of Android smartphones.
#google announces Daydream View, coming in November for $79 https://t.co/mNXeEgJKrT pic.twitter.com/FNm1RX6iF1

— Android Authority (@AndroidAuth) October 4, 2016
Dlodlo V1: style made in China, not quite there
Type: screens in glasses
Environment: PC or a portable computer box (the D1)
Release: April 2017 according to Kickstarter campaign ($559 for glasses, $888 with the D1)
Features: one screen (1200 x 1200 per eye) and a 105° field of vision.
Applications market: TBD
Dlodlo V1 has not yet been released on the market. These lightweight VR glasses claim sharper definition than the HTC Vive. They can be connected to a regular or pocket PC (but not a smartphone), which supplies battery and calculating power. Dlodlo has no outside sensor, an advantage of PC headsets compared to mobiles, with an algorithm that predicts the wearer's moves. However, Dlodlo V1 demonstrates another option for a mobile device, which could be a controller, connected to a headset-screen (see Google patent).
Augmented reality in ambush…
Thanks to Oculus Rift, the rising popularity of VR in the past few years has disrupted Silicon Valley's plans, which had expected augmented reality (AR) to take off. Some devices, like Google Glass, anticipated their release before being ready, either technically or for a mass market.
The developers of Castar glasses, competitors of Google Glass, announced in December 2015 that they reimburse one million dollars on Kickstarter. The same went for Atheer glasses on Indiegogo, which ignored daily usage in order to focus on companies, the only ones that could afford this type of device.
Microsoft follows suit with Hololens, its AR headset-computer, however promising, available as a prototype… for the modest sum of $3,000.
On its side, Google—in response to Oculus and yes, Facebook—which in 2014 invested in the mysterious start-up Magic Leap and makes tantalizing videos, has not released so much as the shadow of a prototype. Like Cardboard for VR, Google is also counting on the smartphone and its Google Tango technology, packed with sensors, to invite augmented reality into our daily lives.
Recording holo-videos for Microsoft Hololens:
Finally, another variation on the same theme, Intel's Alloy headset, promised for 2017, will have half a dozen Realsense sensors with the mission to integrate the real environment into VR. We're still wondering where we are… And at what price…