/ Investigation
Youfactory stand at Mini Maker Faire in Lyon, May 28-29, at Pôle Pixel. © Wolfgang Spindler Youfactory
Lyon, the city where the labs color outside the lines
Mini Maker Faire in May, Open Bidouille Camp in September… The Lyon metropolis celebrates its makers. Makery explored the labs of France's third-largest city, from the "historical" elders born in the suburbs to the fledgling new maker entrepreneurs.
Lyon, special report
Fablab, hackerspace, "ecohacklab", digital arts lab… The lab ecosystem of France's third-largest city (pop. 500,000) also includes mobile studios (such as Fhacktory and Les Bricodeurs), coworking spaces (Le Gîte numérique, L'atelier des médias, La Cordée) and schools (such as Simplon Lyon). They are structured around the Open Ara network, which includes some 40 members, makerspaces and fablabs. Makery paints a portrait of the metropolis, from the historical pioneers to the budding startuppers…
Fabrique d'Objets Libres (FOL), a history of resourcefulness
Lyon's first fablab is four years old and already has a full life. Created in March 2012 by designer Samuel Javelle, in 2014 FOL moved into the municipal youth center in Bron, where it has all the machines it needs, from laser-cutter to 3D printer.
A pioneer player in the movement, the fablab operates without government grants, instead raising funds by developing its activities: workshops for building 3D printers for its users, hackathons for companies such as La Poste and a mobile fablab, Fabrique Mobile, to set up temporary fablabs.
"We try to juggle what we do in-house, which has to be low-cost because it's in our DNA, and being professional, in order to pay our employees and suppliers properly," says FOL director Pierre Aumont.
La Fabrique d'objets libres, MJC Louis Aragon, allée Gaillard Romanet, Bron, open Wednesdays 5pm-9pm and Saturdays 10am-6pm
Urbanlab, from countryside to cityscape
Since 2004, well before "lab" became a marketing buzzword, Christophe Monnet has been experimenting with Museolab, the laboratory for ideas and R&D within Erasme, Lyon's digital innovation center. At the time, the lab was situated in Monts du Lyonnais, aiming to bring museums into the digital age. Twelve years later, they are in the heart of Pôle Pixel, which federates audio and visual creative industries in Villeurbanne. They are now called Urbanlab, operating under the slogan "Play the city".
And this is exactly what students in interactive design came to do over three weeks in March—"editorialize public space" and make it more fun. Five prototypes were finalized and await their transfer, under an open source license, to start-ups that want to develop them.
Urbanlab, Studio Lumière 2, Pôle Pixel, 24 rue Emile Decorps, Villeurbanne, open on appointment "to professionals and innovators"
LOL, a hackerspace at the end of the hallway
Hosted at Altnet, a space for "emerging creativity around digital culture, reappropriating technology, social alternatives" according to its artist founder Derrick Giscloux, LOL looks very functional—the place is dark and the electronics are vintage. The team (about 15 members attend the meetings and more than 200 subscribe to the mailing list) meets every Tuesday night to "talk and share knowledge". Their projects range from a 3D printer kit to the LOL box (a radio from the 1950s converted into a kind of musical Pirate box using a Sheevaplug), a device to scan subway tickets… LOL also refurbishes old computers, reconfigures them under Linux and gives them to those who need them, such as alternative spaces.
Laboratoire Ouvert Lyonnais (LOL), 7 place Louis Chazette, Lyon, meeting every Tuesday night at 7:30pm.
Lab.Lab, from wasteland to lab
Lab.Lab is the latest addition to AADN, a digital art and culture collective established in 2008 in the squat of Friche RVI in Lyon's 3rd district, closed in 2011. Currently nomadic, the collective works in partnership with a bunch of organizations, from schools in the city to the planetarium in Vaulx-en-Velin, to give introductory and DIY workshops—for creating an interactive fanzine using Makey Makey, a micro-mapped story or a 3D self-portrait. Lab.Lab (laboratory's laboratory, a playful poke at the overused term "lab") is dedicated to the art community. Since May 2014, at Pôle Pixel in Villeurbanne, it has been hosting artists in residence. The team also organizes workshops that are open to the public, such as La Ferme à Spiruline, led by the artist duo Art Act, to learn how to make your own green algae.
Lab.Lab, Pôle Pixel, 36 rue Emile Decorps, Villeurbanne, open to the public for some events
La Paillasse Saône, the pre-proto lab
Long live La Paillasse! Within the Lyon landscape, the little newbies, just arrived in April 2015, are unanimous. Needless to say, founder Rieul Techer worked hard to build up the network ahead of time: "We operated like a start-up, did a market study, tapped into the needs on the field." While the lab is branded La Paillasse, akin to the Parisian pioneer of biohacklabs, the two entities are independent: "We share the same philosophy, the goal is to facilitate collaborations," says Techer, an energy and environmental engineer.
The city gave him a house nicknamed La Myne, on the border between the campus of the National Institute for Applied Sciences (INSA) and a residential neighborhood in the north of Lyon, and charged him a monthly rent of 200€. A few bus stops further is the National Center for Scientific Research (CNRS), where researchers are working on environmental biology, just like the group of joyful hackers. Among the projects in store at La Paillasse Saône are recycling household waste into biogas, low-tech mosquito traps, aquaponic and hydroponic modules, an incubating Repair Café for Lyon…
La Paillasse Saône, 1 rue du Luizet, Villeurbanne, open depending on events (check the schedule)
I.D.E.A program, a factory for maker entrepreneurs
I.D.E.A, the fruit of a collaboration between Ecole Centrale de Lyon and EM Lyon Business School, is a hybrid program based on the "design thinking" method developed at Stanford University in California, which consists of turning students into "innovation-based project managers", according to fabmanager Lydie Passot. To initiate the dialogue, the students have access to a fablab: 200 m2 for a workspace well-stocked in 3D printers, laser cutters and folding machines.
This is where Etienne Moreau and Mathieu Geiler, the MakerTour globetrotters, originally came from. It's also where prototypes are developed that will (perhaps) become companies, such as Cy-clope, a device that recycles cigarette butts at the entrance of the building.
Fablab I.D.E.A., EM Lyon Business School, 23 avenue Guy de Collongue, 69130 Ecully, open to students
Commons Lab, where fine arts meet 3D
For the past three years at the Ecole nationale supérieure des beaux-arts (ENSBA) in Lyon, lithography and sculpture have been mingling with 3D printers and Arduino boards at Commons Lab, a space for digital experiments reserved for students. "You just mix 3D with plaster," suggests Nicolas Frespech, artist professor of digital humanities at ENSBA, who in his workshops talks about third spaces, collaborative and open culture. His words are not lost, judging by the Récupérathèque, a library of reclaimed materials created by the students in 2015. No money is accepted here—payment is made in seeds, the school's hyperlocal currency. The students also wrote a manual to spread the model.
Les Subsistances, a space for live performing arts that shares the same address with ENSBA, opened a temporary fablab to the public on April 25-30. Soon, a permanent lab in collaboration with the art school should see the light: Labo NRV (Digital, Reality, Virtuality), an artlab dedicated to "digital creators".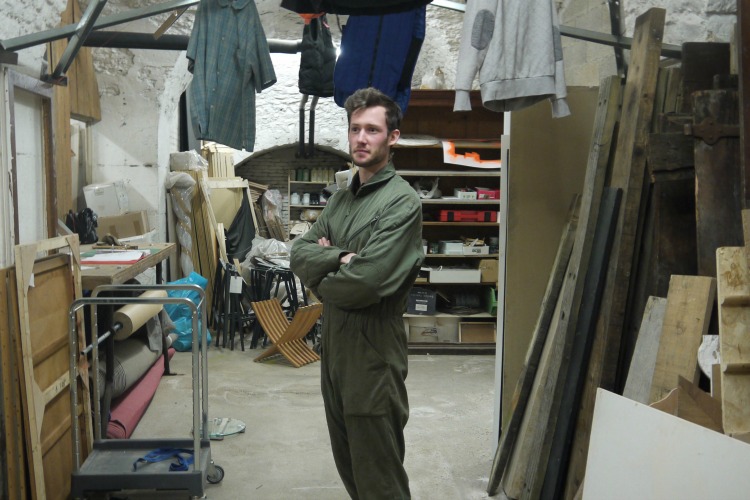 Commons Lab, 8 bis Quai Saint-Vincent, 69001 Lyon, open to students of ENSBA Lyon
Youfactory, collaborative factory
Open a little over a year ago within Pôle Pixel in Villeurbanne, this factory for digital and collaborative fabrication in Lyon was launched by Isabelle Laurent, visual artist, and her son Jean Nelson, age 27. The concept is to give professionals access to quality machines in order to build their prototypes.
With its two fabmanagers, Youfactory is a company with matching prices: 50€ per day, 200€ per month. "It's the price of independence," says Jean Nelson. Originally from the U.S., he discovered fablabs in their birthplace and believes that his factory has its place in the movement: "We're open because there is no screening at the entrance, and we promote the virtues of work sharing, relationships of solidarity, collaboration, mutual aid…"
Youfactory, Pôle Pixel, 50 rue Antoine Primat, 69100 Villeurbanne, open Monday-Friday 10am-6pm, on appointment
Tubà, urban and citizen lab
Situated on the Part-Dieu train station plaza since December 2014, Tubà (Tube "à expérimentations urbaines" for urban experiments) intends to involve citizens and users in creating urban projects, from the smart counter to a platform to rekindle neighborly ties. Is this space, where start-ups, small business and big corporations (GDRF, Bouygues Construction…) meet and mingle, indeed a lab?
"We're a lab in the sense that we are truly in a phase of iteration and co-building," answers Benoît Loeillet, in charge of "digital innovation". "We're not a fablab, we're not just a living lab, even if we borrow a lot of the founding principles."
Tubà, 1 Place Charles Béraudier, 69003 Lyon, open Monday-Friday 10am-6pm