/ News
Close-up of educational box explaining how the Fabbot DIY robot works. © Cherise Fong
FabLearn Asia: the yin and yang of learning and teaching
The very first FabLearn Asia took place on December 12-13 in Yokohama. It was inspired by the original FabLearn conference organized since 2011 by Stanford University in California, to talk about the future of education in the age of digital fabrication.
Yokohama, special report (words and photos)
FabLearn Asia 2015, organized by the Social Fabrication Lab at Keio University and hosted by Youka Watanabe, director of FabLab Kamakura, opened on December 12 under the auspice of yin and yang at the Yokohama Port Commemoration Center, a red and white brick clock tower built in 1917. This conference on the future of education and digital fabrication occupied the historical venue with the worldly grace of a social gathering, infused with the youthful serendipity of summer camp.
Saturday morning, a certain academic atmosphere dominated the amphitheatre. Speakers evoked not only STEM (science, technology, engineering, mathematics) education, but individual empowerment through the holistic integration of learning by doing and appropriating tools, both digital and analog.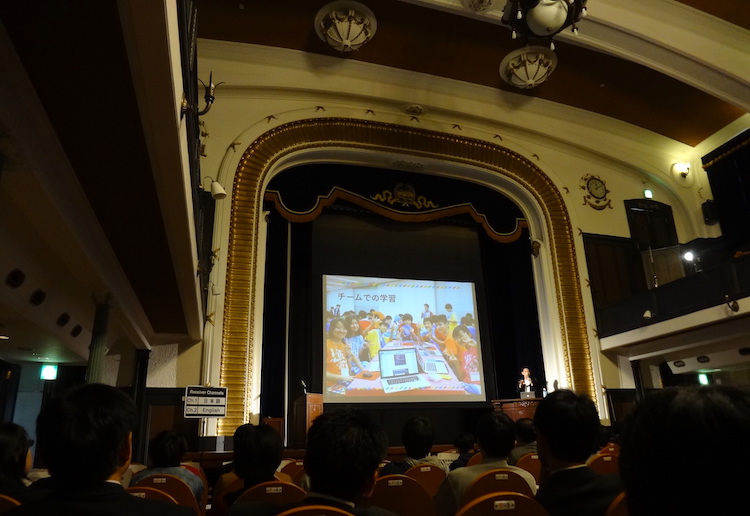 Paulo Blikstein, researcher at Stanford University, detailed his efforts to bridge the "pedagogy divide" by implementing his FabLab@School project in Brazil, Mexico and Thailand. For him, "the average student is not a hacker": children need a safe and structured space in which to discover and develop at school.
Yuta Komori talked about how, since 2011, his Life is Tech project integrates computer programming as a tool to learn everything else, in middle and high schools across Japan. Today, some 13,000 students are actively involved—40 % girls and 80 % beginners—evolving from discovery ("switch point") to inspiration ("jump point") to autonomy ("self-propelled"). Their slogan: "Why don't you change the world?", where the world is for each one to define her own.
Designer and art director Managu Tago evoked the results of a study indicating the percentages of people who are unwilling to start their own business: 23 % in the U.S., 40 % in France and 77 % in Japan. Most revealingly, only 5 % of Japanese companies are start-ups. Hence his EDGE initiative (Enhancing Development of Global Entrepreneurs).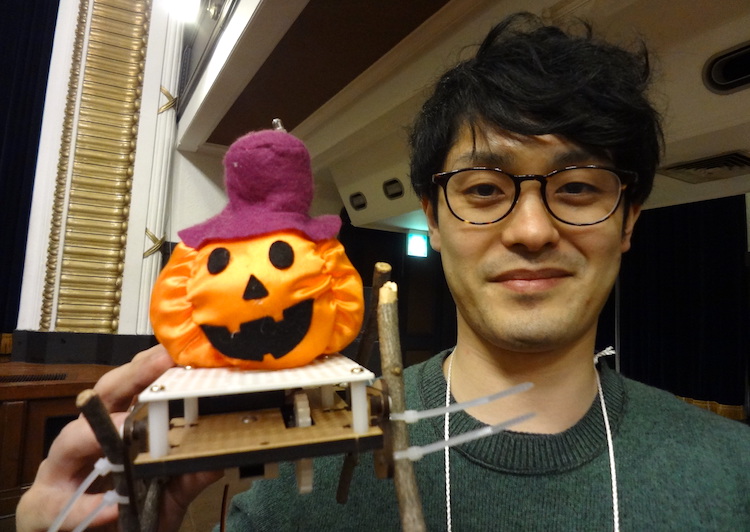 The afternoon was reserved for workshops, which focused on discovery, accessibility and autonomy in regard to digital fabrication and tools: Fabbot and Fab Walker (to build your own robot from scratch); making your own circuit board (via CNC) or telling your own LED story (via Arduino); beginning 3D modeling (via Autodesk's Fusion 360) or 2D design (for laser cutter); drawing your own circuit (AgIC); discovering Scratch and Makey Makey; understanding elementary prototyping with Mesh (more later); sharing your project in open source with Fabble. While there were few children in the rooms, the adults (mostly involved in education) were just as enthusiastic about the practical and collaborative approaches.
At the end of the day, Hiroya Tanaka, founder of the Social Fabrication Lab, emphasized open and overlapping spaces and concepts, symbolized by the yin and yang of practical life: Internet and reality, efficiency and creation, high-tech and low-tech, capitalism and the sharing economy…
But tools are only tools, he reminds us: if fab 1.0 is about making something original with existing machines, fab 2.0 is about making something using original machines. For example, his lab's homemade 3D printers that produce objects that are architectural, medical, edible… And his words were not lost on the Fab dinner party, which served rice from molds in the shape of Mont Fuji!
Follow the next FabLearn Europe in the UK on June 19-20, 2016