/ News
Staalplaat Soundsystem's symphony for burners and pipelines. © Ewen Chardronnet
Collisions of TodaysArt at The Hague
This year's TodaysArt festival, which showcases the latest trends in contemporary art, took over The Pier, overlooking the seaside of the Dutch capital. Makery went over to see how DIY and hacking are infusing current art practices.
The Hague, special report
The 11th edition of the Dutch festival decided to pay tribute to a utopic project that was supposed to be realized in 1965 on Scheveningen Pier. The "ZERO on Sea" project, by the ZERO avant-garde art group founded by Heinz Mack and Otto Piene, ambitioned to reappropriate The Pier, like an ocean liner jutting out into the North Sea, and to install artworks that sublimated the building, the sound of the ocean, black painting in the water, inflatables, pyrotechnics, etc. ZERO's unique project at the time summoned the big names in contemporary art (Lucio Fontana, Yves Kein, Armand, Jesús Rafael Soto, Jiro Yoshihara, Dutch group NUL…).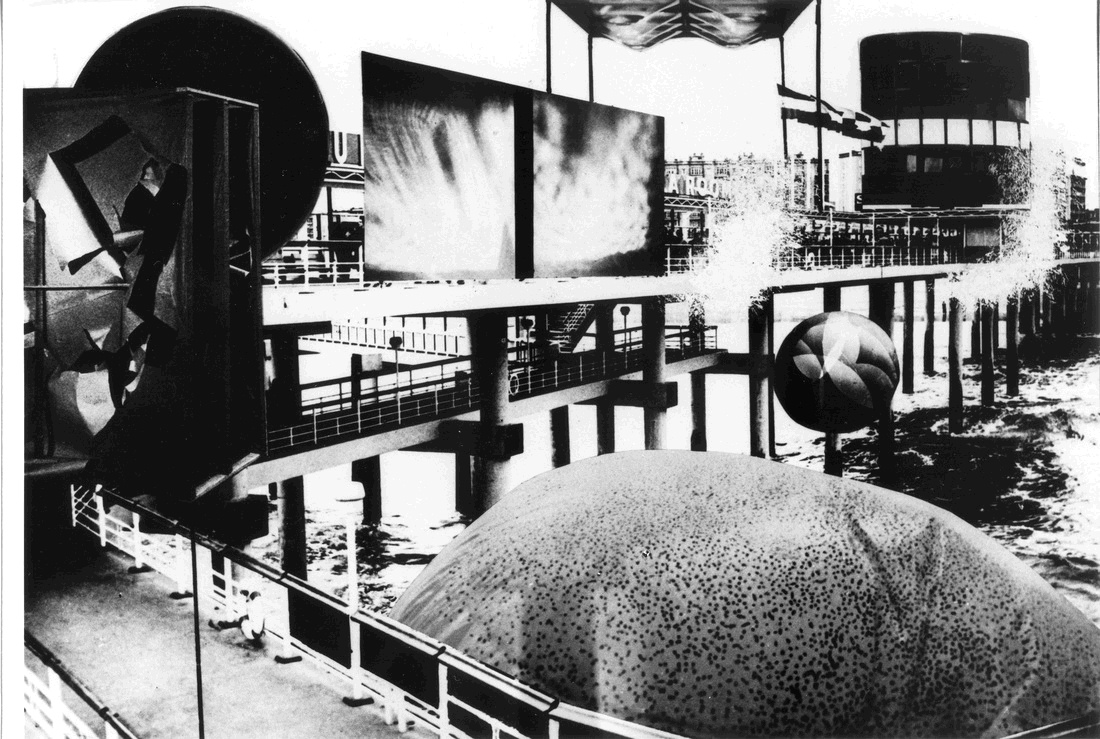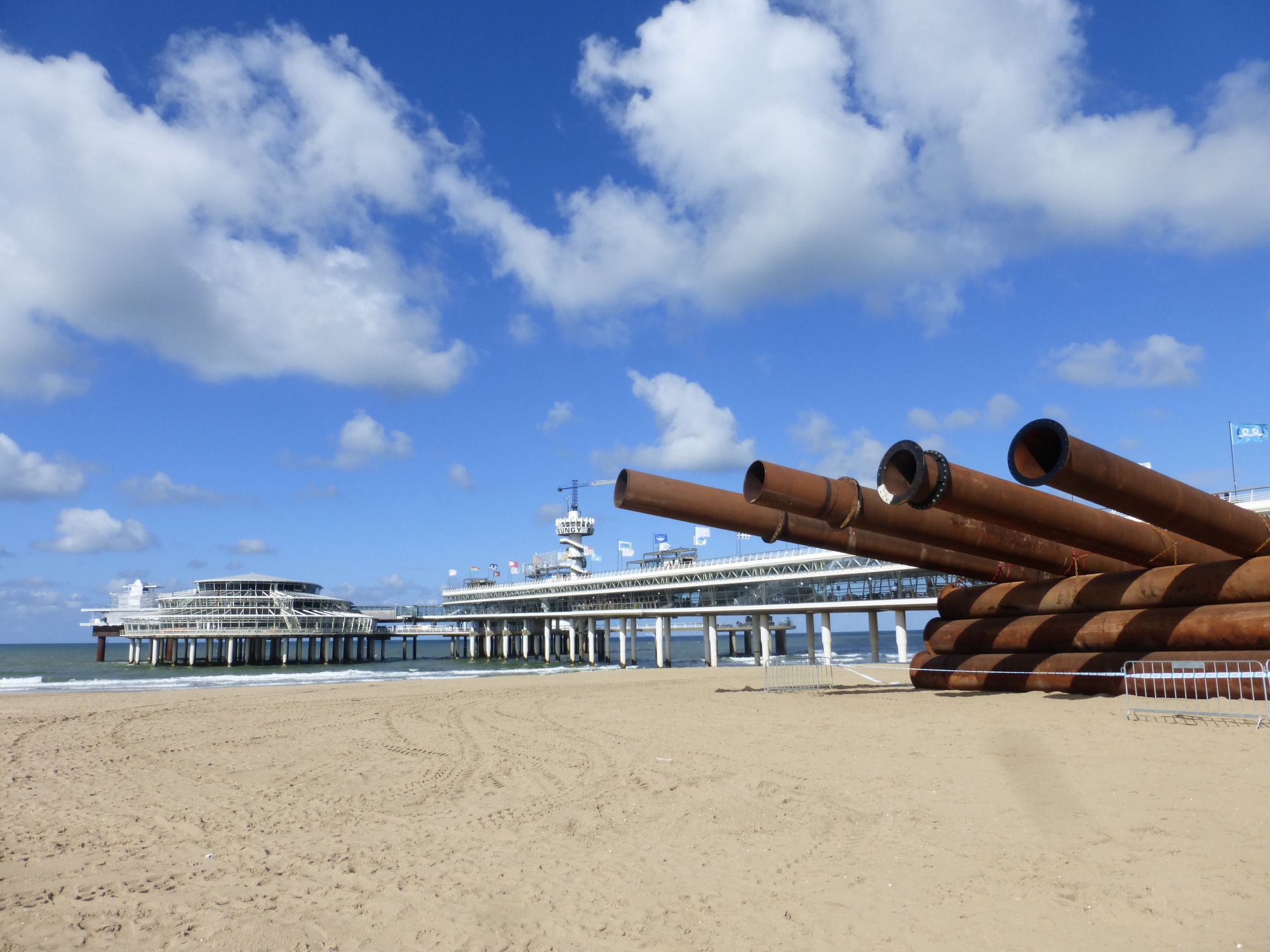 TodaysArt on Sea
The original project could not be realized, due to excessive proportions and inclement weather conditions. But 50 years later, in partnership with Stedelijk Museum, which is currently showing a ZERO retrospective, TodaysArt intends to revive the utopic ideas of "ZERO on Sea". This conjunction of events was particularly favorable, as The Pier, after numerous threats of complete demolition owing to its decay and previously aborted or inappropriate projects, finally found a new owner and a new renovation project. So to inaugurate The Pier's resurrection, TodaysArt commissioned a number of artists whose work responded in part to the concerns of "ZERO on Pier".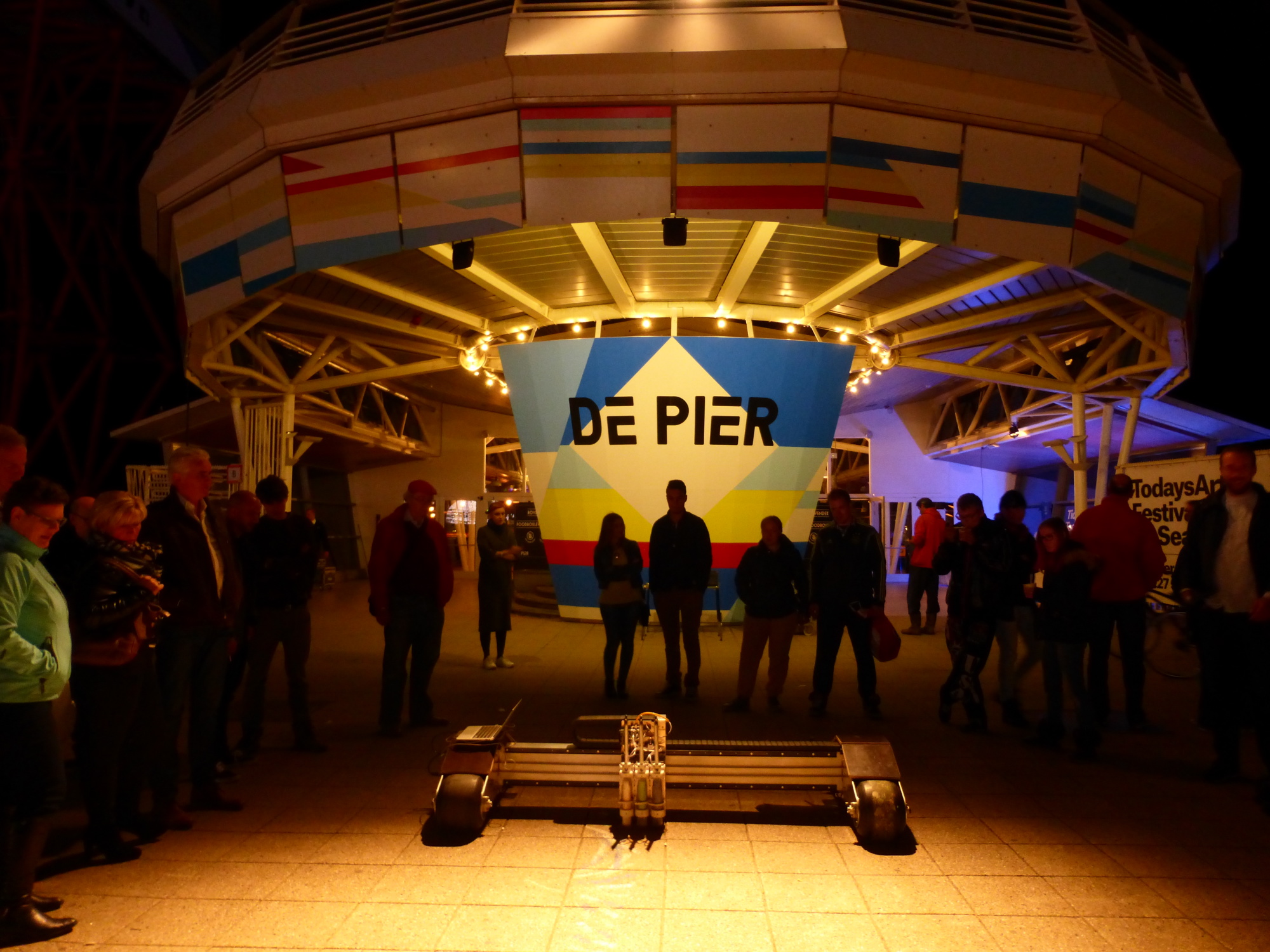 From September 24-27, TodaysArt hosted a joyful festival that inhabited the beach and every nook and cranny of The Pier. It's difficult to mention everything that was going on, as there were so many, often simultaneous, artworks and performances. Temporary gallery spaces exhibited delicate and sensitive pieces, while pyrotechnic spectacles were staged outside. Another space was dedicated to 3D VR works, with several Oculus Rift stations.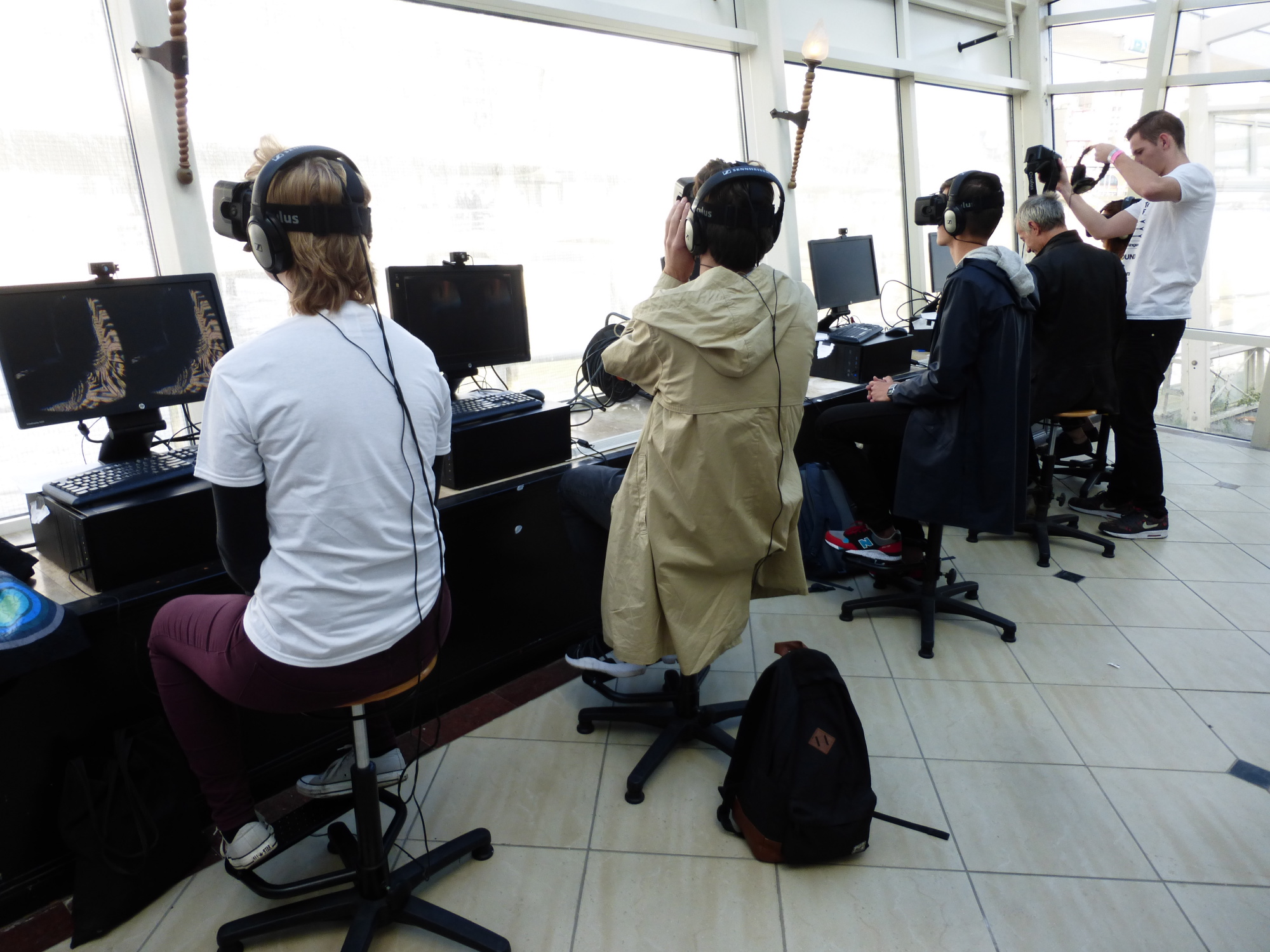 The big show around The Pier animated the Hague's popular beach over a sunny weekend. On one of the platforms, artists Mike Rijnierse, Floris van Bergeijk, Thomas Koopmans and Arjan van Drunen collaborated to simulate a rocket launch without the rocket, using only sound (radio communications, countdown) and pyrotechnics (smoke, explosions).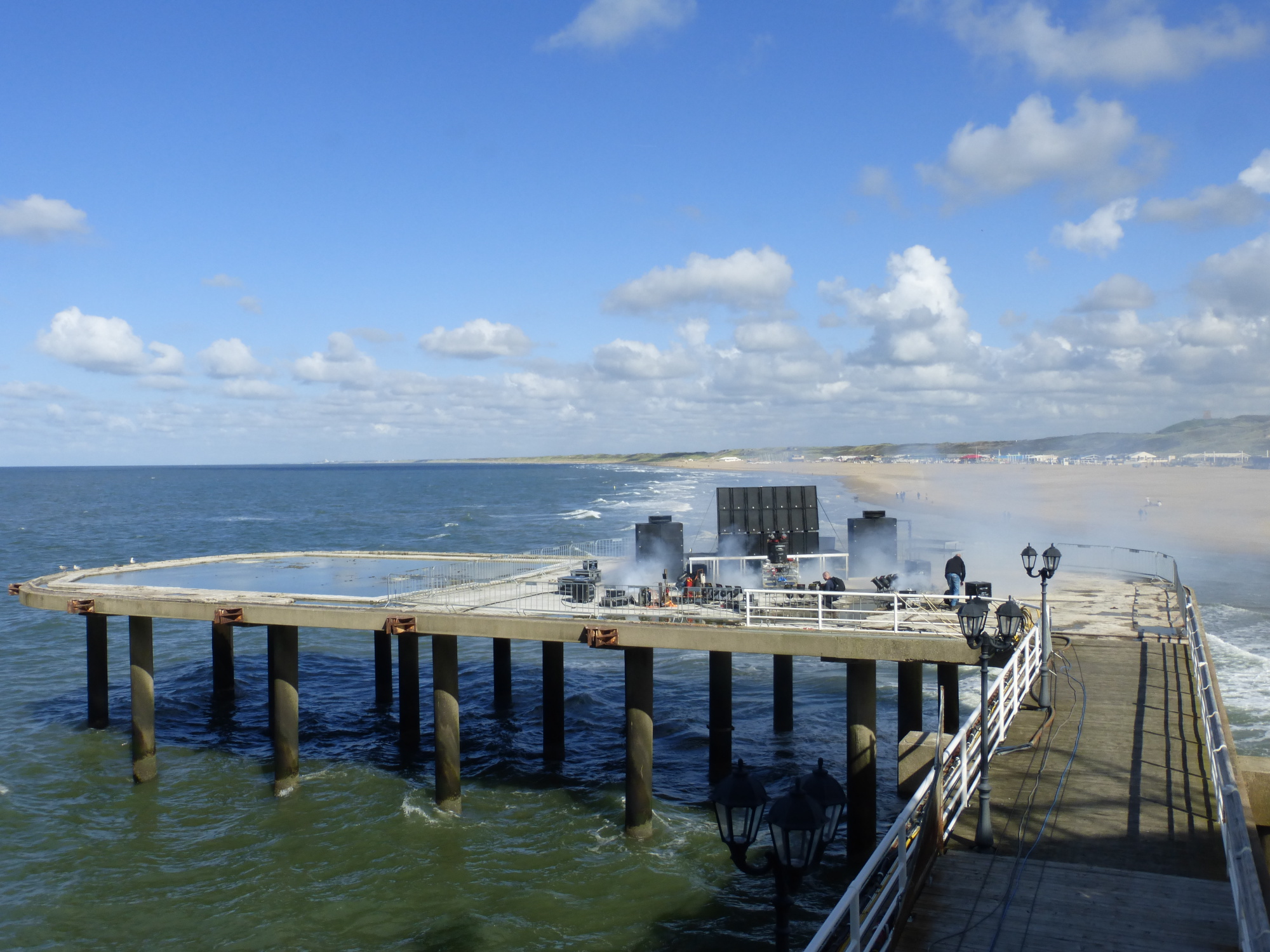 Down on the beach, Staalplaat Soundsystem presented "Zeero", a spectacular performance consisting of four metal tubes, measuring 24 meters long and 1.2 meters in diameter, into which they aimed the flames of hot air balloon burners, generating an impressive rumble, the organ of the Dutch industry's furnaces of hell.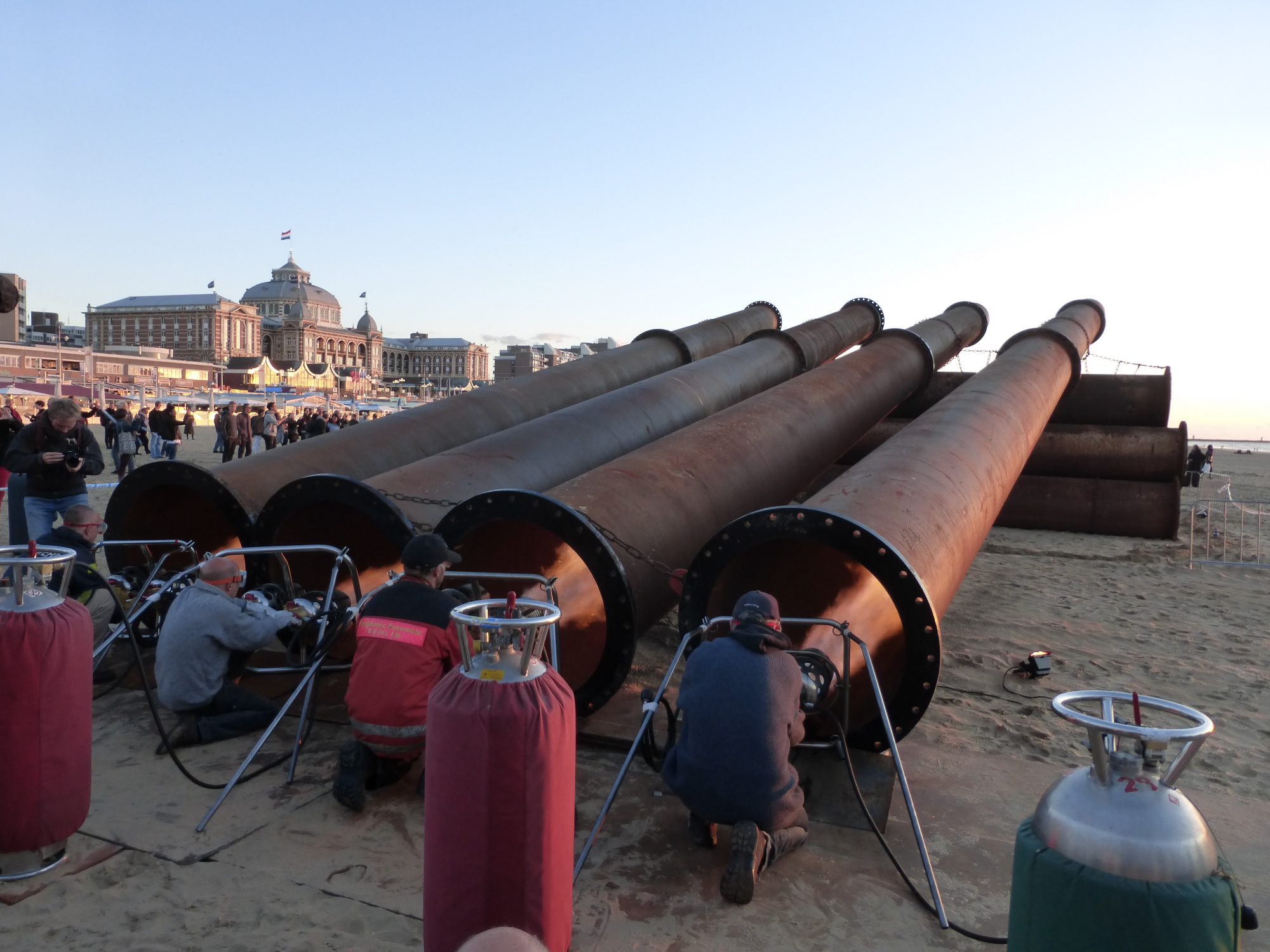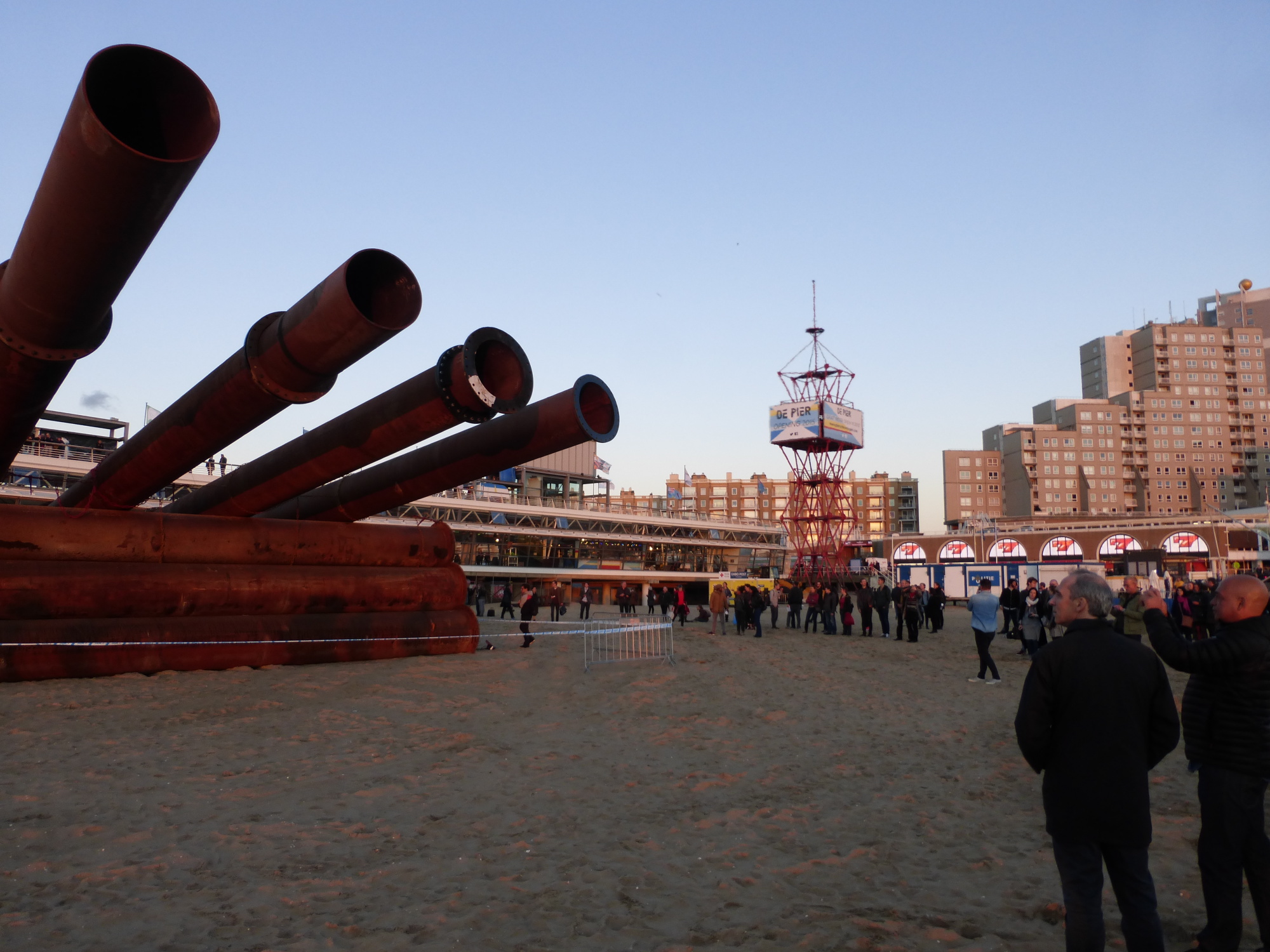 Further away, and more discreetly, Helen Evans of the Paris collective HeHe, painted part of the beach with her own homemade fluorescent paint—a top secret mixture that is no less biodegradable !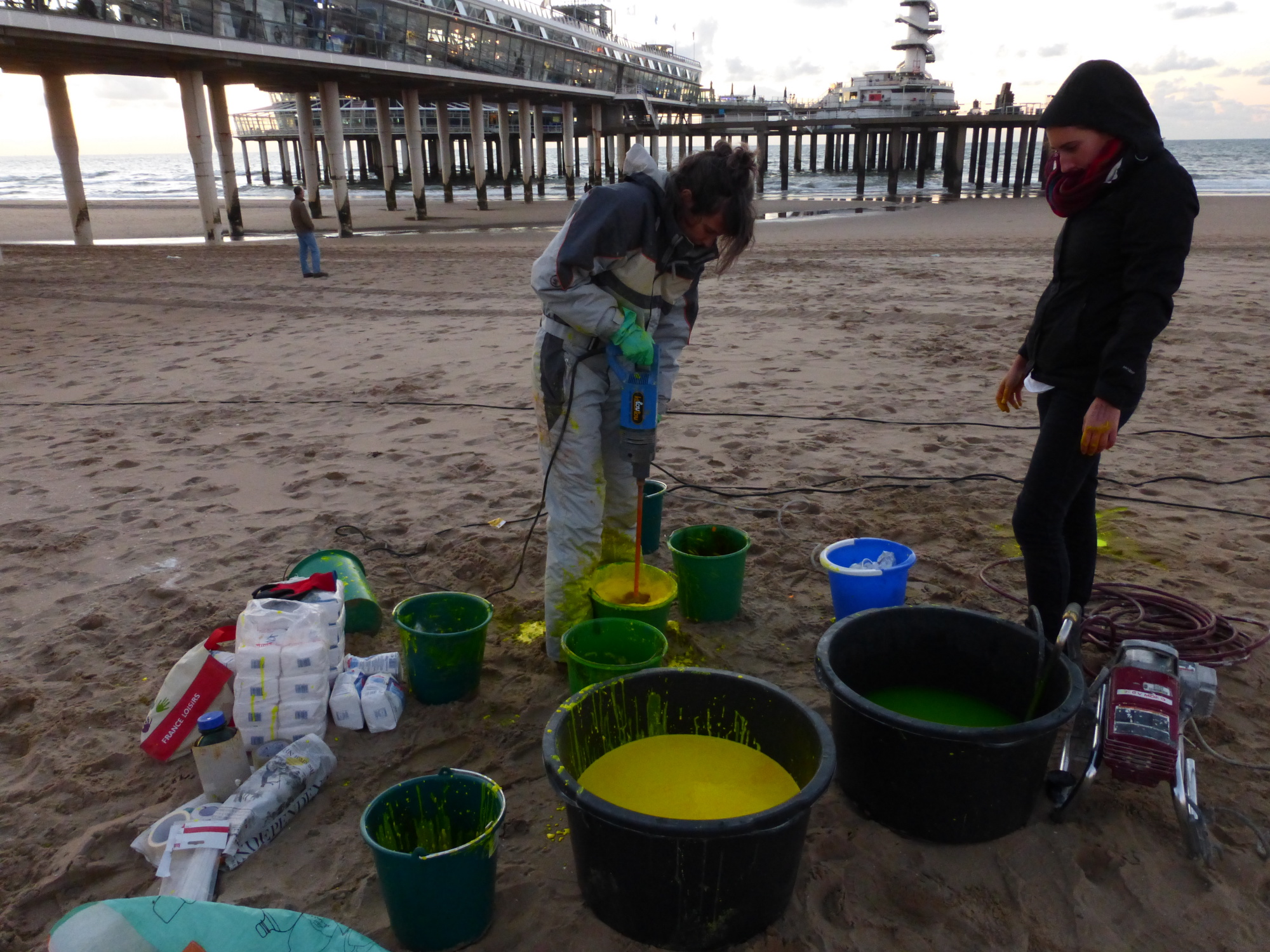 Art meets science
The Synergetica Lab in Amsterdam, an art-science lab very focused on fundamental science and expert when it comes to experimenting with lasers, was well represented. Vladimir Grafov, engineer and laser artist, lit up the crests of waves, to the delight of LED surfers from Surf Lab Scheveningen.
Artists Dmitry Gelfand and Evelina Domnitch presented two works to be viewed in total darkness inside the gallery in The Pier's main tower. The first, Photonic Wind (2013), showed diamond powder levitating under the influence of a laser inside a vacuum. The second, Implosion Chamber (2014), showed a liquid chamber where high-frequency soundwaves and associated dispersion phenomena caused air bubbles to implode.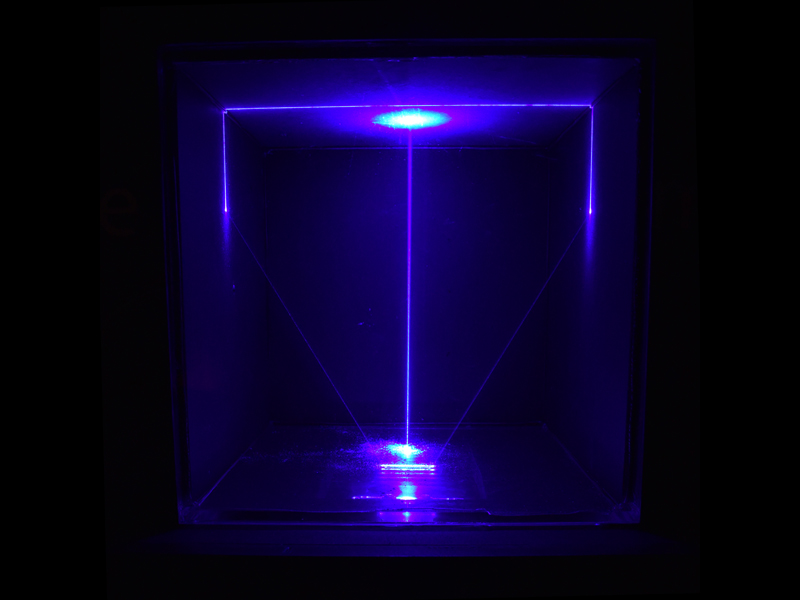 Implosion Chamber, Synergetica Lab :
The Synergetica Lab artists also co-hosted the "Human Lunar Base" workshop organized by Bernard Foing of ESTEC, the space technology research center of the European Space Agency (ESA) located in Noordwijk not far from The Hague. Bernard Foing, astrophysicist, director of ESA's international lunar exploration group, actively led a workshop attended by art and science students from the Amsterdam Royal Academy of Art, designers, architects, biologists and researchers in human sciences.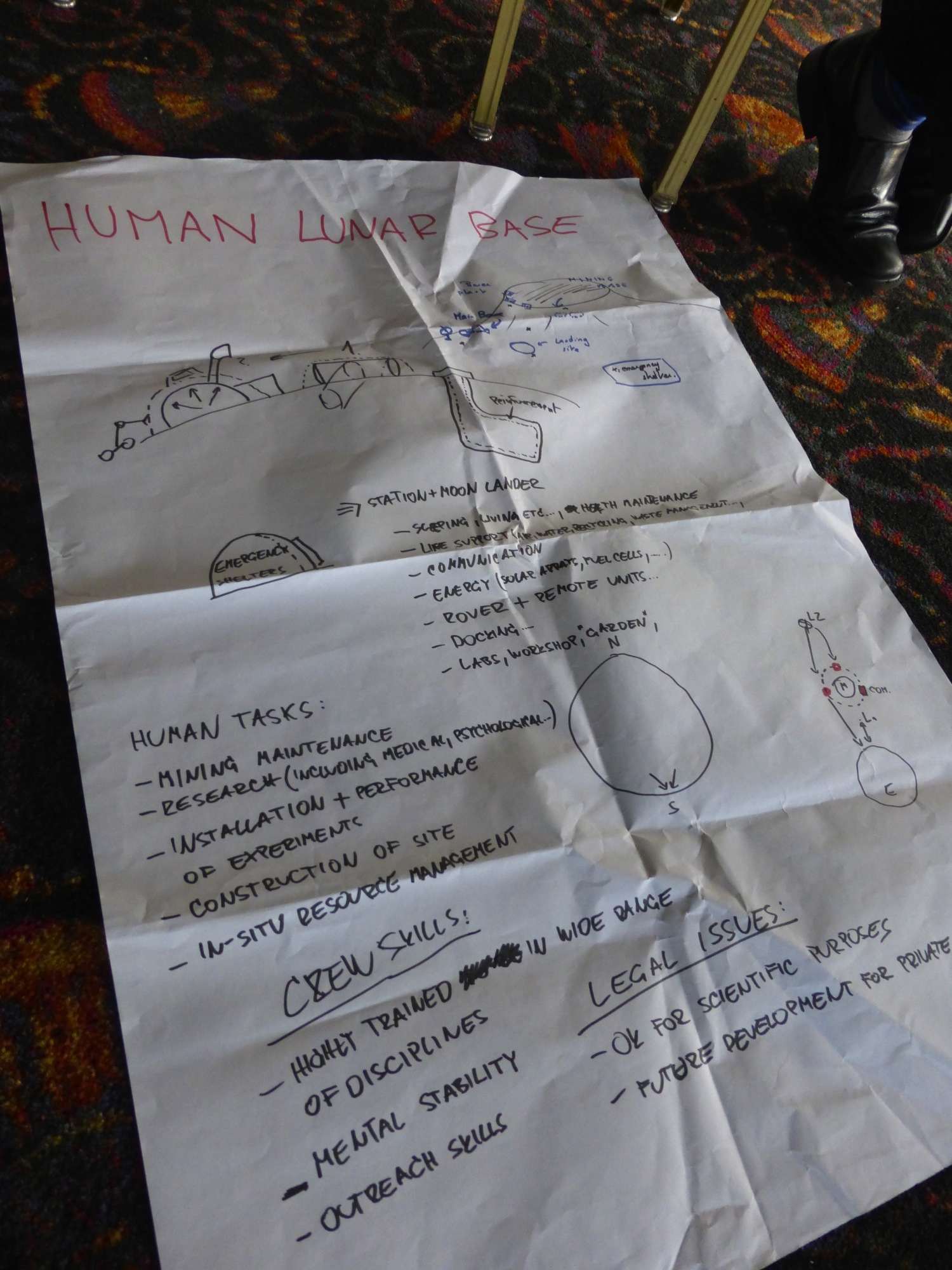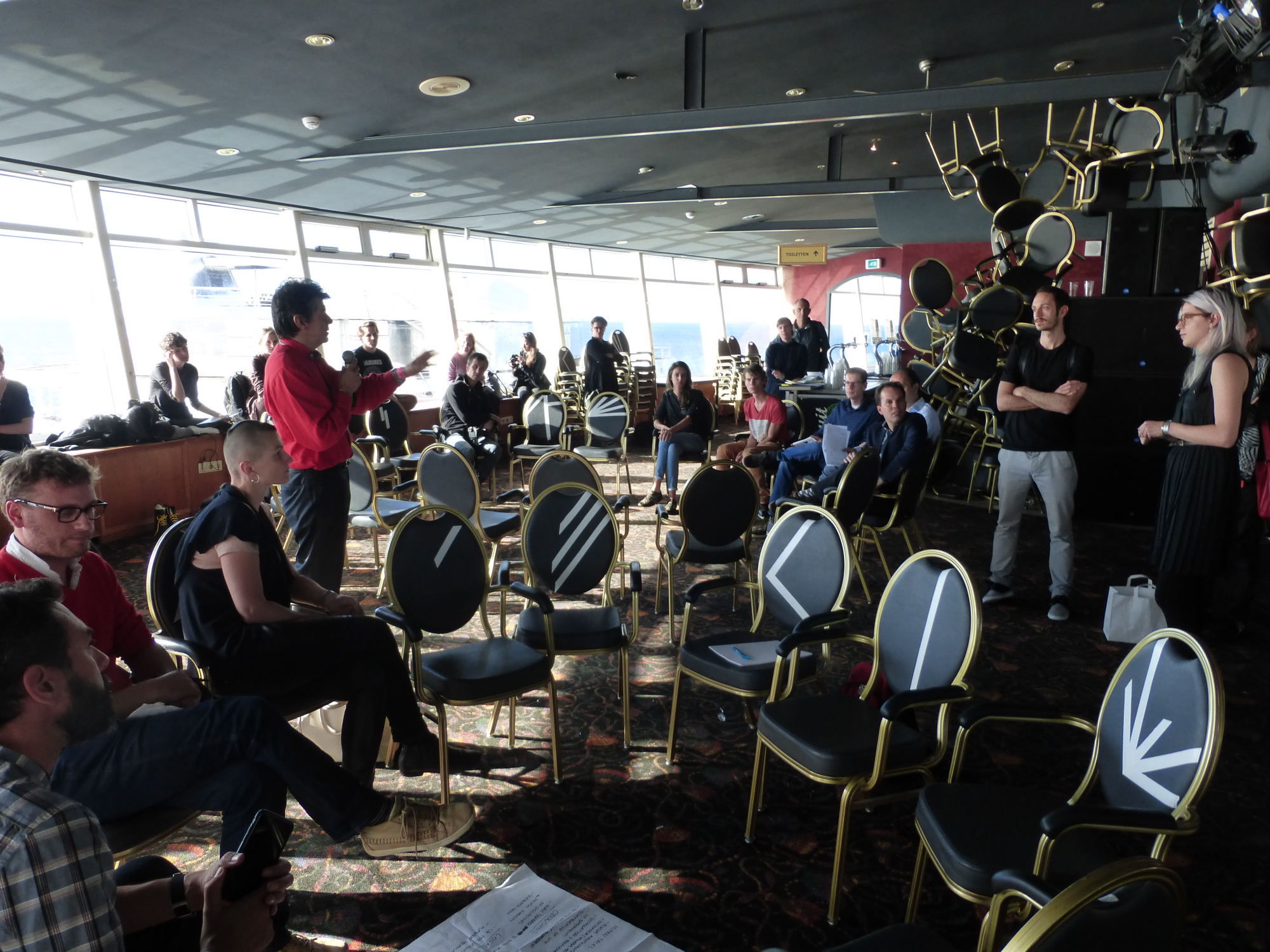 Bright collisions : architecture and environment
The "Bright Collisions" symposium, held in the panoramic room of the former casino, set the stage for a number of talks. Špela Petrič, a Slovene biologist and artist currently working at Waag Society's Open Wetlab in Amsterdam, presented Naval Gazing, a probe-sculpture drifting in the North Sea offering a habitat for algae and shellfish. The project received a Bio Art and Design Award in 2014.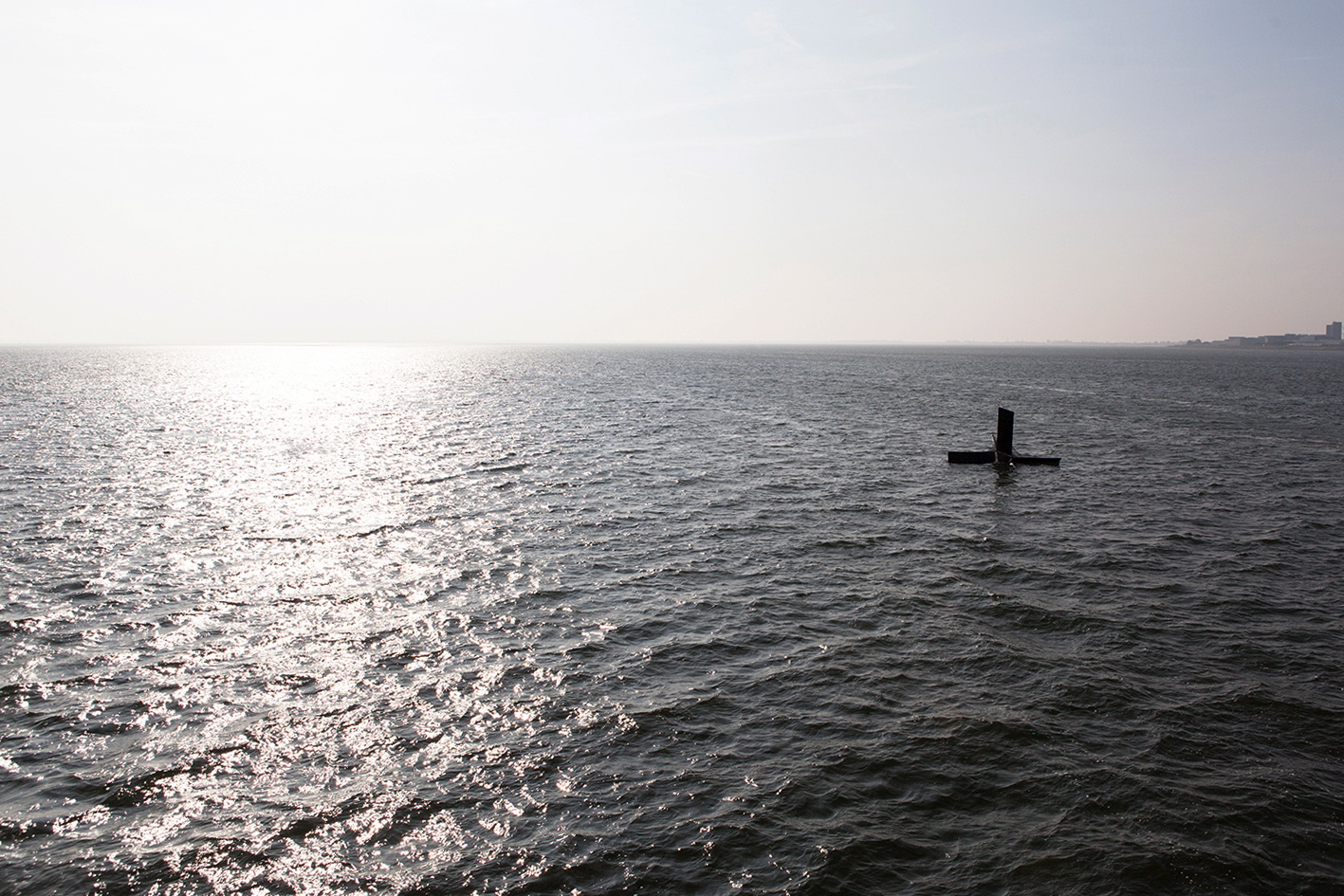 Australian artist and researcher Natalie Jeremijenko, director of the Design Environmental Health Clinic at New York University, who researches design solutions to health problems due to environmental pollution, presented Pier 2 Pier. The design project seeks to redefine what a Pier could be, making progress on the beach, in light of contemporary environmental concerns. Jeremijenko calls for a renovation of The Pier that integrates a better architectural dialogue with the sea, designing The Pier's foundations as a habitat for mussells and algae, and desalinating the seawater so that it can be used in the shops along The Pier, etc.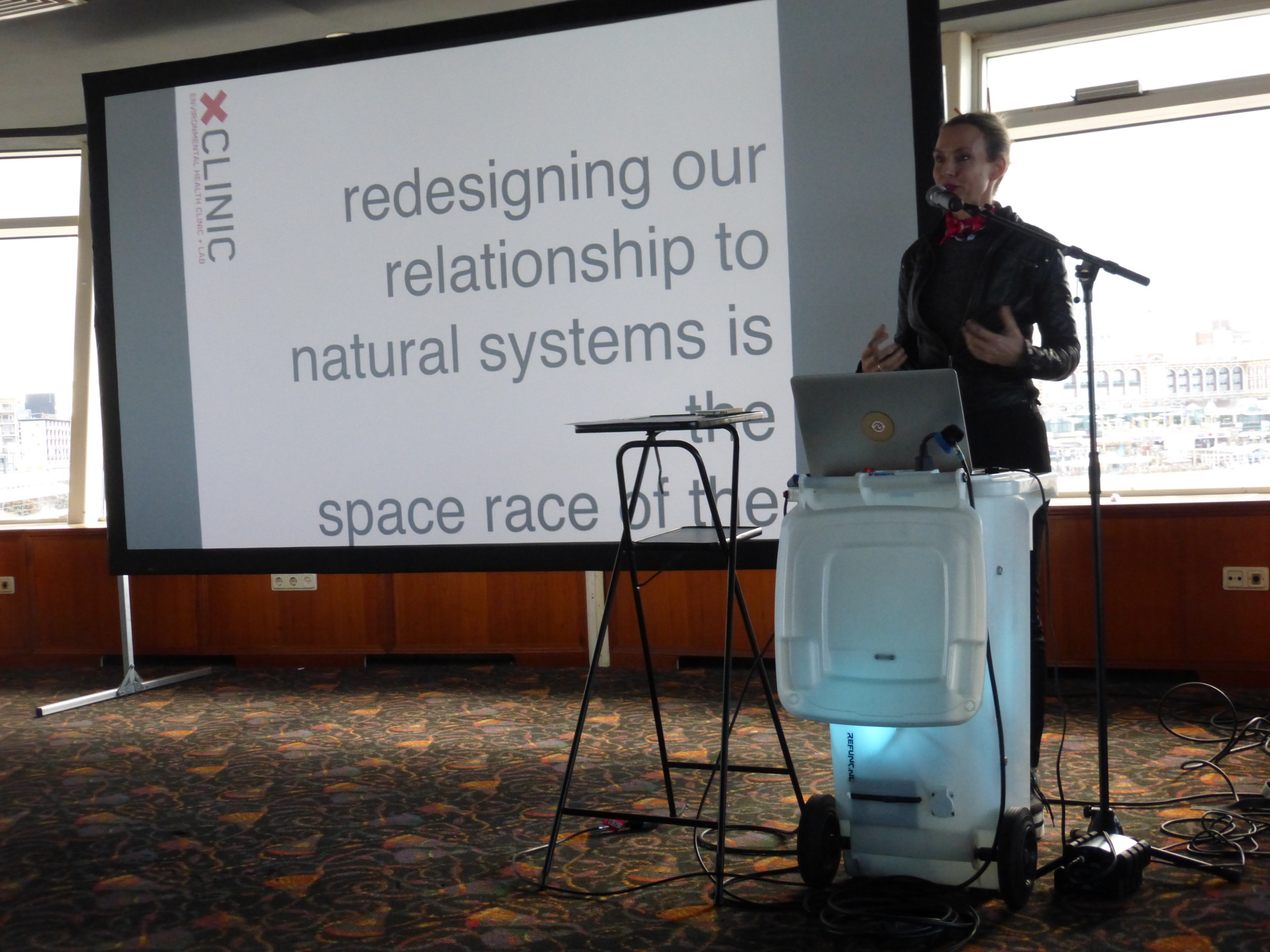 Architect David Garcia, director of the Institute for Architecture and Technology in Copenhagen, specialized in extreme architecture and environments, also presented surprising architectural projects in the polar zones, in Svalbard, Greenland and Antarctica.
Base to build in an iceberg, by Map Architects :
Hack the body
Baltan Laboratories gave a "Hack the Body" workshop for geeks familiar with sensory experiences and augmented reality, with a particular focus on Karen Lancel and Hermen Maat's EEG Kiss project (previously covered here). Similarly, Jan van Erp talked about the neurophysiology of emotions, their measurements and applications in interactive games. An exhibition and workshop led by Maurice Mikkers to observe one's own tears accompanied the workshop on emotions, although onions, peppers and other techniques were used to provoke the tears.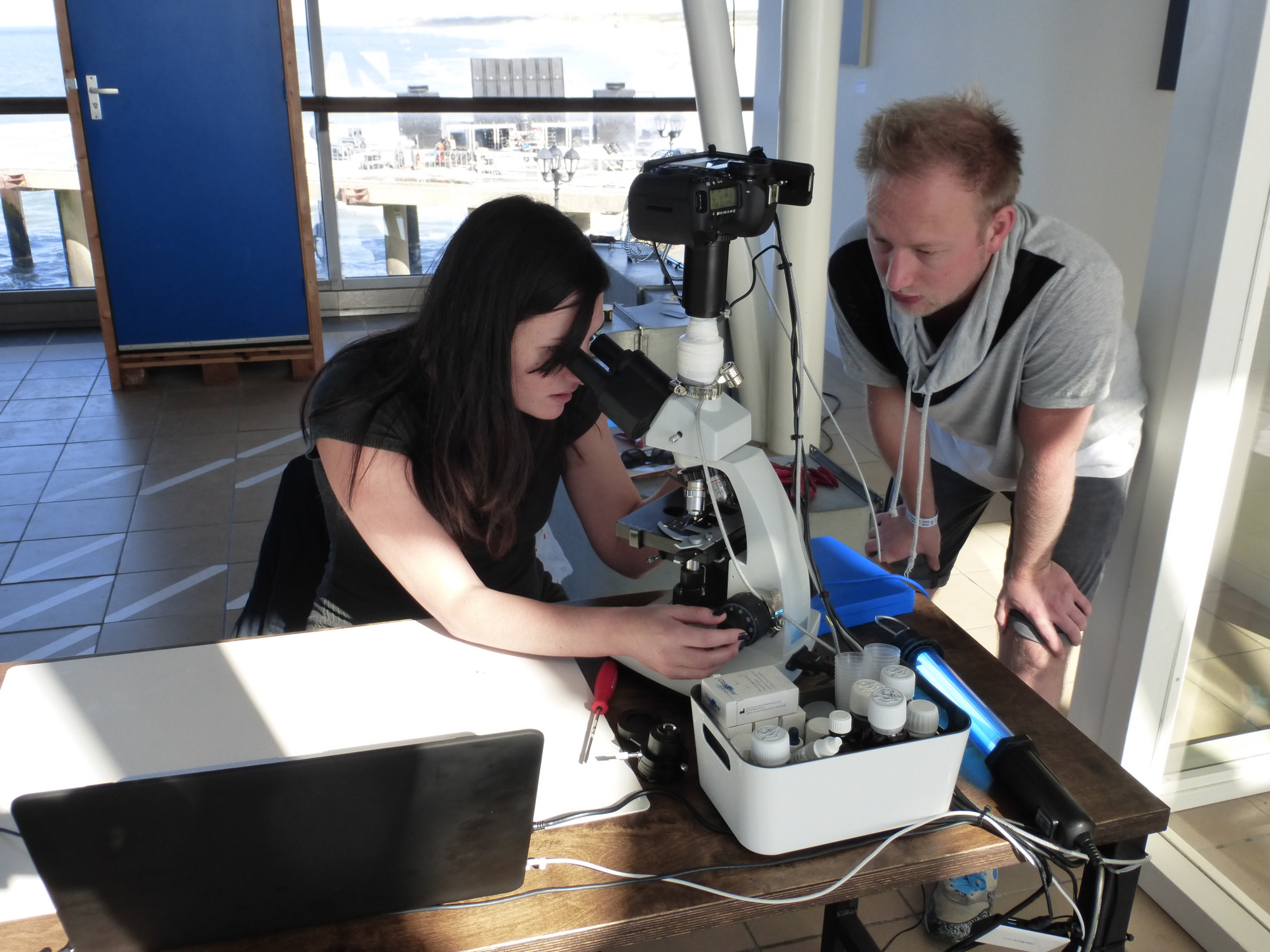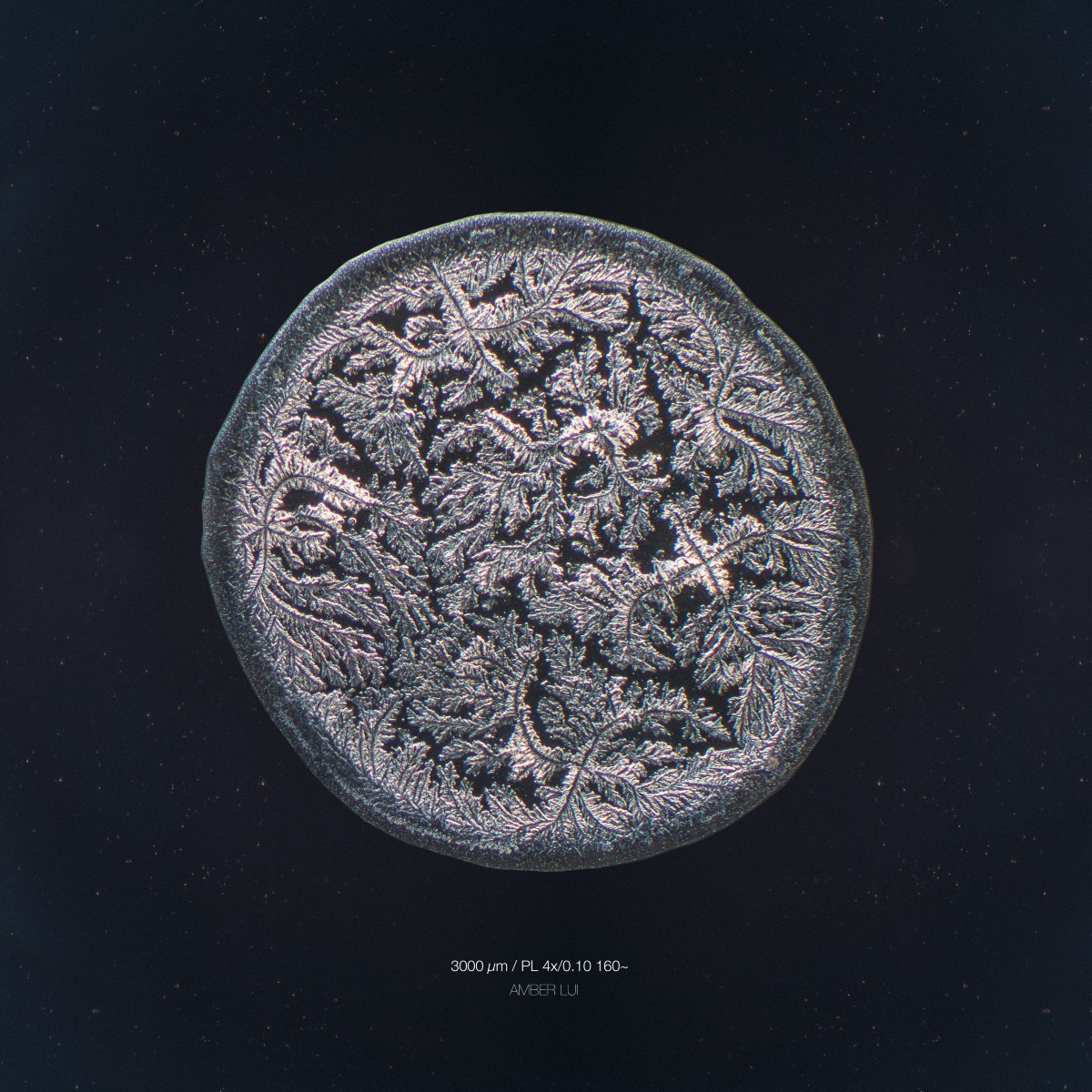 TodaysArt parties also made up a big part of the programming. Electro, techno, disco, electro-acoustic, everything was there. A "4D" space at ElectriciteitsFabriek hosted superb spatialized sound art. Personally, I was partial to the live performance of Group A, a Japanese industrial punk duo that rocked the casino. A fine edition of TodaysArt.
Listen to the music of Group A :