/ Voices
Light graffiti at POC21, where a hundred makers prototyped sustainable solutions to climate change. © CC-Ophélia Noor
My eco-hacking day at POC21
From mid-August, some one hundred makers prototyped the transition to an eco-friendly world at Millemont Castle near Paris. As the countdown to the world conference on climate change COP21 begins, Ophélia Noor describes a typical day at this camp for a zero carbon, zero waste society.
From August 15 to September 15, at Millemont Castle near Paris, some one hundred makers, artists and citizens from around the world came together to prototype a "zero carbon, zero waste society". Ophélia Noor was among them, and she documented this new-generation camp for POC21. As the countdown to COP21 begins, Makery invited her to give us an illustrated account of a typical day at this camp for an eco-friendly transition. Its goal is to invent 12 open source solutions to climate change, which will be presented to the (registered) public on September 19-20.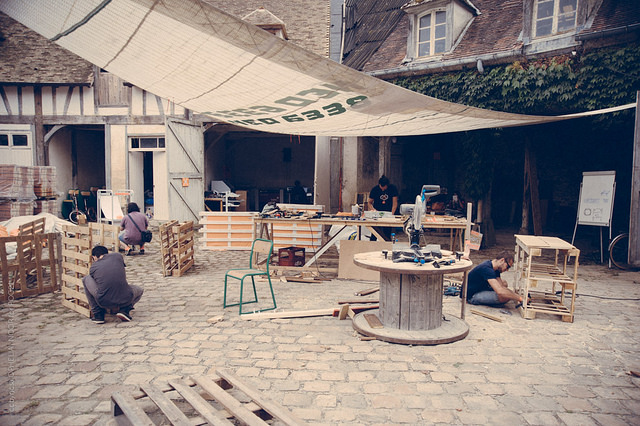 6 AM-7 AM. At dawn, yoga, coffee pot and tarpaulin showers
Millemont Castle, surrounded by forests and fields, slowly awakes. At L'Orangerie, converted into a kitchen and refectory, volunteers prepare breakfast for 8 AM. Bread, jam, butter, honey, cereal and coffee pot for 80 to 100 people on site daily at POC21. Meanwhile, inside the castle, Anja gives a yoga class.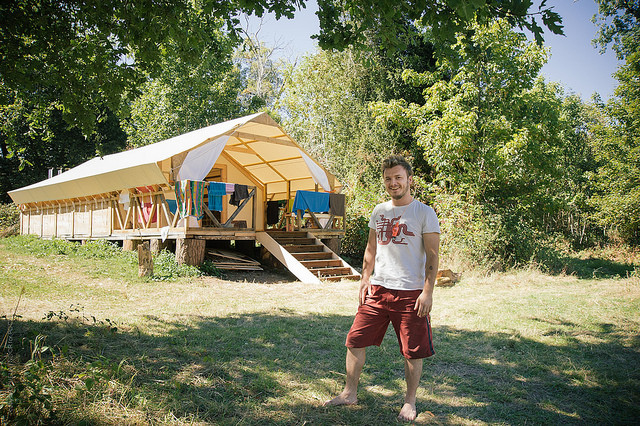 Behind the castle, all the showers are already occupied. The five cabins made by the POC21 team during installation week are separated by thick plastic tarpaulins inside a small wooden house. On the porch, we take off our shoes and hang our towel ; inside are a plastic tarpaulin sink and wooden shelf to hold shampoo and soap. Biodegradable and solid, without any wrapping, the soaps were made locally by Ludvina de Pachamamaï using saponified essential oils.
9 AM-10 AM. Check in : compost toilets or cooking heroes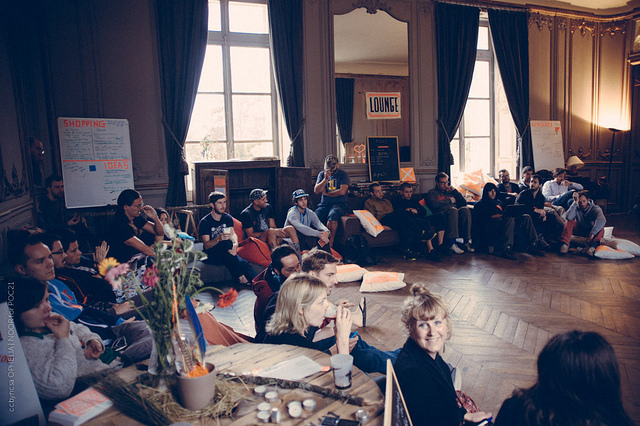 "Check in", hosted by Dominik Wind from the German collective Open State, one of the two organizations behind POC21 (along with the French Ouishare), is the time each morning to announce the schedule and the objectives, between workshops, keynotes and arriving mentors. It's also the time to fill in the table of 5 daily co-living tasks, which each participant must do at some point. Toilet Care mobilizes 4 people to empty the compost toilets several times a day. Then there's Kitchen Clean (2 cleaners for the big casseroles), Cooking Heroes (6 people to support Line, the chef), Garbage Crew (2 people to pick up the sorted garbage) and Night Guardians (4 people to make the rounds at night).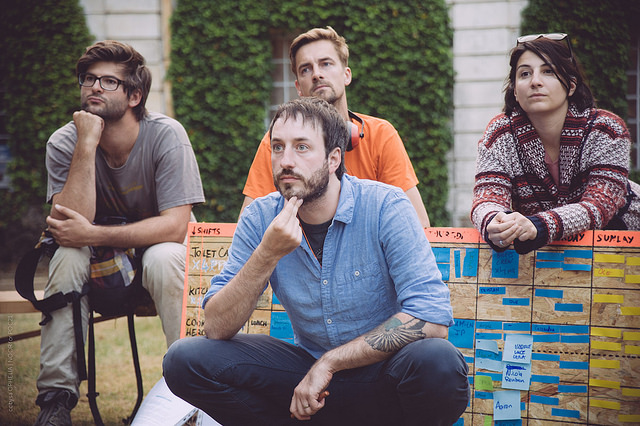 10 AM-1 PM. Stocks, prototypes and discussions on every floor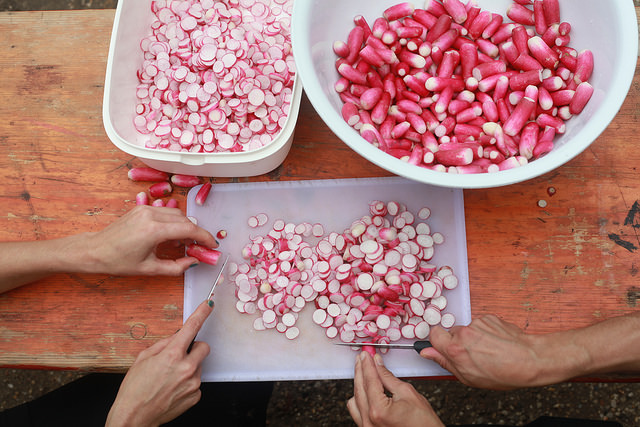 Lunch is prepared at L'Orangerie, project teams occupy the coworking spaces of the big castle, the POC21 magazine team is out in the field, while some of the organizers of OuiShare and OpenState are in the offices.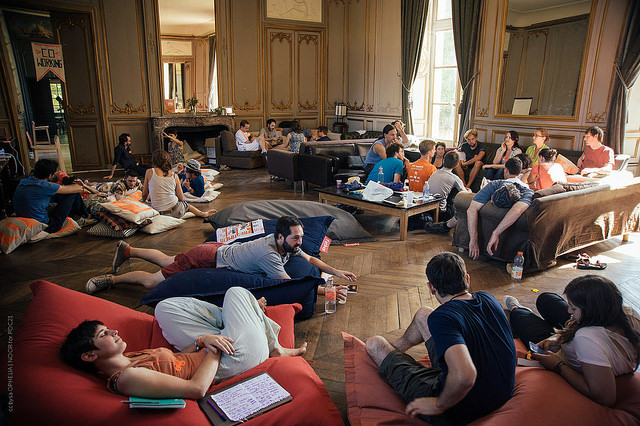 On the project teams' schedule : brainstorming, personalized discussions with mentors and Autodesk workshops for 3D modeling software.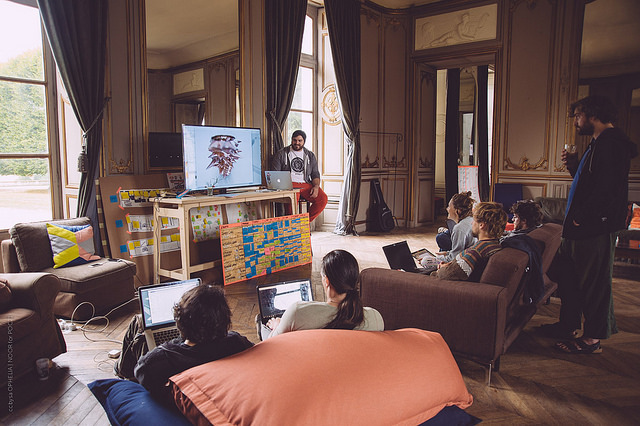 "The idea is to help designers make their project easy to understand and easy to use," says Paul Sohi, 28, British product designer and Autodesk evangelist, settled in the castle for the full five weeks of POC21.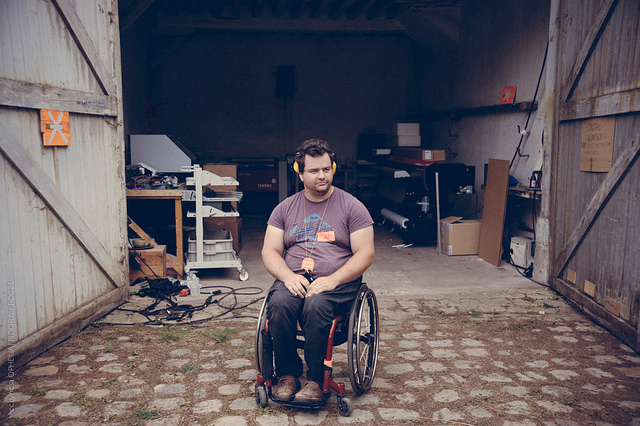 In the Factory space, each compartment of the fablab (set up in the former stables) hosts various workshops (electronics, wood, metal and CFAO), under the benevolent eye of fabmanager Damien Arlettaz, supported by volunteers and contributors. Project teams meet to advance their prototypes, while others make little infrastructures that the castle still needs, such as toilet stalls.
Topics for workshops and discussions with mentors and facilitators vary from open source documentation, to fablabs and distributed production, to a map representing the effects of global warming, to open economic models, to a keynote by peer-to-peer theorist Michel Bauwens.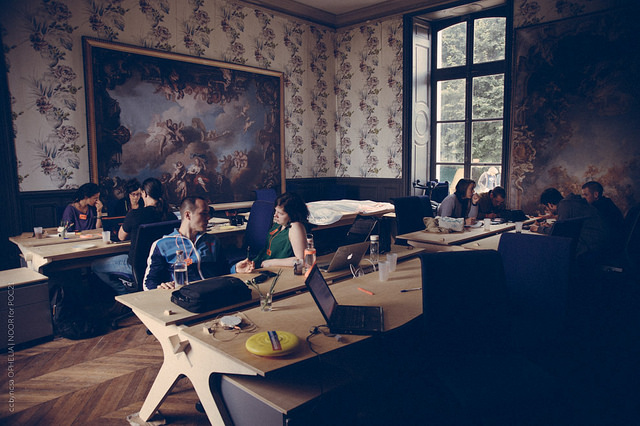 Meanwhile, the all-female logistics team (Julie, Claudine, Hind, Donatienne, Maïwenn, supported by volunteers) goes out to welcome new arrivals at the Garancières-La-Queue (Yvelines) train station, run errands and keep an eye on current stocks, pass out blankets or Soul Bottles, all the while managing the budget.
1 PM. Luncheon on the grass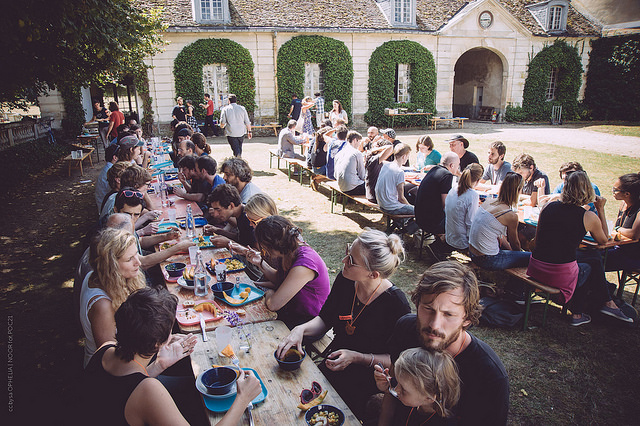 At L'Orangerie, the kitchen team cooks up lunch. Weather permitting, long wooden tables and benches are set up outside on the lawn. Most of the dishes are vegetarian, and two distinct lines form when meat is on the menu. Tomatoes, feta, avocados, bulgar wheat, rice, lentils, omelettes, peaches, raspberries and dairy products to no end. While most of the provisions are sourced from small local vendors, the yogurts, meat, cereal and biscuits are unsold products from surrounding supermarkets.
2 PM-6 PM. Back to work
Tomás Diez, director of the FabLab in Barcelona, came for three days to support the projects. He spoke with Trystan (Open Energy Monitor) about synergies with the Smart Citizen Kit developed by Barcelona, with Yannick (VéloM2) and Tristan (AKER) about the Open Source Beehive project, examined the FairCap and SunZilla projects : "I feel that I've been able to convey a clear vision of the issues ahead. For them, it's not just about doing what they want to do, but about being realistic in achieving an objective that goes beyond their inventions, in only five weeks."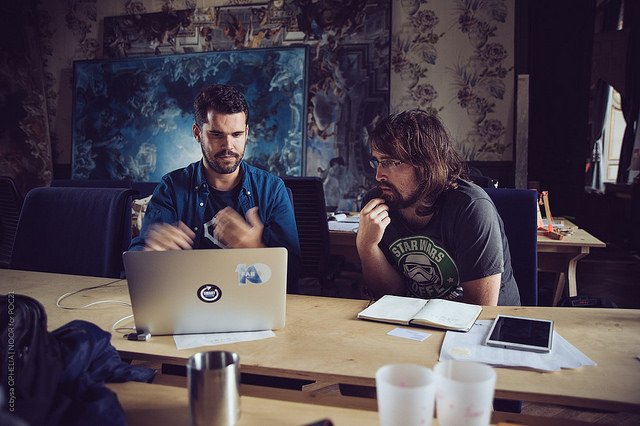 At the Factory, the teams from the architecture collective Quatorze, the open source Do-It-Together computer Jerry and volunteers work in the studios. Clément Chadeyron, from the Jerry team, a regular at Faclab in Gennevilliers and founder of Fablab Limouzilab, manages a part of the CFAO space. In week zero, he, Romain Chanut and Justine Hennequin built Jerry servers to meet Millemont's wifi needs. Quatorze brought along their giant CNC, which can cut both wood and steel. Ultimaker 3D printers and the huge "Rolls-Royce" of Roland plotters complete the lab.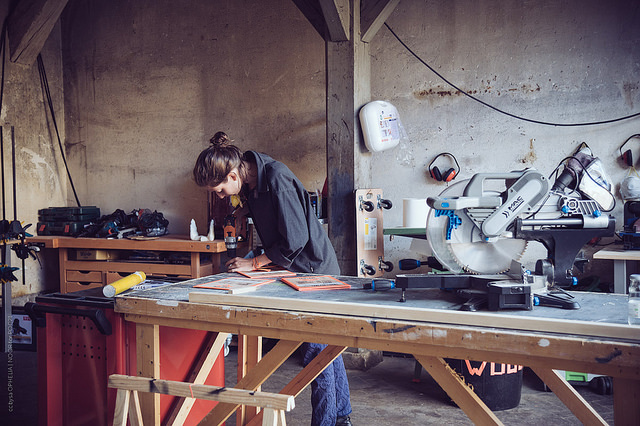 6 PM. Rest and recreation
In the background, compost toilets continue to be emptied, and dinner preparations have already begun. A volleyball net is set up outside. 6 PM is the time to chill on the grass or at L'Orangerie, or on the other side of the castle, on lounge chairs around the campfire. That's where Romain and Clément (Jerry team) began building the first geodesic dome.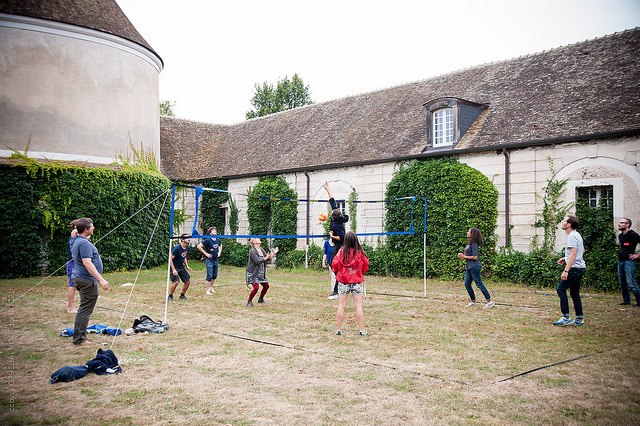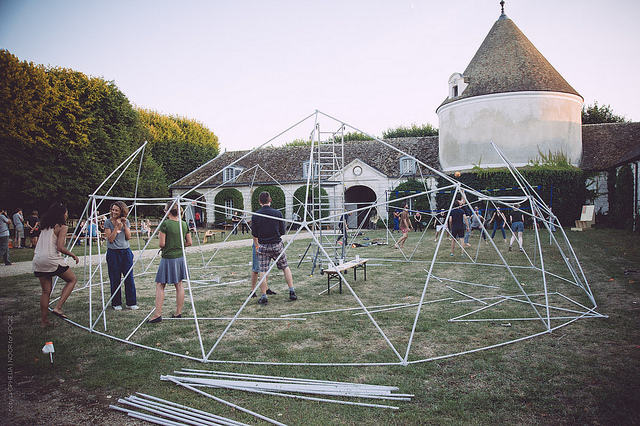 7 PM-8 PM. Check out : "How did your day go ?"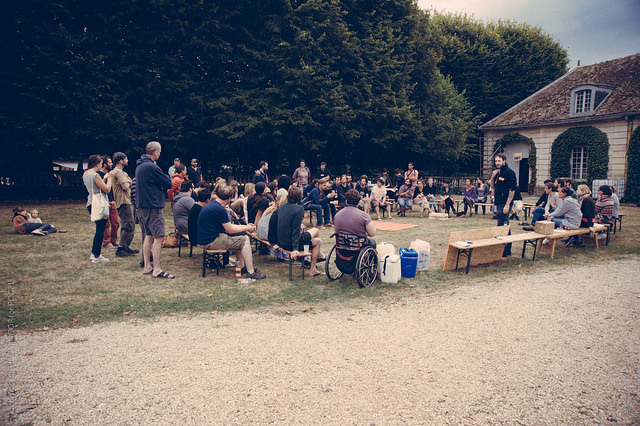 L'Orangerie lawn. Dominik rallies everyone on long wooden benches arranged in a circle. Welcome to "check out". How did your day go ? Is there an experience that you want to share ? People who just arrived introduce themselves. Everyone waits their turn to speak, claps earnestly, raises their arms in unison to request silence. Evenings are free unless keynotes are scheduled—science-fiction author and theorist Bruce Sterling came by the second week.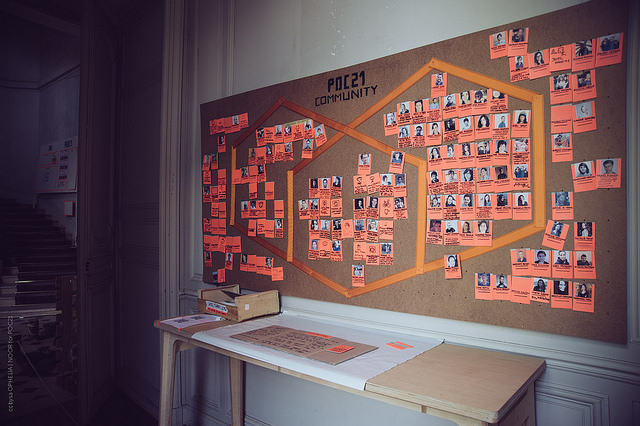 This experiment to live and do together, without hierarchy, means working in the moment. One evening, Milena (VeloM2 team) suggested that teams dealing with energy unite their forces to design an electronic model that everyone could use. The strength of the 12 projects is also to complete each other.
8 PM. Dinner is served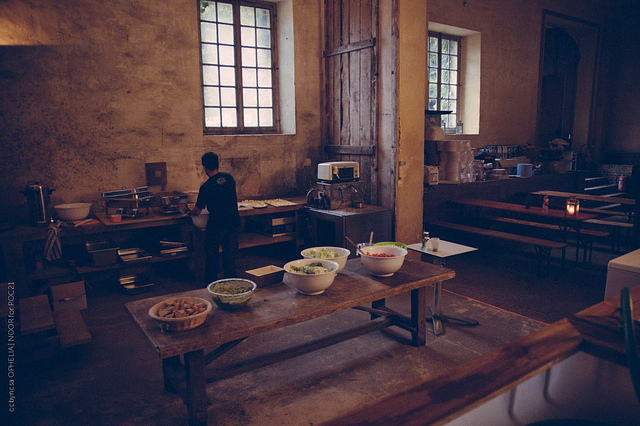 POC21's primary language is English. Participants come from all over the world, with a majority of French and Germans. But we also meet Italians, Spanish, New Zealanders, Americans, Danish, Belgians… Conversations flow in the self-service line. After the meal, everyone will clear their plate, empty the remains in the appropriate receptacle, wash everything with a sponge using eco-friendly dishwashing liquid in a first tub, then rinse with hot water in a second tub. The system was designed by Gregory Joya, one of the architects from the Bellastock collective. One dishwasher for 4 to 6 people consumes 25 to 40 liters of water per cycle, in contrast with the 60 liters per meal for 100 people using the tubs at POC21.
From 9 PM, some drink, others work
As night falls on Millemont Castle, participants fall into one of three groups : those who go back to the coworking space, those who drink beer at the campfire with electronic music, those who continue chatting at L'Orangerie with a glass of wine or a cup of tea.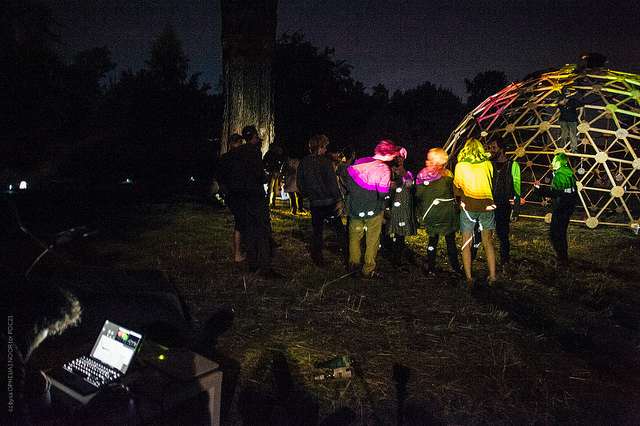 The Lounge hosts more or less studious sessions. "Mindfuck" night brought together some 30 people on cushions, sofas and pillows to extend the discussion beyond POC21 : "How can I be more than just a drop in the ocean ?" "Climate change is also a question of political and economic systems." "There is inconsistency in the world." "DIY ? The collaborative economy ? In Brazil it's a vital need for a lot of people. They do it every day without giving it a name." "We need to 'do' and only talk about what we do, not about what we think." "Maybe our real impact will be to have created an army of creators of change." We also saw Lindy Hop classes taught by Cassandra and a celebration of the new wooden dome.
1AM-6 AM Night shift
The Night Guardians begin to make their rounds of Millemont Castle. A logbook is open for them to describe stellar constellations or insect chirps in a word, a sketch, a dream… "A tiny cloud of smoke above the camp fire. It's almost dead so the flames are probably not willing to guide us through the night. Nevermind, the night guardians will have your back safe tonight, their heads fulll of warm burning branches."
Read the full story (in French) by Ophélia Noor on POC21 magazine
The 12 projects will be exhibited at Millemont Castle on September 19-20 (registration required)