/ News
E.A.R.T.H. Lab rehearsal for a parade in Santa Cruz © Seth Andrews
I spent one month in San Francisco to explore ecosexuality
Isabelle Carlier from the organization Bandits-Mages in Bourges, France, spent the month of June in Santa Cruz and San Francisco to accompany the creation of E.A.R.T.H. Lab and the shooting of "Water Makes Us Wet", the new film by the goddesses of ecosexuality, Annie Sprinkle and Beth Stephens. She shares her experience with Makery.
E.A.R.T.H. Lab (for Environmental Art, Research, Theory and Happenings) is a new center in the Arts Division of the University of California in Santa Cruz dedicated to fringe environmental art. Based on multiple artistic practices with a penchant for performance, the lab unites thinkers and artists in a local, national and international network. Its director is Beth Stephens, artist and professor at UCSC; its research director is Annie Sprinkle, artist and iconic actress of the 1970s and 1980s "Golden Age of Porn".
I met them during their visit to Bourges. Both pro-sex activists and known for their eco-activism, Annie and Beth, partners in life, have since 2008 been "performing" their weddings with the Earth and nature entities, inviting everyone to bond with the Earth, the sky, the sea, coal… To this day they have performed nineteen ecosexual weddings in nine different countries.
"The lab was made possible by two generous patronesses and by the Dean of the Arts Fund for Excellence at UCSC. Eventually it could access dozens of natural reserves for its research, case studies and organize ecosexual actions and gatherings."

Annie Sprinkle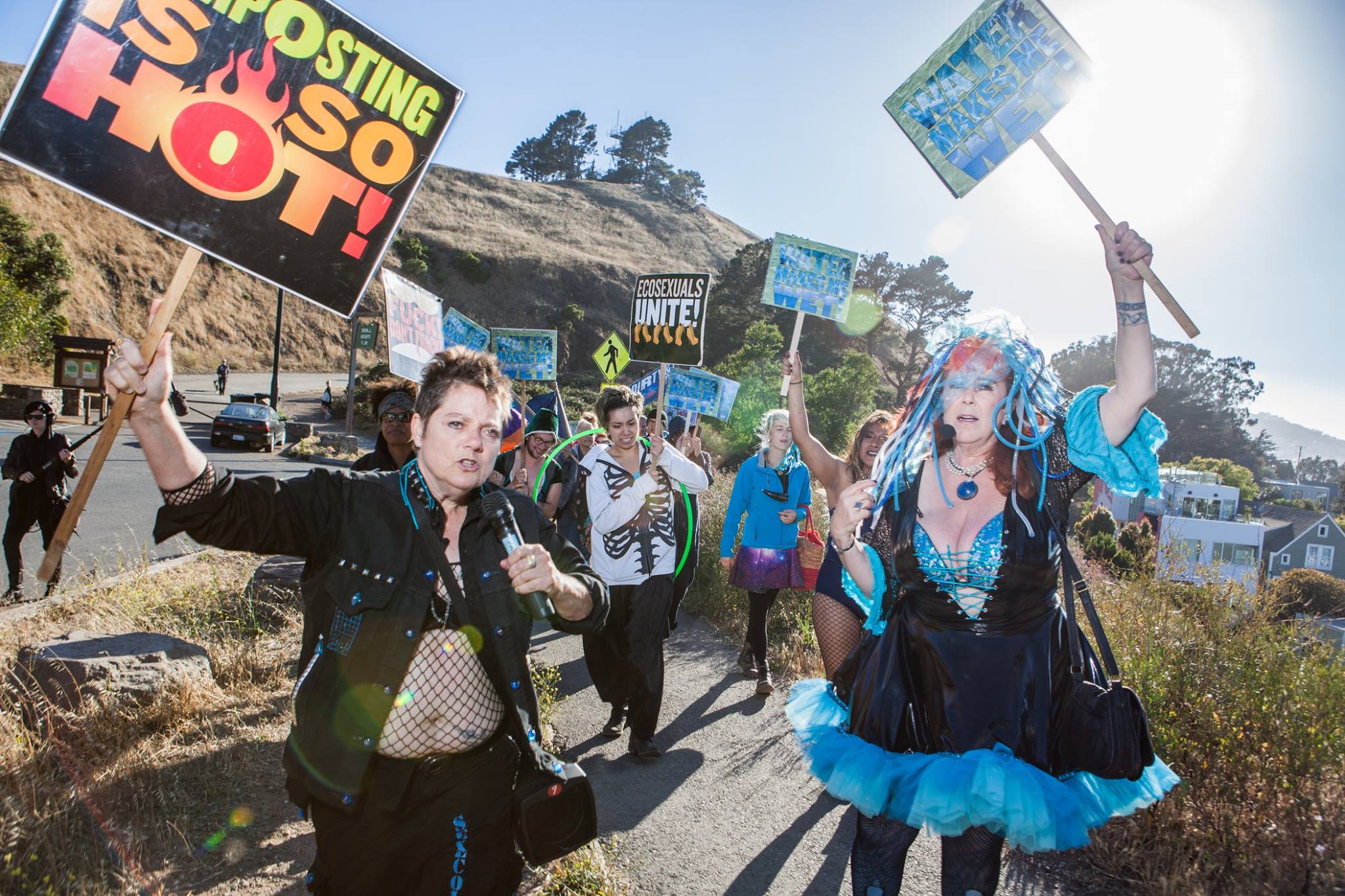 Shifting from "Earth as mother" to "Earth as lover"
In an interview about ecosexuality recorded during my stay in Santa Cruz, Beth says that it's about "telling both old and new stories". The old stories could be about goddesses, magicians and witches. The new stories, like the ecofeminism that emerged from the environmental activism of the 1970s, aim to redefine from a queer perspective our relationship with nature—nature that is not ruled by masculine and heteronormative laws.
Proceeding from the consciousness of what is and of what could be instead of a post-hippie ideal, Annie and Beth displace paradigms and present new narratives at the intersection of environmental issues and queer practices, at the intersection of ecology and sexuality. This aims to produce extreme pleasure, an orgasmic joy of creation and intervention. "Did you have fun?" Beth often asked me. This pleasure of creation is a militant act and a powerful unifier.
To understand ecosexuality, a sketch of work-in-progress for their next film, "Water Makes Me Wet", directed by Annie Sprinkle and Beth Stephens (footage by Beth Stephens and Isabelle Carlier; edited by Isabelle Carlier):
San Francisco Pride
San Francisco's annual Pride parade took place on June 28, 2015. The entire city waved the rainbow flag, as San Francisco has become the icon of the LGBTQI (Lesbian, Gay, Bi, Trans, Queer, Intersex) cause. If we were celebrating the recent right to marriage equality, we also saw Uber, YouTube, Netflix and a whole series of corporations whose primary intentions were more than questionable.
Marching in their midst, the "Here come the Ecosexuals!" group represented the Center for Sex & Culture in San Francisco, led by Beth and Annie, followed by Pollination Pod, a multimedia pop-up theater that came out of E.A.R.T.H Lab. The group marched for water, both a vital element for life and one of California's most pressing environmental issues. As farmers now compete for water, the government has imposed very strict regulations for distribution.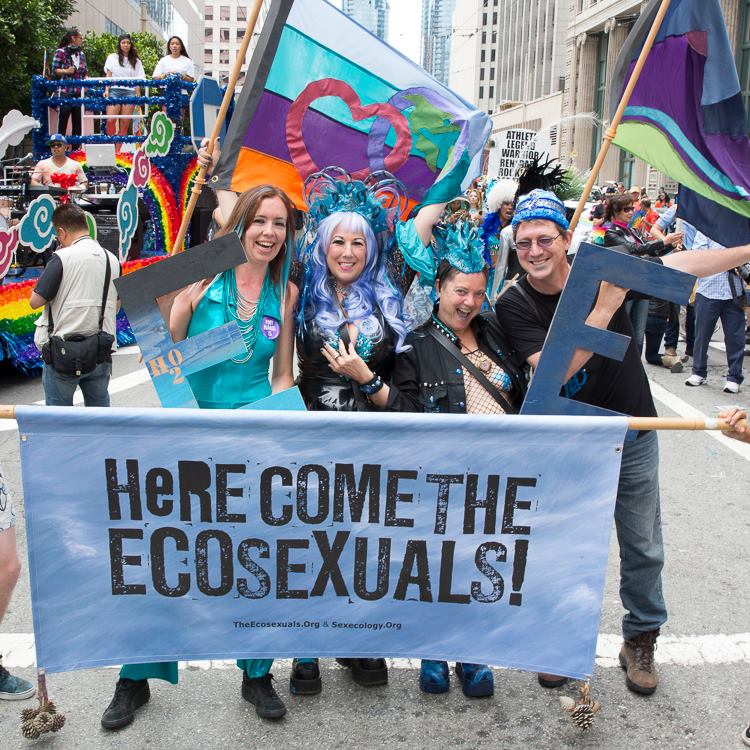 The Ecosex group is made up of artists and performers, environmental activists, vegan cooks (Becka Shertzer), doctorate researchers, collectives, students, etc. Most are E.A.R.T.H. Lab members, or regular collaborators of Beth and Annie, such as the radical collective La Pocha Nostra directed by Guillermo Gómez-Peña, both father and mother of a new generation of performers, Lady Monster, Queen of Ecosexual Burlesque, and Dragonfly aka Miss Jester Justice, activist artist fighting for human dignity.
Together, they form an ecosystem that advocates an esthetic resulting from a totally collective process, something close to a carnival of freaks and queer, as it breaks any form of binarity.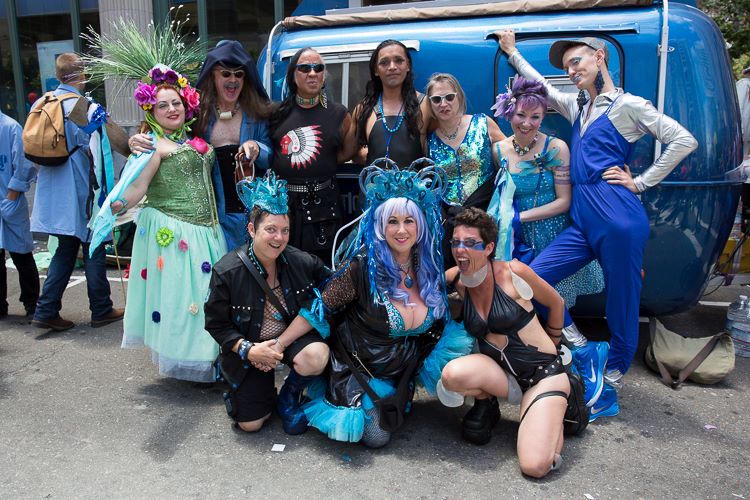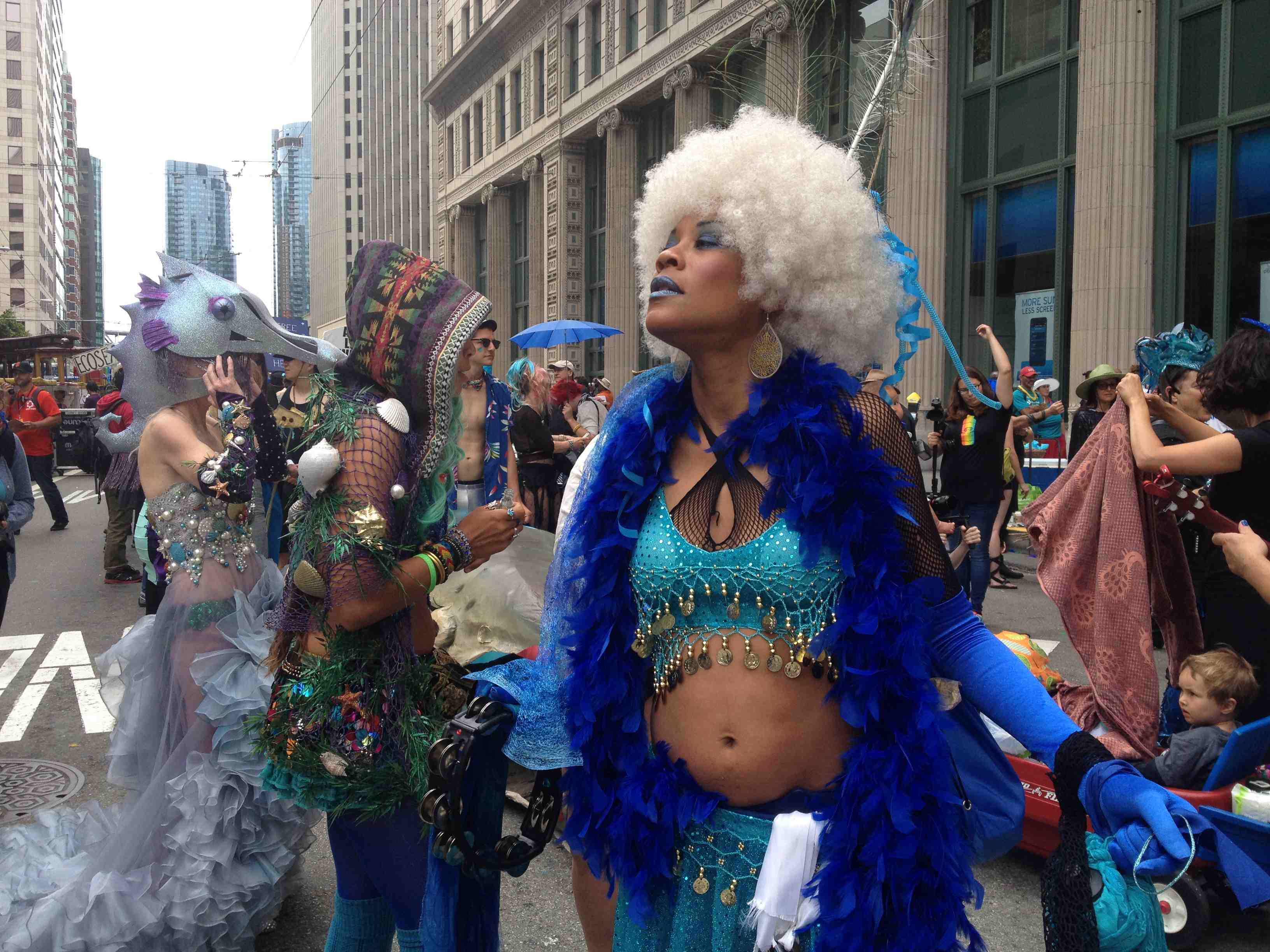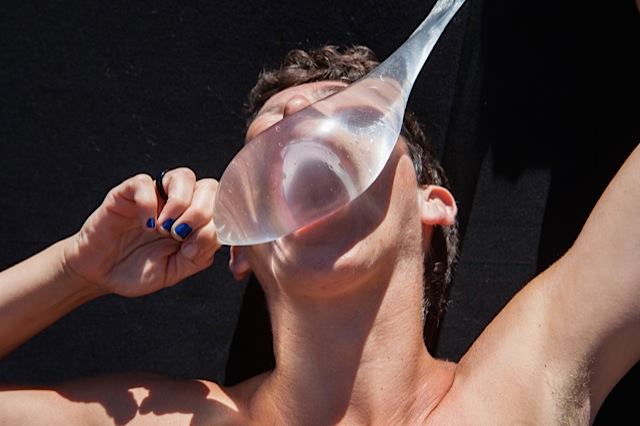 Water makes us wet
The only directive set by the theme of water are blue and black as group colors and the mutation of beings toward sea creatures: seahorses, fish, mermaids and other less defined creatures of the abyss. What is striking is the group's very organic nature, lively and changing.
"Seen from the perspective of queer theory, sexuality is also fluid."

Jennifer J. Reed, post-doctorate researcher on ecosexuality
Sprinkle's name accurately sums up the central aspect of water and multiple body fluids in their work.
"One of the political goals of our participation in Pride is to add to the well-known LGBTQI acronym a letter E for Ecosexual."

Beth Stephens, director of E.A.R.T.H. Lab
Annie and Beth advocate for LGBTQI communities to integrate the environmental issue as eminently intrinsic to their cause.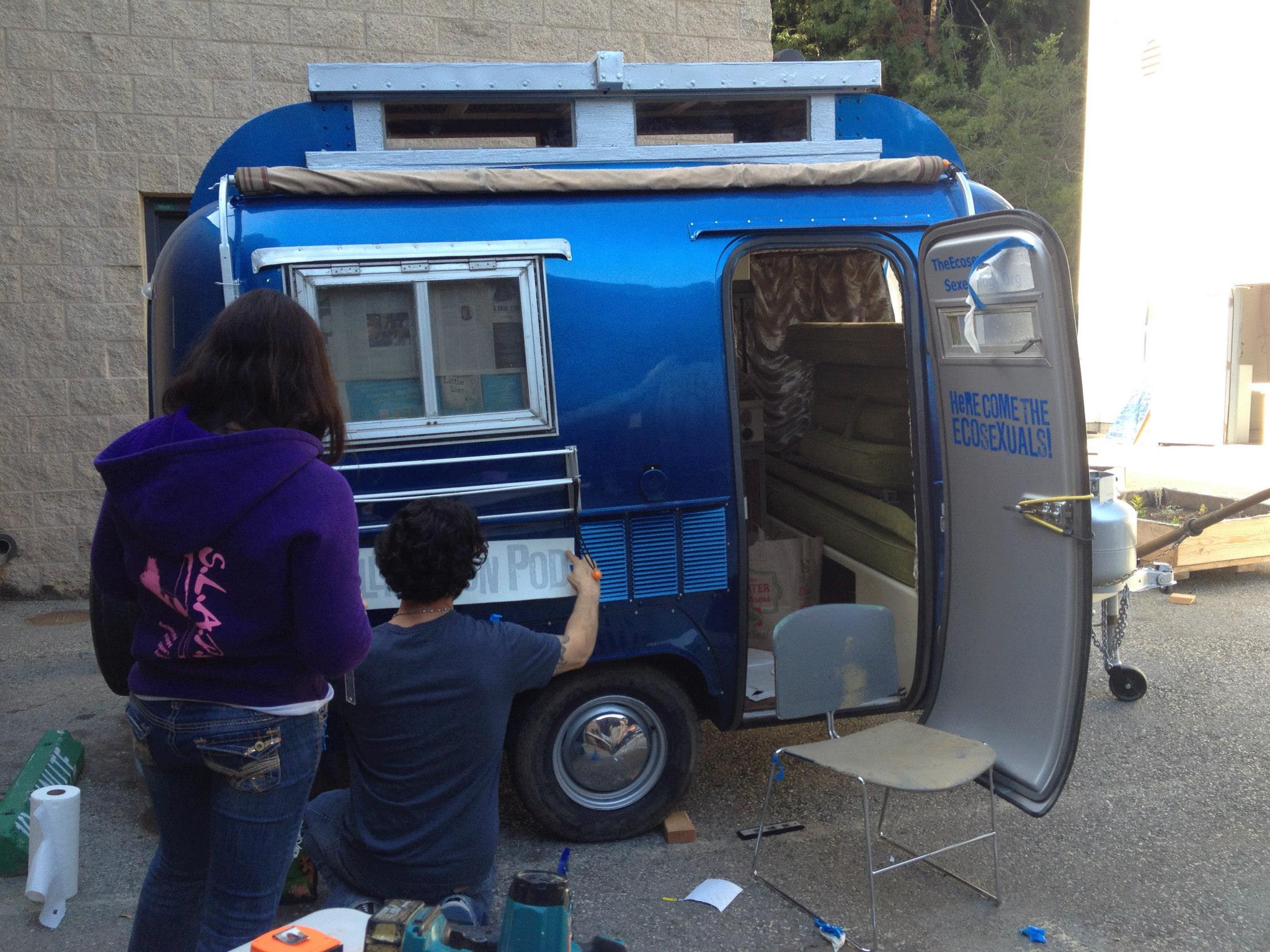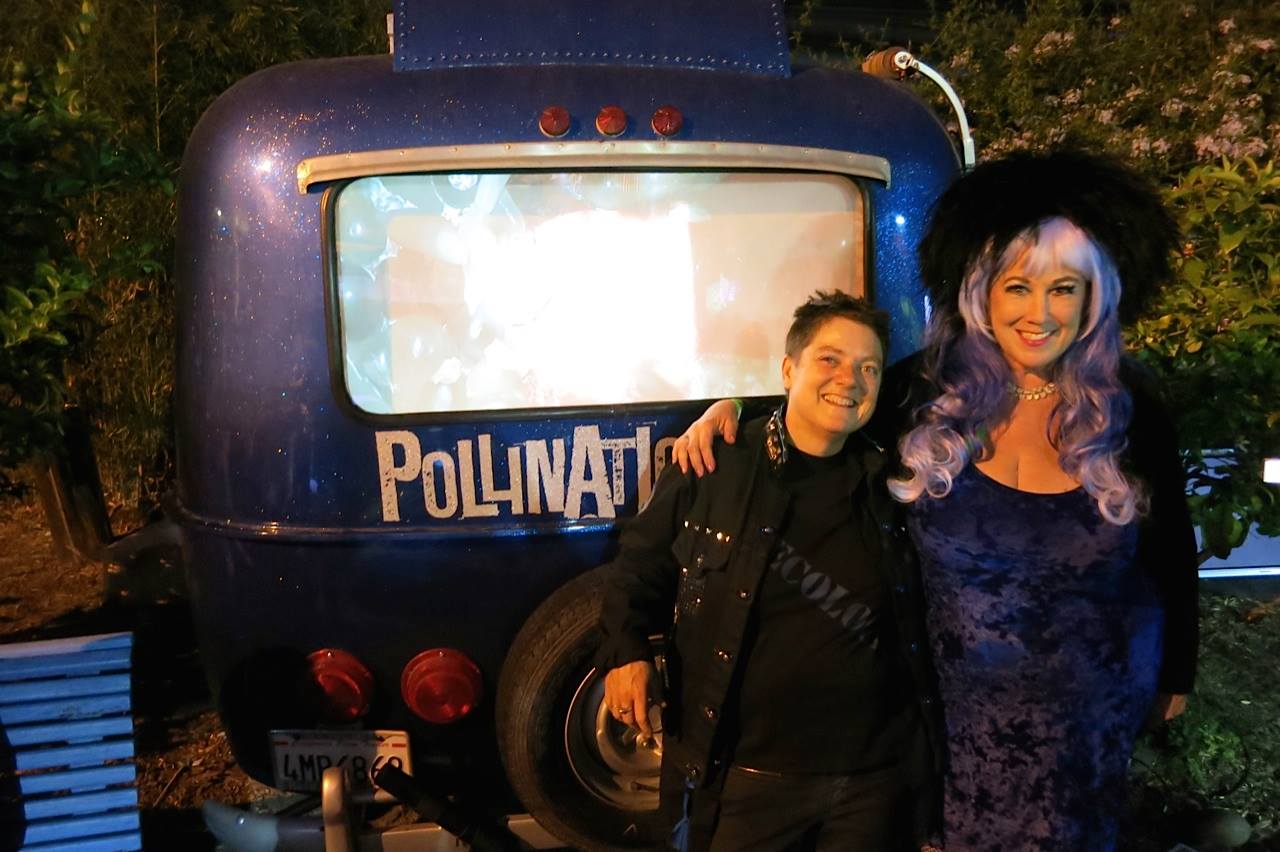 Deconstructing authoritarian systems
UCSC has a reputation for supporting professor-researchers who have always deconstructed authoritarian systems. The famous feminist philosopher and civil rights activist Angela Davis has taught there too. E.A.R.T.H. Lab's research is mainly oriented toward happenings and the fabrication of objects. Its ambition is to lead emerging artists to conceive and create experimental spaces that engage "more cooperative relationships with the Earth".
The lab is also built on the diversity of its members: Sandy Stone, coder, writer and pioneer of transgender studies ; Donna Haraway, distinguished philosopher and professor at the same university; Madison Young, porno actress, artist and curator; Paul Corbit Brown, photographer and president of Keeper of the Mountains Foundation, an environmental activist who is strongly against the destruction of mountain tops for the extraction of coal in West Virginia, the subject of the recent documentary film Goodbye Gauley Mountain directed by Beth Stephens with Annie Sprinkle.
E.A.R.T.H. Lab is currently promoting their "Here Come the Ecosexuals!" tour through the most beautiful and the most environmentally devastated places around California.