/ News
Satellite view of land art installation in Vitanje, a village in the Slovenian Alps. © AAVS Slovenia
Slovenian land art for nanotourism
Is sustainable tourism feasible? In July, the Architectural Association School of Architecture, London, gave a workshop at KSEVT, a center dedicated to cultural space programs perched in the Slovenian Alps.
Special report from Vitanje
The distribution of tourist cash has become a political issue in Europe. As the Grexit threat and closing banks increase economic anxiety, Barcelona's new mayor, Ada Colau, from Los Indignados, took a stand in July against "mass tourism" by freezing the distribution of hotel licenses. Colau denounces the "monoculture of tourism", hotel speculation, "last-minute" flights and "all-inclusive" charters. This first measure was part of her response to Barcelona residents' exasperation with the city's tourist saturation. Spain is particularly affected by the summer influx of tourists: Saint-Jacques de Compostela mentioned a hotel moratorium; the Canary Islands want to limit the number of tourists; the Balearics spoke of a tourist eco-tax…
Nanotourism
It was this question regarding sustainable tourism that the Architectural Association School of Architecture, London (AA) posed during its July workshop held in the mountains of Slovenia. The term "nanotourism" was first introduced to reflect both "an attitude aimed at improving specific everyday environments and a strategy aimed at opening new local economies".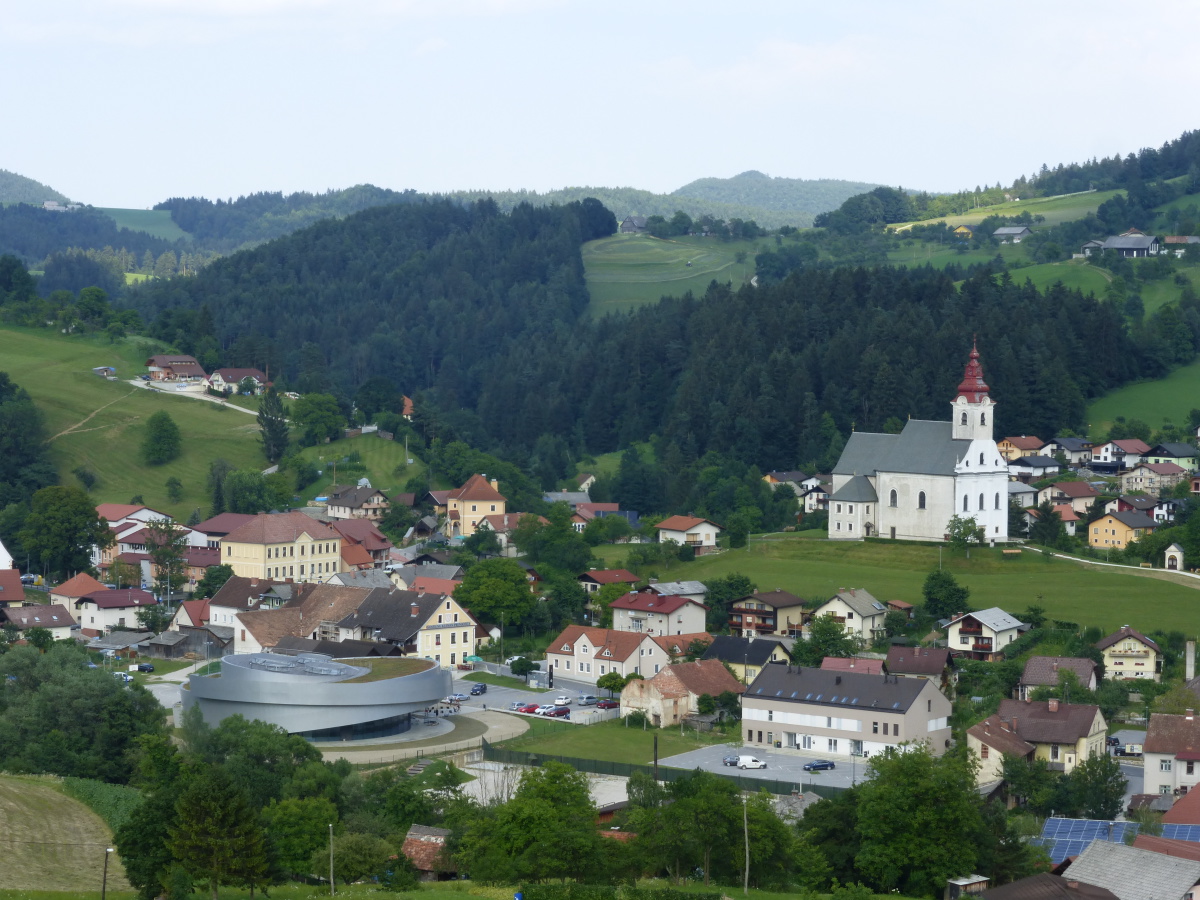 Vitanje, population 800, and its cultural center for space technologies. © Ewen Chardronnet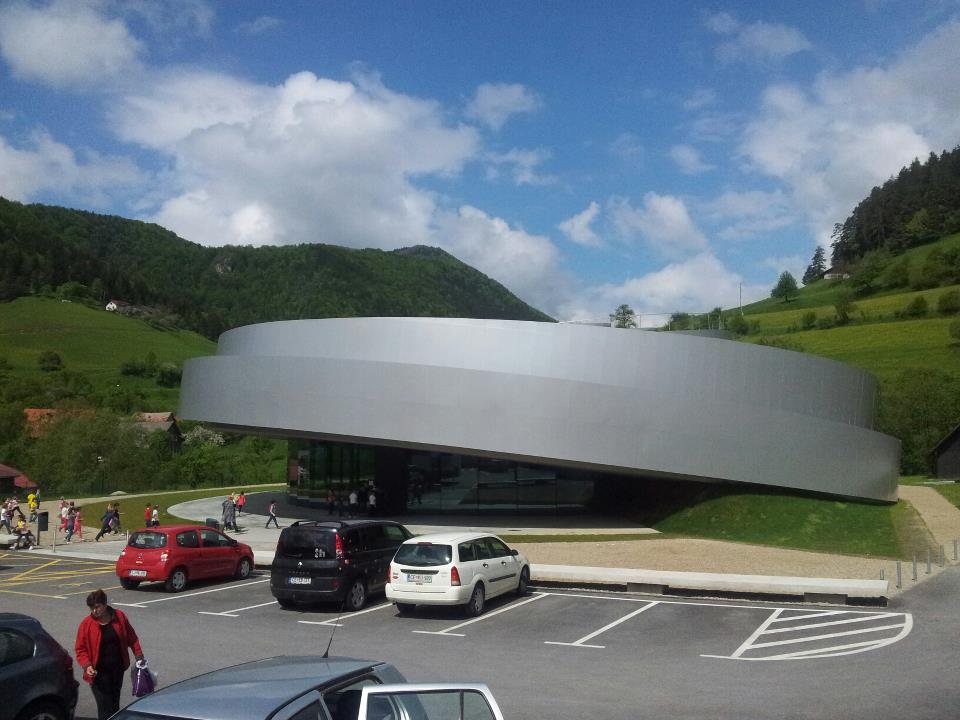 Given Slovenia's economy and its rich landscapes, tourism is one of the rare sectors that continues to grow, independently of the global market's turbulent economy.
"Government programs to invest in tourism have these past years failed to add value to experiencing the country as a whole. These investments have even reduced natural resources and the potential for developing sustainable tourism over an already small and fragile territory. Too little attention is given to tourism based on local experiences."

Aljosa Dekleva, architect, leader of workshop at KSEVT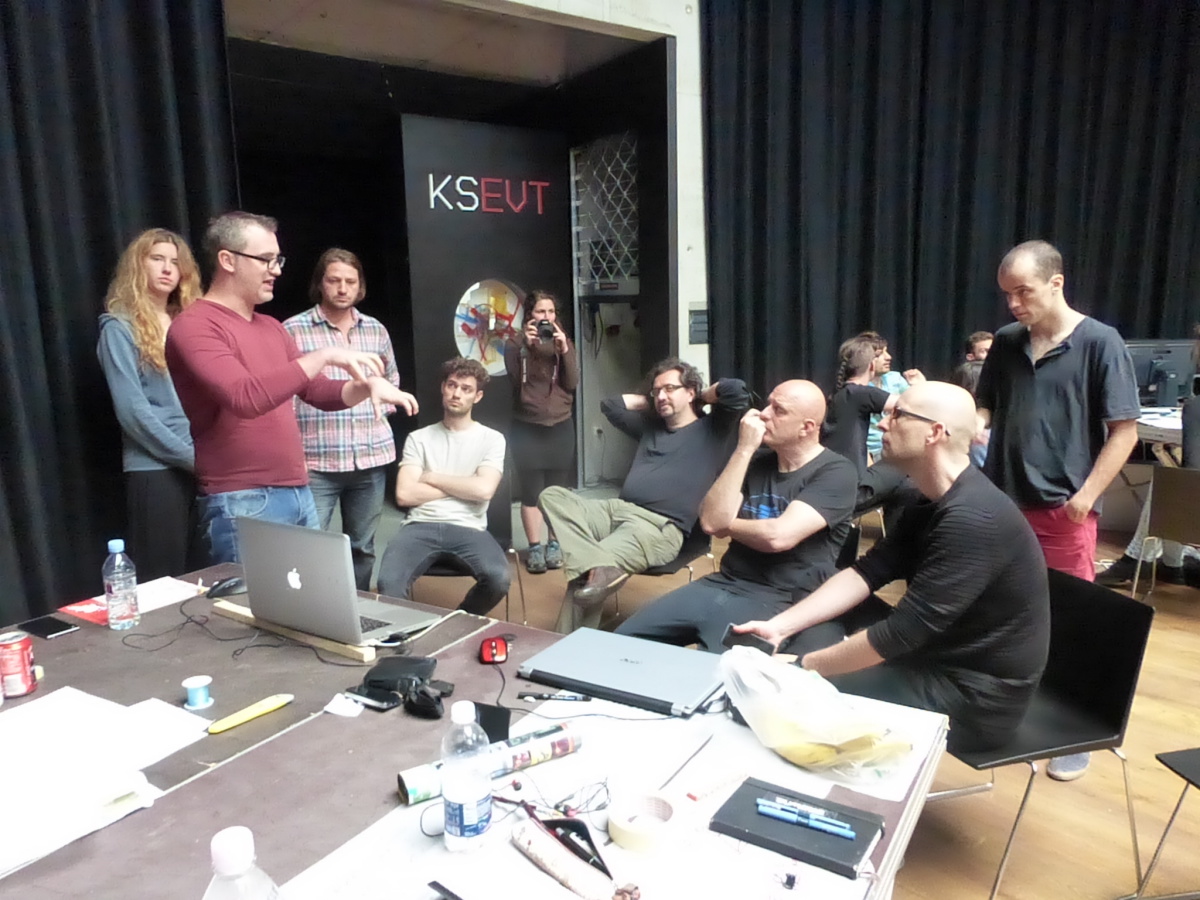 Space station
The team of young professionals and students gathered by AA from July 4-17, associated with the Biennial of Design in Ljubljana (BIO 50), was invited to participate in practical workshops and local interventions around KSEVT's unique architecture, in order to give meaning to this eccentric center, and more generally to define what a nanotouristic action consists of.
KSEVT is an art and science center dedicated to space technologies directed by Miha Turšič and Dragan Živadinov, a theater director known for being one of the founders of Neue Slowenische Kunst (NSK, also the subject of a large retrospective this summer at Ljubljana's museum of modern art), which emerged in Yugoslavian Slovenia in the early 1980s. Živadinov and Turšič succeeded in convincing the European Union to finance the construction of a cultural center in the native village of Hermann Noordung, a scientist who in the 1920s calculated the distance of the geostationary orbit and imagined adding a wheel-shaped station to recreate the Earth's gravity. Such was the inspiration for 2001, a Space Odyssey. Like a UFO fallen from the sky, the building, which opened three years ago in this little mountain village, is struggling to find a balance.
Local versus planetary
The students developed projects that were then adapted and materialized into actions or temporary or permanent structures, and attempted to create a comprehensive, tangible, even fictional experience of KSEVT as a village in Vitanje. Motto: "Local versus planetary".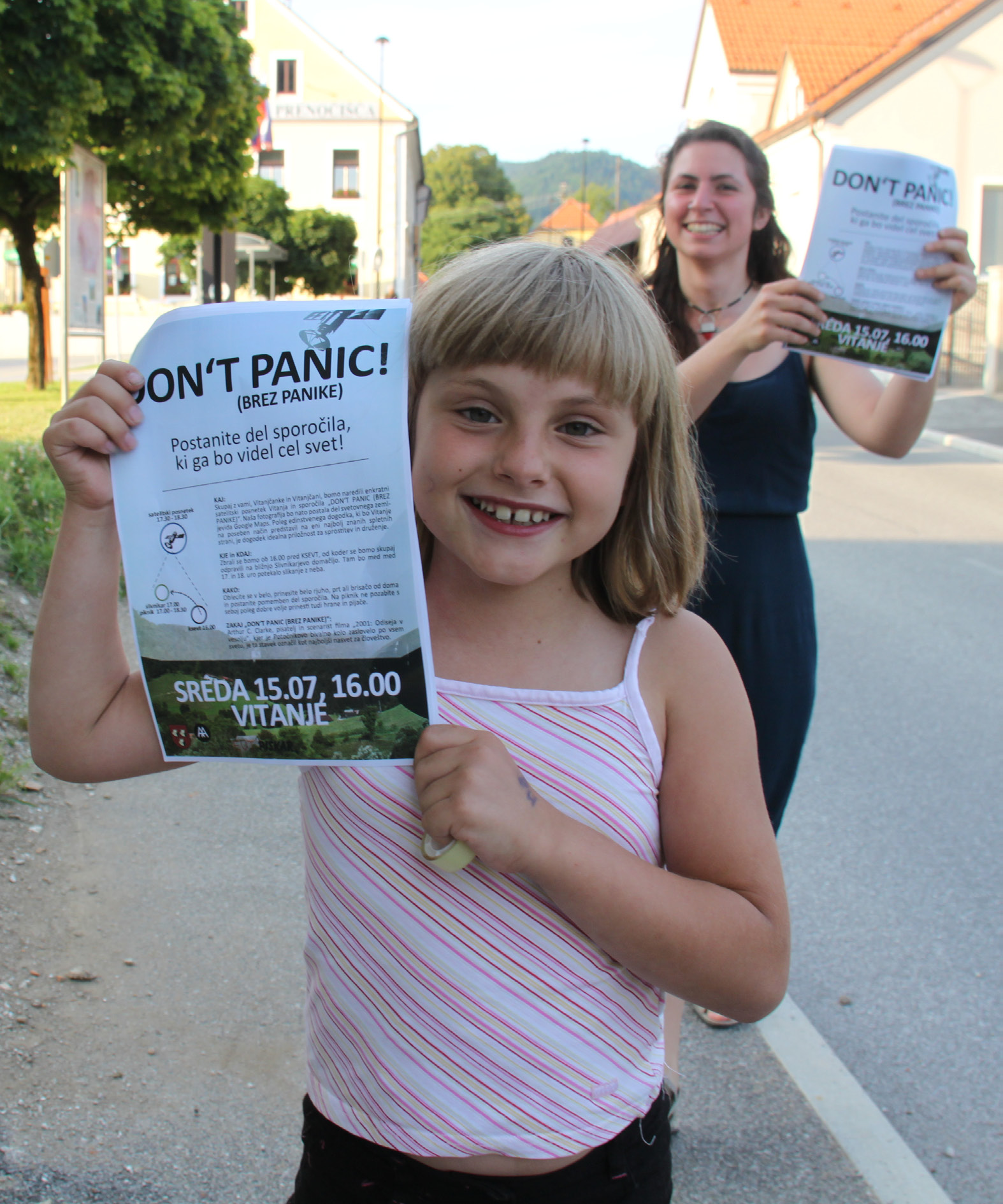 Don't Panic (Vitanje Space Call)
In collaboration with the community of Vitanje, participants created a land art installation based on aerial and spatial technology. How can a local community communicate with the whole planet and the cosmos ? On July 15, 2015, village residents and participants of the AA workshop wrote "Don't Panic" on the hill overlooking Vitanje.
Why "Don't Panic"? The phrase was inspired by Douglas Adams' Hitchhiker's Guide to the Galaxy, as well as Arthur C. Clarke's comment: "The best advice I think was given by Douglas Adams: 'Don't panic.'"
Despite global problems of inequality, climate change, dialogue and peace, a simple phrase is enough to remind us that there is no reason we can't overcome them.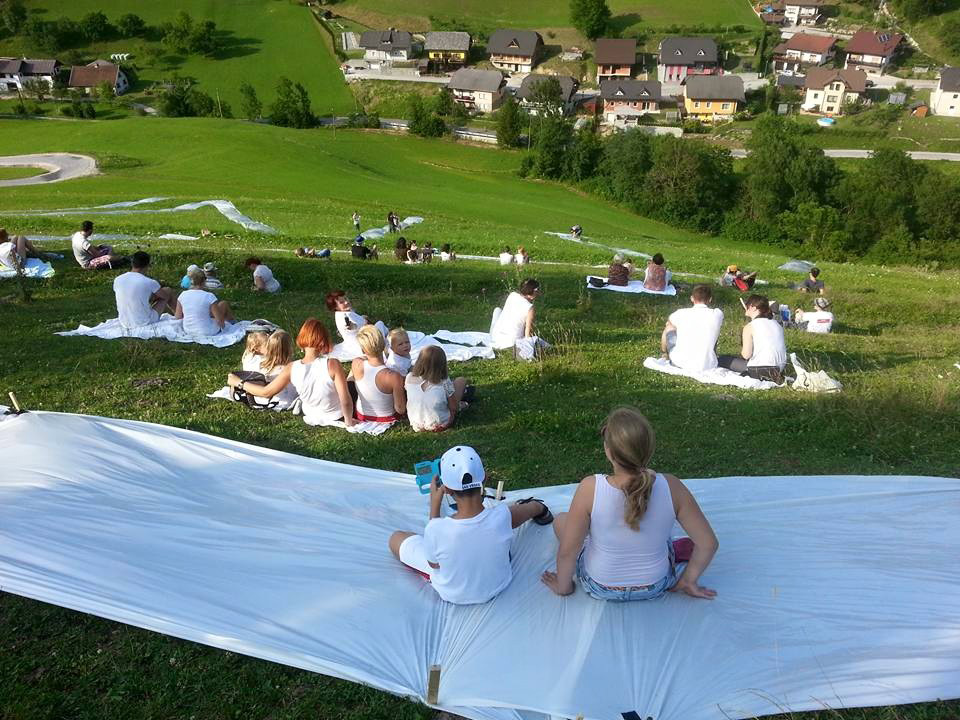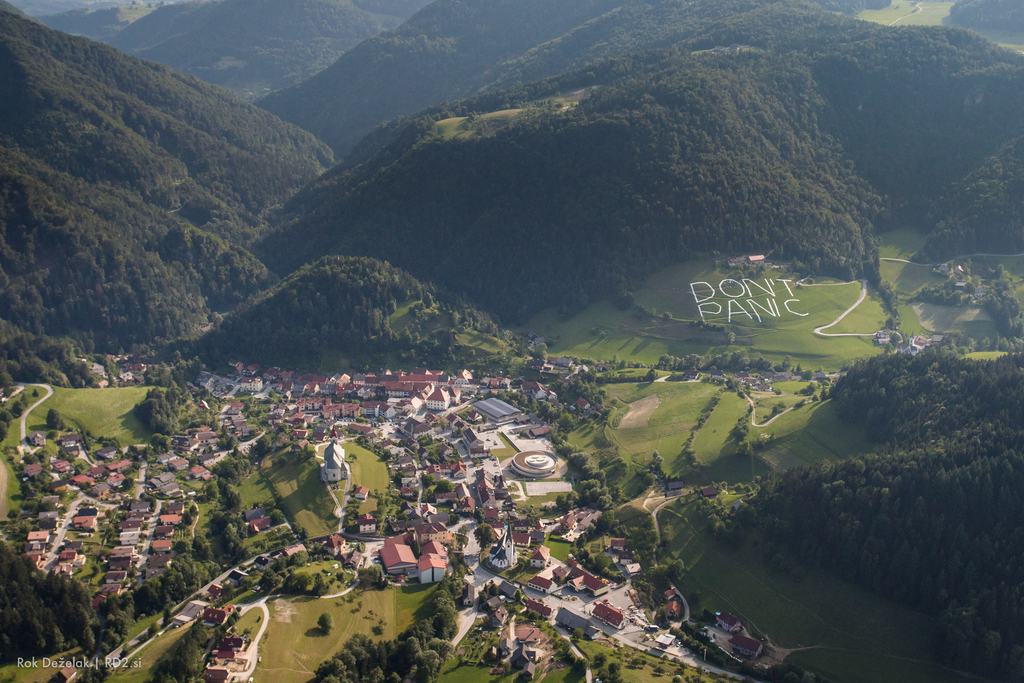 KSEVT expanded
Another "remarkable" project, "Expanding KSEVT", consists of offering visitors an experience of space that links local to planetary. Astronauts see 16 sunsets per day. Reflecting "stars" were installed on the slopes of Vitanje, allowing visitors on KSEVT's rooftop to also experience 16 sunsets.
KSEVT as playground
Finally, some participants played with concepts that inspired the center's architecture to design rope installations allowing people to physically experience losing their bearings.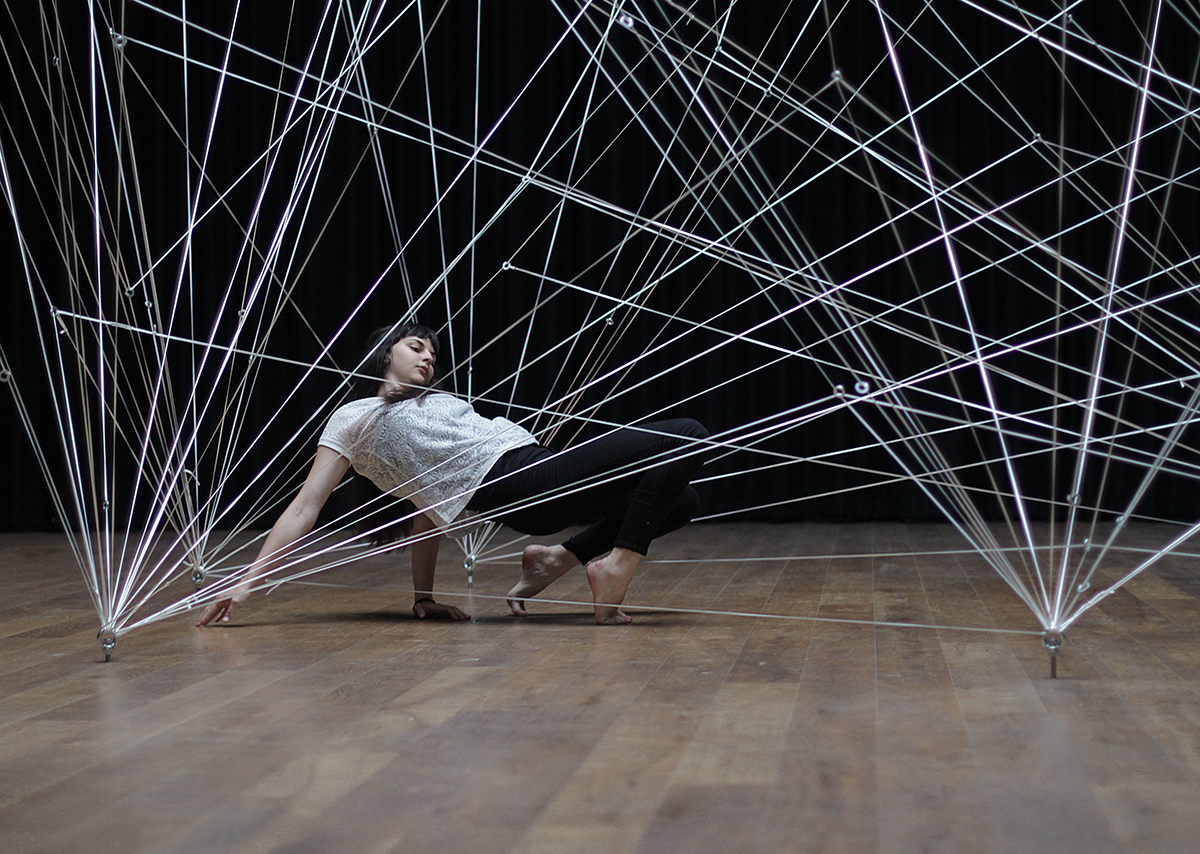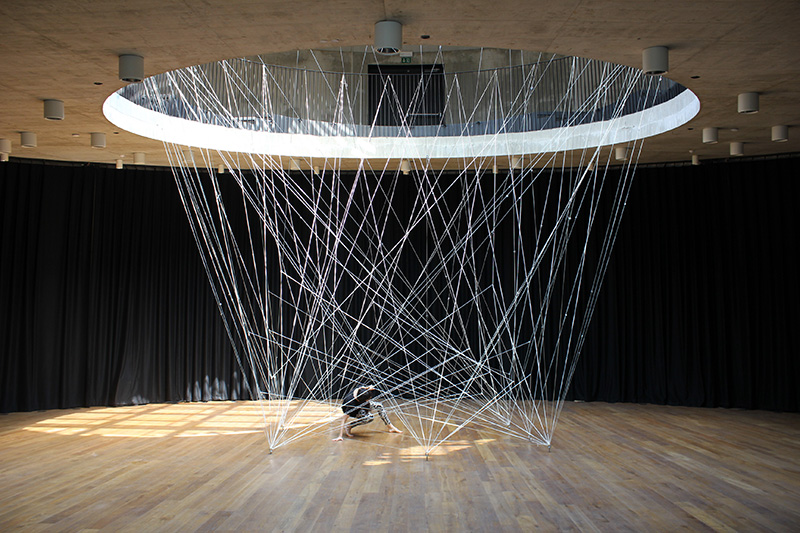 Architecture Association Visiting School Slovenia website
KSEVT Cultural Centre of European Space Technologies website