/ News
Back to work, bees! © Luce Moreau
Luce Moreau, that artist who sculpted with bees
In residence at Maribor (Slovenia), the artist from Marseille enrols bees in an odd sculpture game. This apicultural art makes it possible to reverse the roles attributed to humans and allows animals to reflect on past utopias, from cybernetics to Fourier's phalanstery.
(Maribor, special envoy)
Luce Moreau develops "Les Palais" (the Palaces), a long-term project around apiculture, following an apparently simple initial idea: make bees sculpt structures and palaces out of beeswax. A gentle way of asking difficult questions on the alleged socio-biological determinism of human societies. The same determinism that inspired socialist community utopias and also ideologised cybernetics, genetic research and justified the manipulation of crowds through public relations.
Slovenia, famous for its honey and its characteristic beehive colonies, welcomes the artist from Marseille in a development residence as part of the Working Holidays, a project that the association from Marseille OTTO Prod, has supported for ten years, in partnership with different places and institutions of the city.
A beginner in apiculture, Luce Moreau at first gathered information at length and met many beekeepers to nurture her Palace project that she inserts in a more global research called "Inverted Nature". The purpose of her residence is to carry out a set of tests. In sight, in autumn 2016, a display of her apicultural sculptures for the 10 years of OTTO Prod at the modern art museum UGM (Umetnostna galerija Maribor). The retrospective will also provide the opportunity to celebrate a 10 year partnership between Maribor and Marseille: in 2006, four people from Marseille, Maxime Berthou (Monsieur Moo), Paul Destieu, Luce Moreau and Olivier Tura managed the Hladilnica gallery on the Pekarna cultural wasteland for three years and have since maintained exchanges between the two cities.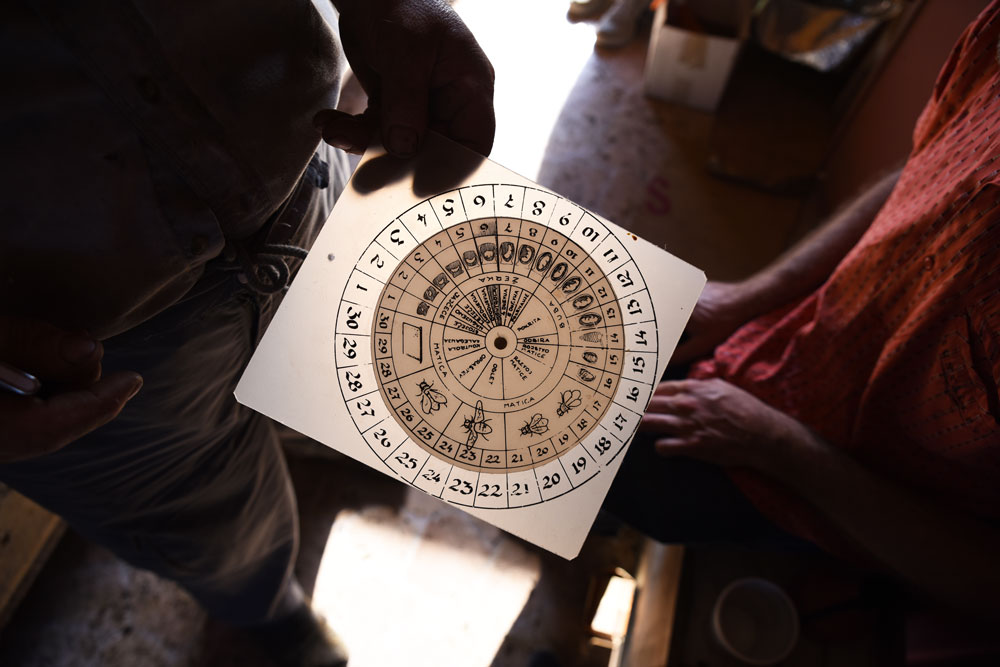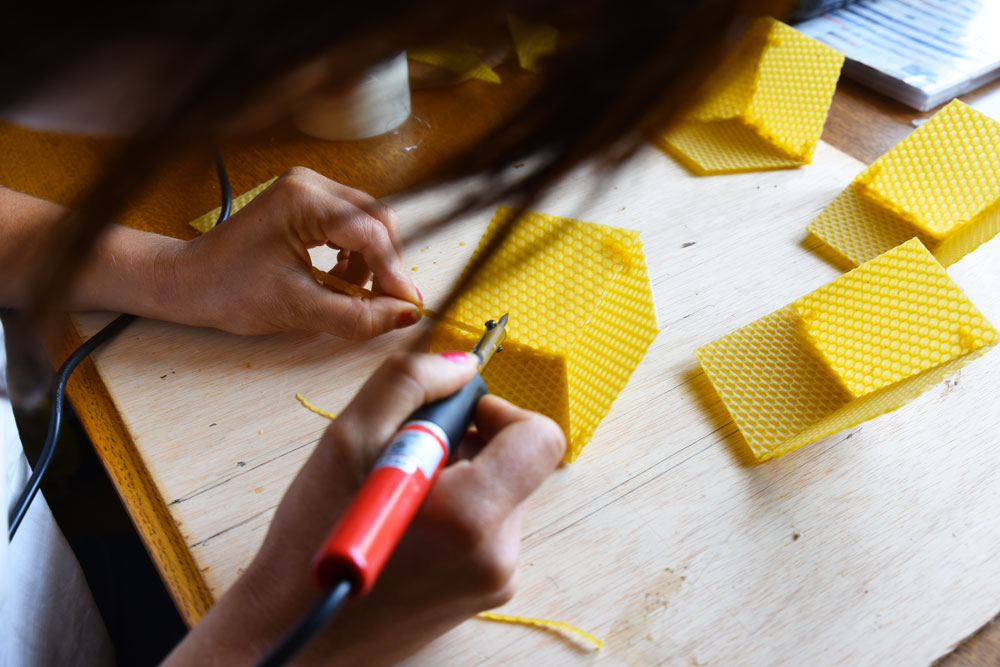 First tests in Pertuis
As soon as she arrived in Maribor this summer, Luce Moreau got in contact with several beekeepers from the area. She had previously carried out experiences in Pertuis (Bouches-du-Rhône region). Because the project has to make do with the constraints arising from the work of the bees that only truly build during three months per year, in spring!
In spring, while she was in residence at Arbories, in the Luberon region, Luce Moreau tested with Christine and Hervé Olmucci, beekeeping harvesters in Pertuis, several geometrical shapes: a plane curved by a half sphere, a hexagonal shape (like the hexagonal structure with a rhomboid bottom of a bee alveolus), a pyramid and a maze. These experimental settings allowed her to understand the rules that regulate the instinctive constructions of bees and state that "by opposition to the undisputable 'natural order of things', 'Organised nature' proposes to interact with nature to which one will have given an alternative order; gestures that highlight the fascinating nature of organisms and phenomena that one attempts here to divert from an instinctive approach in order to bring them towards a diverging aim."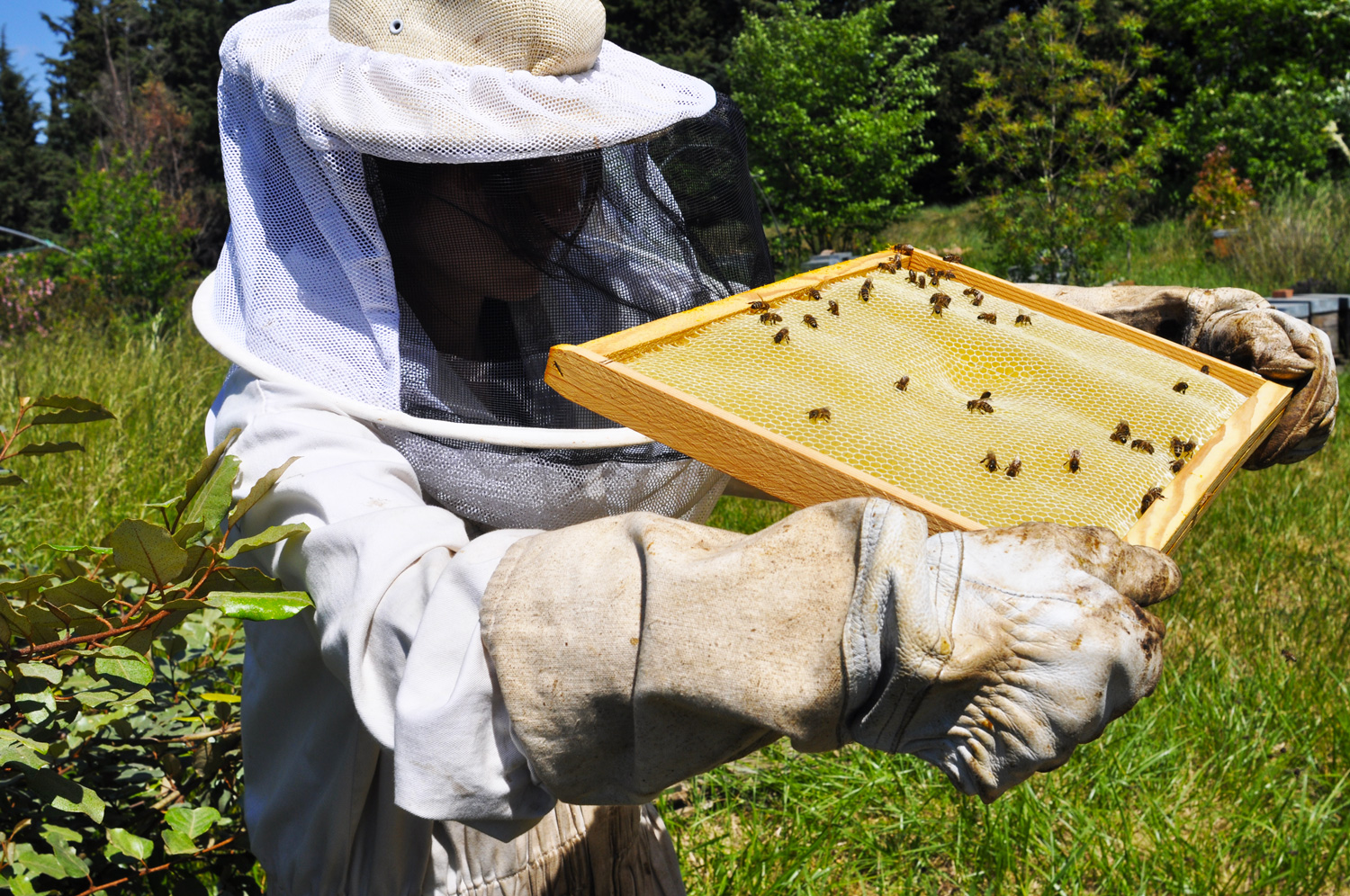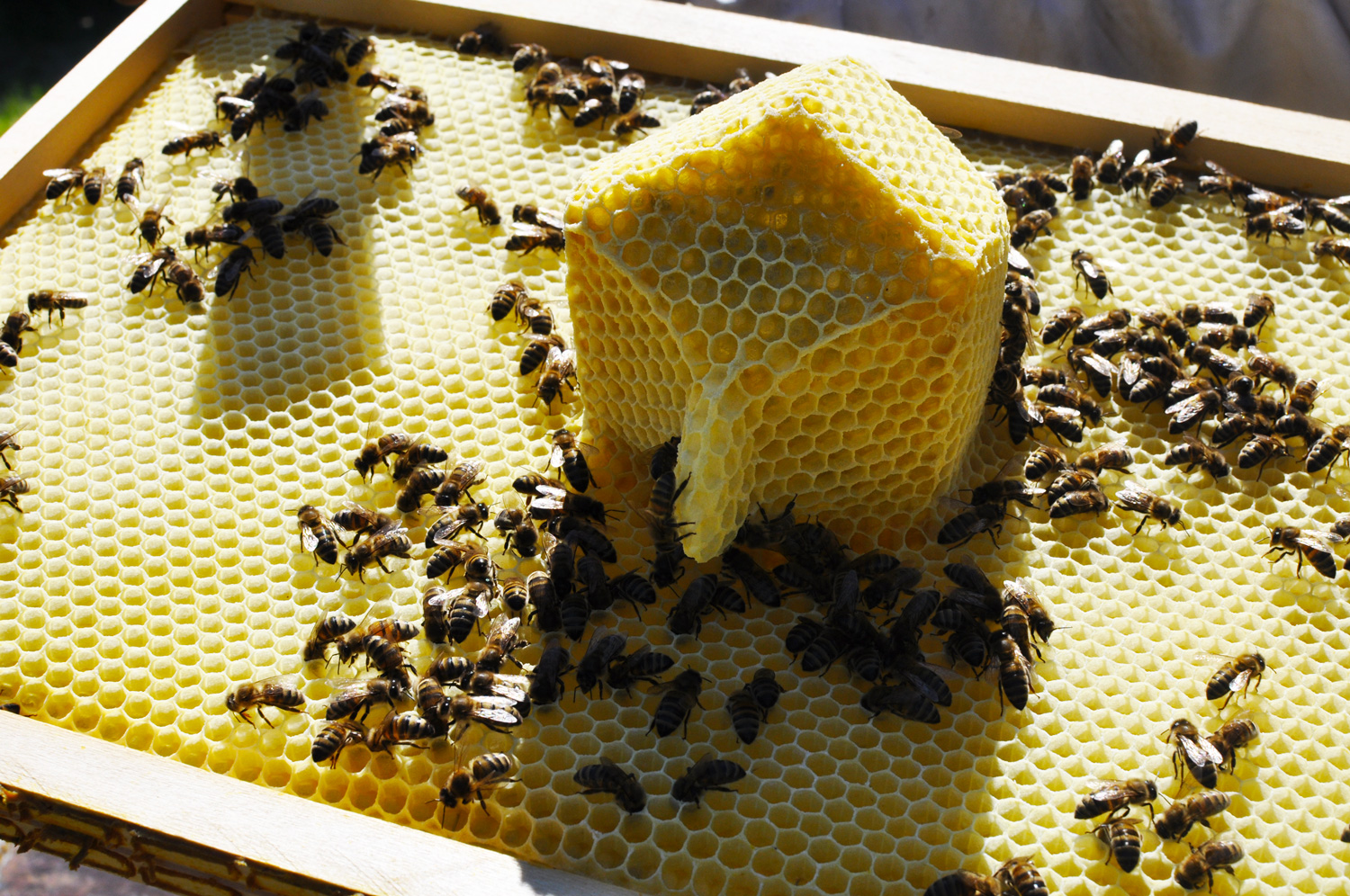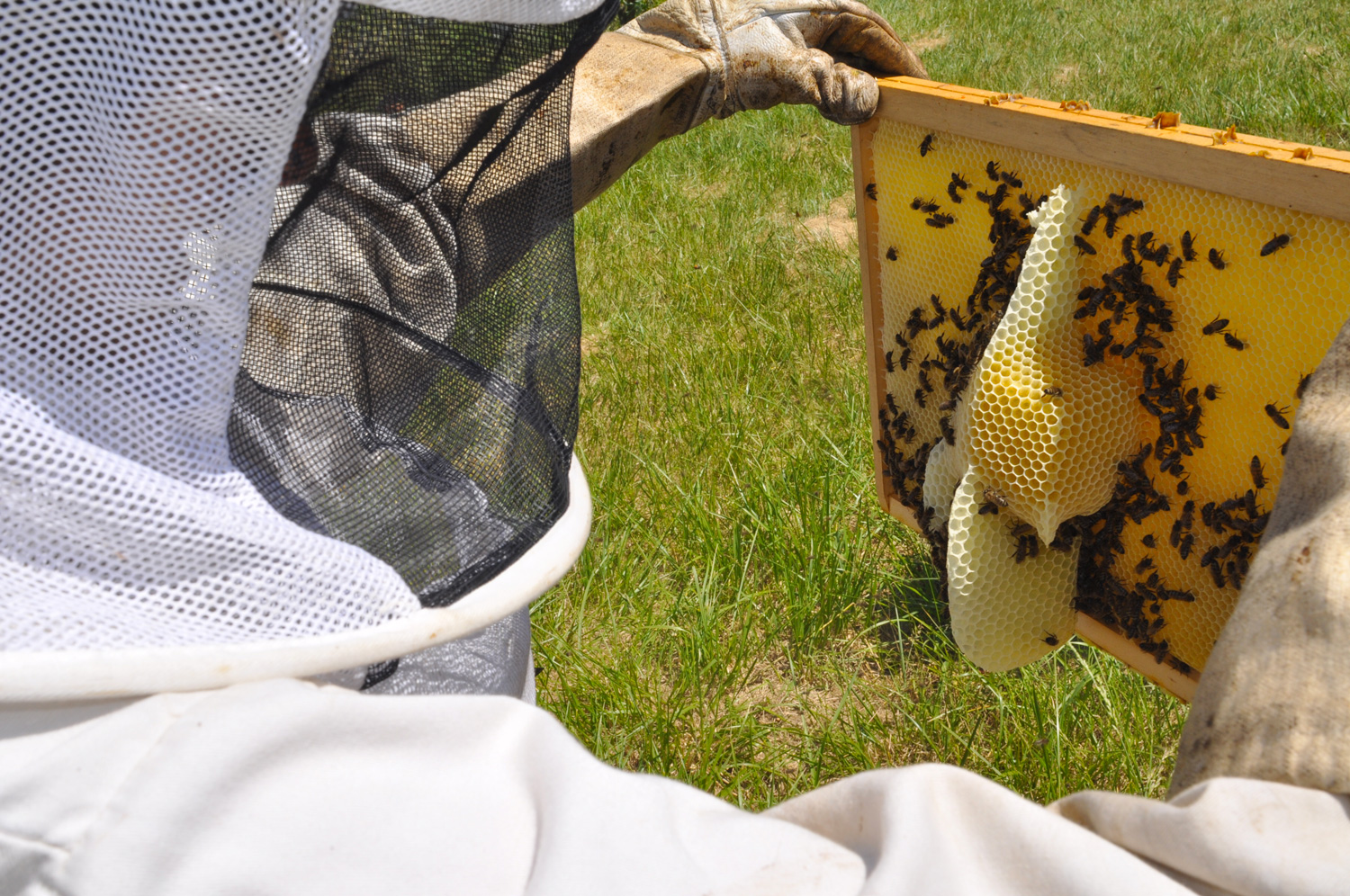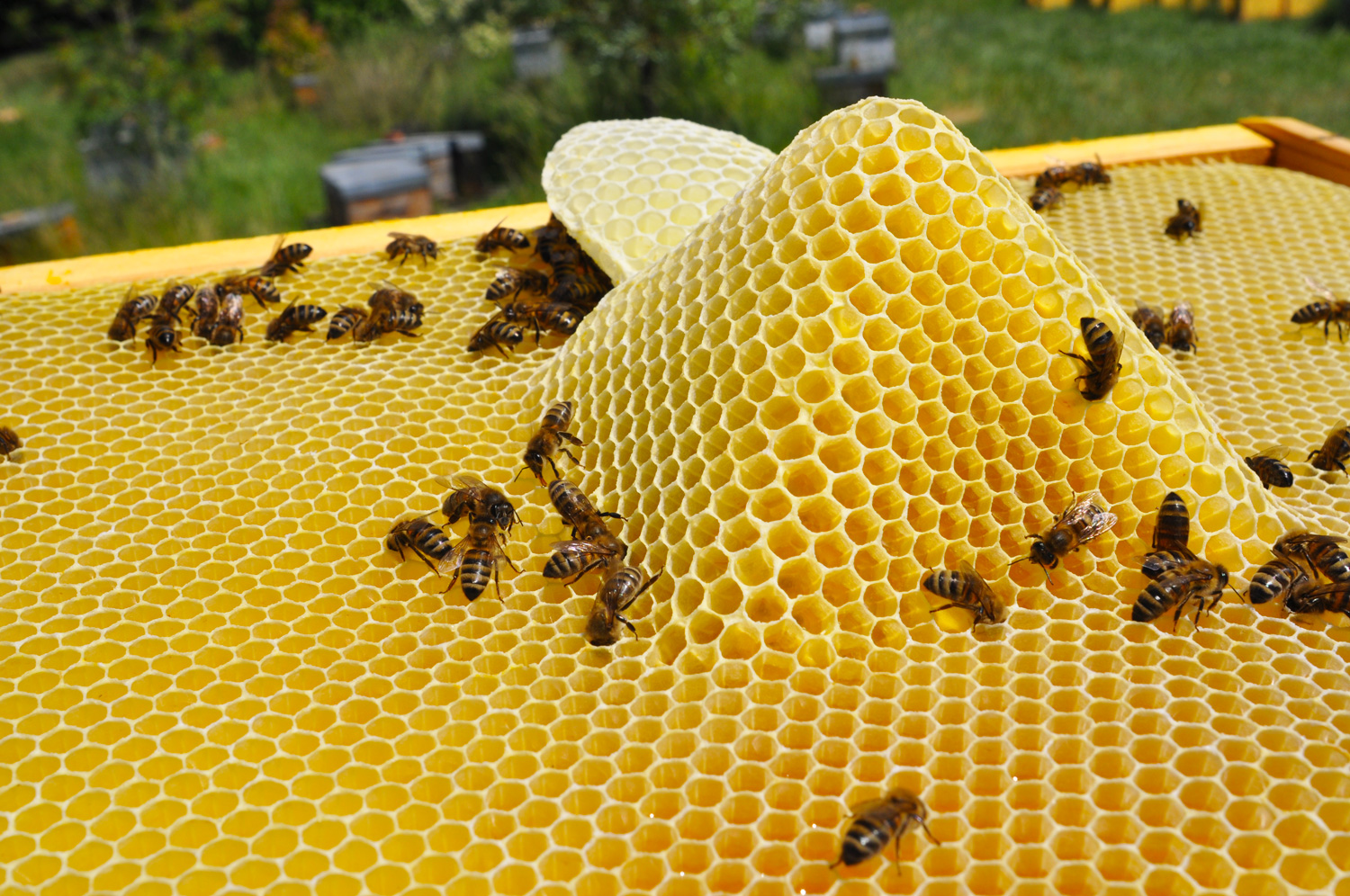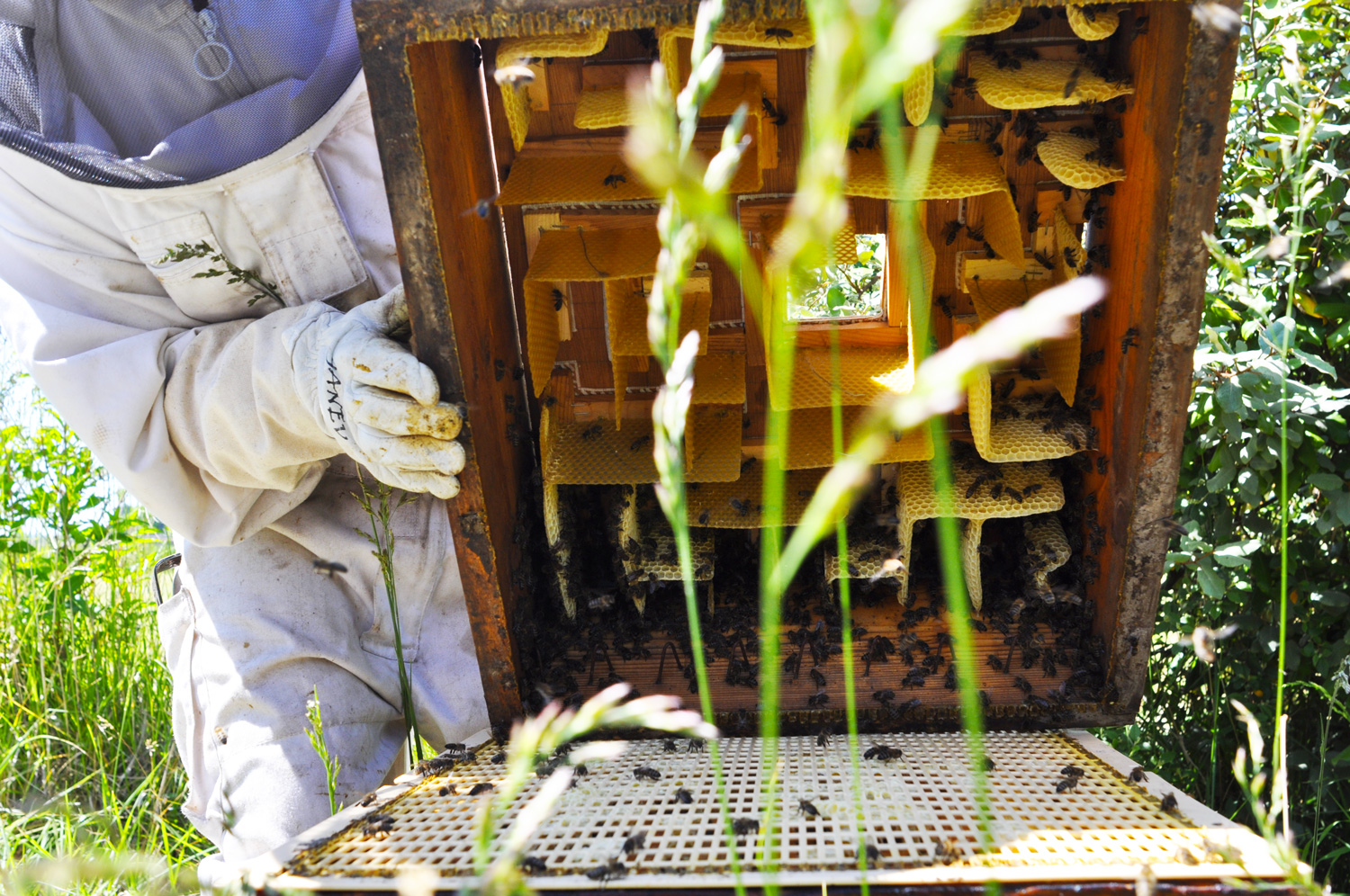 Experimentations in Maribor
In Slovenia, Luce Moreau met Mirko Rogina, Marko Stergar, Vladimir Pušnik and Ivan Bračko, beekeepers with traditional know-how, to explain to them her search for geometrical shapes with mathematical features, such as the torus (curved tube returned on itself), Klein's bottle (surface for which it is not possible to define an 'inside' and an 'outside') or Boy's surface (that can be 'seen' as a sphere the antipodal points of which have been glued two by two). She particularly tested the Möbius strip, a simple model of a loop created by taking a paper strip and giving it a half-twist, and then joining the ends of the strip together to form a loop.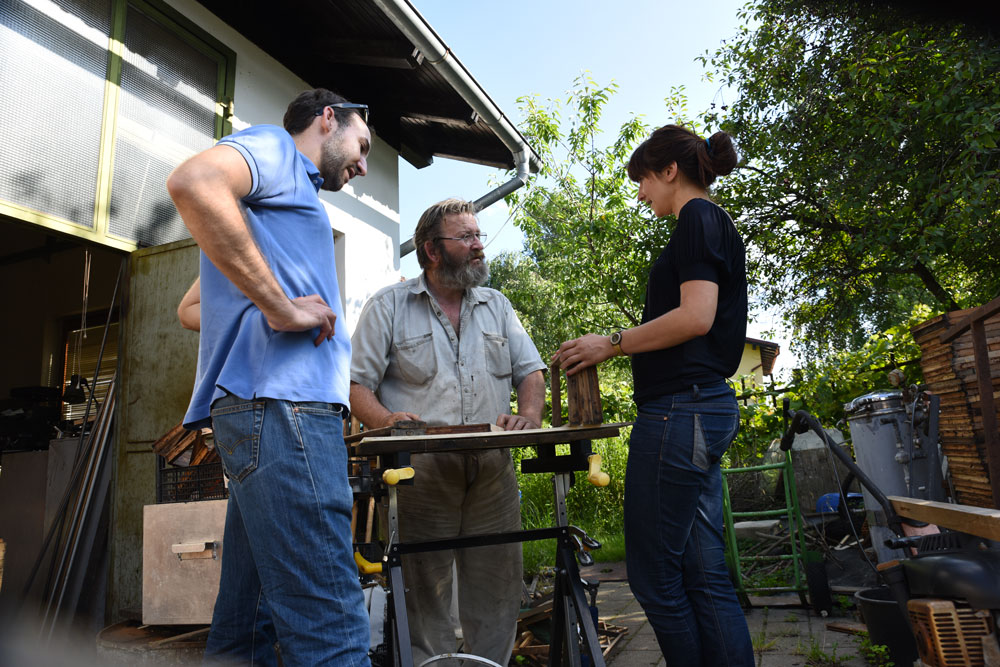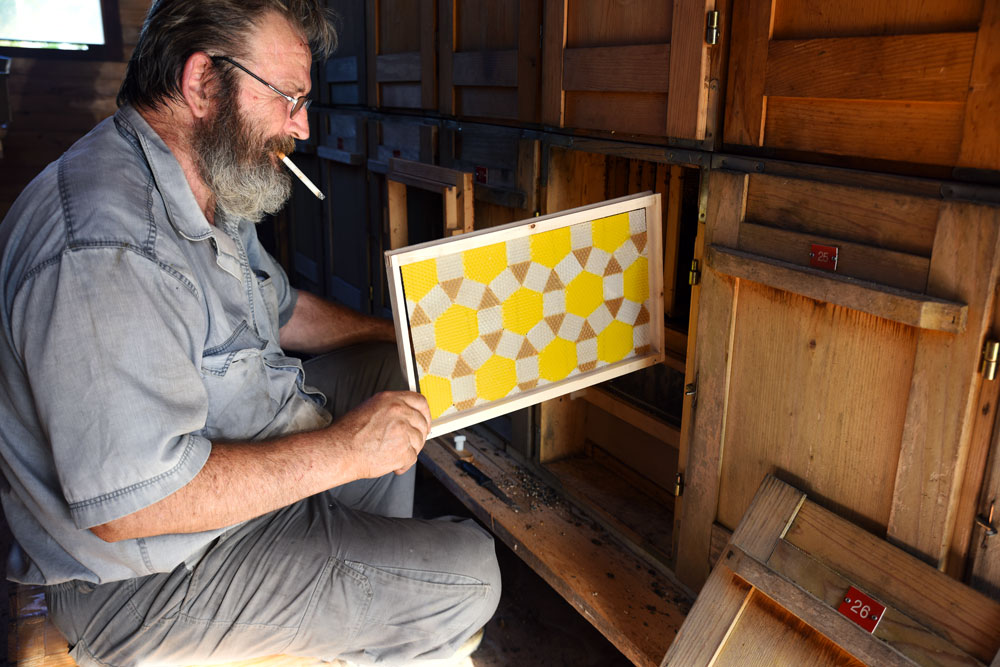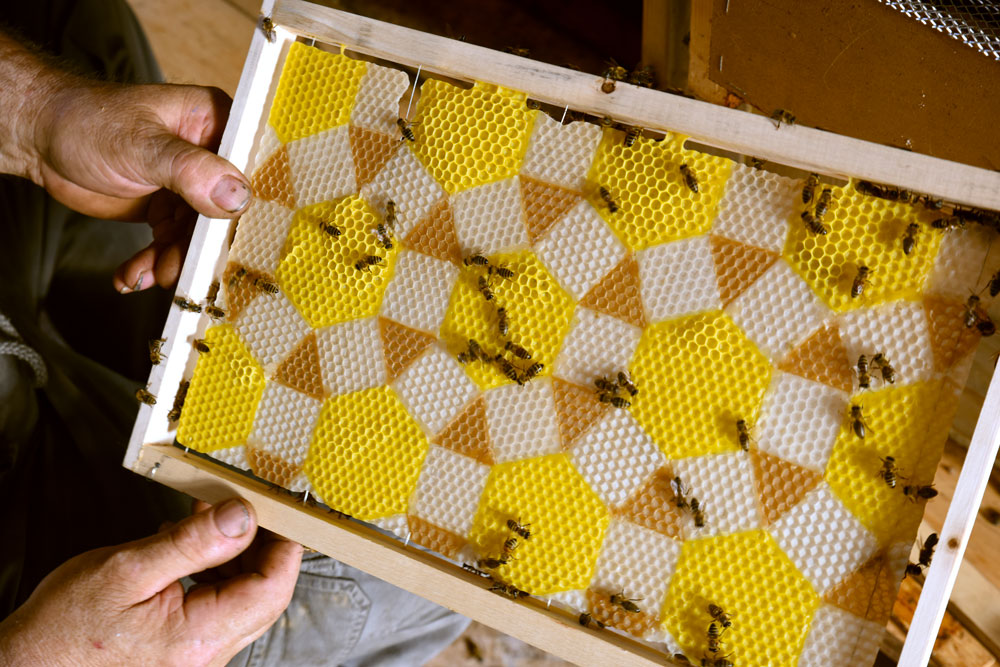 In Mirko's apiary, Luce Moreau experiments rhombitrihexagonal tiling, bevelled hexagonal tiling that replicates the hexagonal shape of the bee cell, to see if the bees follow the pattern imposed on them. Five days later, they have built as a priority on the yellow wax of the tiling bought in the shop, as opposed to the two others that are re-melted wax retrieved at two beekeeper's.
The structures must fit inside the dimensions of usual settings. Luce Moreau also wanted to propose to bees a rombo-dodecahedron structure, having noticed that bees built their own honeycombs according to the pre-established edges and planes. She submits here to the bees a polygon heart hanging in the middle of the honey super to turn it over every week and break the notion of top and bottom, so that the sculpture of the bees is able to go off in every direction.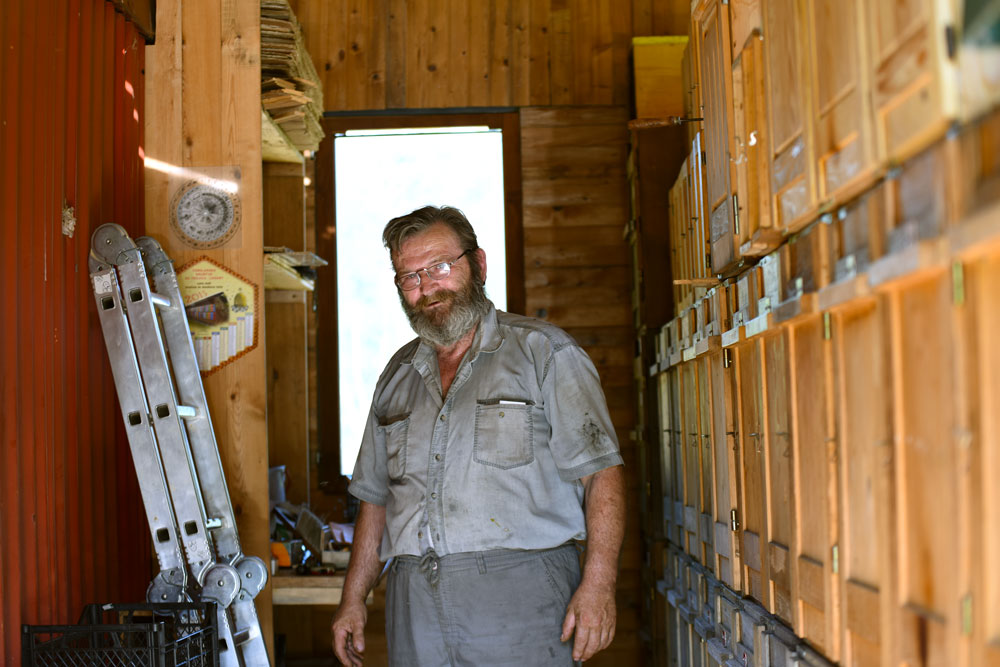 A life of honey
Luce Moreau relied on the experience of Vladimir Pušnik, from the Maribor beekeeping association, who set up the House of Honey where all the equipment for beekeeping can be found. Visiting the shop inspired Luce Moreau's constructions to a great extent. Vladimir even offers the benefits of apicultural breathing sessions via an inhaler connected inside the hive!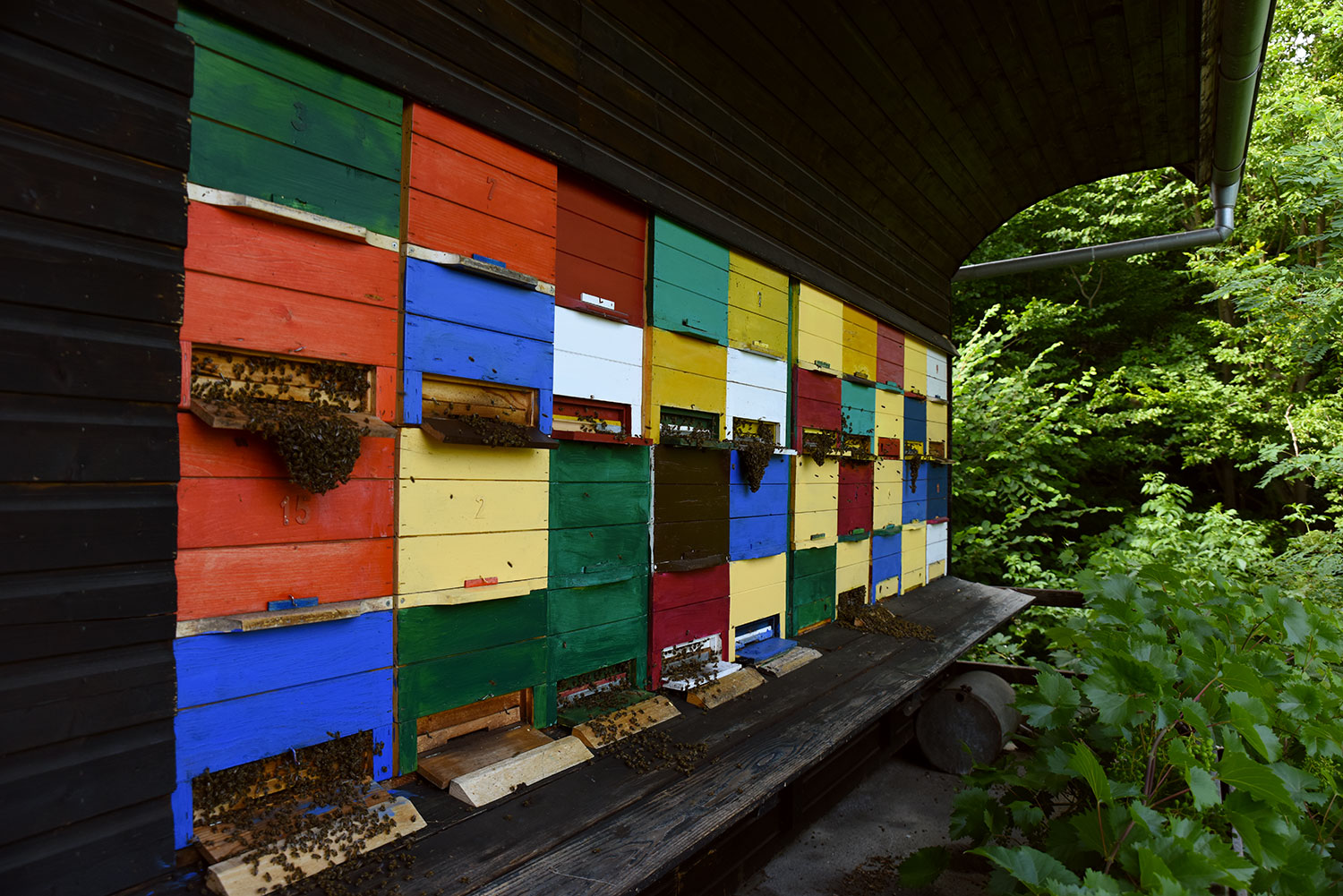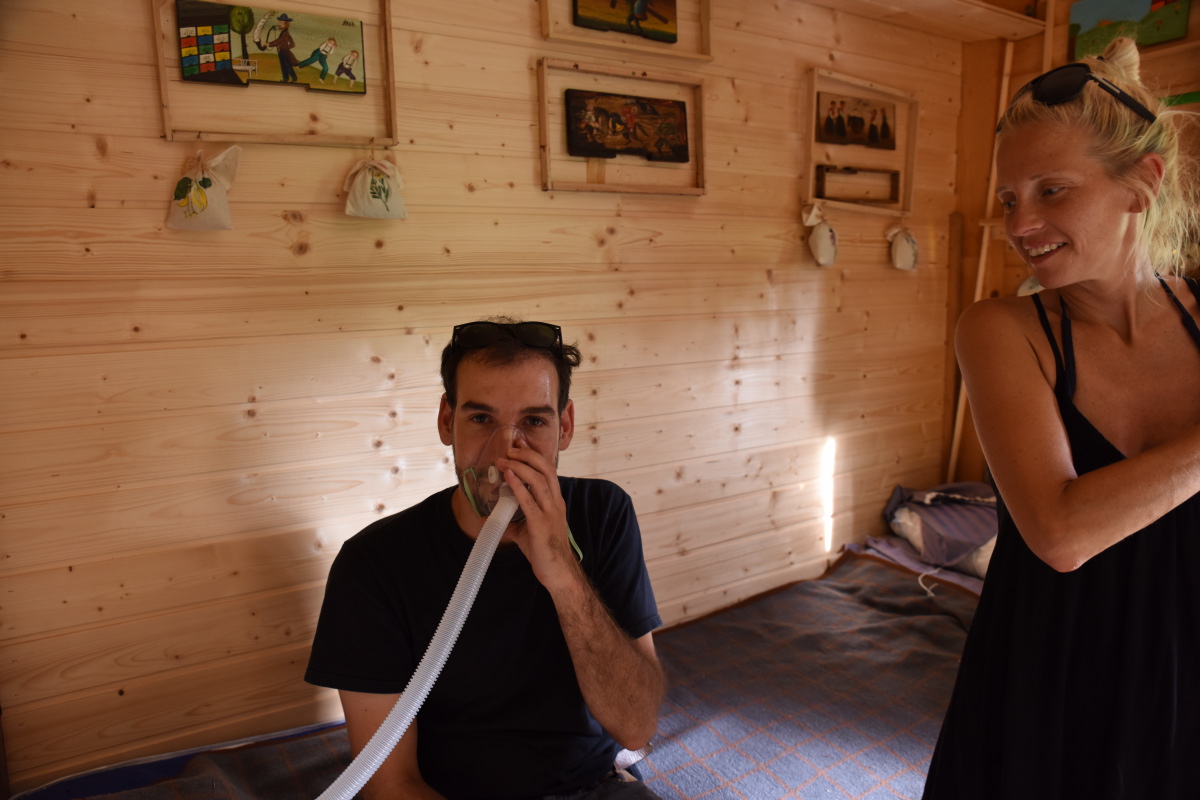 Workers
Eventually, the project « Les Palais » will make bees build more complex structures. Luce Moreau draws her inspiration especially from Charles Fourier, 's phalanstery to question, here in ex-Yugoslavia, the analogy of the working bee habitat with the idea developed by the philosopher from the beginning of the 19th century. Fourier imagined the collective life of "workers" in a harmonious and utopian 990 acre estate where one grows fruit and flowers above all else, where one works and lives together. "We imagine bees will not comply with the utopian scheduling of a Fourier, their own system of life in common having functioned perfectly for millions of years, but that is what interests me. Be that as it may, human society does not comply with it either most of the time. One can note all the same that collective life at the Familistère de Guise created in the 1860s by Jean-Baptiste Godin around his cooperative company that manufactured wood-burning stoves lasted nearly 100 years", says Luce Moreau.
For Luce Moreau and Paul Destieu, one must also question anthropocentrism through the exploration of geometrical cosmoses.
"Luce proposes structures conceptualised by man, but where bees apply their rationalisation in their construction."

Paul Destieu
Luce Moreau suggests a geometrical base corresponding to the laws discovered in nature by humans, taking a cosmic order, but the bees apply to it their own cosmos. According to her: "We then look at the constructions in return, still according to our own cosmos. The artistic dimension opens up here, it is beyond human design and its anthropocentred functionalism. In actual fact, the patterns are separated by a radical alterity."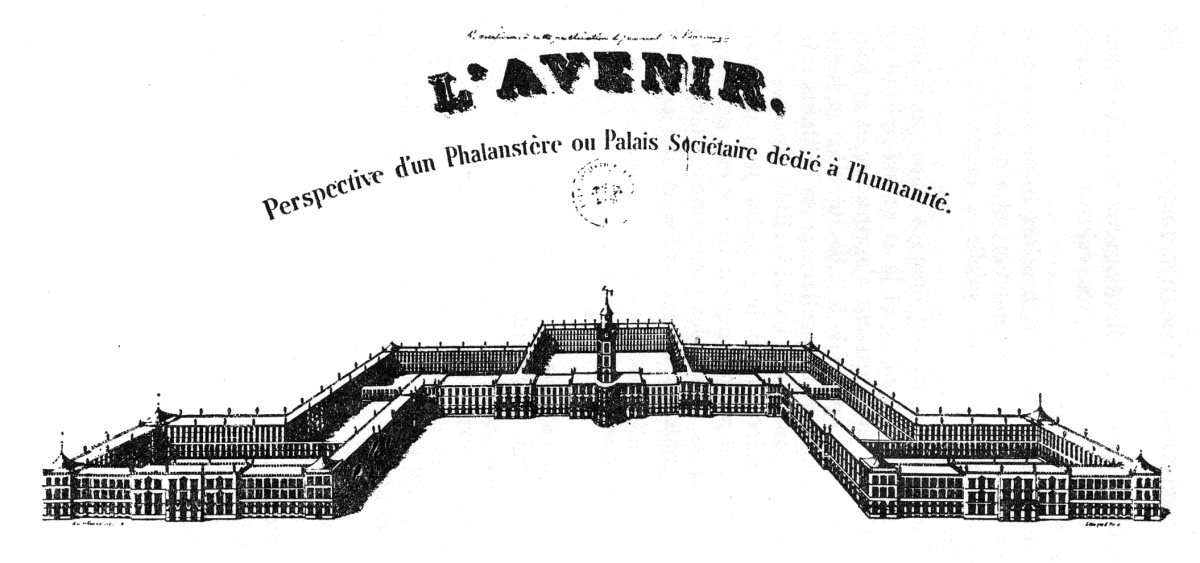 To know more about Luce Moreau' work
Making of: the author of this article was also invited in residence by OTTO Prod as artist author and curator.