/ Proto
«Induction Series #4.1 : Horseshoe», d'Aernoudt Jacobs, installation à voir et à entendre ! © Aernoudt Jacobs
Aernoudt Jacobs makes tin cans sing
"Induction Series #4.1", from the Belgian Aernoudt Jacobs, is a kind of suspended sculptural ready-made that uses natural resonance to create vibratory fields from its convoluted architecture.
(Caen, special envoy)
At first sight, the work is striking. Exposed in the back room of the alternative place La Fermeture Eclair, as part of Interstice the sound art festival, in Caen last May, Induction Series #4.1 takes the form of several dozen suspended tin cans, linked by a set of strings and powerful magnets, that fit and embed themselves in a curious chaotic architecture, revealing in the centre a narrow listening space.
"Induction Series #4", Aernoudt Jacobs, 2014:
Listening space, because despite its intense and twisted shapes that prod you to observe and admire the chrome-plated relief, Induction Serie #4.1 is meant to be listened to (the installation is different from the one shown above). Carefully even, given the fragility of its sound device, directly derived from the metal structure by induction or magnetic resonance.
Thanks to twenty odd electrical coils placed nearby, the metal cans momentarily go into vibration, thus creating magnetic fields that, naturally amplified, translate into strange roaring monotonous chants, that rumble and flow back, and push the spectator to pay attention.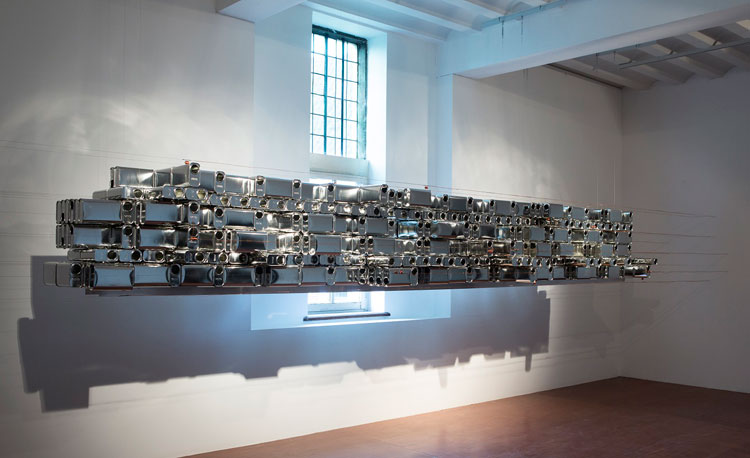 Revisited speaker
The sound artist Aernoudt Jacobs, teacher at the RITS Atelier Aaudio (drama and audiovisual techniques department of the Brussels Erasmushogeschool), and founding member of the collective Overtoon with Christoph De Boeck, a support platform for sound art production also based in Brussels, had set out to "revisit the speaker technology".
"A conventional speaker uses three components to amplify sounds: a magnet, an electromagnet, and a membrane. These three elements bring air into motion and as a result produce sound. In some way, the Induction Series reconfigures the speaker system. By further deconstructing and analysing the speaker components and principles, I collected basic materials and different ideas, forms and objects that produce sounds. "
As its name suggests, Induction Series presents several ready-mades exploring the induction theme. "Every work is rooted around the same research principles and basic materials: electromagnets, copper, coils, neodymium magnets, sound and objects… The other objects are old didactic instruments, strings, various resonating cavities, glass objects, corrugated cardboard. One of the upcoming pieces of work in this series will be based on one iconic piece by Marcel Duchamp."
Conversation with space
Induction Series 4.x is configured around the principle of stacked tin cans. "The stacking is inspired by brick wall models" says Aernoudt Jacobs. "It is a flexible configuration that can take very different shapes. I design it differently for each piece of work in situ. The space where it is presented is the input for the structure of the shapes. Each iteration is uniquely in conversation with the dedicated space."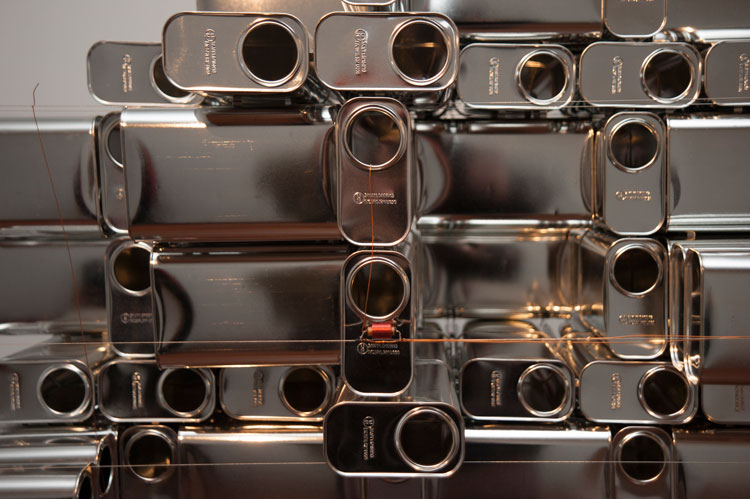 This idea of conversation is obviously continued in its sound dimension. "It is multi-channel work", continues Aernoudt Jacobs. "Each coil produces a pre-recorded sound and the architecture of the hollow cans amplifies and mixes the sounds naturally together. The amplification happens naturally because the hollow can functions as a resonator. The sound also gets coloured by the characteristics of each can."
Tension between eye and ear
The most curious sound intonations, like this chirping one would swear came from a bird hidden in the scrap iron, occur without any additional effect, by alternating increases in sound and silence. "I'm looking to achieve a weighted balance between the immaterial sound and the sculptural object. This for me has more to do with how I want the installation to present itself before an audience, the dichotomy or tension that I want to develop between what you hear and what you see, because in our society our perception is mostly based on what we see. »
This reference to the perception of the public is essential. Despite is formal purity, Induction Series 4.x can only reveal itself through its experience: a kind of translation of the complexity and the stratification of our immediate environment that can be experimented simply, just by listening. Must one then see in this tin architecture a simple answer to the frenzy of our modern world? "Your interpretation is as good as mine. Normally I don't elaborate on interpretations", says Aernoudt Jacobs with a smile.
"My research is based on experimentation, sound, science, technology, knowledge, perception, phenomena. And the work I create is directly in concordance with this research."

Aernoudt Jacobs
We will be able to follow the evolution of Induction Series in Norway, programmed from the 3rd of September to the 25th of October at the Punktfestival. By 2016, four pieces of art produced by the collective Overtoon will be presented at the festival Maintenant au Bon Accueil in Rennes in October, and at the festival Interstices in Caen. "We are very glad about this small network partnership", rejoices the Belgian artist, as if to better appreciate the discreet but significant sound curves of his curious devices.
To know more about Overtoon and Aernoudt Jacobs