/ Events
An aisle of Innovation Village. When will we see a future without screens? © Nicolas Barrial
Futur en Seine: "demo or die" in Paris
Prototypes paraded across Innovation Village at Futur en Seine 2015, Paris' all-digital festival. At Gaîté Lyrique from June 11 to 14, makers and project instigators attracted a wide audience, as a human chipping session stole the media spotlight.
Words and photos: Nicolas Barrial
On June 13, Parisian digital culture mecca La Gaîté Lyrique was swarming with a crowd of technophiles and technocurious, somewhat scalded by the computers ventilating the furnace, who came to explore Futur en Seine 2015's Innovation Village. The theme of this year's festival: Human X Digital. Amidst numerous augmented reality demos and other interactive museum applications, some stands offered materiality, most notably the floor dedicated to fablabs, in order to take the visitors out of the screen.
Portable milling machine
On the fablab floor, at the Nouvelle Fabrique stand, a small CNC was equipped with a pen in lieu of a drill to sketch a stylized portrait of visitors. According to Sonia Laugier, designer at In-Flexions and member of the Arts Codés collective, the goal is to connect digital processes to traditional techniques, such as drawing. Made by François Brument, the machine was designed to be taken apart and travel. Last year, it was in residence at Taiwan's Yingge museum of ceramics.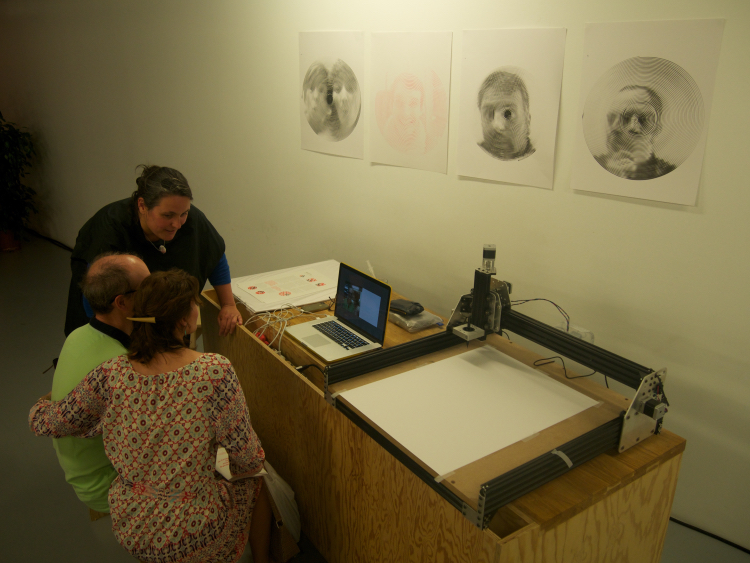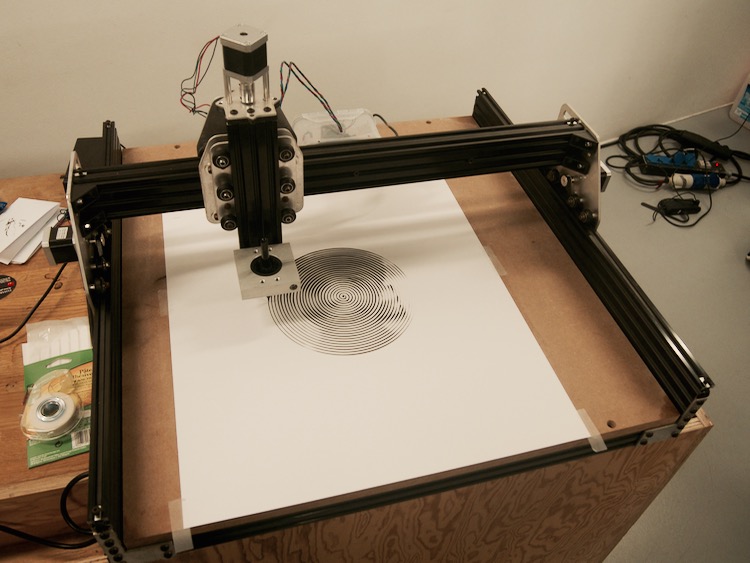 DIY telescope to chase asteroids
From portraits to observing the universe, digital technology can do anything. Networking little scientific contributions is what we call citizen science, especially when it's about uniting against global threats, such as asteroids. It was this surveillance of celestial bodies that led to the conception of the Ultrascope by the British Open Space Agency. This open source telescope, winner of Dassault Systems' IOT competition, is based on Arduino and uses an application to pool observations.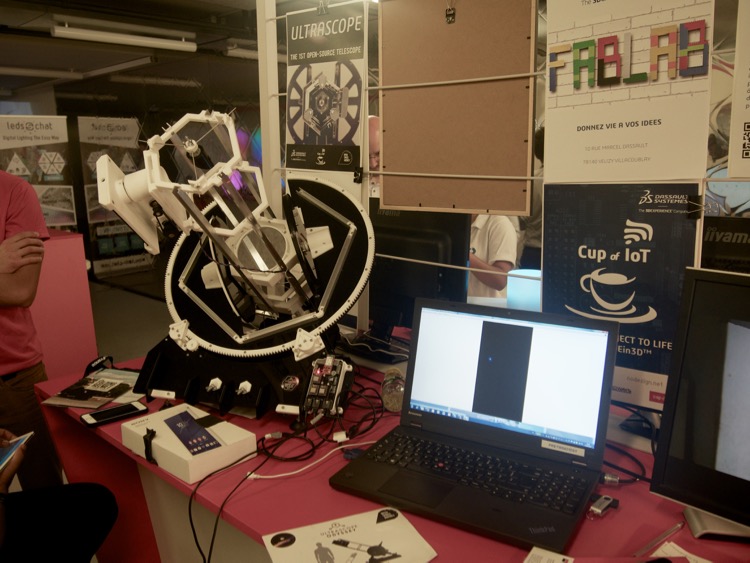 Pollution data vs. data pollution
Pollution is what preoccupies French start-up Plume Labs, which installed Urban Dirt Lab, an advanced observation post for air pollutants in the neighborhood around La Gaîté. A window was opened to distribute sampling kits and a sensor to wear while moving. It only took a few minutes to download the application and pair it with the sensor, which would display the type of pollutants in the visited zone. Plume Labs intends to commercialize the equipment, once it has miniaturized it a bit more.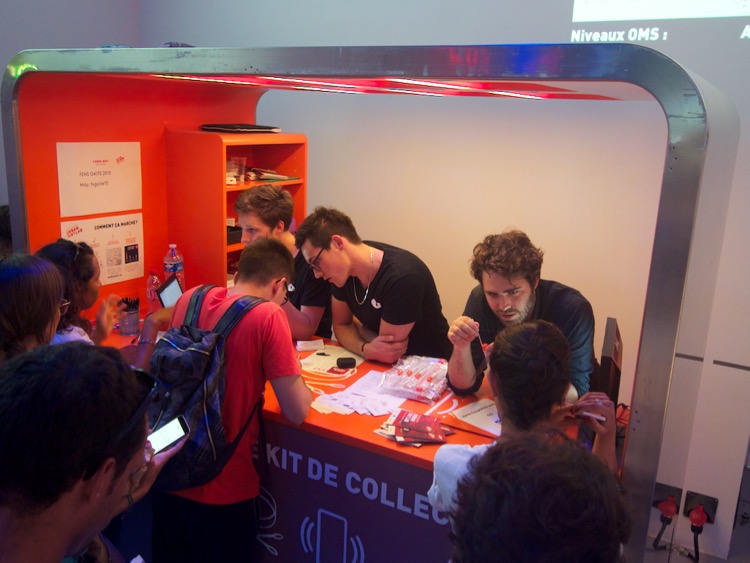 On the steps of La Gaîté, artist Albertine Meunier and the members of the We Love the Net collective attempted to make visitors aware of the (coveted) value of our personal data, while having them recite the Datadada manifesto, written in 2014 by Albertine Meunier and Julien Levesque, before an enthusiastic crowd… between Tweets and Facebook updates, of course.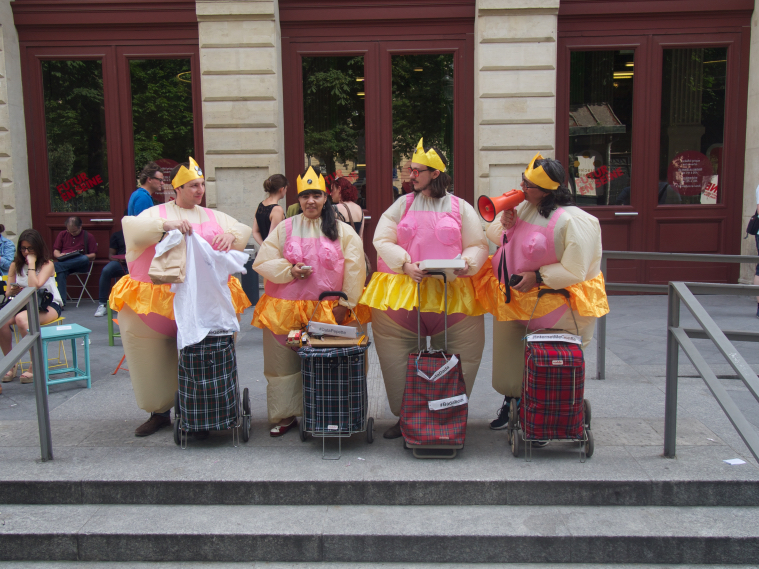 Future under the skin
By late Saturday, France threw its first "Implant Party", a ceremony for technological augmentation and non-medical objects crossing the cutaneous barrier. In short: implanting an electronic chip under the skin.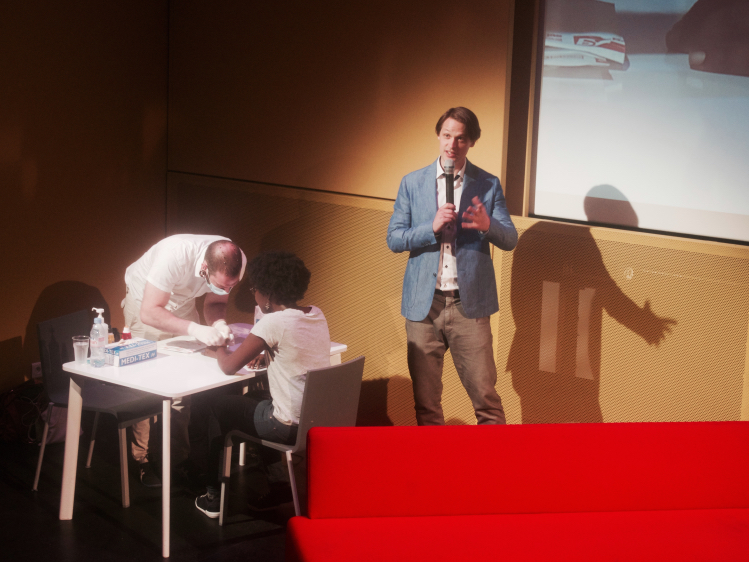 Held in the auditorium of La Gaîté by the Swedish group Bionyfiken, the implant party provoked feverish excitement among the audience and made a few individuals very happy, including Awa, who was implanted live and is now one of the first French citizens to be chipped.
Innovation Village is now closed, but Futur en Seine continues through June 21.