/ DIY
Seed bomb, just sprouted. © KnitSpirit-CC BY-NC-ND 2.0
DiY: seed bombs to be tossed
Spring is the season for seed bombs, those seed balls made to be tossed into the fallow spaces of our cities. Germinated from the Guerrilla Gardeners movement in the United States in the 1970s, seed bombs are fun and easy to make.
In a group or solo, commando-style or as a responsible urban gardener, it's open season for seed bombing. Seed bombs follow the return of fair weather and the planting period that is familiar to every good gardener (until late May where we're from). These stealthy seed bombs are tasked with restoring the rights of Nature in the city. Guerrilla-style gardeners throw them over the walls and fences of fallow grounds and fields, or squeeze crack bombs into the crack of a wall to see wild grass or seasonal flowers grow out of it.
The plethora of online tutorials range from the most militant to the most bucolic and erudite (the choice of seeds is, of course, fundamental). In principle, however, the method is simple and requires nothing more than two-parts clay, one-part soil, seeds and some water. Perhaps a bit confusing in practice, but Makery helps you choose your ammo !
A bit of history
Masanobu Fukuoka, pioneer of "natural agriculture", an even more radical variety of permaculture, developed a technique to wrap seeds in clay. Blogger, permaculture and agroecology specialist Mathieu Foudral reports on his site that the Japanese farmer "had a problem with rice seeds that sometimes rotted after seeding or were systematically devoured by birds. So he invented the following technique : 'Spread seeds over a tray or basket and shake in a circular motion. Sprinkle finely powdered clay and occasionally mist with water. This forms small balls of about 1 centimeter in diameter.'"
A bit of politics
But Fukuoka didn't think as far as the "seed bomb". These emerged in the turbulent 1970s with the Green Guerrilla movement, founded in New York in 1973 when Liz Christy promoted the seed grenade. It was the beginning of green activism, spun off like street art into the concept of guerrilla gardening to reconquer privatized public spaces.
The movement started with wild flowering campaigns, before occupying an uncultivated field to transform it into a shared garden. Since then, guerrilla gardeners have spawned all over the world, especially in the U.S. and the UK, although the Guerrilla Gardening France community is also active. Who knows how many balls or bombs rich in flowers and "weeds" have sprouted thanks to them…
Seed bombs launched into an empty lot in New York City by MoRUS (Museum of Reclaimed Urban Space) (2012) :
Seed bomb user manual
Materials
Clay, garden soil or potting soil (compost is frowned upon by permaculture purists, as it puts humans in the position of transforming their environment…), seeds. For the choice of seeds, see tips (in French) by Prise de Terre or Bioconsomacteurs, who recommend "plants with flowers that are rich in nectar (and so attract bees and other pollinators, which we need) or local vegetables."
Creamy variant
Using fresh cream and sugar, you can make crack bombs (to slip into the cracks and interstices of walls and fences, bus shelters, etc).
Buyer variant
Some Guerrilla Gardeners have taken activism to the point of selling seed bombs. Instead of tinkering around, buy an "authentic" grenade, with Guerrilla Gardening UK's Pollinator, priced at 4 euros. Just water and toss into any empty lot to make its plants sprout.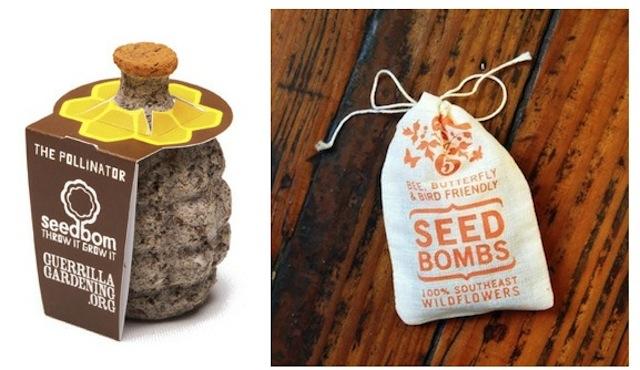 Fabrication
Two methods and a whole lot of tutorials…
The crack bomb version, in militant mode and with relevant shared poster, takes longer because it requires first locating nature in the city to harvest the seeds from the buddleia or the ruins of Rome (resilient plants capable of proliferating).
Crack bombs (in French), poster by Muriel & Trap (Copyleft-Licence open art):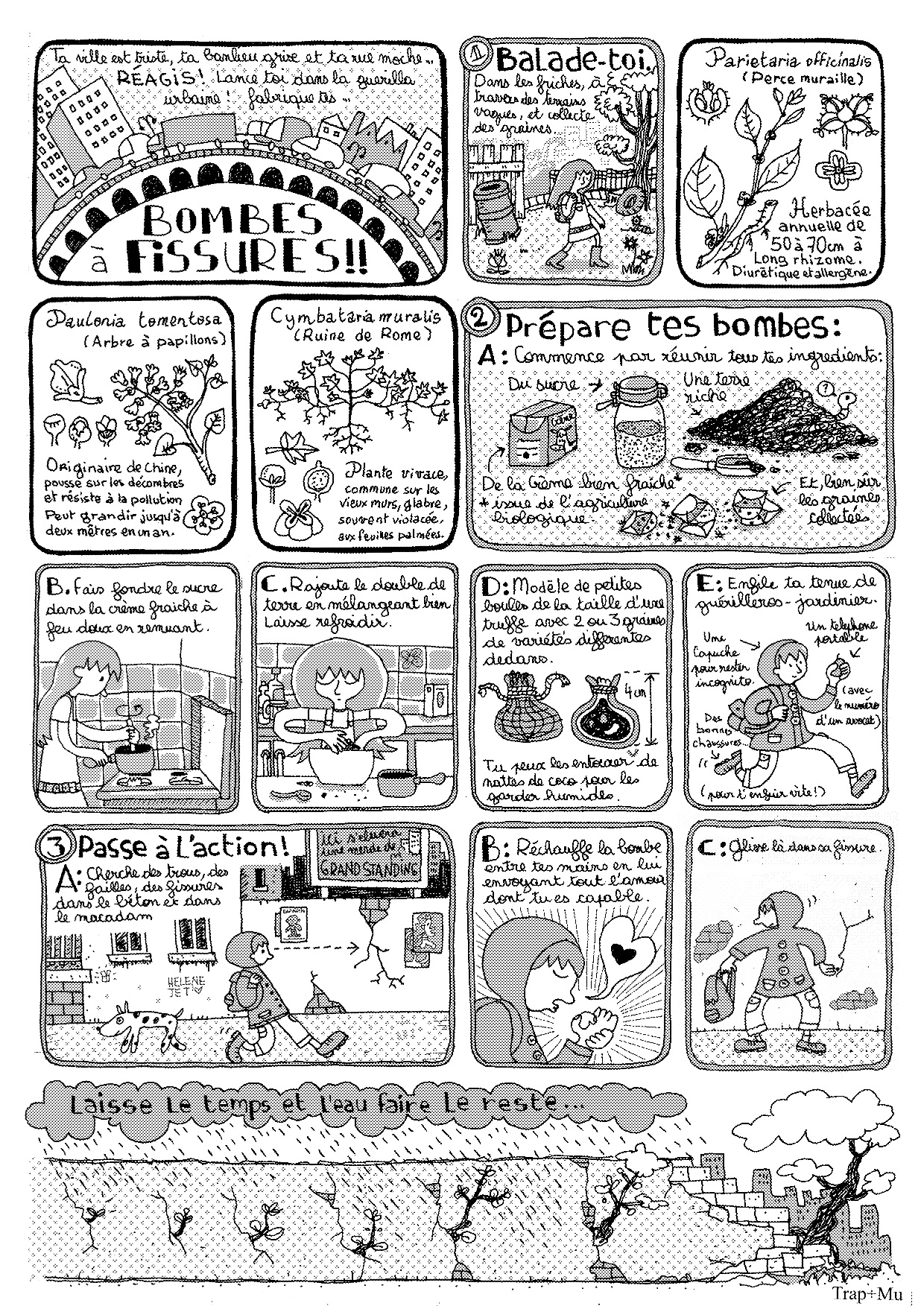 The "traditional" method, based on soil, clay, seeds (that can be purchased from an organic nursery for 2 or 3 euros a pack), is rather playful. We selected two videos, one quite funny (in English) and another more bucolic and educational (in French).
Make your own seed bombs by UrbanFarm (2011) :
Make your own seed bombs by La Jardinière partageuse (Coralie Scribe) (2013) :
Workshops
Workshops are held regularly everywhere, for example in Paris at Sainte-Catherine (in November) with Guerrilla Gardening Paris's "GG woody cuttings" workshop. "We did a cuttings action at Zad Patate," says Gab, "but we're doing more, here and there, without formal appointments." For the schedule of events around Paris, go to the Guerrilla Gardening Paris website or e-mail Gab (here). Just recently, La Petite Rockette in Paris organized seed bomb workshops for La Faites des trucs festival in April.
As (almost) every country has its own Guerrilla Gardeners chapter, we recommend going to your local website to check the schedule of upcoming events !