/ Proto
MakerBox proto stool at WoMa. © Nicolas Barrial
How to prototype a MakerBox, the gift box for future makers
A gift box for apprentice makers: this is the concept of the MakerBox from Usbek & Rica. Following a successful crowdfunding in January, the box is prototyped from workshop to fablab, for a general public launch in October. Makery was amongst the proto-testers at WoMa.
A small box to discover the world of labs. According to Jérome Ruskin, founder of the French magazine Usbek & Rica, the MakerBox, that made a success of its crowdfunding campaign in January 2015 and should be on offer to the general public in the autumn, has the ambition of "becoming a showcase of makerspaces". Taking on the gift box principle (to gain a massage, a trip, a fitness class…), the MakerBox must provide a successful experience to those who walk through the door of a workshop.
For Usbek & Rica, the designer Christopher Santerre and Matthieu Vergote, author of a research on contemporary DIY, are fine-tuning the MakerBox, that should be composed of twenty odd objects between 60 and 200 euros, in order to help partner community workshops to structure their offer. One has to imagine the perfect balance between discovery, teaching skills and action, in order to allow the happy holder of a MakerBox to make his/her object within the allocated time.
At WoMa in April, Makery followed the validation phase of two MakerBox prototypes proposed this autumn by the Paris 19th arrondissement community workshop. While Clément Langerin from WoMa was playing the workshop professor whom future participants might meet, Delphine Chenuet and Guillaume Attal, co-founders of WoMa, Chistopher Santerre from Usbek & Rica… and Makery's special envoy attended this proto-workshop.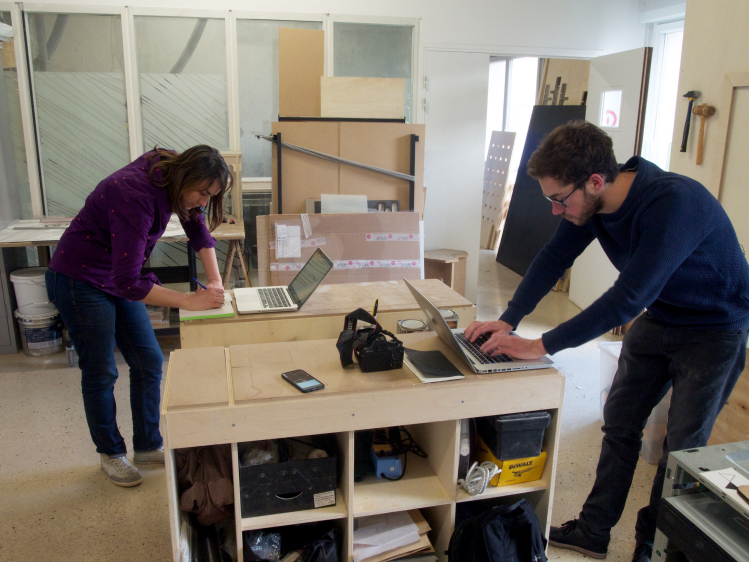 Nothing else but «a classic» on the menu, with a stool and a lamp to make, using machines that can't be found just around the corner, except in makerspaces: a CNC milling machine and a laser cutting machine.
The stool (2 h1/2 – 3h for 3 to 5 people)
3pm, choice of model and pattern
The workshop begins with an initiation to the Rhinoceros 3D software. In order to avoid going the all computer route, Delphine is already planning to create a physical sampling of the patterns.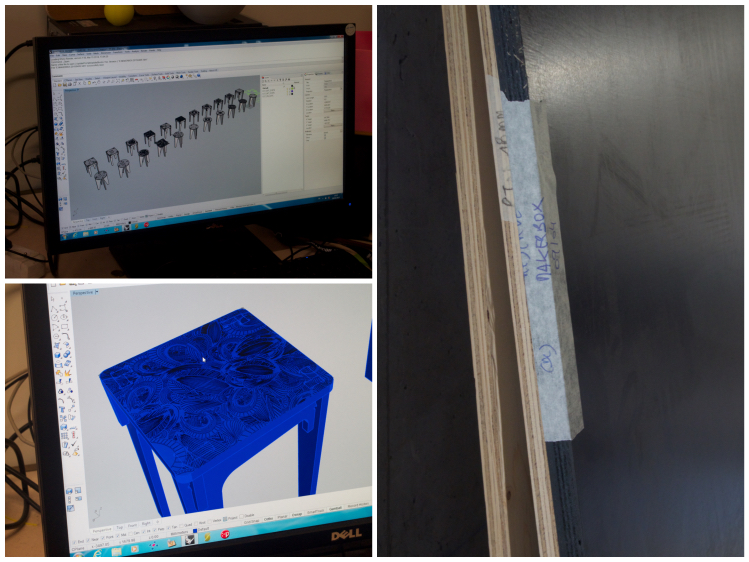 3.30pm, preparing to engrave and cut
We decide to start the production of two stools. Export of a model on V-Carve to generate the G-code for the CNC.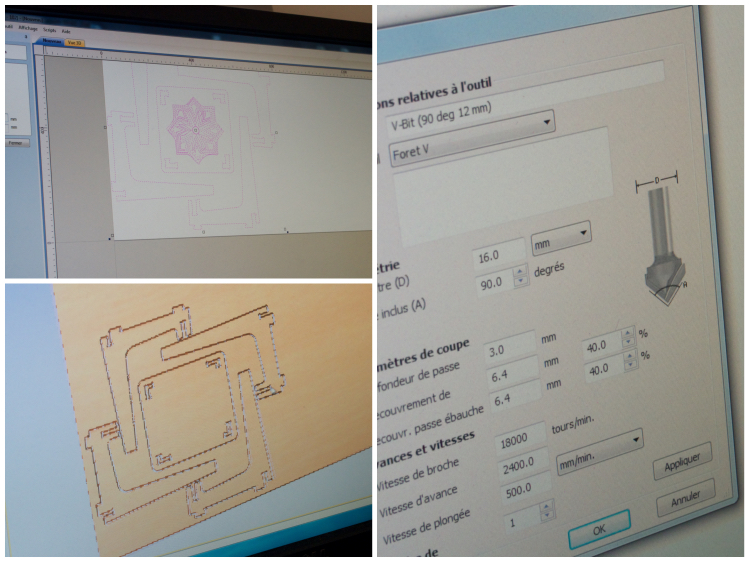 3.45pm, start of engraving, then cutting
Reality now: we take the G-code to the CNC on a USB key, now that's meaningful.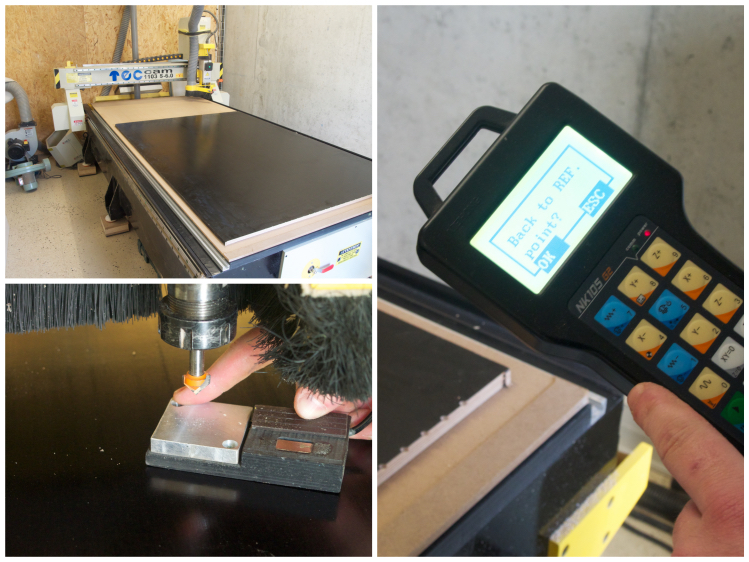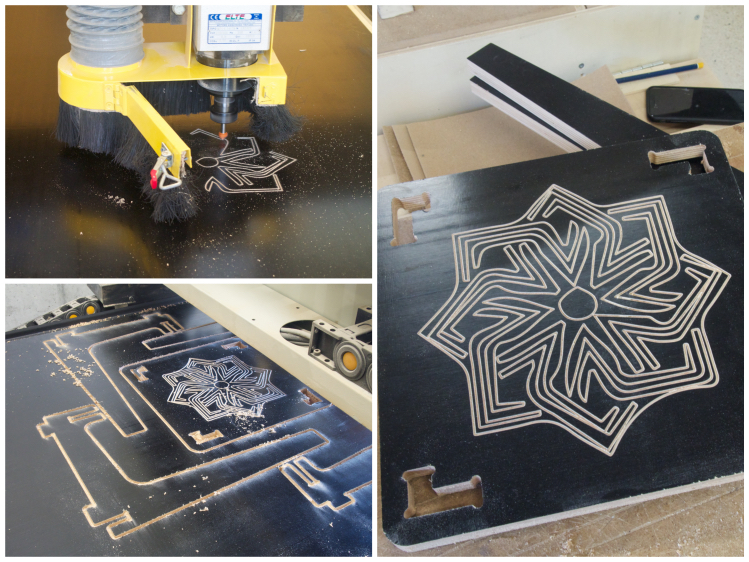 4pm, workshop visit
We take advantage of a little time out to present laser cutting and 3D printing.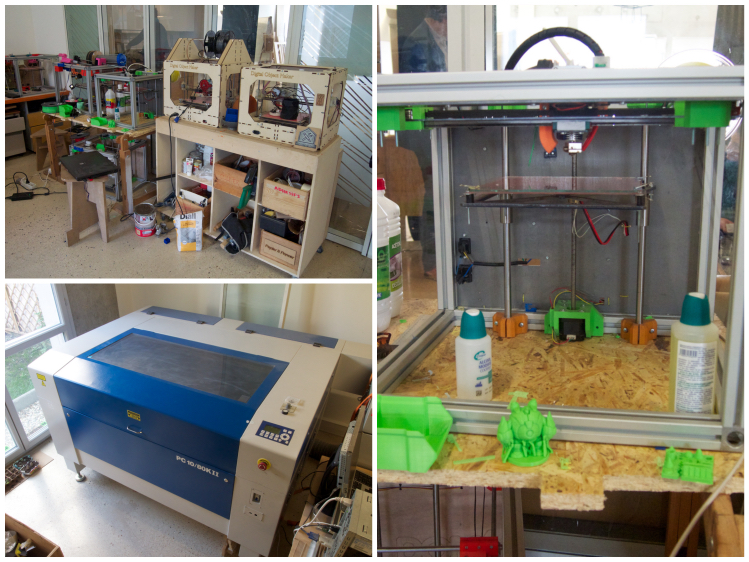 4.15pm, finishing touches after receiving the cut out parts
Sanding of the edges, varnish (potentially).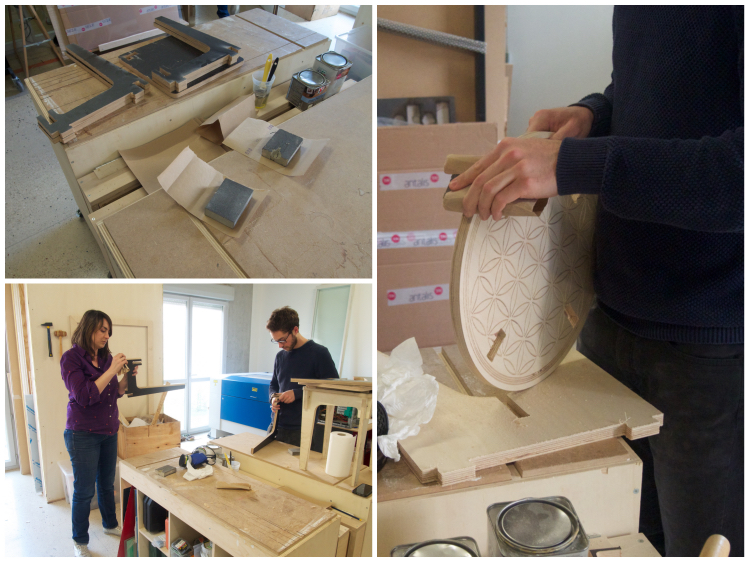 4.30pm, assembly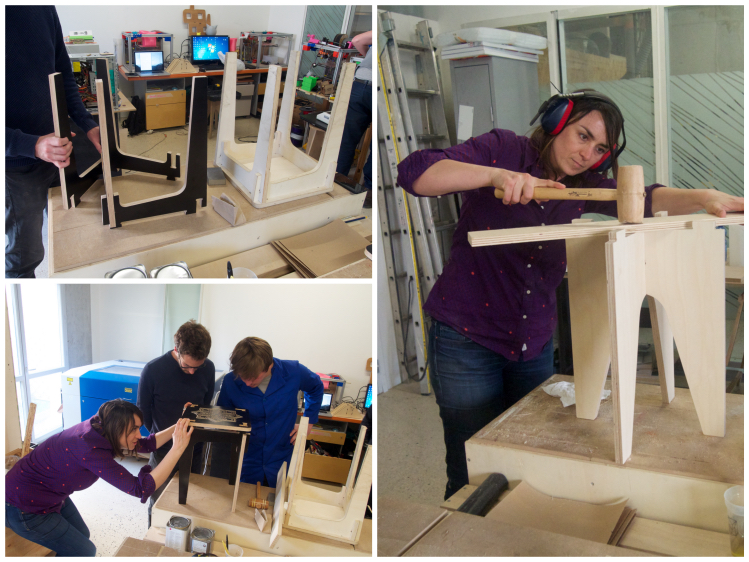 5.15pm, both stools are completed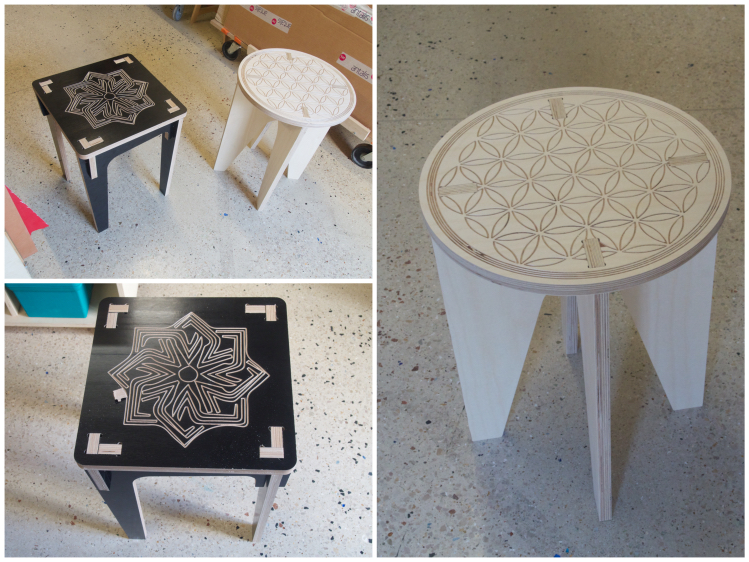 The lamp (3h, for 5 people)
6pm, choice of model, paper and patterns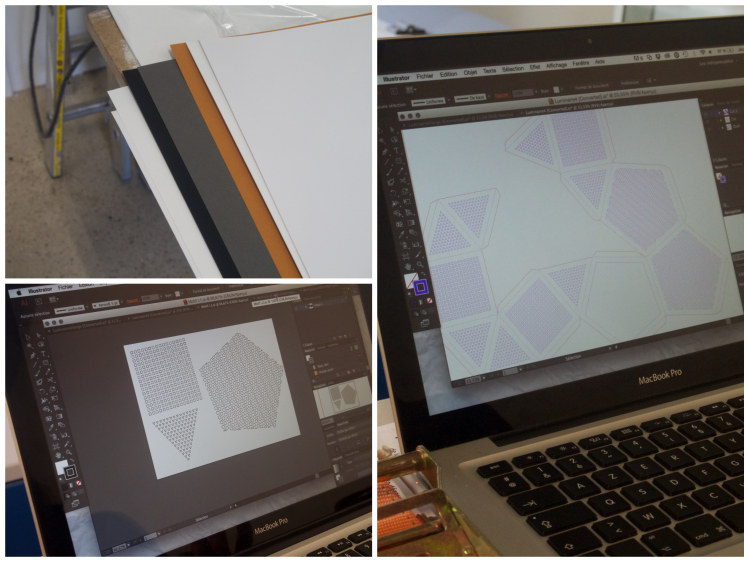 6.20pm, laser cutting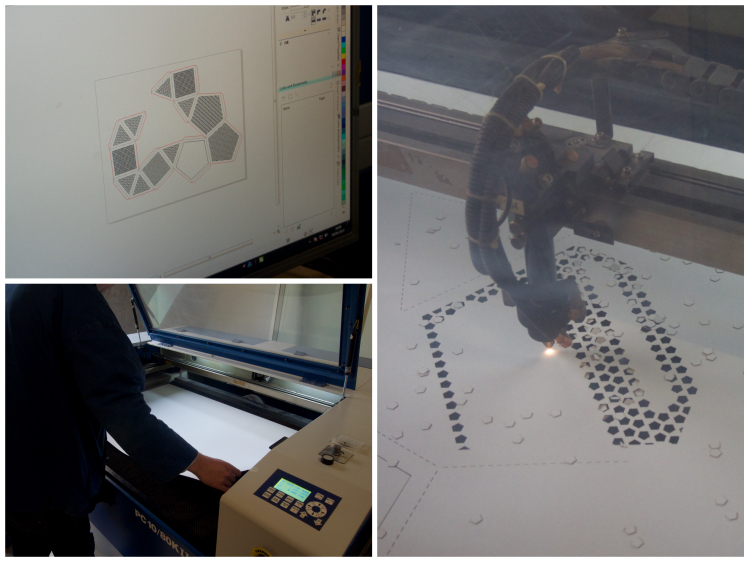 6.40pm, "wiring" workshop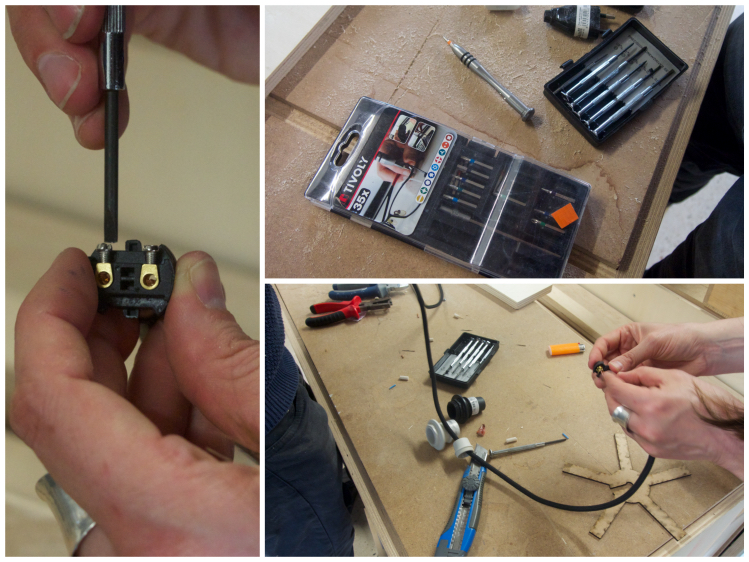 7.30pm, assembly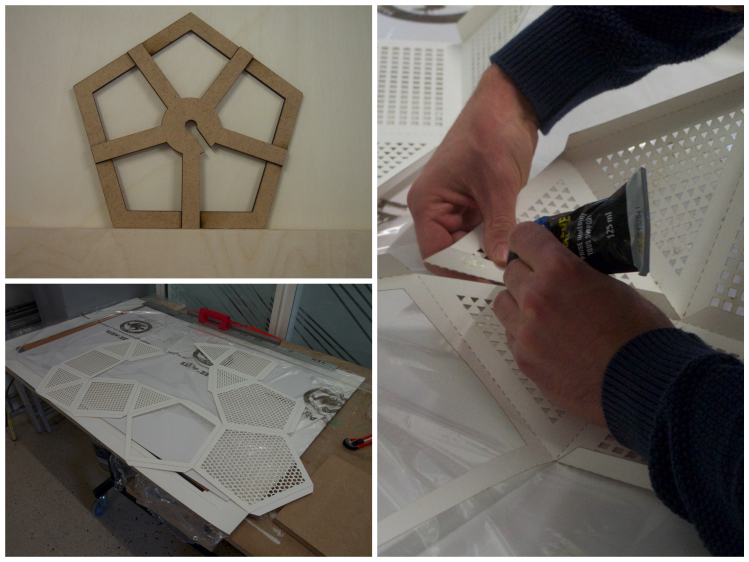 8.15pm, lamp completed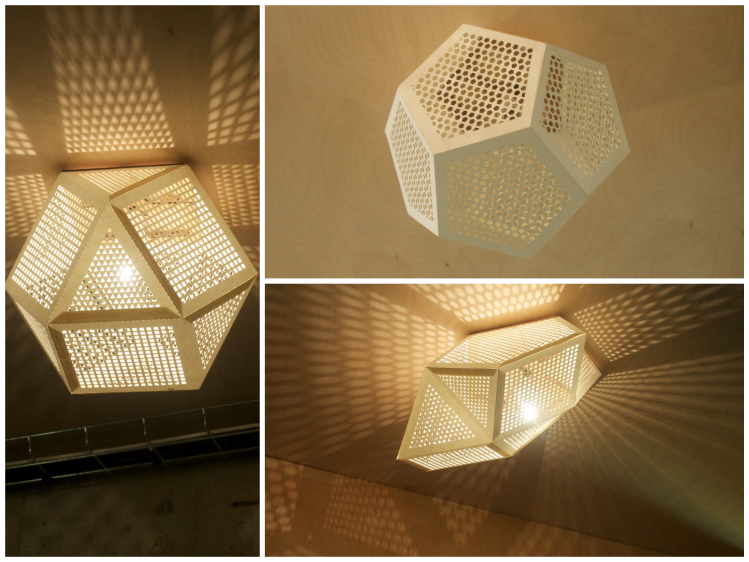 We leave one another in haste after an eventful day. And Christopher Santerre continues his relentless journey, from workshop to community workshop. With a stop at the Paris Maker Faire on the 2nd and 3rd of May, where the first MakerBox objects were presented, including the WoMa stool and lamp, proof of their validation.
Notre stand made in @ICIMontreuil à la #MFP15 ! Avec les objets prévus dans les premières @MakerBox_ Thx @WoMa_Paris pic.twitter.com/5mIV5e3fHf

— MakerBox (@MakerBox) May 2, 2015
Text and pictures Nicolas Barrial