/ News
Situation Room in Kathmandu Living Labs after the quake. © KLL
Nepal mobilizes the OpenStreetMap community after the quake
To aid rescue efforts after the earthquake that devastated Nepal, Kathmandu Living Labs opened an OpenStreetMap Situation Room less than 20 hours after the disaster.
Humanitarian OpenStreetMap Team (HOT) emerged after the devastating earthquake in Nepal on April 25 by launching a dedicated wiki and coordinating rescue efforts from their local bureau run by Kathmandu Living Labs (KLL).
KLL is a lab dedicated to implementing technological solutions for mobile and on the Web in order to reinforce urban resilience and civic engagement and contribute to resolving Nepal's most urgent challenges. After the quake, the valley of Kathmandu was already confronted with serious challenges in managing urban development and providing basic services to its growing population.
Engaged in promoting open governance and civic innovation in order to improve urban management, for several years KLL has been developing a local mapping chapter under an OpenStreetMap open licence. After the diasaster, the lab quickly decided to open an OpenStreetMap Situation Room to aid rescue operations.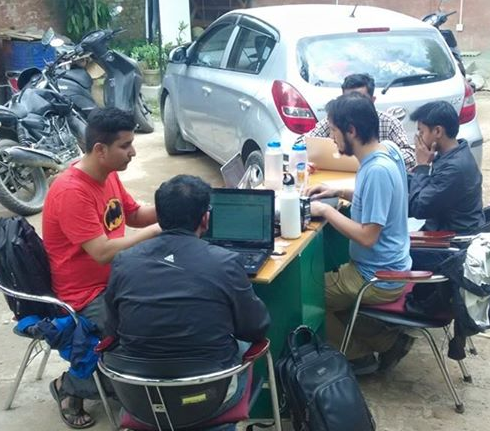 It took the lab 20 hours to recover from communications following the deadly earthquake on that Saturday, April 25. Once they were reassured that their families were safe, and despite all the practical difficulties (electricity, Internet, water, etc.), as well as powerful aftershocks, they were able to open a Situation Room in their Baluwatar office as early as Sunday morning. After consulting the agent of the Nepalese Red Cross' Geographic Information System (GIS) and visiting the National Society of Earthquake Technology (NSET), they gave themselves several immediate goals.
2,200 volunteers to map disaster zones
The Situation Room team coordinates the mapping done by both local and remote cartographers. Since April 25, more than 2,200 people have contributed to mapping earthquake-hit areas. The lab is in constant contact with the HOT and international mapping communities.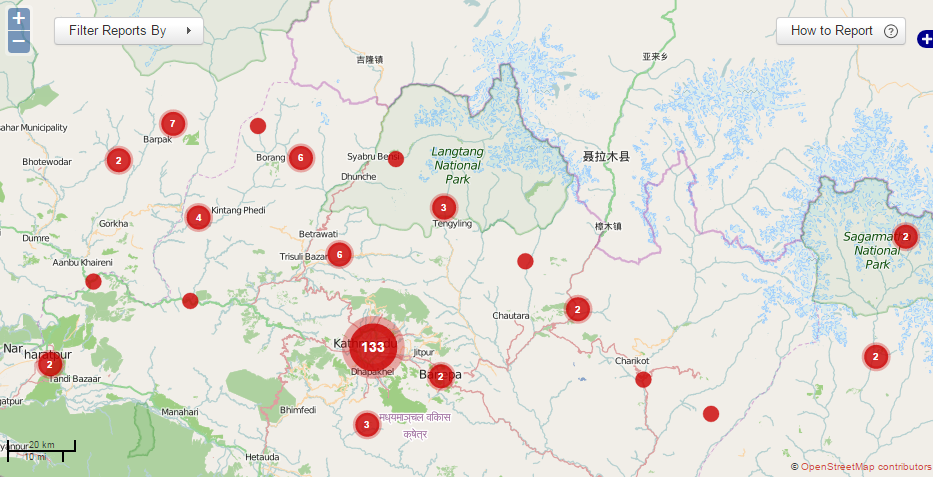 KLL has deployed a contributive mapping platform that allows local communities to add their observations of the damage and relay their requests for aid. On its Facebook page, the lab also provides information and encourages people to leave reports on its platform or to download the application for geolocalized reports that they developed in the past two days.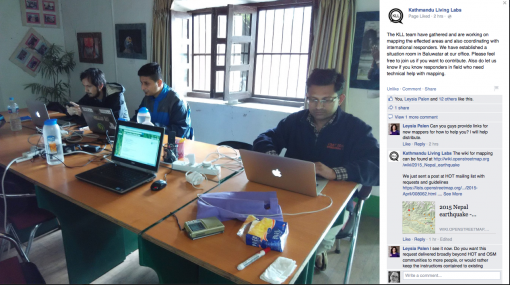 Every hour, the lab produces printable maps excerpted from Geofabrik in order to provide the most updated map data possible to rescuers. The maps are available here. Static offline maps for mobile phones are also uploaded to the same website.
On Tuesday, April 28, the lab opened its OpenStreetMap clinic in the room adjacent to the Situation Room. The clinic also offers relevent mapping services and GIS to support survivors.
KLL is in contact with search and rescue organizations on the ground. This contributive mapping effort calls for coordinating as many participants as possible.
The large Indian OpenStreetMap community has already rallied mapping efforts for devastated Nepal. Groups in Bangalore, Delhi, Mumbai, Hyderabad, Ahmedabad and Pondichéry are at work since the weekend, and a Hackpad is in place. If you are involved in the OpenStreetMap community or out in the field, KLL needs you!