/ News
"Dancing Paper", where electronic magnets make folded cranes dance. © Ugoita
Ugoita makes origami dance
Folded cranes dancing in sync—paper animation, puppet gadgetry, or Japanese traditional art revisited? Makery interviewed the Ugoita (literally, "it moved") collective behind the viral video "Dancing Paper".
Tokyo, from our correspondent
Their video went viral in the blink of an eye. The synchronized dance of gilded paper cranes animated by tiny electronically controlled magnets, posted on YouTube on February 28, has been viewed over 1 million times. For the makers hidden behind the playful origami of Dancing Paper, it all comes down to a simple exclamation : "動いた !" (ugoita : it moved !) Hence the name of this candid collective.
"Dancing Paper", Ugoita, 2015:
>
"As we had no experience with digital tools, it was always a true moment of joy once the object finally moved," explains Mashima, the team's spokesman. "At that moment, everyone would shout in unison: Ugoita!!"
Nonetheless, the collective also has another, no less noble, explanation for its unconventional appellation. "Our objective is to make things that move," says Mashima. "Because most of us studied fine arts, where the artworks don't move (sculpture, painting, etc)."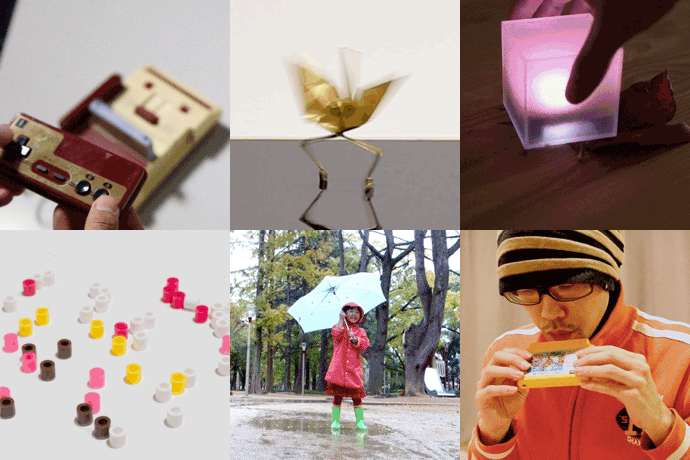 Since 2012, Ugoita comprises 7 individuals, all salarymen in the same design company in Osaka, who spend their weekends in a collectively rented studio to fabricate moving objects together. Hobbyist programmers, trained designers and other talents pools their skills to create whatever amuses them. Their equipment and tools include a 3D printer and Arduino boards, as well as an AVR micro computer and Atmel Studio.
But back to the dancing cranes. Dancing Paper was created for the HYBRID exhibition in Shanghai in late 2014. "Since it was an overseas show, we thought of origami as a symbol of Japanese culture," Mashima recalls. "When we added the magnets, it became even funnier than we imagined. We ended up spending 4 months fine-tuning the project for a 1-month exhibition in China." … and at least 15 minutes of fame once the video went viral.
However, Ugoita had already attracted attention online with their playful videos, especially the ones featuring the retro-fetish Nintendo (NES) and its obsolete accessories: the very charming 8bit Harmonica transforms an old game cartridge into a musical instrument of chiptunes; while the making of Moving Nintendo is shot like a suspenseful action film, which climaxes when the console, remotely controlled by the handheld game controller, moves.
"8bit Harmonica", Ugoita, 2014:
"Moving NINTENDO", Ugoita, 2014:
Besides these projects "to make us laugh", Ugoita has also produced a few poetic pieces, such as a lamp that absorbs the color of the object underneath it and an umbrella that sparkles with multicolored LEDs and plays 6 different musical notes according to where the raindrops fall, thanks to 6 piezoelectric sensors (project awarded in an electrical engineering contest).
"Musical Rain", Ugoita, 2012:
While preparing the next in the series of moving surprises, Mashima remains lucid (and relativement modest) about Ugoita's vision: "To make things that amuse us, and to spread them around the world."
More info on Ugoita website