/ News
Alaba, Lagos, Nigeria, the biggest electronics recycling market of the country (screen shot). © Shu Lea Cheang
Electronic circuit breakers in Lagos, Nigeria
From London to Lagos via China, artists, researchers and theorists are studying the movement of electronic waste in the era of programed obsolescence. Artist Shu Lea Cheang posts a video from her week in Alaba, the biggest electronics recycling market in Nigeria.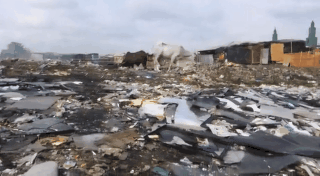 All day long Basiru dissects printed circuits in the electronics market of Alaba in Lagos, the biggest of its kind in Nigeria. Alaba reunites some 5 000 electronics shops and hundreds of artisans and officially claims to make business for 2 million people per day. Shu Lea Cheang, American artist and hacktivist of Taiwanese decent, accompanied the young man during one week, in February, and shot this video:
From the masses of electronic waste, Basiru, 26 years old, picks his revenue. However, the exchange rate for waste material is not prosperous: aluminum is sold for 170 Nigerian Nairas (ngn) per kilo (0.79€), copper is at 1 000 ngn per kilo (4.63€)…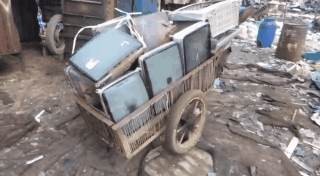 Shu Lea Cheang spent a week breaking down circuits herself in this "fictionalized landscape", as she describes it, where "cows wander over piles of rubbish" amid incessant noise where hammers bang, things are pounded, unscrewed and beaten.
"Its a bit like a city of electronics: when you arrive in Alaba, first you see lots of shops, fancy plasmas, loud speakers, second-hand electronics. Then you get to the 'trash' part, with this vast dump of electronic waste, which nearly 100 people live and work in."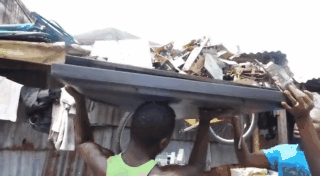 Her video Iletronis is part of an art science research project carried our by the The Royal Central School of Speech and Drama at the University of London, which engages artists, researchers and cultural theorists to "explore the materiality of obsolete appliances that have been rejected", from Hong Kong to Guiya, China, from Lagos to London.
Titled Bodies of Planned Obsolescence, the project brings a group of seven artists and performers, theorists and scientists, British, American, Nigerian and Dutch, to explore the streets of Lagos in February 2015, between breakers yards and second-hand dealers, before embarking upon a workshop in the heart of the scrapyards of Alaba.
The next step of the project in June 2015 (from 6/29 to 7/4), in West London, at Watermans Arts Center in partnership with the platform Digital Future au Victoria and Albert Museum for a restitution in the form of a symposium, performance and exhibition.
Website for the art-science research network Bodies of Planned Obsolescence