/ Proto
"Soma", Guillaume Faure's mini film booth for single viewer, is presented at Exit festival in Créteil (screenshot). © Guillaume Faure
"Soma": body-machine cinema
As an interactive and sensory film booth for solo viewer, Guillaume Faure's "Soma", showing at Exit festival from March 25 to April 5, explores the unconscious relationship between body and image. It's an immersive cinematographic experience that borders on psychotherapy.
Entering the little film booth of the Soma installation, presented at VIA Maubeuge and currently at Maison des Arts de Créteil for Exit festival (March 25 – April 5), you might be surprised by the minimalism of the space—a simple chair equipped with three small sensors on the right armrest, directly facing a concave screen-wall. Just after you sit down and slip your palm and fingers on the shutters, a tracking shot through the forest appears on the screen. Then lights filter, colors change, as new sequences are juxtaposed in a strange mesh of tension and well-being. Before you know it, the installation has subjugated you through the intimate relationship it weaves with your emotions, not to mention your fears.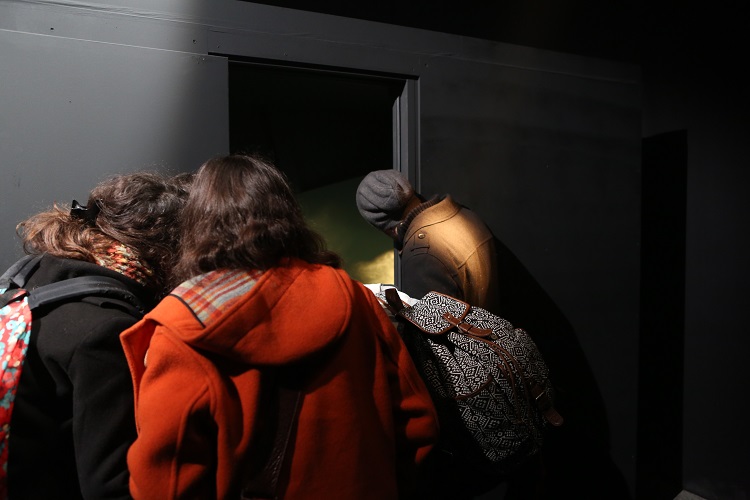 "By studying the full spectrum of all existing mental illnesses, I tried to identify all the related types of fears," Soma designer Guillaume Faure, director of photography and colorist, explains. "Then I went with the idea of making video content that was linked to these fears. To do this, I created an installation that measures in real-time the perspiration, body temperature and heartbeats of the viewer during the screening. From this data, I calculate an 'objective' value of emotional involvement, on a scale of 1 to 9, that dictates in real-time the editing and the coloring of the projected sequences. In this narrative, the forest images appear both in alternation and as a common thread. They don't change much, but they emphasize the hypnotic concept of the installation. The other sequences are more abstract, with several possible color settings depending on the viewer's reactions."
As such, the viewer could be confronted with sequences that make her uncomfortable—like swarming insects—but Faure denies that the installation intentionally provokes anxiety : "If the stress level is too high, the sequence is replaced with another one. But if the stress level is average, the installation develops the relationship in progress."
"It's a way of confronting the viewer with what bothers her, but also, in order to relax her capacity to react, an attempt to make her more psychologically stable."
"Soma", prototype by Guillaume Faure, trailer (2014) :
Prototype therapeutic interactive installation
In this sense, Faure insists on the observation and data analysis that comes out of the installation : "It's my third prototype, and for this one I started over from zero with a new engineer who is specialized in human/machine interaction. Here the observation and analysis of data collected is more important, because each time someone goes in and stays connected for longer than 10 seconds, the experienced is recorded. There is the idea of machine learning, but also of being able to stabilize a bio-feedback loop in order to, in turn, stabilize viewers' reactions."
Unlike other immersive film pieces, Soma is not a playful installation, nor is it even as ostentatious as a 360° film for Oculus Rift. Its general concept is clearly based on sensory awareness, with almost therapeutic ambitions. It's no coincidence that Faure would like to test this machine with terminally ill patients in trauma counseling. Soma's interactive principles are at the level of the unconscious.
"I find it interesting to be able to offer an experience that can both shake people up and facilitate research and observation of their behavior. It's less about questioning interactivity than returning to a relationship with the self. The whole concept is based on the body and trying to re-establish contact with it through an audio-visual system. In some way this allows the viewer to get back in touch with her body, by reminding her of the power and the strength of this 'machine' to make choices that are not based on reason."
"Soma" (Guillaume Faure, software : Emilien Ghomi ; design : Andres Gleixner ; sound : Aalderik de Vriesis) showing in the Home Cinema exhibition, Exit festival, from March 25 to April 5, Maison des Arts de Créteil, Place Salvador Allende, métro Créteil-Préfecture.
Makery is also at MAC through Saturday with makers, demos, prototypes… In the line-up : brain fights with EEG headsets, laser spirograph and touch pad.