/ Proto
Urban games at Stereolux. © DR
Game and the City plays on the banality of street furniture
From 27 February to 1st March, Nantes street furniture is the object of amusing detournements for the second edition of the hackathon Game and the City held at Stereolux.
Nantes, special report (texts and images)
A bus stop is transformed into a nest for digital creatures, a dancing waste bin, or a advertising panel that has mistaken itself for a magic blackboard. After a 54 hours creative marathon, the 35 participants of Game and the City, a hackathon at Arts et Technologies laboratory hosted by Stereolux puts a bit of playful poetry back into the urban furniture of Nantes.
For this second edition, surfing on the trend of urban hacking and playful new urban practices, this lab for digital art and experimentation wanted to question the usage of public space and test out ideas. Consequently, the call for participation invited game designers, architects, developers and students from the region to imagine misuses of street furniture that "strive against the passivity of users".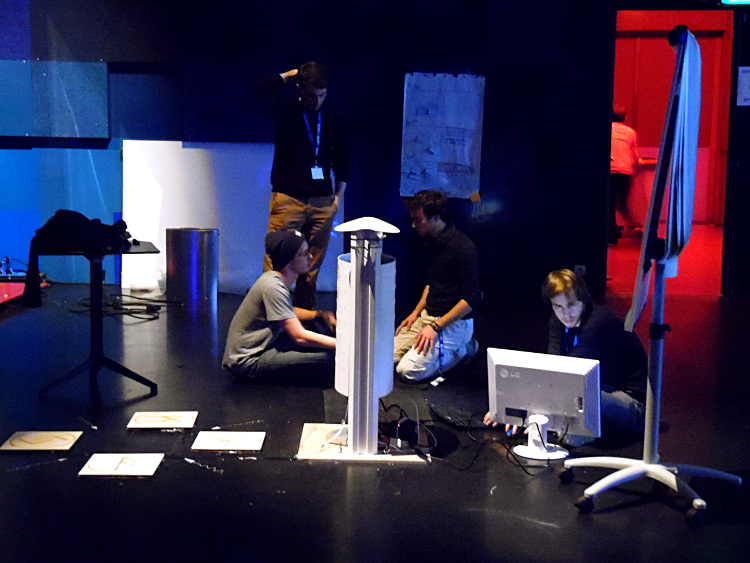 The lab had a full-house on Sunday for the final presentation of projects and prototype testing that proved to be far removed from usual uses of bus shelters, information boards and public benches. Pretty exhausted, the five teams took turns to pitch their ideas on stage "24 hours more would have been ideal, but with this kind of challenge, you always need one more day, so you just have to know when to stop," said Olivier Daïrien, fabmanager of FabMake, who lent a hand to the hackathon by providing 3D printers, laser cutters and other rapid prototyping machines.
Five fun ideas in two days
To make bus shelters less dour, the first team dreamt up NIDS (Nests), a real time game with QR codes where passengers catch mascots and leave them on a bus shelter at the end of their journey. Blue monkeys, owls and other digital creatures, colonize the network, mapping journeys and passenger flows. Landscapes of jungles or forests are projected, bringing together ambient lighting and sound, animating the bus shelter according to the dominant ecosystem of the moment, determined by the number and type of mascots that have been logged.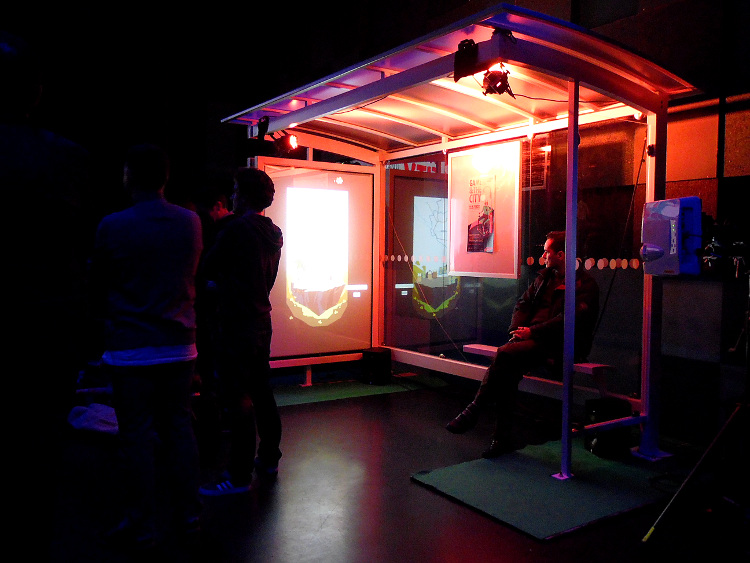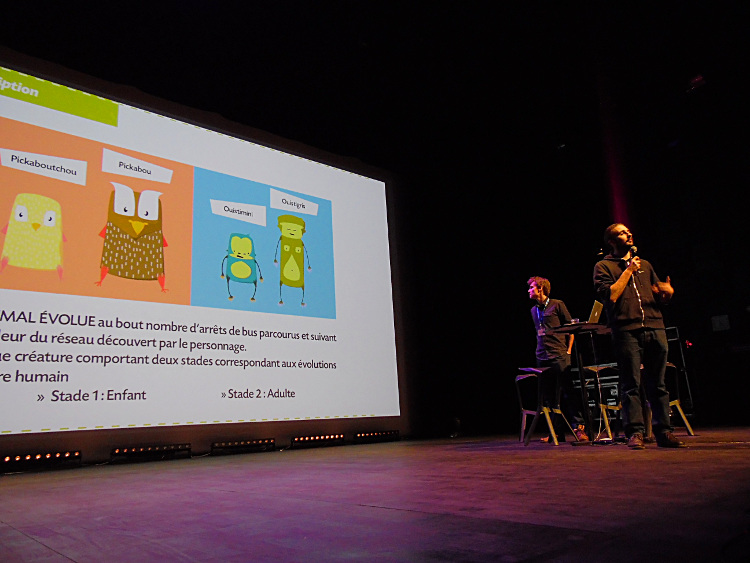 With Draw Magic, where two players stand either side of a scrolling advertising panel, the concept of the magic blackboard is reinvented by manipulating two discs and two potentiometers. Players guess what is being drawn on the other side in the same way as a Pictionary game.
One of the discs of the Draw Magic terminal just completed.
Fin de la deuxième journée des #gameandthecity #workinprogress @lecolededesign @Stereoluxnantes pic.twitter.com/6JELM7H5vn — Marion Laillé (@Marion_Laille) 28 Février 2015
The main attraction for the many kids at the presentation was the musical waste bin TOTEM with its ever-so-easy to use scenario: the player has to dance on four connected tiles to reproduce a melody made of four single notes sung by the bin. Even if, in the end, they all jump around on the spot to make a maximum of noise.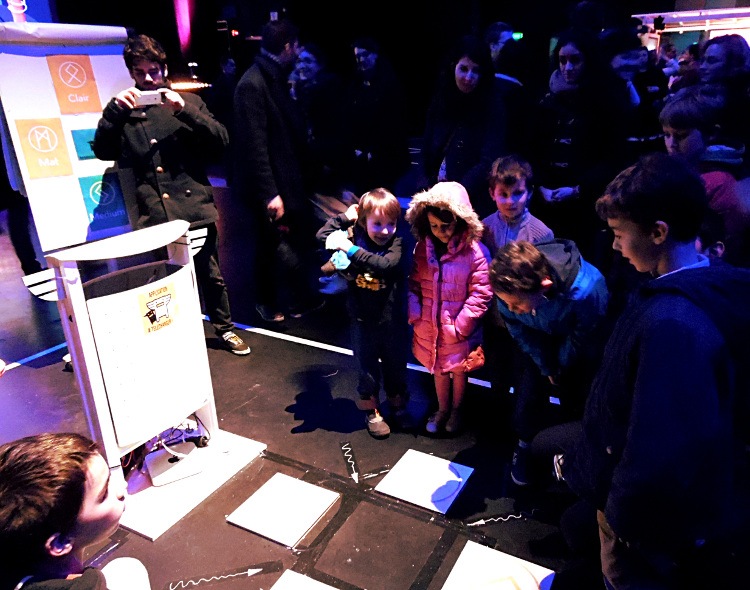 More contemplative and designed for nighttime use, the PAE bench catches passers-by through a spotlight triggered by Kinect, the motion sensing input device used to control video-games through movement and gesture. Once sitting on the bench, the user triggers a video projection displaying poetic urban panoramas which modulate the surrounding landscape.
Un banc public : notre terrain de jeu durant #gameandthecity ! Restitution dans une heure ! pic.twitter.com/SvQaNXmA5V — xavier mathieu (@xavier_mathieu) 1 Mars 2015
3e projet, Paé, un banc interactif comme une incitation à la poésie et à la contemplation nocturne #gameandthecity pic.twitter.com/VkdsJuaWZo

— Casus Ludi (@CasusLudi) 1 Mars 2015
Three designers and two developers set their sights on the electronic display board and imagined what could be done with this tall look-out post that dominates the urban landscape. "We are tired of seeing people walking with a smartphone on the end of their arm or on a selfie cane (…), especially when the landscape behind the selfie is never seen", explains one of the participants. Panora Me transforms the mast into a machine for selfie panoramas, its camera triggered by an app on the smartphone. And for lovers of architectural selfies and games of perspective, a mesh of white sticky tape draws an anamorphic cube on the floor which makes sense only after the photo is taken.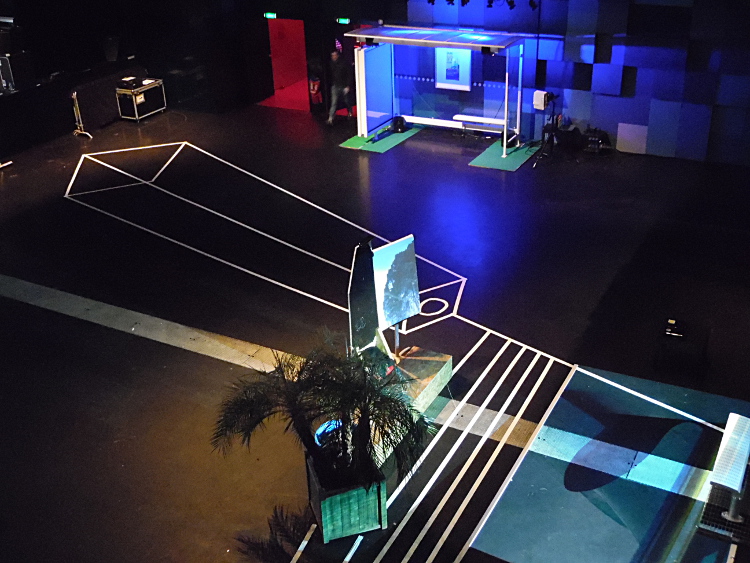 The documentation of the hackathon online.