/ Proto
Close-up of punchcard knitting machine hacked by Sam Meech. © Ewen Chardronnet
As Transmediale came to a close in Berlin, "8 hours" was the message that emerged from the giant banner knitted by British artist Sam Meech and the participants of his workshop on the hacked knitting trade, associated with his "Punchcard Economy" project.
Berlin, from our correspondent (words and photos)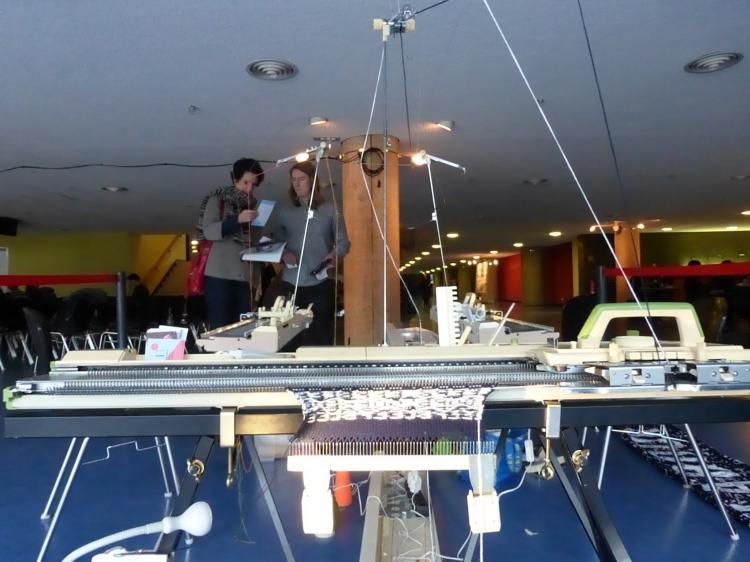 Up until his encounter with the Brother KH950 knitting machine, Sam Meech was a video and digital media artist with an interest in community groups in his native Manchester. For the past several years, Meech had been filming life at the football club, community organizations, charities, etc. But on that day in 2012 when he met the Nephra knitting group in North Manchester, he fell doubly in love—with the Brother knitting machine and with the group's passion for punchcard electronics.
Brother knitting machine community groups have been around for a number of years, but for Meech, it was a revelation. Suddenly, many of his interests converged: the history of textiles in Northwestern England, connections between the origin of computers and Jacquard weaving with punchcards, hacking via digital files, labor and social issues.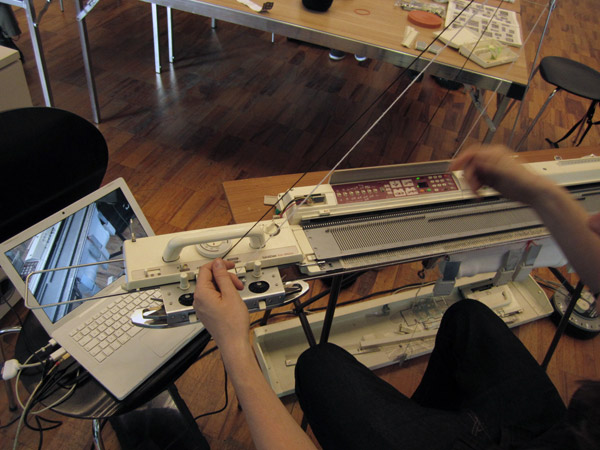 "I was amazed by the parallels between punchcards and film reels, between needles and pixels," says Meech in Berlin, standing in front of his machines awaiting the participants of his Digital Knitting workshop. He recalls how he dove head first into his Digital Knitting project, following other artists who hacked electronic knitting machines and developed software to send them digital files.
"Then I had the idea to knit film reels, inspired by Eadward Muybridge," Meech continues, referring to the photographer's experiments in deconstructing movement and his pioneering work on the horse's gallop. In the latter half of the 19th century, Muybridge developed the zoopraxiscope, a projector that displayed short animated sequences, the ancestor of the cinematograph. "I had fun knitting Muybridge's galloping horse sequences," says Meech, who went on to make long scarves that became film reels.
Animation of a galloping horse knitted by Sam Meech:
Supported by FACT (Foundation for Art and Creative Technology) in Liverpool, Meech began the bigger "Punchcard Economy" project, which confronts traditional culture with manual labor and his experience as a flexible worker.
"I made it my goal to make a 3m X 5m tapestry bearing the slogan '8 hours labour, 8 hours recreation, 8 hours rest'," Meech explains. This famous slogan, posed by Robert Owen in 1817 during the British movement for the 8-hour work day, has become the slogan of the 1st International and the French labor movement. Owen was one of the first people to talk about reducing work hours and lobbied for the 40-hour work week.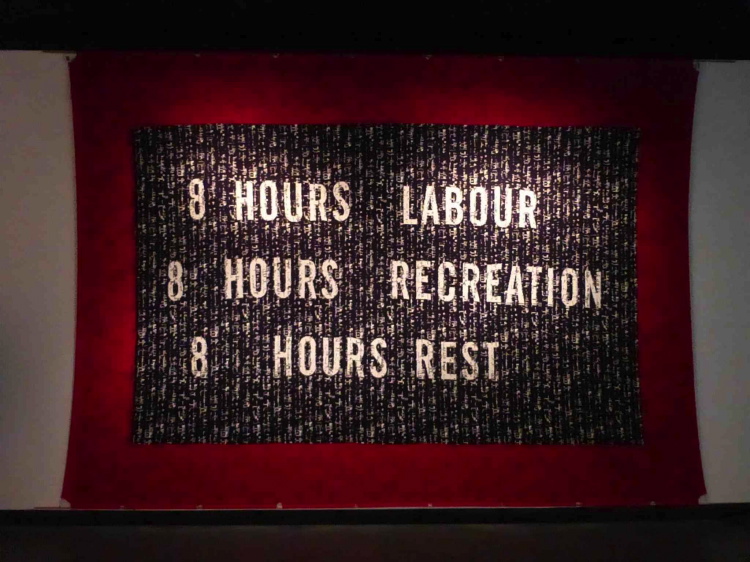 Noticing that the workday of a freelancer is much more deconstructed than the traditional full-time 8-hour workday, Meech decided to collect data from a selection of workers in the creative, cultural and digital industries, and asked them to meticulously log their work hours on grids that were then converted into digital knitting glitches on his punchcard machine.
Knitting the piece took a considerable amount of time, while confronting the demanding work on the Brother machine with the flexible work of the creative sector. In order to complete the piece presented at Transmediale's Time & Motion : Redefining working life exhibition (and earlier at FACT in Liverpool, read our report here), 116 participants logged 221 work weeks, corresponding to 5,304 hours of work.
Making of Sam Meech's "Punchcard Economy":
Introducing domestic knitting machines in the 1950s transformed the hobby into an artisanal industry for domestic workers, much like a return to the workshop economy of the proto-capitalist era of thread-spinners. Although Brother discontinued manufacturing these machines in the 1990s, fans and professionals kept the knitting trade alive by sharing knowledge in video tutorials and blogs. More recently, the electronic knitting machine has become popular among hackers and makers.
In his desire to continue working with associations of fans and textile workers, Meech recently knitted a "Stick to knitting" banner, referring to Brooks Newmark's comment before the end of his tenure as Minister for Civil Society under David Cameron's government in September 2014. The conservative politician was advising charity organizations to stay out of politics… Two weeks later, the new banner, like the "8 hours" tapestry, was featured in a protest in front of the annual Labour Party conference in England.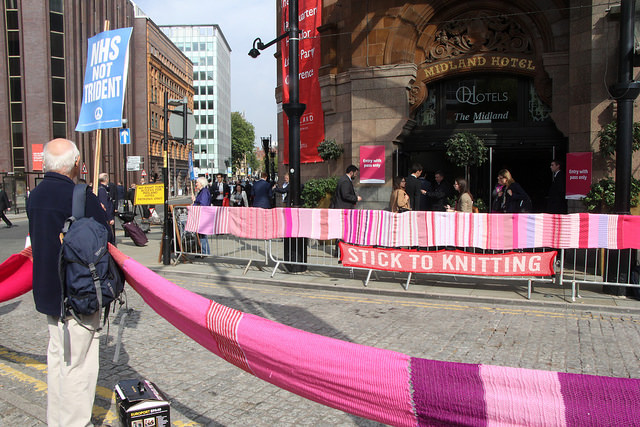 More about Sam Meech